In this post, we explain how to pair your phone with Toyota's Touch 2 multimedia system, and how it can then be used to make calls, stream music and access the internet.
The following video shows you how to do it, or you can follow the step-by-step instructions below.
Pairing your phone or mobile device
Pairing your mobile device to the Toyota Touch 2 multimedia or Touch 2 with Go navigation system is a quick and easy process.
First, make sure that your phone's Bluetooth is switched on and the device is discoverable.
Now go to the 'SET UP' menu on your device and press the 'CONNECTIVITY' button.
Then press 'BLUETOOTH', and 'SEARCH DEVICE'.
When your telephone is displayed on the Touch 2 system, select it and agree to connect on your handset. Some phones may require a passkey to be entered – simply follow the instructions on your phone's screen.
Well done – your phone is now paired with your device for hands-free calling and as a source for streaming music.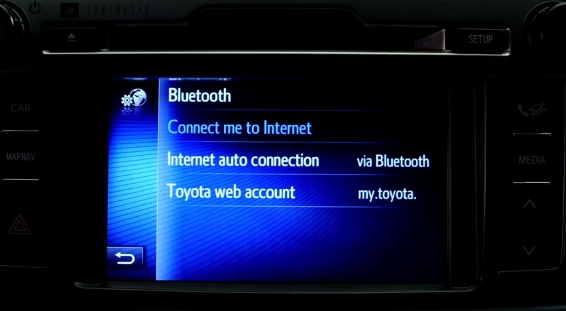 Connecting to the internet
To pair your phone for internet connection, first make sure that your phone's 'Personal Hot Spot' is enabled.
Now return to the 'SETUP' page on your Toyota Touch 2 with Go navigation system, where you will see your phone listed.
Select your phone's name and that's it – your Touch 2 system is now successfully connected to the internet.
Many of the functions and content of your phone are now at your disposal. You can use your Touch 2 system to access your device's music, browse contacts, make hands-free calls, and download apps from the MyToyota e-store. You can also purchase and download apps for your Touch 2 system online at MyToyota – find out more in our introduction to the MyToyota portal.
At MyToyota, you'll also find a compatibility checker to discover which Touch 2 features are compatible with your particular phone.
How to search online with Google Streetview and Panoramio
How to send directions to your device
How To Use Toyota Real Time Traffic
How to use sat-nav features