Want to know how to get the most out of your Toyota Touch 2 multimedia system? In this post, we'll show you how to use apps, as well as give you a brief overview of how to use the MyToyota e-Store to find new apps and download them.
The following video shows the process, and we;ve also included step-by-step instructions below.
To start, make sure your mobile phone is paired with your Toyota's Touch 2 system, and is connected to the internet as a personal hotspot. If you've never done this before and would like a little help, then please read our post 'How to Pair Your Phone for Calls, Music and Internet'.
Once your phone is paired and operating as a hotspot, go to the Toyota online menu. From here, you can access a number of pre-installed apps like Fuel Prices, Parking and Weather.
Let's take a closer look at Fuel Prices. Touch the onscreen icon and fuel prices will automatically download to your device. You can choose to view them by price, brand or proximity to your current location.
Select your preferred option to get more details such as the full range of fuels available at this filling station, and to begin navigation to this location.
Another pre-installed app is Parking. This app shows real-time parking information with current availability for each location – this is indicated by red, yellow or green lights. Touch on a parking option to view the address, distance from your current location and number of available spaces. If you'd like to head there, simply press 'Start' to begin navigation.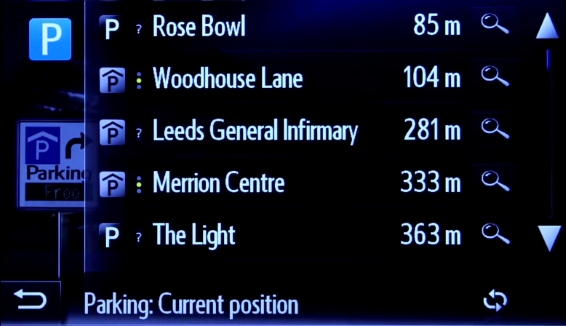 Press the Weather app icon and you'll get an up-to-the-minute forecast for your present location, or any other location of your choice.
As well as the pre-installed apps, you can download or purchase a number of other apps to suit your needs. Log in to the MyToyota customer portal to view the e-Store, where you can find a number of additional apps, including an e-Store app so you can browse and purchase apps from the Touch 2 system in your car.
Apps purchased online at the MyToyota e-Store can be sent direct to your Toyota's Touch 2 system – all you need to do is link the in-car system to your personal MyToyota account by following the prompts at MyToyota.
To learn how to purchase and download apps from your in-car Touch 2 system, please read our post 'Over the Air installation of apps'.
See also:
MyToyota: Introducing your personalised customer portal
How to pair your phone for calls, music and internet
How to update your maps and software
Over-the-Air installation of apps
How to search online with Google Streetview and Panoramio
How to send directions to your device
How To Use Toyota Real Time Traffic
How to use sat-nav features