Using the MyToyota online portal, you can plan journeys in advance and send the details directly to your Toyota's Touch 2 with Go or Touch 2 with Go Plus navigation system.
The following video explains the process, and we've also included step-by-step instructions below.
To begin, you'll need to log in to your personalised MyToyota customer area – to learn how to sign up to MyToyota and set up the connection between the online area and your in-car Touch 2 system, please read our introduction to MyToyota.
Plan your journey at MyToyota
Once you're logged in, head to the 'Journey Planner' section to plan your route.
In the search box, enter the starting point of your journey. Click on 'Add Step' to add points along your route if necessary or simply put in the final destination. As well as adding points by their specific location, you can enter a category, like 'restaurant' or 'museum' as well as an approximate location and the Journey Planner will provide a list of possible destinations from which you can choose.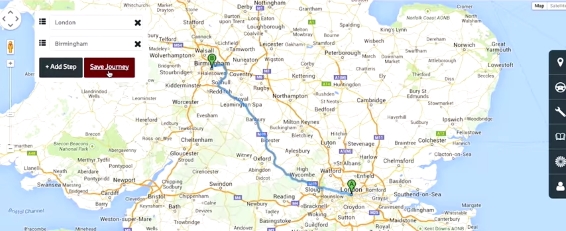 Once your route map is complete, click on 'Save Journey', enter a name for the saved route, and select 'Save Journey' to add this route to your personal list of saved routes.
Send journeys to your Touch 2 system
To send a saved journey to your Toyota's Touch 2 with Go or Touch 2 with Go Plus navigation system, navigate to the 'Saved Journeys' section of the MyToyota 'Journey Planner'.
Select the saved route, choose which Toyota vehicle you wish to send it to, and click 'Send to car'. If you haven't already linked your in-car navigation unit with your MyToyota account, you'll be shown instructions on how to do this. It can be done online at MyToyota, or in the vehicle itself.
To load the saved journey in your car, first connect your phone to your Touch 2 system to enable an internet connection. If you've never done this before, our post "How to Pair Your Phone for Calls, Music and Internet" will explain the process.
Once that's done, press the 'NAV' button on your Toyota's Touch 2 with Go system. Choose 'ENTER DESTINATION', and then select 'ADVANCED'.
Finally, press 'LOAD POIs AND ROUTES FROM SERVER', select your named route from the list and it will load the route into the car's navigation. You're ready to go!
If you prefer, you can also transfer saved journeys to your car with a USB stick – simply click the 'Download to USB' option in the Saved Journeys section.
See also:
MyToyota: Introducing your personalised customer portal
How to pair your phone for calls, music and internet
How to search online with Google Streetview and Panoramio
How To Use Toyota Real Time Traffic
How to use sat-nav features
An introduction to apps
How to update your maps and software
Over-the-Air installation of apps