In this post, we explain how you can install apps to your Toyota Touch 2 with Go and Touch 2 with Go Plus multimedia system.
We've prepared this short video to explain the process, or you can follow the step-by-step instructions below.
Before we start, you'll have to install the Toyota e-Store app on your Touch 2 device. For more information, please read our post 'How To Install e-Store'.
To purchase apps for your device you'll need to log in to the MyToyota customer portal. If you've already registered, simply head to MyToyota and enter your email address and password. First time users will need to complete a simple registration process, which is explained in this step-by-step post.
Once you're logged in, click on 'e-Store' and select the 'Apps' section to see our selection of Toyota apps.
Next, click on your chosen app – the Twitter app, for example – to get more information.
Select your car and click 'Add to Basket'.
View your basket by clicking 'Basket' from the menu at the top of the page. From here, you can proceed through the checkout process, entering your details and choosing the most convenient payment method – either credit card or PayPal.
With checkout complete, click on the 'Purchases' area to see your purchased app.
If your phone is paired with your Touch 2 system, you can now go to your vehicle, switch on the Touch 2 system and go online.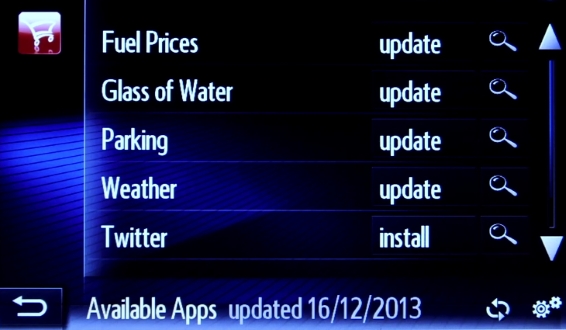 Touch the 'e-Store' icon and you will see a list of all the apps that are available on your system and in your particular region.
Find your purchased app – in our example, the Twitter icon – touch 'INSTALL' and your app will download to your Touch 2 system over the air.
For information about updating your Toyota Touch 2 device, see our post 'How To Update Your Maps And Software'.
See also:
MyToyota: Introducing your personalised customer portal
An introduction to apps
How to update your maps and software
How to pair your phone for calls, music and internet
How to use sat-nav features
How to send directions to your device
How to search online with Google Streetview and Panoramio
How To Use Toyota Real Time Traffic