In this post, we show you how to use your Toyota Touch 2 with Go and Touch 2 with Go Plus to search online using Google Street View and Panoramio.
The process is explained in the following short video, and we've also provided step-by-step instructions below.
First of all, make sure that your phone is paired with your device, and is connected to the internet.
For more information on how to do this, please read our post 'How To Pair Your Phone For Calls, Music And Internet'.
Once your phone is paired and you are online, go to the Toyota online menu screen.
To begin an online search select your preferred service provider. Now press 'AT DESTINATION' and enter your desired place of interest. Touch 2 with Go will show you a list options at or near your destination.
Select what you're looking for and you'll see the relevant address, phone number and current distance from your vehicle.
If you wish, you can immediately start navigating to the destination, and to make your journey even easier, get a Street View image of your location.
If you don't have a precise location in mind, you can search a city for some ideas by using Panoramio. Go to the Toyota online menu screen where you'll find the Panoramio button.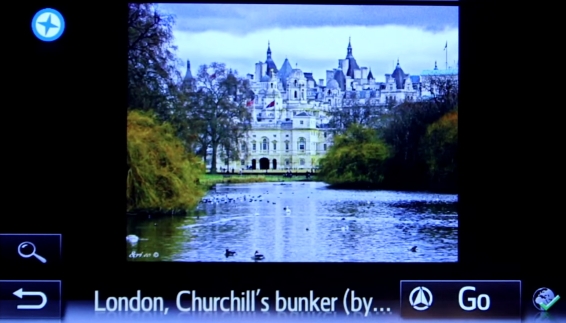 Press 'AT DESTINATION'. A map of your destination will appear accompanied by a number of pictures from the Panoramio community.
If you like what you see you can access the details and start navigating to that location.
See also:
MyToyota: Introducing your personalised customer portal
How to pair your phone for calls, music and internet
How to send directions to your device
How To Use Toyota Real Time Traffic
How to use sat-nav features
An introduction to apps
How to update your maps and software
Over-the-Air installation of apps