[youvid embded='t' vid='vO31IhX9v3A']
The Imperial Toyota Hilux of Giniel de Villiers and Dirk von Zitzewitz finished the 2014 Dakar Rally in fourth place after two gruelling weeks of racing.
De Villiers completed the final 157km stage between La Serena to Valparaiso in a time of one hour 57 minutes to win the day's racing and cement his grip on fourth position overall – but the South African missed out on the podium by 23 minutes.
Spain's Nani Roma claimed the overall 2014 Dakar crown, while his Mini team mates Stephane Peterhansel and Nasser Al-Attiyah completed the 1-2-3 for the brand.
De Villiers, who won the Dakar in 2009, suffered mechanical issues with his Hilux early in the rally that dented his hopes of a win, and despite a strong fightback in the second week in which he reached third position, he could not complete the comeback.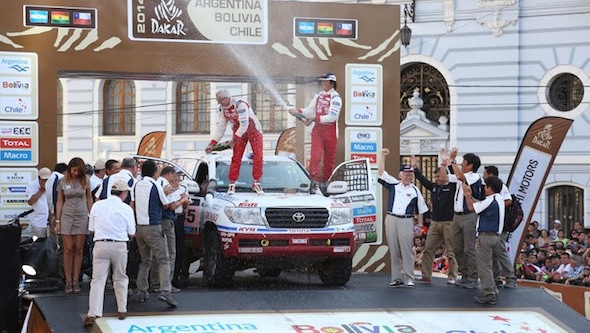 Meanwhile, the Toyota Land Cruiser took the top two positions in the production car category of the rally, with the Land Cruiser 200s of Team Land Cruiser taking the spoils.
Number 345, driven by Jun Mitsuhashi and co-piloted by Alain Guehennc took the overall category win, followed by Nicolas Gibon and Akira Miura in the number 344 car.