This photo of the last-generation Toyota Starlet SR is one of our favourite publicity shots of all time. While this moment of lift-off oversteer was captured on track after a hard tug on the handbrake, it is the predictable, rear-wheel drive handling of the oldest-generation Starlet that has captured the interest of a new and very different audience to the one the car was originally developed to meet.
Here, then, is our potted and very UK-focused history of Toyota's tiny tearaway…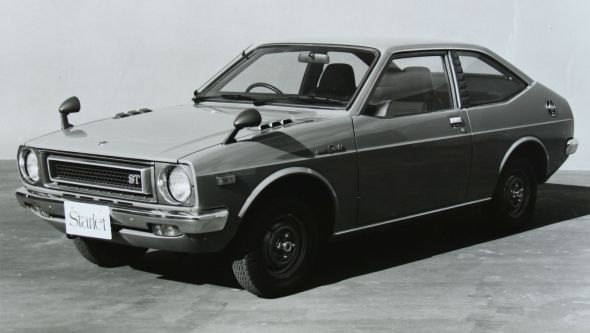 The story of the Toyota Starlet began in October 1973, when a new high-grade Publica Starlet coupe model was added to the facelifted third-generation Publica range in Japan (the Publica was known in other markets as the Toyota 1000). Aimed at the growing youth market, the car had a unique, fastback-style body that was a size larger than the rest of the Publica range. It could be immediately identified by the kicked-up beltline at the rear quarter window, which wrapped around the C-pillar to reach the bottom of the rear screen.
Engine and transmission options were lifted from the Publica and Corolla ranges. They included four K-series engine variations (one 1.0-litre and three 1.2-litre) allied to either a four- or five-speed manual gearbox or a two-speed automatic. A four-door Publica Starlet saloon was added to the line-up in October 1973, while a minor model change in February 1976 reduced the engine choice to one emission-controlled 1.2-litre unit.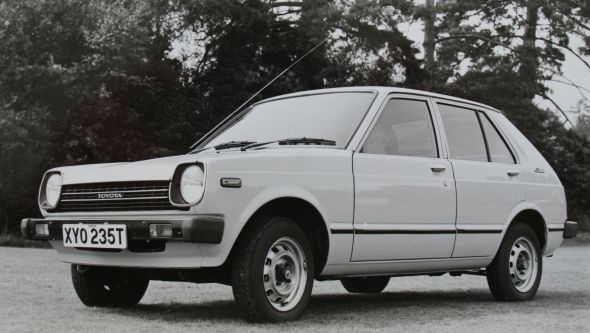 In February 1978 the Publica and Publica Starlet lines were consolidated into the new Toyota Starlet range, and while the longstanding Publica name was now discontinued its legacy continued with a 'P' designation in the chassis code. This evolution from trim level to standalone model set a precedent that was later copied in the transformation of the Celica Supra into the Supra sports car.
The new Starlet (frequently identified as the 60-series from its KP60 chassis code) became Toyota's entry-level model, following the two-box hatchback design that had become the global standard for compact cars at the time. Like most competitors it was available in three- and five-door body styles, but the Toyota Starlet differentiated itself in a key way by retaining a front-engine, rear-wheel drive layout.
Just one 1.3-litre engine was available in Japan, but in other markets the range also included 1.0-litre and 1.1-litre options from the same K-series family. Transmission choices remained the same as before.
The front suspension inherited the predecessor's MacPherson strut and coil spring setup, while the rigid rear suspension was switched from leaf springs to a four-link coil spring system. Front disc brakes were standardised across the range, and Starlet became the first Toyota passenger car to employ highly responsive rack-and-pinion steering.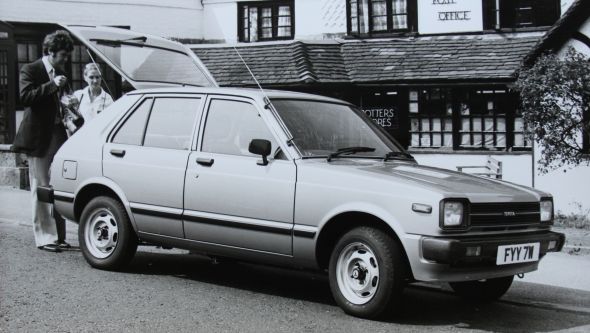 Widely acclaimed in the late Seventies as the most European of Toyota models, Starlet was praised in the UK for its quietness, docility and handling. A minor facelift and detail improvements were carried out in 1980 and 1983 respectively (the former being a noticeable switch from circular to rectangular headlights). But towards the end of its production run, the Toyota Starlet's USP had also made it something of an oddity within the marketplace – it was among the last volume small cars with such a traditional drivetrain layout.
Ironically, 60-series Starlets are now enjoying a significant turnaround in fortune as the balanced rear-wheel drive handling of this model is re-discovered by enthusiasts eager to transform the car into drift or rally specification.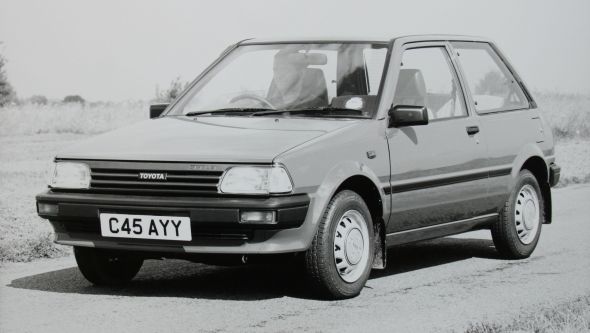 See also:
History of the Toyota Hilux
History of the Toyota Land Cruiser (Station Wagon models)
History of the Toyota Land Cruiser (Heavy and Light duty models)
History of the Toyota MR2
The next generation 70-series Starlet (EP70 chassis code) was launched in Japan in October 1984 but announced in the UK on 20 February 1985. New from airdam to tailgate and with non-standard shape headlamps that sat flush with the body, it finally matched contemporary superminis by offering a front-wheel drive layout. This change and a 55mm increase in width allowed Toyota to make noticeable improvements to interior space, while simultaneously making the car 45mm shorter and around 40kg lighter than before.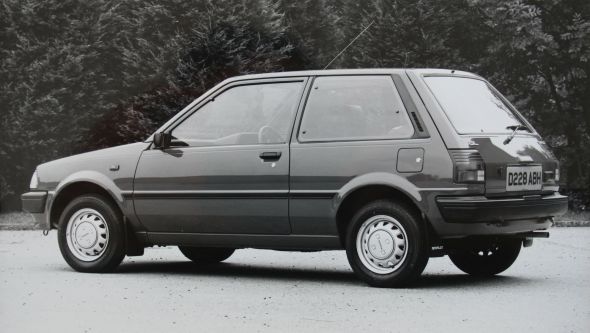 New lightweight multi-valve E-series engines were impressive compared to the outgoing K-series pushrod units. Although other markets received a choice of either 1.0-litre or 1.3-litre versions, Toyota GB elected to offer just the smaller engine allied to a newly developed five-speed transaxle gearbox. For good reason, too; the engine delivered 21 per cent more power and 13.8 per cent more torque than the outgoing 1.0-litre, and possessed enough performance to surpass that of the previous 1.2-litre model.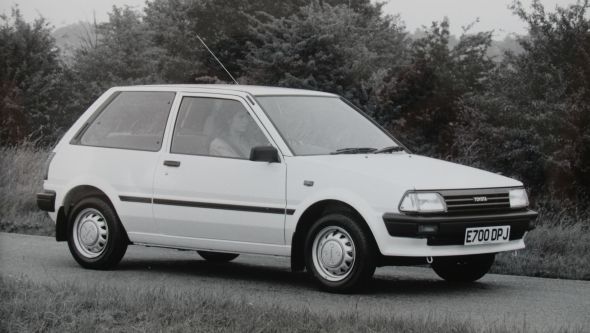 Fuel economy of the 12-valve 1E engine was also outstanding, even by today's standards. At a constant 56mph it could achieve 62.8mpg, giving it a 500-mile potential range from the 40-litre tank. The new Starlet was a joy to drive too, benefiting from an ingenious trailing arm semi-independent rear twist beam suspension that had the dual function of also being an anti-roll bar.
While a wide range of engine, trim and body options were available in other markets, including a turbocharged model with two boost pressure choices and electronically controlled suspension, just a solitary GL trim level was offered in the UK. But such was its level of specification (the original press release called it 'an object lesson in how to get a pint into a half-pint pot'), the only optional extra was metallic paint at a cost of £43 on top of the competitive price o f £4,770.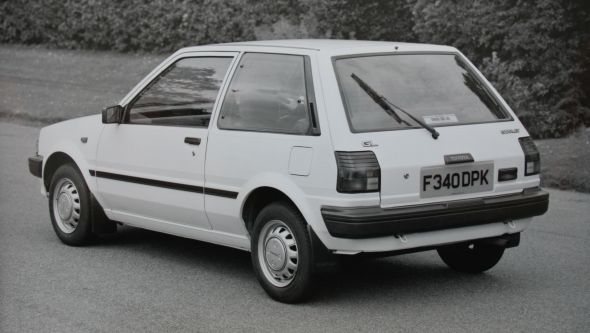 A mild facelift was applied in March 1987. The suspension was modified through altered valves on the front shock absorbers, while larger rear arm bushes assisted ride comfort. But the majority of improvements were applied to comfort and convenience features such as internal fuel and rear hatch releases, intermittent rear wiper, and extra storage features inside. By the end of 1998, 1,850,088 Starlets had been sold throughout the world, of which almost 800,000 were 70-series models.
The fourth-generation 80-series Starlet (EP80 chassis code) arrived in Japan in December 1989 but made its European debut at the 1990 Geneva Motor Show, followed by a full UK launch in April 1990. In contrast to the straight-edged appearance of its predecessor, the CAD-assisted design of the new Starlet featured a more rounded, friendly and flush-fitting appearance that contributed to it offering a drag coefficient figure of Cd 0.34, one of the lowest in its class (the previous generation was Cd 0.37).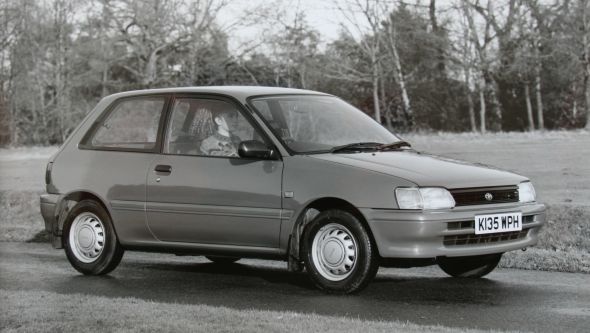 See also:
History of the Toyota Previa
History of the Toyota Prius
History of the Toyota RAV4
History of the Toyota Supra
If the 70-series Starlet had an air of practical utilitarianism inside, then the 80-series led by chief engineer Yuuichi Sorimachi reversed that with much higher quality fabrics and materials. In fact, quality was one of the primary watchwords used throughout the development of this new-generation Starlet, making it feel like a much more expensive, though equally functional, car.
The monocoque bodyshell was extremely rigid and comprised of 82 per cent galvanised steel, while inside the rounded instrument panel looked cutting-edge compared to the angular appearance of the previous model. It was more ergonomic too, with the switches and controls up to 75mm nearer to the driver and arranged more logically.
The carburetted 12-valve 1E engine and five-speed gearbox was carried over unchanged, offering brisk performance and the promise of superb reliability (the Starlet had consistently topped European reliability records). However with a lower resistance body to pull along, the new model's fuel consumption at higher speed actually improved. Meanwhile, the suspension was retuned with MacPherson struts at the front and a torsion beam rear, and braking performance was improved with larger ventilated discs and drums respectively.
Once again, the UK market was supplied with just one well-equipped, three-door GL model option at a cost of £7,600. Elsewhere, however, the adaptable 80-series Starlet* was available with a choice of three- or five-door body styles, a range of twin cam 1.3-litre petrol engines, as a turbocharged hot-hatch variant (the cult EP82 Starlet GT Turbo), a diesel model, and even one with full-time four-wheel drive.
By the end of 1991, Starlet production stood at 2,333,538 units and was increasing at a rate of over 181,000 per year. A minor revision in the second quarter of 1992 added door beams and an energy-absorbing steering wheel to the Starlet's arsenal of safety features, as well as body-protecting side moulding fitted as standard. The price had now crept up to £8,585.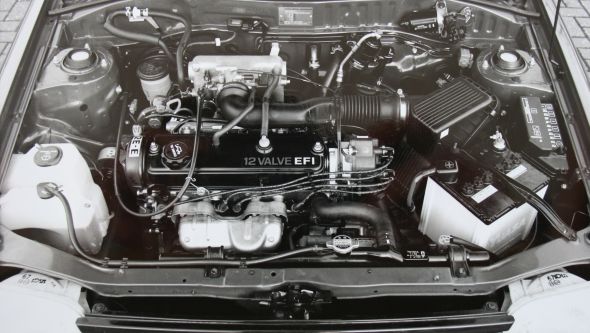 In Japan, this facelift was most notable for equipping all engines with fuel injection and a three-way catalytic converter, though we had to wait until February 1993 for this to be applied to UK cars. At least the introduction coincided with the release of new fuel injected 1.3-litre 2E-E engine option (above), which at 74bhp and 74 lb/ft produced a 27 per cent increase across the board over the 1.0-litre model. Top speed increased to 106mph and the 0-60mph sprint now took just 10.3 seconds, while fuel consumption remained impressive with 53.3mpg recorded at 56mph in official testing. A small premium of just £165 meant that the Starlet 1.3 GLi was now the most tempting proposition in the two-strong range.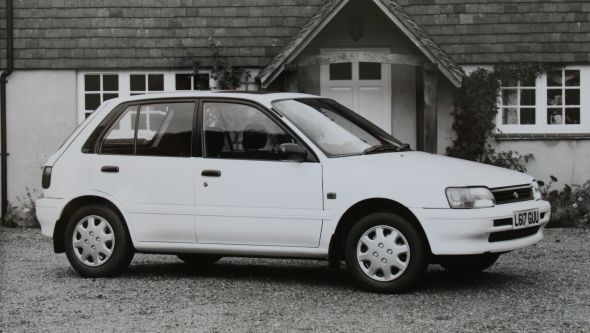 See also:
History of the Toyota Yaris
Another minor update in 1994 finally brought a five-door option to the UK market as well as new, cheaper XLi trim level that effectively deleted the need for the 1.0-litre engine. The UK range now consisted of 1.3 XLi three-door at £8,040 and 1.3 GLi five-door at £10,099; until August 1995, that is, when the special edition Jeans model appeared. Based on the three-door XLi, this little fashion statement featured a denim-clad interior and choice of Stonewash or Sapphire blue metallic (pictured below) body colours at a cost of £8,399.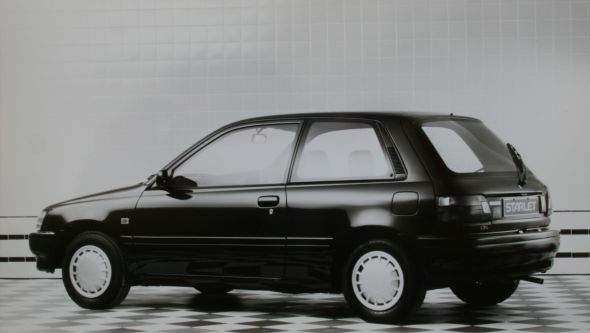 On the launch of the Jeans edition, Toyota GB revealed that a total of over 40,000 front-wheel drive Starlets had been sold in the UK since being introduced in 1985 and that over half of these were bought by people that already owned other Toyota models – a reflection of the manufacturer's high level of customer satisfaction. Interestingly, in contrast to most of its competitors, almost two-thirds of Starlet owners were male.
Nearly three million Toyota Starlets had been sold in 68 countries by the time the new fifth generation 90-series (EP90 chassis code) was launched in Japan in January 1996. This seemed impressive but it represented just 0.7 per cent of the European small car market and was more a reflection of import restrictions than a failure to meet the needs of the market. Toyota's ambition for new Starlet was therefore to double its presence in Europe, increasing availability from just 12 to all 16 markets in Western Europe.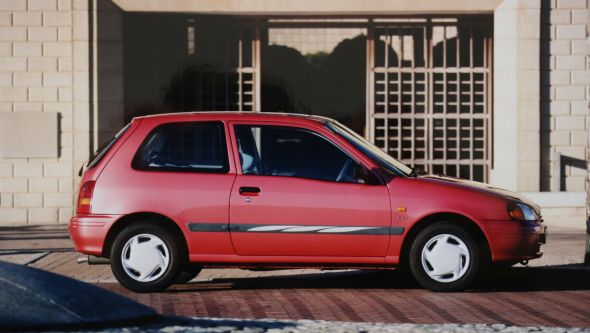 The 90-series Starlet set a new record for Toyota with a design to production time of under two years. Yet it was far from hastily conceived, building on the legendary build quality, reliability and space-saving features of its predecessors. It was a fresh but classic two-box hatchback design, with a spacious interior providing a comfortable passenger environment with plenty of shoulder, leg and headroom and excellent visibility from large glazed areas. The 2,300mm wheelbase put it right at the heart of the small car market and its 4,600mm turning circle was the best in class.
But it was in the area of safety where the new Starlet excelled. Its high integrity cabin and crushable body structure used high-tensile steel across 46 per cent of its mass and delivered occupant protection that exceeded the proposed European safety standards for 1998. It was lightweight, too, with weight-saving super-olefin polymers being used in the bumpers, dashboard and other fitments, and had an overall recyclability ratio of 85 per cent.
Now more of a world model, the Starlet range had become somewhat consolidated. However, quirkier derivatives such as the turbocharged Glanza V (successor to the GT Turbo), classically styled Carat, SUV-style Remix and four-wheel drive models were restricted to Japan**.
The UK market was supplied with three- and five-door models in either base Sportif or upmarket CD trim levels, allied to the same 'high torque' 1.3-litre 16-valve DOHC 4E-FE four-cylinder engine that was already fitted to the contemporary Corolla.
Transmissions were either a five-speed manual or three-speed automatic gearbox. Features on the CD model that were missing on the Sportif included an electric sunroof, power steering (available as a cost option on three-door Sportif), central locking, electric front windows and four-speaker stereo.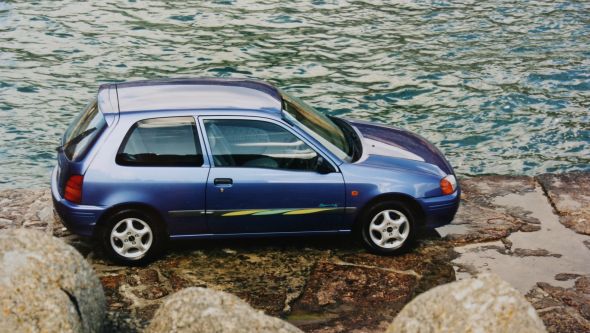 Prices started at £8,359 for the three-door Starlet Sportif (a smidgen cheaper than the outgoing Jeans edition) and rose to £11,469 for the five-door Starlet CD automatic.
Building on the 10,000 sales enjoyed in 1997 – its best-ever year in the UK – the minor change 90-series Starlet was launched in May 1998. Safety features were improved to meet the latest offset deformable barrier crash test and increase occupant safety, while power steering was fitted to all models bar the new entry-level 1.3i. Ride comfort, stability and braking performance were improved with alterations to the front and rear suspension.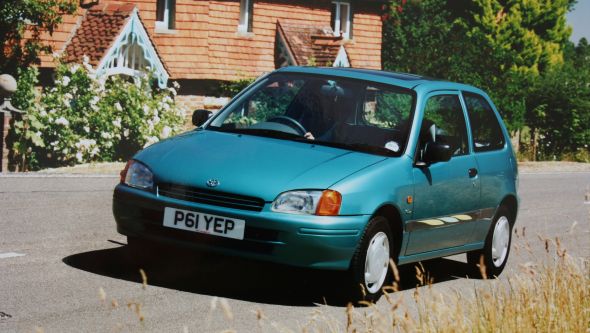 The line-up also changed with the introduction of a high specification GLS model (identified by its unique clear front indicator lenses and chrome trim) in place of the outgoing CD, a re-badging of Sportif variants as 'S' models in line with Toyota's new naming convention, and the release of a sporty SR model seen in the introductory image.
Developed as a fun, stylish and cost-conscious package, the Toyota Starlet SR benefited from 25mm lower sports suspension, 15-inch Speedline alloy wheels with low-profile tyres, free-flowing exhaust back box, rear spoiler and subtle rally graphics. Inside, the SR was equipped with a rev counter, electric front windows, central locking and a CD player.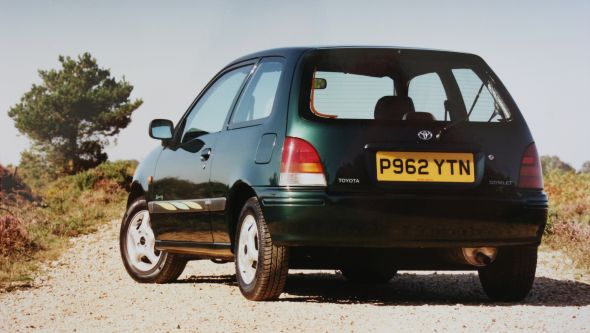 These models turned out to be a final fling for the Starlet, a car that had been a perennial feature of the line-up for nearly a quarter of a century. Toyota Starlet production concluded in July 1999 and its replacement, the Vitz/Yaris, was introduced to the Japanese market in August. Which is a whole other story…
* The 80-series Starlet also provided the basis for the futuristic Toyota Sera in the Japanese domestic market – a two-plus-two coupe with gullwing doors and 1.5-litre twin cam 16-valve engine.
** Just as the 80-series Starlet platform spawned a coupe, so did the 90-series model in the shape of the Toyota Paseo. It was available as an official UK model from 1996 to 1998.
See also:
History of the Toyota 2000GT
History of the Toyota Camry
History of the Toyota Carina
History of the Toyota Celica
History of Toyota's compact MPV models
History of the Toyota Corolla
History of the Toyota Hilux
History of the Toyota Land Cruiser (Station Wagon models)
History of the Toyota Land Cruiser (Heavy and Light duty models)
History of the Toyota MR2
History of the Toyota Previa
History of the Toyota Prius
History of the Toyota RAV4
History of the Toyota Sports 800
History of the Toyota Supra
History of the Toyota Yaris