The Toyota Sports 800 may be physically diminutive in stature but in every other respect it is a giant in Japan's car-making history, being the first production sports car built by Toyota Motor Corporation. It was officially launched in the domestic market in April 1965, approximately two-and-a-half years after the unveiling of its inspiration, the compact and lightweight two-seat Toyota Publica Sports concept car seen below at the 1962 Tokyo Motor Show.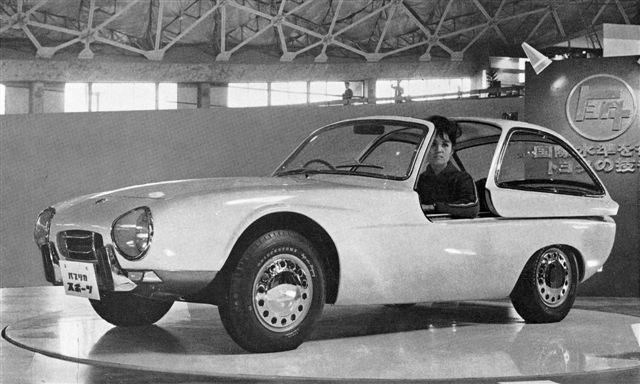 Relatively little changed in the conversion from intriguing show concept. Among these modifications, the production Toyota Sports 800 (referred to internally by its UP15 chassis code) switched from the dramatic but ultimately unpractical sliding canopy arrangement to traditional doors and a novel removable roof panel that could be stored in the boot. This was one of the first times that a targa-style roof had been installed in a production car.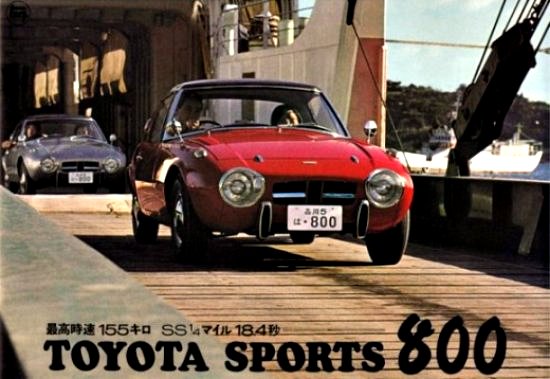 In addition, the Publica's economy-biased U-series 697cc air-cooled two-cylinder horizontally opposed engine was upgraded to a more powerful 790cc version. Fed by dual carburettors, this 2U-B engine directed its 45bhp at 5,400rpm to the rear wheels – a more satisfying figure compared with the Publica's modest 28bhp output – but still boasted maximum economy equivalent to almost 73mpg!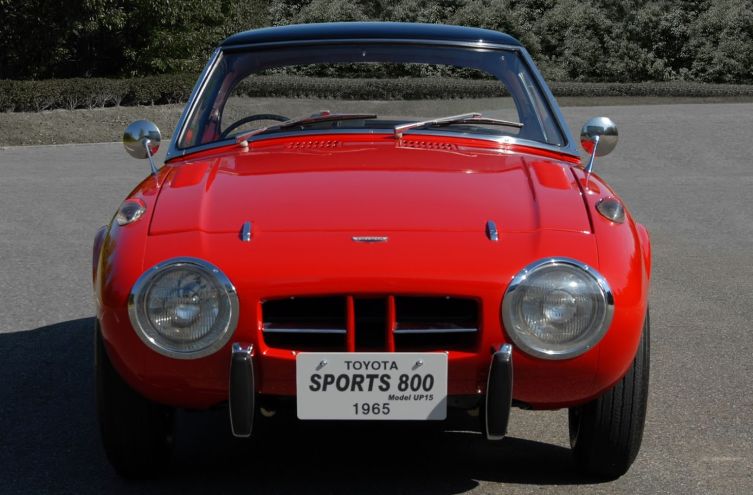 Double-digit power figures are unheard of in modern sportscars but the Toyota Sports 800 countered this seeming deficit in two important ways. First, the body design by stylist Shozo Sato was among the most aerodynamic of that era. Secondly, chief engineer Tatsuo Hasegawa had a history in aircraft design, so ensured that the car was lightweight in construction and agile in use.
See also:
History of the Toyota Hilux
History of the Toyota Land Cruiser (Station Wagon models)
History of the Toyota Land Cruiser (Heavy and Light duty models)
History of the Toyota MR2
History of the Toyota Previa
History of the Toyota Prius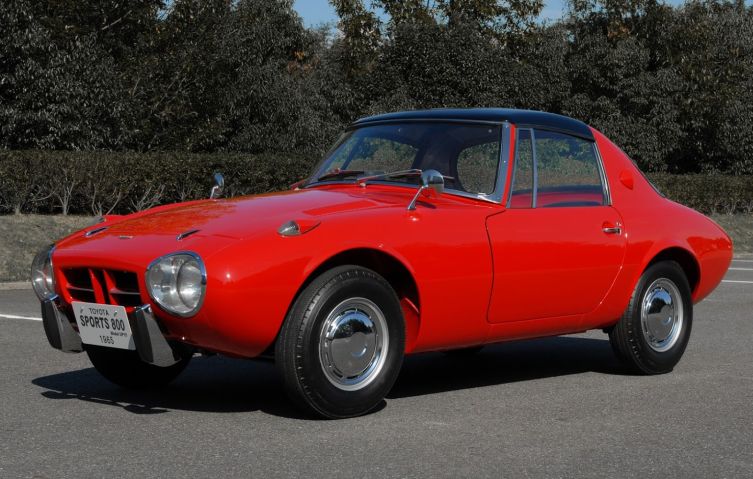 Thin-gauge steel was used throughout the Publica-based monocoque chassis, while aluminium was employed in strategic areas such as some body panels, the removable roof section and seat frames. With these measures, the Toyota Sports 800 tipped the scales at just 580kg and could almost nudge a 100mph top speed.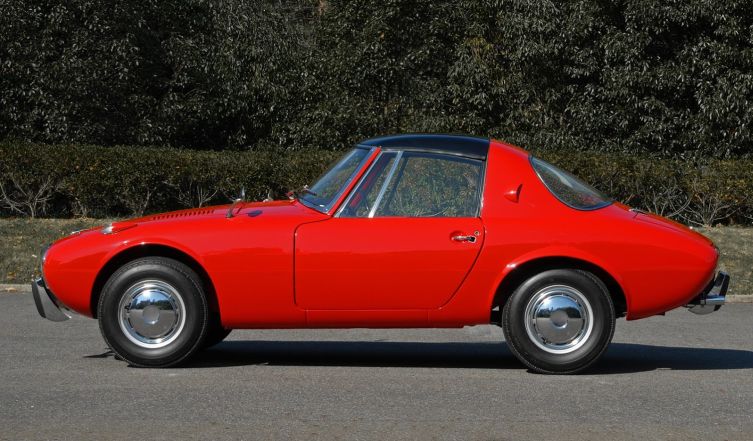 In its production lifespan from 1965 to 1969, only 3,131 units were built at Toyota Group subcontractor Kanto Auto Works (now part of Toyota Motor East Japan, Inc). Never officially sold or exported outside of Japan, the vast majority of Toyota Sport 800s were right-hand drive. However, approximately 300 were specially made in left-hand drive for members of the American military occupying Okinawa, a handful of which have subsequently been personally imported to the States.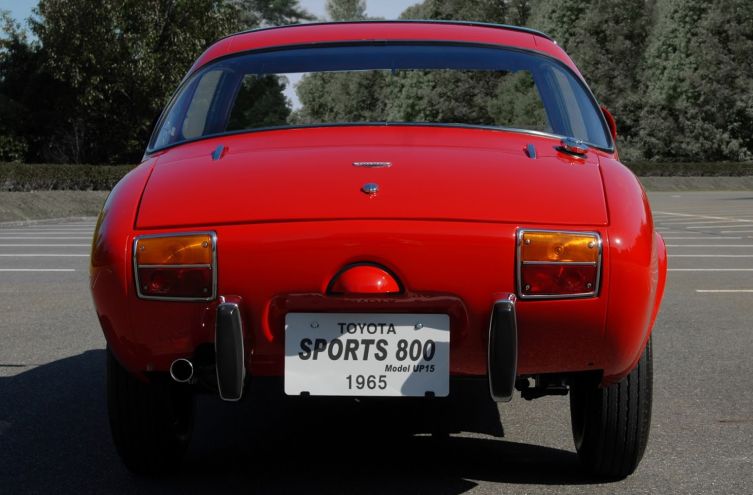 Thanks to its sporting performance and semi-convertible body, the Toyota Sports 800 proved very popular among young drivers. The car was also successful in domestic motorsport, primarily in long distance races where its reliability and fuel economy worked to its advantage. One example of this was the 1967 Fuji 24-hour race seen below, where Toyota scored a one-two-three podium finish with a Sports 800 finishing third after two Toyota 2000GTs.
See also:
History of the Toyota RAV4
History of the Toyota Supra
History of the Toyota Starlet
History of the Toyota Yaris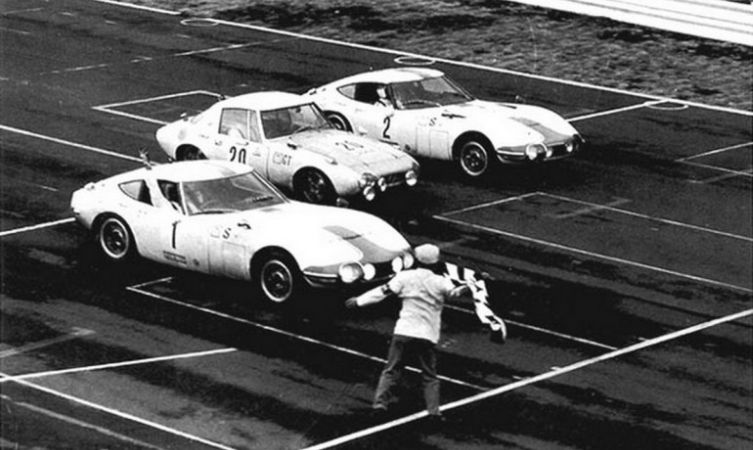 Half a century after production started, it is estimated that only 10 per cent of all Toyota Sport 800 models ever made still survive, most of which remain in Japan.
Often affectionately known as the Yota-Hachi, a shortened Japanese form of 'Toyota 8', the Toyota Sports 800 has become highly collectible. But the model has also gained notoriety in less obvious ways.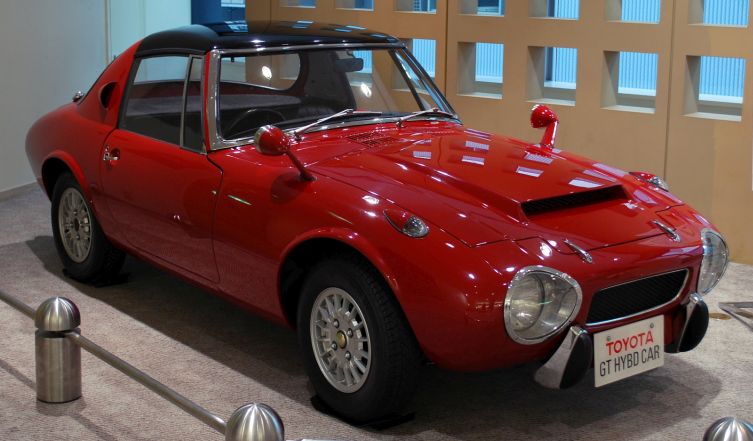 Toyota produced a custom Sports 800 GT Hybrid for the 1979 Tokyo Motor Show (see above), equipping the car with a gas turbine engine powering an electric drive motor, while students at the Toyota Technical College Tokyo used another to build an all-electric Sports EV-Twin for the 2011 Tokyo Auto Salon.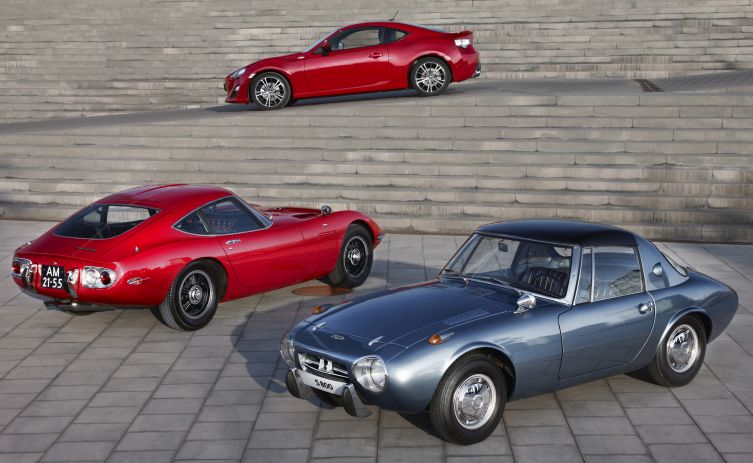 But perhaps the most accessible way in which the Toyota Sports 800 has provided inspiration for modern motoring is in the re-adoption of horizontally opposed engine architecture for the acclaimed Toyota GT86 sports car.
See also:
History of the Toyota 2000GT
History of the Toyota Camry
History of the Toyota Carina
History of the Toyota Celica
History of Toyota's compact MPV models
History of the Toyota Corolla
History of the Toyota Hilux
History of the Toyota Land Cruiser (Station Wagon models)
History of the Toyota Land Cruiser (Heavy and Light duty models)
History of the Toyota MR2
History of the Toyota Previa
History of the Toyota Prius
History of the Toyota RAV4
History of the Toyota Supra
History of the Toyota Starlet
History of the Toyota Yaris