This Toyota Celica history is a fascinating look at how Toyota's remarkable go-anywhere, do-anything sports car broke new ground, transformed to meet contemporary needs and established itself as a true global sales success and motorsport icon.
See also:
History of Toyota cars
History of the Toyota Camry
History of the Toyota Carina
History of the Toyota Corolla: Foundations of a world-beater
The Celica was Japan's pony car
The 1970s brought with them a new-found sense of freedom, and people were discovering that less time working in a modern society meant they had more time for leisure activities.
In America, 'pony cars' like the Ford Mustang, Chevrolet Camaro, Pontiac Firebird and Dodge Challenger were gaining popularity – indulgent purchases that reflected the easy-going spirit of decade but brought with them new levels of practicality and usability that were simply not possible with true sports cars of the previous decade like the Toyota 2000GT.
It was in this context that the history of the Toyota Celica began.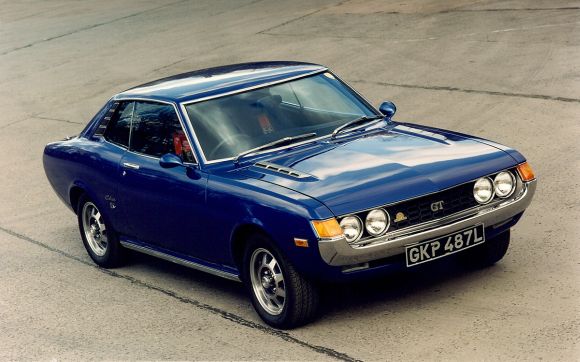 The Toyota Celica's history can be traced back to the first year of the decade, launching as a two-plus-two coupé derivative of the new Carina in December 1970 – a Liftback model followed from April '73 – and it was evident that Celica's styling was influenced by its American counterparts.
The quality and consistency of its manufacturing were of particular note, becoming the first Japanese car to use state-of-the-art robotic assembly to elevate it above its contemporaries. And Toyota's aim for Celica to become a global sales success were clearly indicated by the fact it was one of the first Japanese cars to comfortably accommodate people with six-foot frames.
See also:
History of the Toyota Hilux
History of the Toyota Land Cruiser (Station Wagon models)
History of the Toyota Land Cruiser (Heavy and Light duty models)
History of the Toyota MR2
For the domestic Japanese market, Celica was available with a range of engines from Toyota T-series family, ranging in capacity from 1.4 to 1.6 litres. Breathing through twin Solex carburettors, the twin-cam 2T-G was the most powerful in the range, producing 115bhp.
Overseas, Toyota used the Corona's familiar 1.9-litre engine for US-spec Celicas, and European cars were fitted with two middle-ground 1.6-litre T-series engines. Later in the car's life, the worldwide engine line up expanded to include 2.0- and 2.2-litre R-series engines, with the top 18R-G version offering up to 145bhp. That renge-topping model remains a highlight in Celica's history for classic Toyota enthusiasts.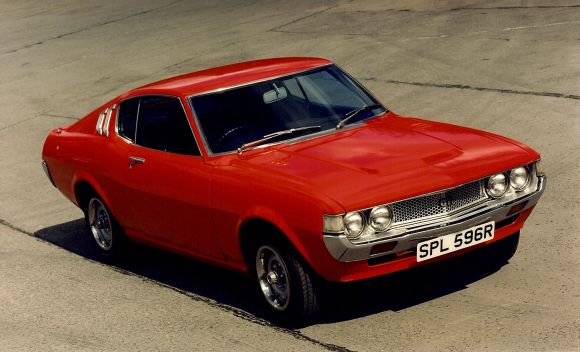 Ensuring the new car was comfortable and easy to use was the development team's main priority, but they also engineered the car with superb handling, designing it with independent front suspension and a four-link rear setup with separate dampers. A GTV model with sports suspension, built solely for the Japanese market, made further improvements, reinforcing a growing reputation for sporting prowess after a number of race victories in domestic motorsport.
On the other side of the world, Celica's early efforts in European rallying led directly to the formation of Toyota Team Europe (TTE), and numerous British Touring Car Championship successes by the Samuri-prepared cars kept UK sales bubbling.
See also:
History of the Toyota Previa
History of the Toyota Prius
History of the Toyota RAV4
History of the Toyota Supra
Fixed without being broken
June 1977 witnessed the millionth Celica rolling off the production line and sales showed no sign of slowing. Analysts therefore wondered why its replacement was revealed just three months later, but the Toyota board's decision to launch a new, second-generation Celica was clearly made to stay ahead of the curve.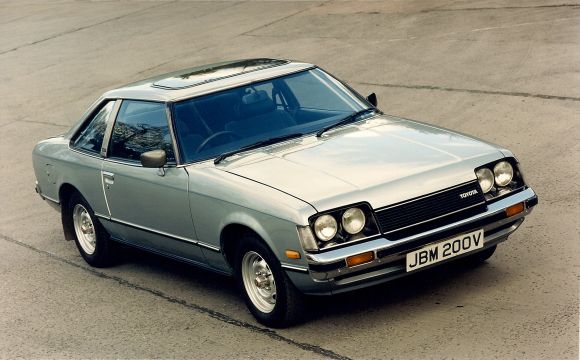 This time around, the development team evidently focused on the lucrative American market, with the new model displaying noticeable increases in length and width – this time Celica was a full five-seater – with higher equipment levels and improved comfort. Coupé and Liftback body styles were again available and were both lighter than the previous generation despite their larger dimensions.
An expanded and updated range of T and R-series engines were employed in the new car, all of which were tweaked in accordance with new anti-pollution laws.
Owners trading up to the new Celica from the much-loved first-generation model immediately felt at home. The motoring press agreed, with contemporary roadtesters often commenting that it still felt very much like a Celica, but with its greater practicality, improved refinement and better driving dynamics, Toyota had addressed virtually aspect of the earlier model that required attention.
At a stroke, Celica had matured into a car capable of crossing continents, an attribute that didn't go unnoticed by owners. Therefore, to meet the growing number of requests for a more powerful, grand tourer version, Toyota launched the six-cylinder Celica Supra (see Supra history for more details).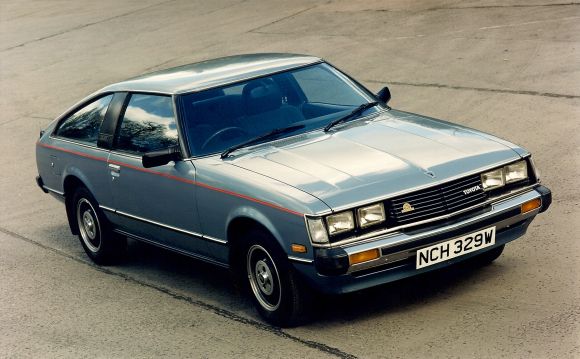 A little over two years after its UK launch in January 1978 Celica was given a mild facelift that included modern styling elements like quad rectangular headlights and a horizontal grille arrangement.
This official update from Toyota coincided with the launch of the Griffith Sunchaser and Targa models, unofficial convertible and targa-top versions. Built for Griffith by Aston Martin Tickford, only twelve and eight examples respectively were delivered into the UK market; such a comparative sales failure may have had something to do with the fact that Toyota had already announced a new third-generation model waiting in the wings.
See also:
History of the Toyota Starlet
History of the Toyota Yaris
The Celica gets a straight face
The next Celica was introduced to the Japanese market in July 1981, its fresh, straight-edged yet aerodynamic design with semi-retractable headlamps making an instant impression on the market. The sharp exterior aesthetic continued inside, the third-generation Celica exuding a futuristic feel with its digital instrument panel and even the world's first navigation system on some models.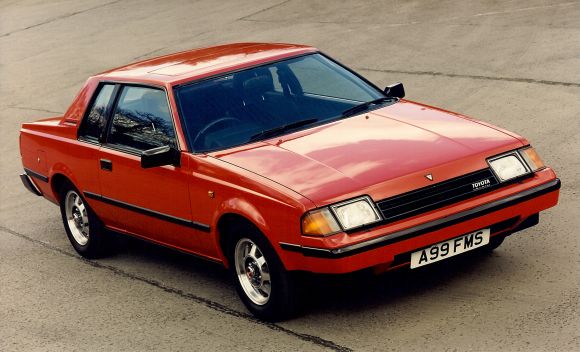 In total, buyers in Japan had 20 different versions available to them (plus another seven for the Celica Supra), giving an exceptional choice of specification levels, including Japan's first mass-production twin-cam turbocharged engine.
The slimmer UK range launched in February 1982, however, came with Toyota's best all-independent chassis set-up, allied to a cheaper disc/drum brake package and proven two-litre engine. This combination gave the new Celica an affordable starting price given the generous overall equipment levels.
Though TTE's persistence with the second-generation Celica was finally yielding results in the Group 4 class of the World Rally Championship (WRC), Toyota switched its motorsport campaign to the new car in spite of the fact that sporting rule changes had been signalled that meant the car would only have a short competitive lifespan.
Equipped with the outgoing car's storming twin-cam engine, Celica made an instant impression, winning its first event and helping Toyota secure fifth place in the 1982 WRC. The following year, a new 370bhp Group B car emerged from TTE's workshops, based on the Japanese-market turbocharged model. Though 'hampered' by having only two rather than four-wheel drive, the new car claimed a second place result in its first competitive outing and was crowned the 'King of Africa' after winning three-quarters of the continent's WRC rounds in four years.
A facelift in August 1983 gave Celica a neater, pop-up headlight arrangement and a revised rear lens treatment, though it wasn't until February 1984 that this update filtered through to UK cars. Around the same time, an official convertible version was launched in the States, developed by the American Sunroof Company. Historically, drop-top versions of Celica had not been successful but this was a quality product that forged a long association between Toyota and ASC.
From back to front
The fourth-generation Celica launched in August 1985 was a marked departure from its predecessors, the most significant difference being a switch to front-wheel drive. A fresh approach with a clean-sheet development, its smooth, aero-efficient design language bore no sign of being derivative of the past. It also had a new mechanical layout that allowed the forthcoming Mk3 Supra to stand independently within Toyota's sporting range.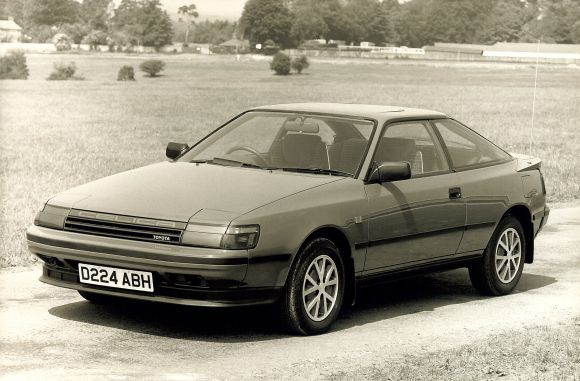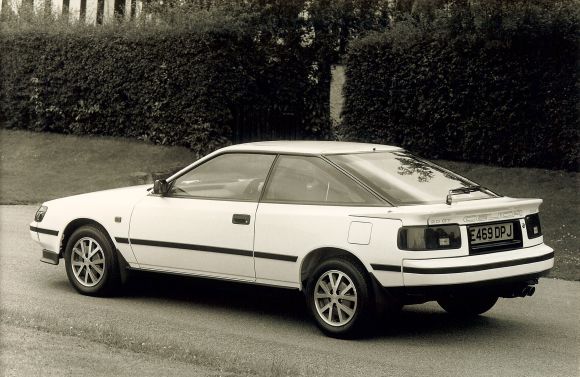 Sold initially as a three-door Liftback model in Japan and Europe (the US also got a two-door coupé that later provided the foundation for an ASC-engineered convertible), the new car was powered by a range of four engines – single-cam 1.8-litre or 2.0-litre engines in base models, the familiar mid-range 1.6-litre 4A-GE twin-cam, and a new 2.0-litre 16-valve twin-cam 3S-GE flagship unit with an 86mm 'square' bore/stroke. Naturally, the suspension was totally redesigned to suit the new transverse powertrain layout, introducing MacPherson struts all round.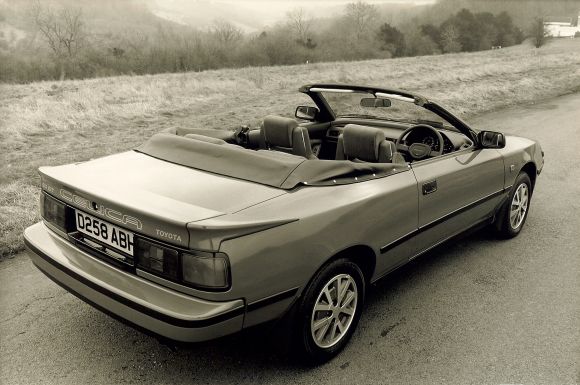 Even though Celica's increased purchase price was not welcomed by the motoring press, roadtest reports also revealed that the model's new-found handling and chassis balance seemed to justify the extra cost. Just one model was initially available in the UK market, equipped with a high-spec 2.0-litre unit delivering 147bhp through either a five-speed manual or four-speed automatic transmission.
In October 1986 Toyota announced the launch of a flagship GT-Four model with a new 3S-GTE engine, a turbocharged and water-intercooled development of the high-performance 3S-GE. Its 185bhp output made it the most powerful 2.0-litre engine in Japan. This degree of power, when distributed to all four wheels via a central differential, also made it a perfect rally weapon.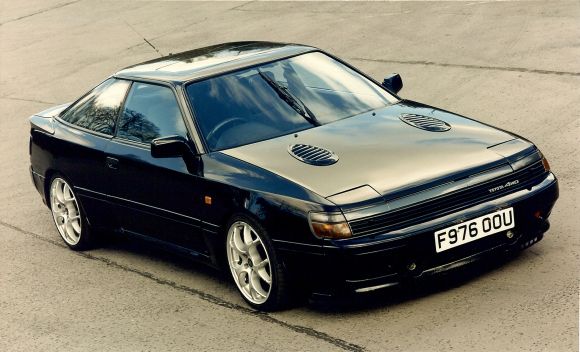 The UK launch of the GT-Four was delayed until March 1988, as the unleaded fuel it required was not been readily available until then. This neatly coincided with the Group A car's debut in the WRC. It was Toyota's first serious challenger for the championship crown, and the works TTE team entered every event in the WRC calendar from then on. The best results came in 1990 when Carlos Sainz won the driver's title and Toyota took second place in the manufacturers' championship.
Toyota Celica: a rounded individual
Generation five was announced in Japan and Europe in September 1989, while the fourth-gen' Celica was still strutting its stuff in world rallying. An evolution of the previous platform, the new car shared the same wheelbase as before but was fractionally longer and taller to balance the shape. Its design was smoother, benefiting from organic 'super round greenhouse' styling, and it was appreciably lighter and quieter than before.
Power for domestic models came from three varieties of 3S-series engines, all with 2.0-litre capacities and tweaked to improve power and responsiveness.
The 3S-GTE in particular now featured an air-to-air intercooler and a twin-entry turbocharger with a ceramic turbine wheel, which once again catapulted it to the top of the league as the most powerful of all 2.0-litre production engines, at 225bhp. Meanwhile, the naturally aspirated 3S-GE used a new variable induction system and a stainless steel exhaust manifold that gave it an extra 25bhp and 14lb/ft. Both of these engines featured in UK-spec' cars that became available in early 1990.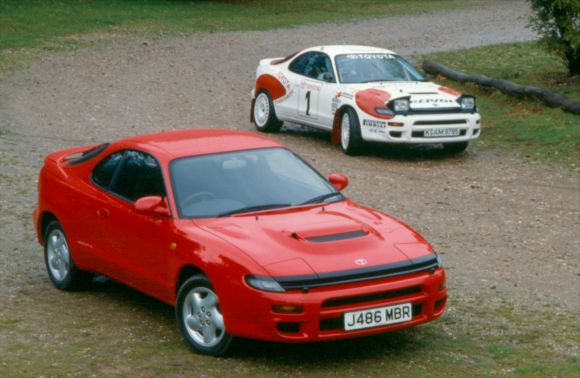 Interestingly, US and European versions of the GT-Four were based on a new wide-body 'GT-Four A' added to the domestic range in August 1990. Sitting 55mm wider than the standard Celica, it allowed larger 15-inch alloy wheels and 215/50 tyres to be specified for improved grip. A year later Japan adopted this 'A' body as standard for the GT-Four model. But the ultimate version of the fifth-generation Celica was probably the GT-Four RC homologation special of September 1991, which also formed the basis for the limited edition (only 440 produced) Carlos Sainz model for the UK market.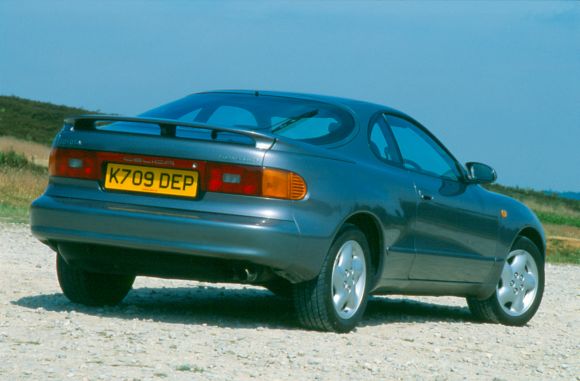 The launch of this special edition was made all the sweeter when Sainz clinched the driver's championship on the year of the car's debut. But it was the WRC campaigns of 1993 and 1994 that are best remembered, when Toyota won the championship titles outright.
Toyota Celica: sixth sense
Throughout the 80s and early 90s, Toyota usually stuck to a four-year production cycle with a mid-life refresh halfway through. This rapid turnover meant that development of a new model often started soon after the launch of the current generation. In the case of the sixth-generation Celica, work began in the spring of 1990. Hundreds of proposals were evaluated, with the aim of giving the next car a more distinctive 'face'.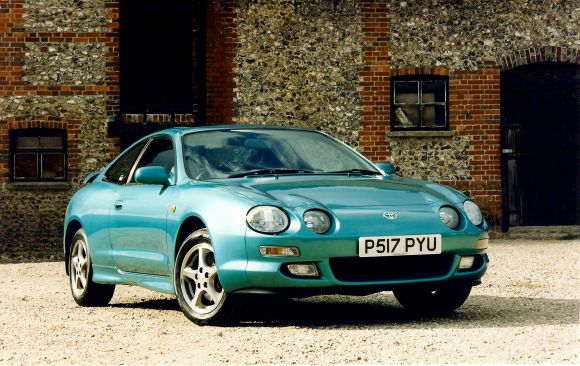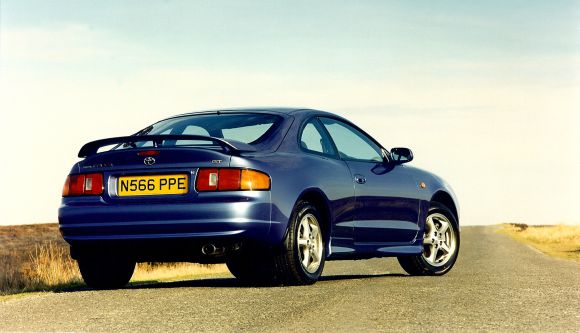 Once again built around a purpose-built coupé formula, the new car borrowed styling cues from the recently launched Mk4 Supra and was the first Celica in many years not to feature pop-up headlights. Engineering advances allowed the bodyshell to be fractionally larger, substantially stronger, yet around 90kg lighter than previous. Engine options and the MacPherson strut/dual link chassis setup were pretty much carried over from the last generation, though ABS was now offered as an option on all models. Some markets later included a 1.8-litre model that provided a temptingly priced entry into Celica ownership.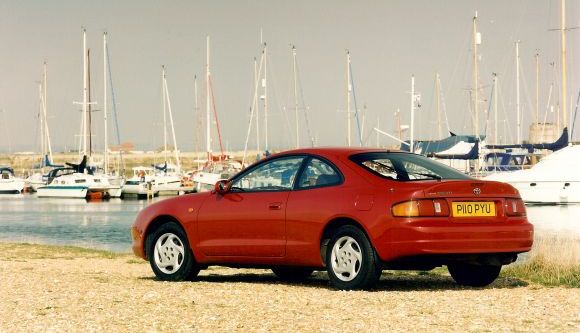 In February 1994, 13 months after the car's launch, the GT-Four was reintroduced to the domestic market with the aim of providing Toyota with another WRC title – which duly occurred when Toyota won the manufacturers' championship that year and driver Didier Auriol took first place in the drivers' championship.
New valve timing and further alterations to the turbo and intercooler arrangement for the road-going GT-Four yielded more power gains, increasing output by another 30bhp to 255bhp. This allowed it to rocket to 60mph in just 6.1 seconds and continue to a maximum speed of 153mph. Sensibly, the GT-Four's brakes were extensively uprated and included lateral G-sensors so the braking effort of individual wheels could be more effectively controlled.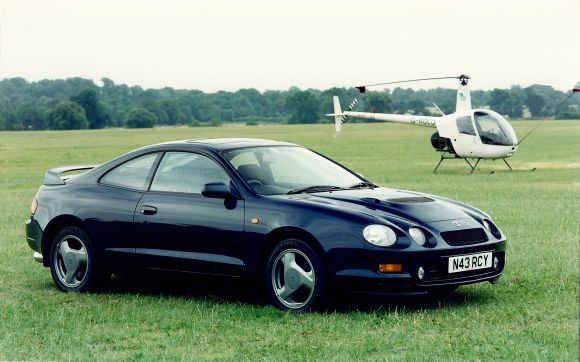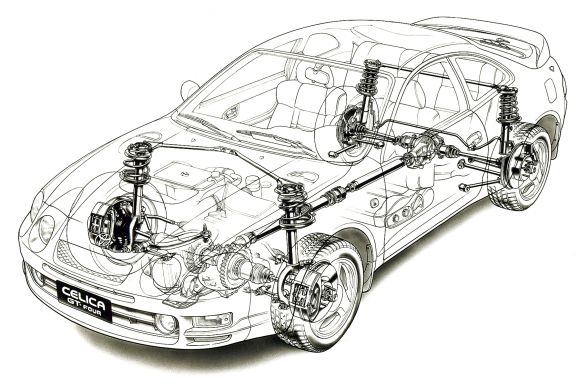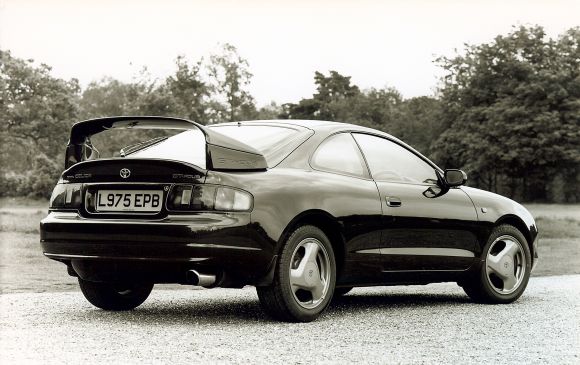 The UK market initially received just one Celica model from March 1994 onwards – the 173bhp 2.0-litre GT. This decision was vindicated by the fact the car perfected the trick of being both quick (0-60 in 7.9 sec) and surprisingly frugal (up to 45mpg). While praise was effusive for the naturally-aspirated Celica, some magazine road testers in the UK found the new GT-Four a little too refined, though did admit that it improved the harder you pushed it, and was preferable over long distances compared to other rally-derived machines.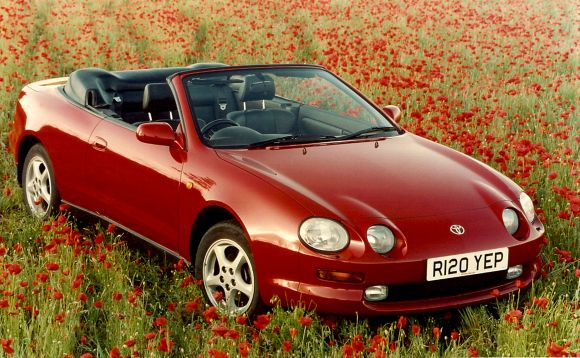 September 1996 saw the end of UK sales of the Celica GT-Four, around the same time as the Mk4 Supra was deleted from the market, while in motorsport the smaller Corolla had swiftly become TTE's weapon of choice for the WRC. Minor changes for the 1997 model year became the swansong specifications for the sixth-generation Celica, with many markets selling the last fully-loaded cars right up until the switchover to the long-awaited new machine.
Toyota Celica: a sharp suit
Toyota's striking XYR concept car shown at the 1999 Detroit Motor Show offered more than a strong hint at the design of the forthcoming seventh-generation Celica. With hindsight we know it was virtually indistinguishable from the real thing, which went on to make its world debut in September 1999, shortly before Toyota announced it had produced its 100-millionth vehicle.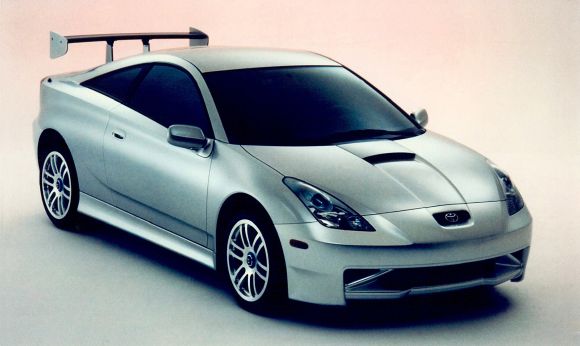 The project was managed by Tadashi Nakagawa, the man also responsible for the third-generation MR2, and showed a similar engineering direction: weight reductions, smaller and lighter components, and razor-sharp handling. It debuted a duo of new 1.8-litre engines co-developed with Yamaha, offering variable valve timing (VVT-i) and a top-spec version with a second high-lift camshaft lobe that engaged at higher revs (VVTL-i). This latter engine was one of only a handful of powerplants that offered a specific output of more than 100bhp per litre.
Unlike any other Celica before it, only one coupé body type was offered and was never engineered to evolve into convertible or four-wheel drive variations. This clearer focus allowed the development team to concentrate on making the body structure as light as possible for this sole purpose, while smaller displacement engines also offered the opportunity to fit a smaller fuel tank. The result was a car with a shorter body and longer wheelbase, tipping the scales at just 1,090kg in base trim.
European sales began in November 1999, initially only with the lesser 140bhp 1ZZ-FE engine, but joined almost a year later by the 189bhp 2ZZ-GE engine in the guise of the Celica 190. This car was gradually phased out of the UK line-up after a new flagship T Sport model was launched in August 2001 with unique alloy wheels and larger front brakes.
In line with Toyota's normal procedure, a midlife facelift came a couple of years into the production run, this time ready for the 2003 model year. Thanks to careful management of the stock of run-out cars, Britain received the updated version at the same time as Japan and the US. Yet despite buoyant sales assisting Toyota to its 10th straight year of record UK sales, there was no escaping the fact that there was a worldwide trend away from sports cars.
In the face of this movement, Toyota had no choice but to discontinue the Celica in the US in the summer of 2004. UK sales continued with reasonable vigour, especially with the attraction of a special edition GT variant with lowered suspension, a surprisingly wild aero package, and dedicated 17-inch alloy wheels. But the death knell tolled in January 2006 when tough new emissions regulations were announced; making Celica comply with the new levels would simply be uneconomical. Production officially ceased in Japan in April 2006.
From its introduction in December 1970 to its final bow more than 35 years later, Celica production had reached the epic heights of 4,129,626 units.
For a full gallery, visit our Flickr page here
See also:
History of the Toyota 2000GT
History of the Toyota Camry
History of the Toyota Carina
History of Toyota's compact MPV models
History of the Toyota Corolla
History of the Toyota Hilux
History of the Toyota Land Cruiser (Station Wagon models)
History of the Toyota Land Cruiser (Heavy and Light duty models)
History of the Toyota MR2
History of the Toyota Previa
History of the Toyota Prius
History of the Toyota RAV4
History of the Toyota Sports 800
History of the Toyota Supra
History of the Toyota Starlet
History of the Toyota Yaris