See also:
History of Toyota cars
History of the Toyota Camry
History of the Toyota Celica
History of the Toyota Corolla: Foundations of a world-beater
Designed to fill the gap between the existing Corolla and Camry models, the new Toyota Carina 1600 arrived in Britain in 1971 alongside the also-new Toyota Celica. The two cars shared identical platforms but were differentiated through bodywork, Carina being the more traditional model compared to the fashionable, coke bottle styling of Celica.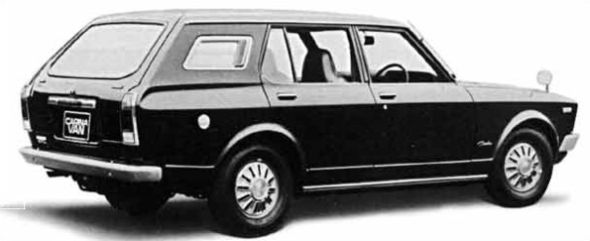 Nevertheless, the first-generation Carina quickly established itself as the second largest selling Toyota in the UK behind Corolla. Depending on the market, Carina was available in a wider variety of permutations than its sporty-looking sibling. Toyota produced two- and four-door saloons, a two-door coupe and, after a facelift in late 1975, an unusual van-like estate with opera-style rear side windows. Stand-out details included four round headlamps and distinctive, vertical rear lenses.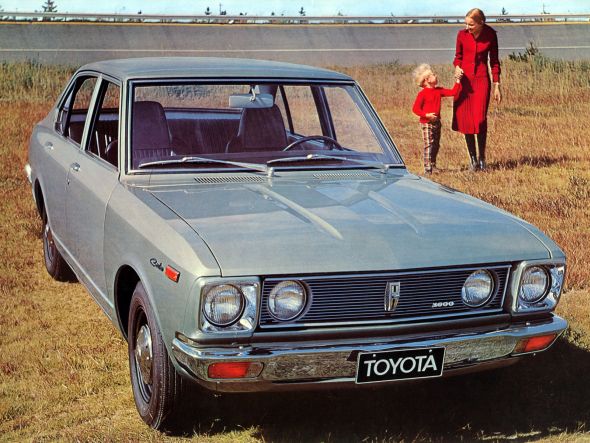 Sporting genes could be experienced in the drive, which was more grand tourer than four-door saloon. Its 1.6-litre 2T cross-flow engine produced 102bhp at 6,000rpm and 101 lb/ft at 3,800rpm and offered remarkable performance for its size – 0-50mph in just 8.8 seconds and a top speed of 101mph. Equipment levels were generous, including tinted glass, contour reclining seats with integrated head rests, push button radio and luxurious loop-pile carpet.
The second-generation Carina arrived in Japan in August 1977, with deliveries reaching the UK in January the following year. Bearing the same Carina 1600 name and four-lamp stare but with new linear, clear-cut body styling, it was designed to stand out from at least a dozen competitors within its segment offering the tried-and-trusted front engine, rear-wheel drive configuration.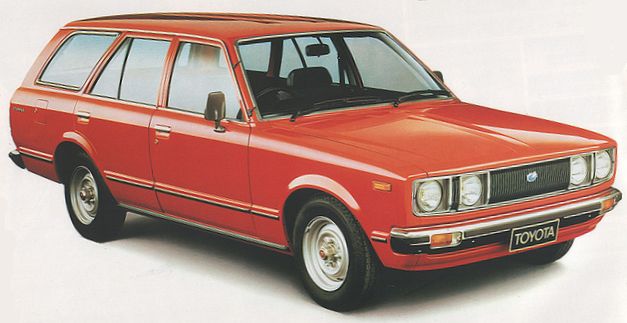 Like its predecessor, the new model came in four body variations depending on the market. And for the first time the UK line-up doubled with the addition of an estate model to the regular four-door saloon.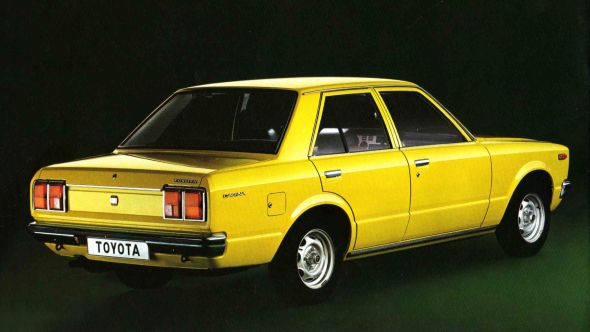 See also:
History of the Toyota Hilux
History of the Toyota Land Cruiser (Station Wagon models)
History of the Toyota Land Cruiser (Heavy and Light duty models)
History of the Toyota MR2
Both were powered by the same 2T four-cylinder petrol engine found in the first-generation car, albeit modified to conform to forthcoming emissions standards and therefore known as the 12T-U. De-tuning hadn't done the engine's performance many favours, however, maximum power now peaked at 75bhp at 5,200rpm and torque was reduced to 85 lb/ft at 3,800rpm. Top speed also came down to 91mph, but at least the engine was developed to run on cheaper 90 octane fuel compared with the 98 grade needed by most of its rivals.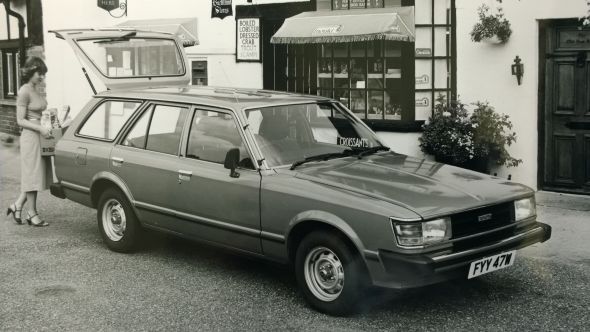 A facelift was applied for the 1980 model year, adding 120mm to the car's length through larger, more crash-resistant bumpers and a new slant-nose style with rectangular headlights. Changes happened thick and fast in the latter years of the second-generation Carina's life, the performance deficit beginning to be put right in February 1981 when a five-speed gearbox was standardised to improve refinement at speed.
However, it was a couple of months later in April when balance was properly restored with the availability of a new 1.8-litre version of the T-series engine that offered 95bhp. In the UK this model was known as the Carina 1.8 GL.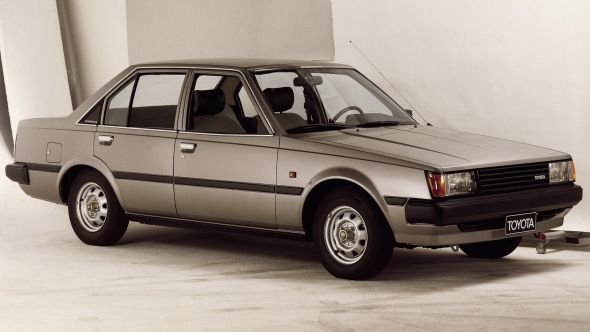 The third-generation Toyota Carina (above) had a short lifespan in the UK, arriving in February 1982 and disappearing again a little over two years later (it remained in production in Japan until 1988). It followed the continuing trend for square-edged styling to such an extent that it made the previous generation look positively rounded. Yet as one of the last vehicles in its segment to retain a front engine, rear-wheel drive configuration it failed to make much of an impact with British buyers.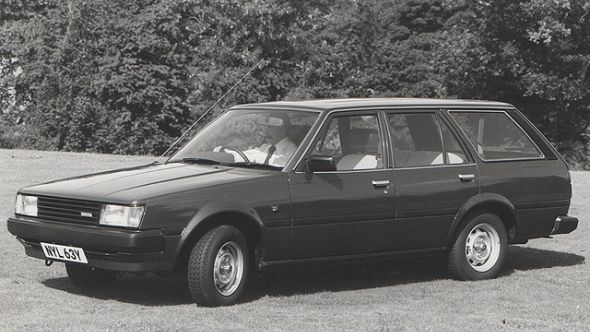 See also:
History of the Toyota Previa
History of the Toyota Prius
History of the Toyota RAV4
History of the Toyota Supra
Once again, saloon and estate body styles were available, with the choice of 1.6- or 1.8-litre engines also carried over from the previous generation. You could specify an automatic gearbox on 1.8-litre saloon models and choose between entry-level DX or luxurious GL trim grades. However, by September 1982 the larger engine was deleted and the range slimmed to just two options – 1.6 GL saloon or 1.6 DX estate.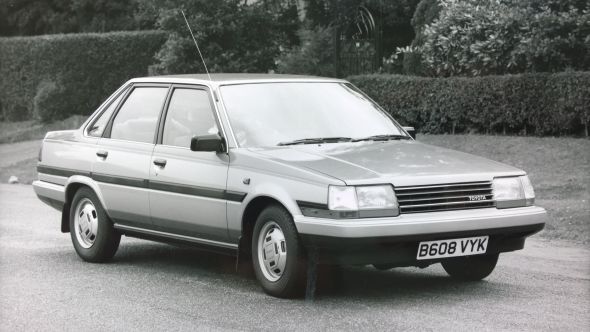 The first Carina to offer the new standard configuration of front-wheel drive and transverse engines arrived in Britain in April 1984. Blessed with a suffix to help differentiate it from what had gone before, the attractively styled and much more spacious Carina II immediately reversed the sales decline experienced with the previous generation. Indeed, it went on to secure around 17% of all Toyota sales in the UK.
Available in either saloon or practical liftback body styles (no estate model was produced) and with efficient new petrol or diesel engines, the new fourth-generation Carina II carved a fine reputation in a fiercely competitive segment of the market. It was also acknowledged as an accomplished all-round performer with inherent reliability, build quality, low running costs and lighter construction.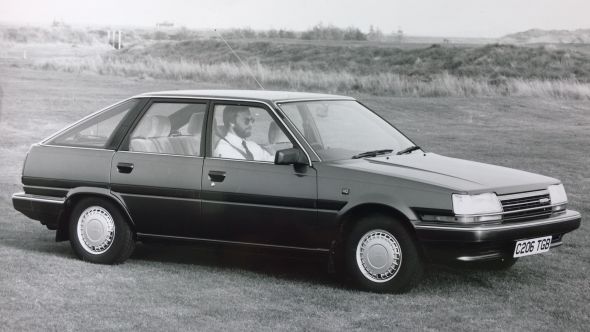 See also:
History of the Toyota Starlet
History of the Toyota Yaris
The 1.6-litre petrol engine came from Toyota's recently developed A-series range, while the inclusion of a naturally aspirated 2.0-litre diesel unit helped Carina appeal to other sectors of the market. Diesel buyers were limited to the saloon variant, while the petrol engine could be specified in either saloon or liftback forms.
One well-equipped GL trim level was available initially but after a mild refresh in 1985 – identified by new stainless steel wheel trims and fully colour-coded bumpers – a high-specification Executive grade (see image below) was added to the best-selling liftback version. It offered luxuries such as electric windows, electric sunroof and alloy wheels, not to mention the option of air conditioning.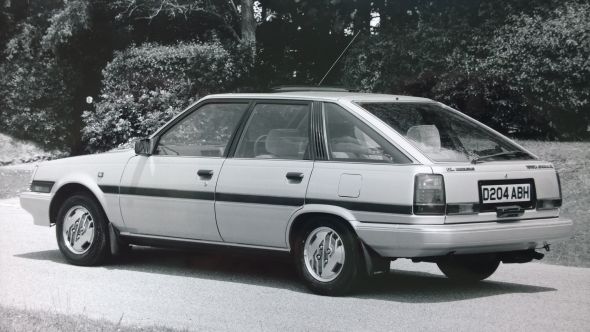 But the biggest news of the facelift came under the bonnet, where an increased compression ratio improved power and torque in the petrol model by a significant 11 per cent, now delivering 84.5bhp and 99.6 lb/ft. Outright performance marked a return to form, with 60mph coming up in 10.7 seconds and mid-range acceleration swifter than the majority of its rivals. Yet that extra power did not come at the expense of economy – the Carina could still achieve impressive fuel consumption of over 50mpg at a steady 56mph cruise.
The fifth-generation Carina went on sale in the UK in March 1988, offering a completely fresh design and, for the first time, a 2.0-litre petrol engine that could truly hold its own on the motorway. Toyota was keen for the new Carina II to be a success because its predecessor had totally changed the fortunes of the model in Europe, securing 70% of the vehicle's total production volume.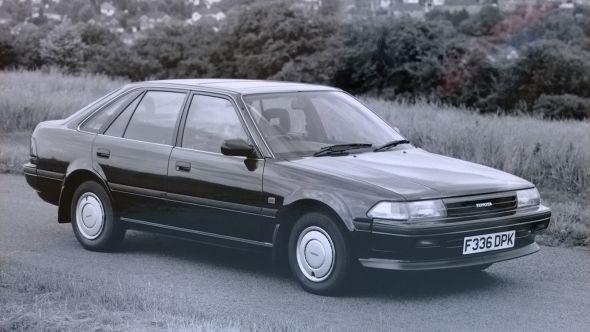 To ensure the new car met expectations, Toyota went back to basics and concentrated on optimising four key areas: 1) A sculpted exterior design that was pleasing to look at and offered aerodynamic excellence; 2) High performance levels across all categories; 3) Ample interior space with excellent ergonomics; 4) Inherent quality and reliability.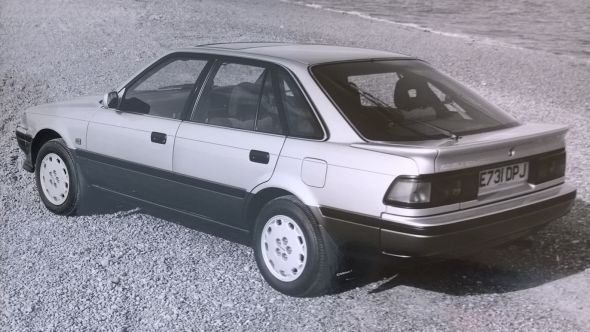 In those respects, the body's smooth, uncluttered surfaces delivered drag coefficiency as little as Cd 0.31, while simultaneously encompassing interiors that used their family car dimensions much more efficiently. Calling upon know-how gained as the world's leading manufacturer of multi-valve engines, both 1.6-litre 4A-FE and 2.0-litre 3S-FE petrol engines gained four-valves-per-cylinder, twin-cam architecture and fuel injection for increased power, better fuel economy and significantly improved low- to mid-range response. Body stiffness was improved by 30% and high-quality anti-rust steel accounted for 63% of the body mass, yet overall weight gains were negligible.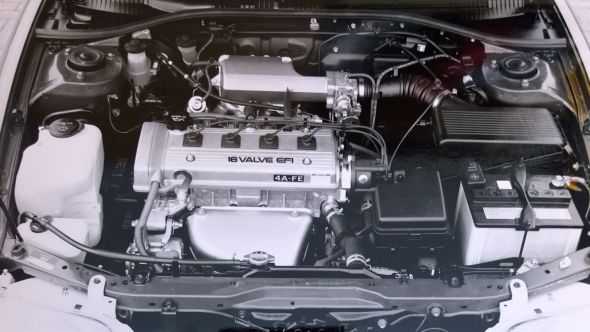 The 1988 Carina II range was available as either a saloon, liftback or estate. All were supplied in GL grade, while the 2.0-litre engine was only available in the top-specification GL Executive liftback. The estate version comprised less than 10 per cent of total sales and was only available with the 1.6-litre engine and manual gearbox. A new entry-level XL grade joined the range in March 1990, while the performance potential of Carina was explored for the first time by Andy Rouse within the 1991 and 1992 British Touring Car Championship.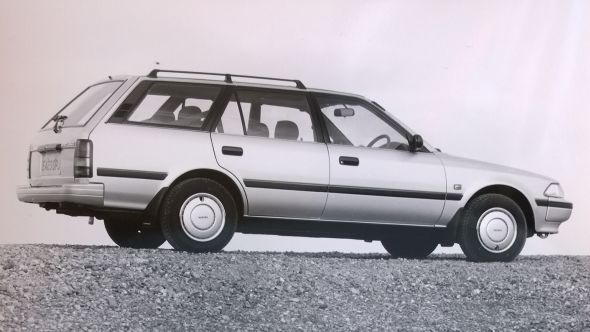 The upward trajectory of Carina continued through 1990, with sales increasing by 43% over 1989, which itself saw a 20% improvement over 1988. Sales of diesel cars were similarly improving, and in the five years from 1985 had doubled to take a 6.38% slice of the UK car market. Toyota reacted to this with the re-introduction of 2.0-litre diesel-powered Carina models in February 1991.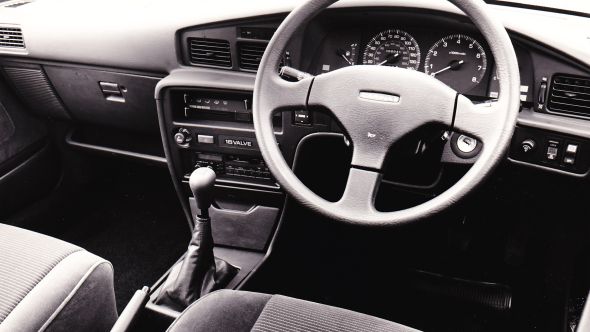 Following the announcement of Carina production being moved from Japan to Toyota's brand new facility in Burnaston, Derbyshire, sales accelerated once again. The 1991 total showed a 103% increase over the 1988 volume, with Carina accounting for 34% of all Toyota passenger car sales in Britain.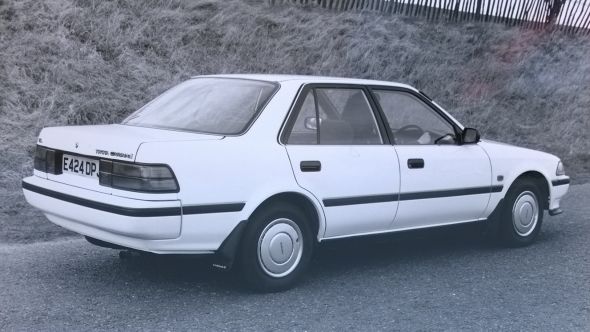 While the new sixth-generation Carina would eventually be made in Burnaston from December 1992, initial supplies were built in Japan for the car's May 1992 launch. During its development, the primary consideration was that this car would appeal to, and be accepted by, Europeans; hence being called the Carina for Europe, or Carina E.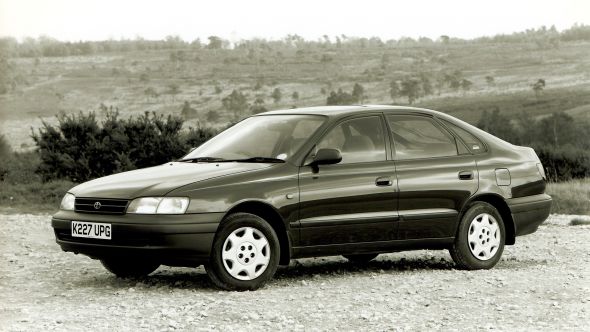 It was introduced as either a four-door saloon or five-door liftback in XLi (above), GLi and new GTi grades (diesel versions were known as XL models). Both bodystyles were significantly bigger than their predecessors with a 55mm longer wheelbase, 5mm extra width, 90mm longer length and 40mm more height. Those measurements also translated into a class-leading interior that was appreciably larger in every dimension and could seat five adults in comfort. Despite these increases, its low, sharp nose, steeply raked windscreen, smooth body lines and pinched rear end endowed Carina E with a lower Cd 0.30 drag co-efficient.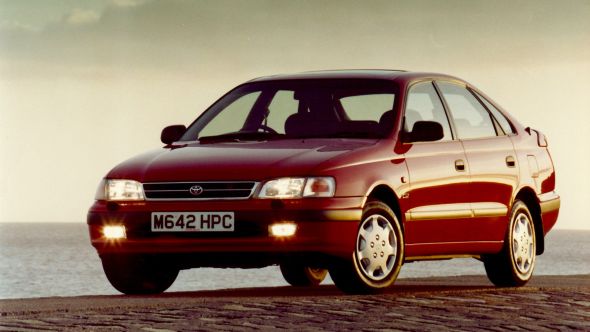 Five engine options were available from launch: two 1.6-litre petrol units, two 2.0-litre petrol units and one 72bhp 2.0-litre diesel. The majority of 1.6 engines were 106bhp 4A-FE lean burn versions, while those paired to an automatic gearbox used the slightly more powerful 'stoichiometric' unit with 114bhp. Most 2.0-litre cars used the latest 133bhp development of the 3S-FE engine found in the Toyota MR2 and previous generation Carina II Executive, and the rare GTi model had the most powerful option – the new 155bhp 3S-GE engine also seen in the Toyota Celica GT and MR2 GT. Later in the GTi's life, large-scale changes to this engine increased the output to 173bhp.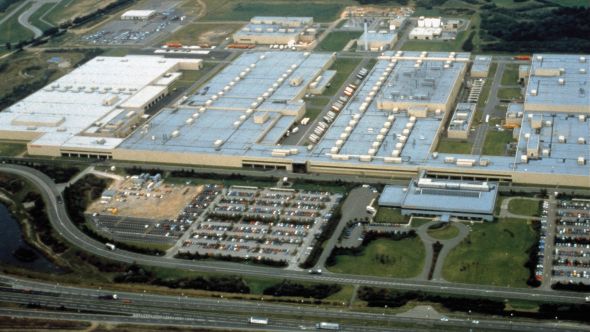 Just before Burnaston started producing four-door cars (five-door models were built in Britain from December 1993), Toyota extended the Carina E range to 14 cars with the introduction of a new entry-level Xi grade at a tempting starting price of £10,695. A new estate model joined the ranks in April 1993, increasing derivatives to 17, and in December 1994, soon after the 100,000th Carina E rolled off the production line in Burnaston, this estate also switched to being made in Britain.
This made Carina E the only upper-medium sector vehicle to offer British-built saloon, liftback and estate models, while Toyota was also the only manufacturer to build lean-burn petrol engines in the UK. That uniqueness was reinforced when a new 1.8-litre lean-burn engine and GS trim grade was introduced to the range in 1995.
Soon afterwards, independent tests revealed the new Carina E 1.8 GS to be the cheapest car in its class to run over three years, while the J.D. Power study proclaimed Carina E as the best model in its sector for customer satisfaction. Meanwhile, over in Europe, Germany's TUV report put Carina E at the top of the league for quality and reliability, an award corroborated by the ADAC motoring organisation, which also ranked the car as the most reliable in its class.
Thanks to continual updates and the adoption of new technologies and specification levels, by June 1996 a quarter of a million Carinas had rolled out of Burnaston, and production for that year was predicted to reach 100,000 units. By the end of its life, Carina E had become Toyota's best-selling car in the UK, yet a new chapter and a new name was on the horizon destined to take Toyota to new levels in the upper medium sector of the UK market.
See also:
History of the Toyota 2000GT
History of the Toyota Camry
History of the Toyota Celica
History of Toyota's compact MPV models
History of the Toyota Corolla
History of the Toyota Hilux
History of the Toyota Land Cruiser (Station Wagon models)
History of the Toyota Land Cruiser (Heavy and Light duty models)
History of the Toyota MR2
History of the Toyota Previa
History of the Toyota Prius
History of the Toyota RAV4
History of the Toyota Sports 800
History of the Toyota Supra
History of the Toyota Starlet
History of the Toyota Yaris