The debut of our fully functioning hydrogen Hilux prototype provides a further demonstration of the breadth of technologies Toyota is applying in its progress towards carbon-free mobility. Hybrid electric and plug-in hybrid electric, battery electric and fuel cell electric – all solutions are being explored to best suit different user needs and operating environments worldwide.
The ground-breaking hydrogen Hilux was revealed at our Burnaston car plant in Derby, where Toyota Motor Manufacturing UK (TMUK) had been leading the project with its consortium partners, supported by UK government funding administered through the Advanced Propulsion Centre.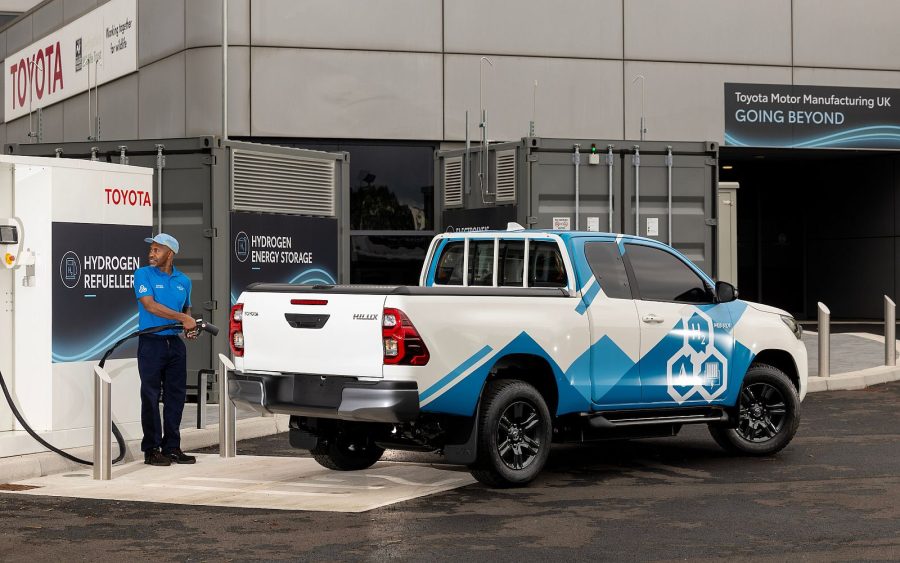 "I congratulate the project team for their success on this cutting-edge development. This is a great vote of confidence in UK manufacturing and its potential to deliver carbon-free vehicles to meet future emissions targets."

Nusrat Ghani, Minister for Industry and Economic Security
Hydrogen Hilux: vehicle profile
The new powertrain uses core elements from the Toyota Mirai hydrogen fuel cell electric saloon – technology that has proved its quality in almost ten years of commercial production. When driven, the fuel cell produces no tailpipe emissions other than pure water.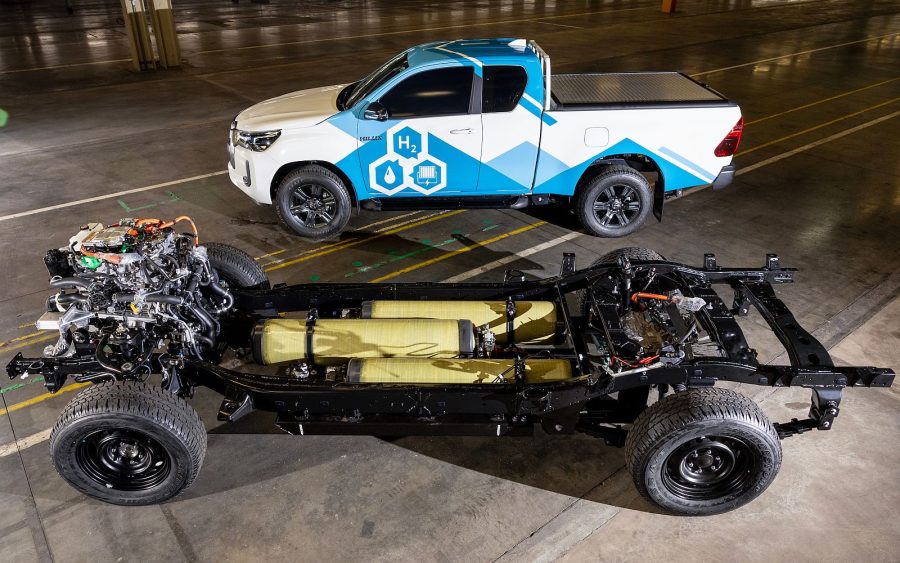 Three high-pressure fuel tanks are used, giving the Hilux an expected driving range of more than 365 miles – significantly further than might be achieved with a battery electric system. The battery, which stores electricity produced on-board by the fuel cell, is positioned in the rear load deck, avoiding loss of cabin space.
"The Toyota Hilux project is a fantastic example of collaborative R&D which has designed, integrated, and delivered a hydrogen fuel cell vehicle. Seeing [it] launch within a year of the start of the project is a clear demonstration of the capabilities and strengths of the UK's automotive supply chain."

Ian Constance, chief executive of the Advanced Propulsion Centre
Project history
The hydrogen Hilux project began in early 2022 with a feasibility study undertaken by TMUK and Toyota Motor Europe with consortium partners Ricardo, ETL, D2H and Thatcham Research. Funding was subsequently gained from the UK government facilitated through the Advanced Propulsion Centre. Additional support was also provided by Toyota Motor Corporation.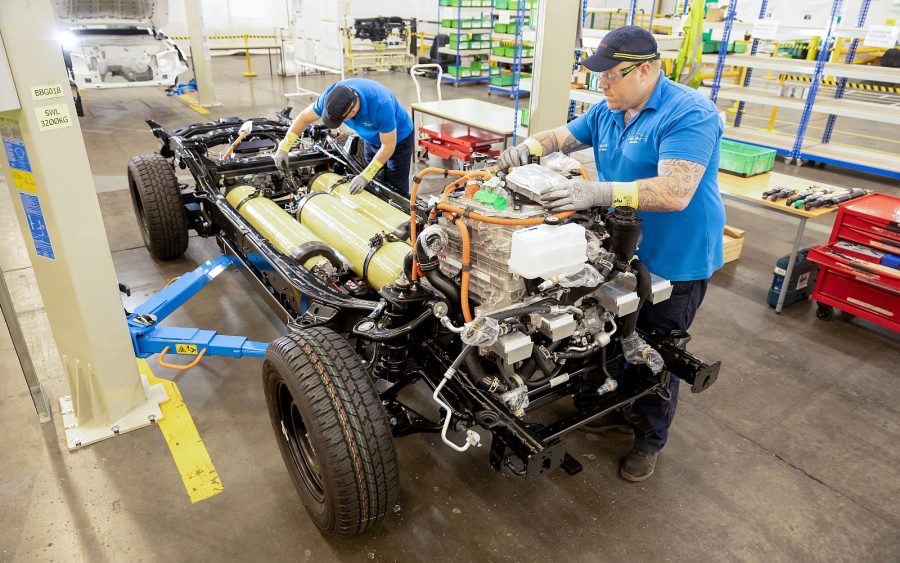 An intense design and development programme commenced in July 2022. But it wasn't until June 2023 that construction of the prototype actually began, with work taking place in a dedicated area within TMUK's Burnaston facility. Using efficient Toyota Production System principles, the first vehicle was completed just three weeks later. A further nine vehicles are scheduled to be built by the end of 2023.
"The project team has accomplished an incredible job in a very short space of time. The UK government funding has enabled us not only to develop a new vehicle in record time but also to up-skill our teams to work on hydrogen-related technologies, something we hope to build on in the future."

Richard Kenworthy, managing director of TMUK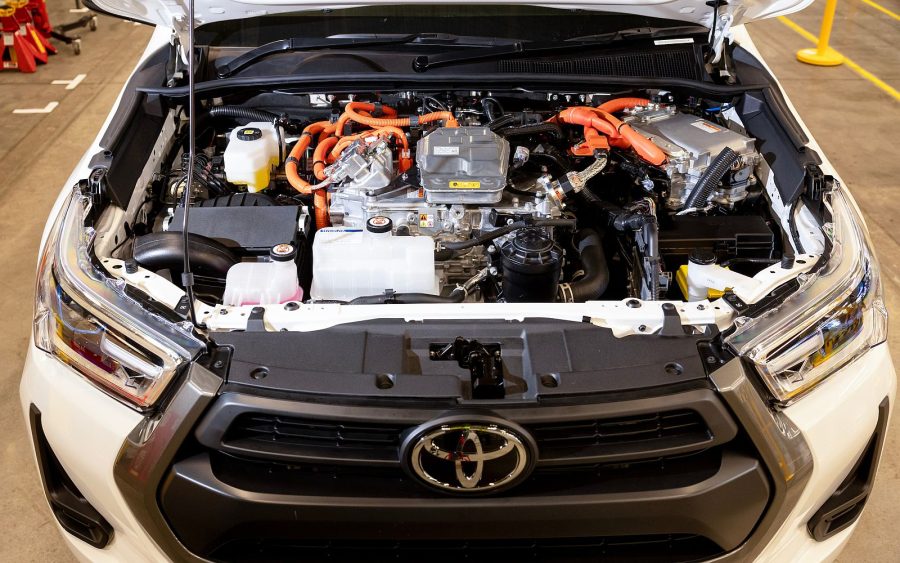 These hydrogen Hilux prototypes were designed to deliver the same qualities of durability and reliability that have made the pick-up a global icon of the Toyota brand. To guarantee this, the models will undergo rigorous testing around the world to ensure they meet the high standards of a production model bearing the Hilux name.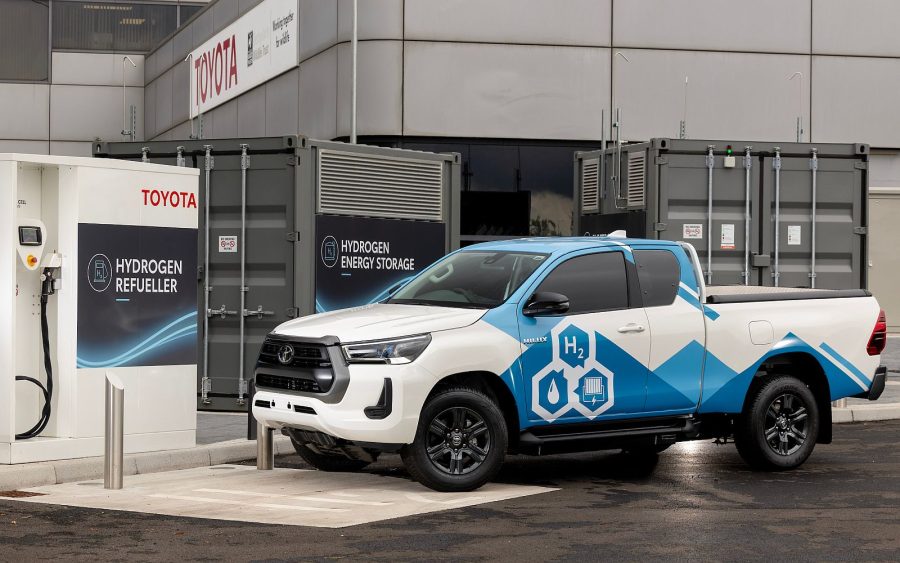 The project has enabled TMUK members to develop and apply new skills relating to fuel cell electrified vehicles and hydrogen system components. The consortium members have also played key roles in the initial phase of the programme.
Learn more: How do hydrogen fuel cells work?
This article, originally published in December 2022, was updated in September 2023 to reflect the latest project developments.