Following the success of the first and second Japanese Grand Prix events in 1963 and 1964, enthusiasm for all forms of motorsport was on the increase in Japan and motorists began asking for manufacturers to produce truly high-performance road cars. In response to this ambitious change in car-buying tastes, the Toyota 2000GT history began.
Toyota wanted a range-topping grand touring model to showcase the technologies and manufacturing know-how it had accumulated since the 1930s. The aim was to create a practical, high-performance coupe that was comfortable for everyday use, yet with only minor modifications could be just as effective on the race track.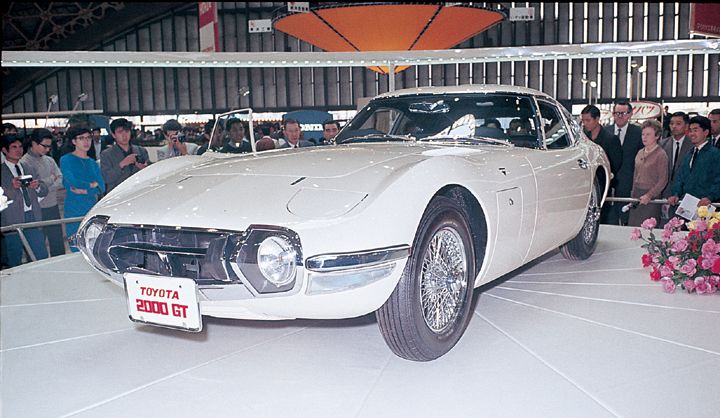 The first prototype Toyota 2000GT was completed under contract by Yamaha Motor Co. in August 1965 and unveiled to the public at the 12th Tokyo Motor Show in the autumn of that year (see above). Even at standstill the svelte, aluminium-bodied two-seater caused a sensation.
Acclaimed as Japan's first supercar, wealthy customers clamoured to own one but there was further development work to complete before it could be launched.
Toyota made wise use of this intervening time building anticipation for this new machine and boosting its notoriety. Later prototype 2000GTs were entered into several high-profile races to demonstrate the car's performance. The climax of these efforts was Toyota's incredibly successful entry in the gruelling Speed Trials held at the Yatabe High Speed Testing Course in 1966.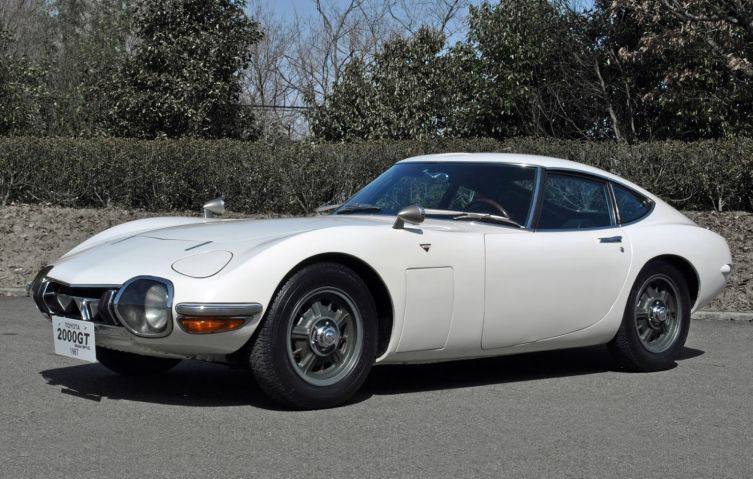 By the end of the 72-hour event, the yellow-and-green Tosco (now TRD) tuned 2000GT had endured a tropical storm and averaged a pace of 128.76mph around the circuit's banked oval. It smashed three world records and set 13 new international records for speed and endurance, proving beyond doubt the effectiveness and reliability of the advanced technologies within the car.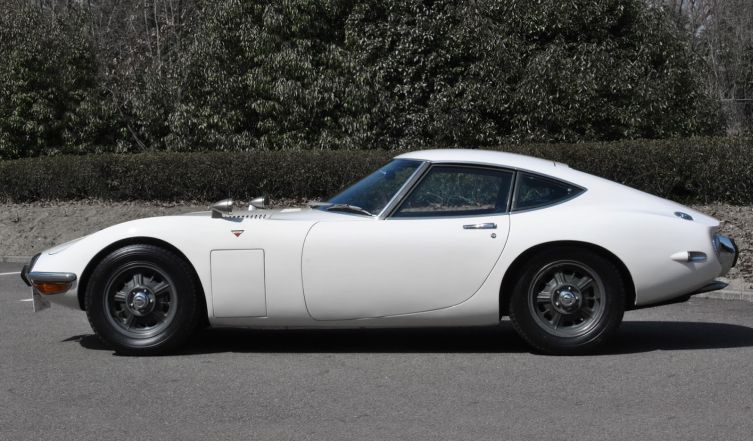 The Toyota 2000GT (known internally by its MF10 chassis code) was finally released into the domestic market in May 1967. As a low-volume model boasting exotic materials and unheard of specification levels, the car was not assembled on Toyota's regular production lines. Production was again outsourced to Yamaha, which had the facility to piece the cars together in small batches and carefully finish each by hand.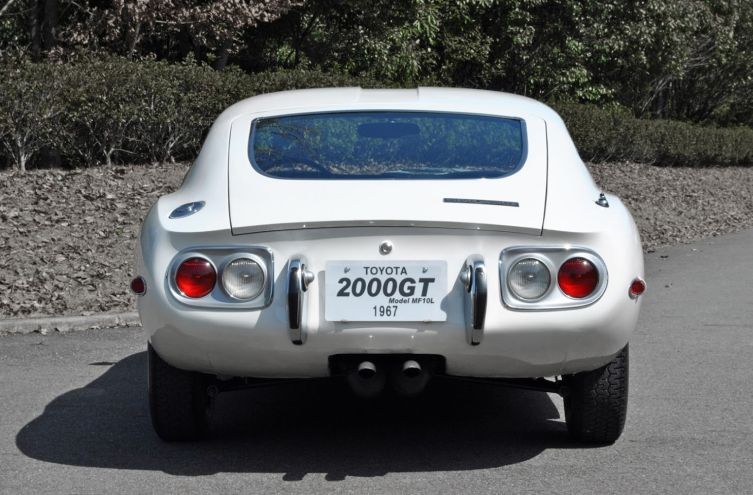 The ultra-low coupe body of the Toyota 2000GT was designed in-house by Satoru Nozaki and supported underneath by an X-shape backbone frame.
Power came from a 150bhp 2.0-litre DOHC straight six 3M engine derived from the prestigious SOHC unit used in the contemporary Toyota Crown, while features such as four-wheel independent suspension and magnesium alloy wheels had never been seen before on a production model made in Japan.
The performance of the 2000GT was also world-class, delivering a maximum speed of 136mph and 0-62mph in 8.6 seconds.
See also:
History of the Toyota Sports 800
History of the Toyota Supra
History of the Toyota Starlet
History of the Toyota Yaris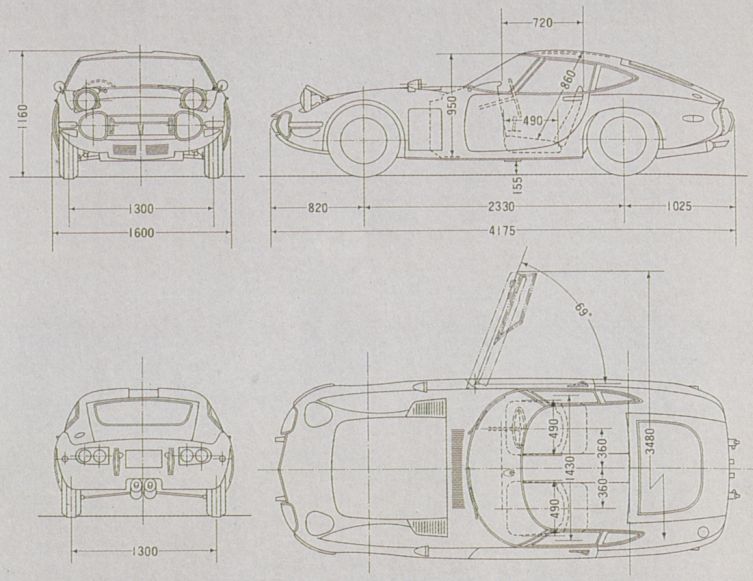 The Toyota 2000GT had a well-appointed cockpit equipped with a rosewood veneer dashboard, five-speed manual gearbox, auto-tuning radio and a reach-adjustable steering column. Designed with Japanese drivers in mind, the interior is perhaps a little small for European or American frames, which is why two prototype 2000GTs were converted into open-top models for their appearance in the James Bond film You Only Live Twice.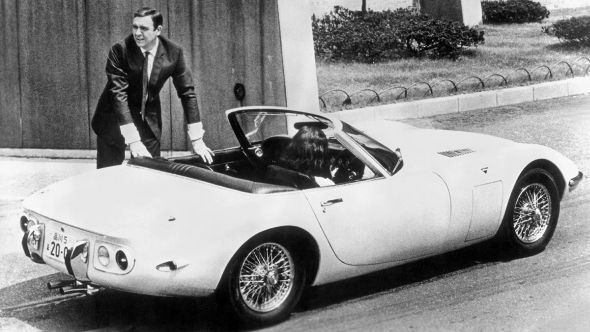 A minor model change was applied in 1969 (see image below), which reduced the size of the fixed driving lights and also allowed buyers to specify air conditioning and a three-speed automatic gearbox. By the end of production in 1970, a total run of just 351 units had been produced, 337 of which were sold as road cars.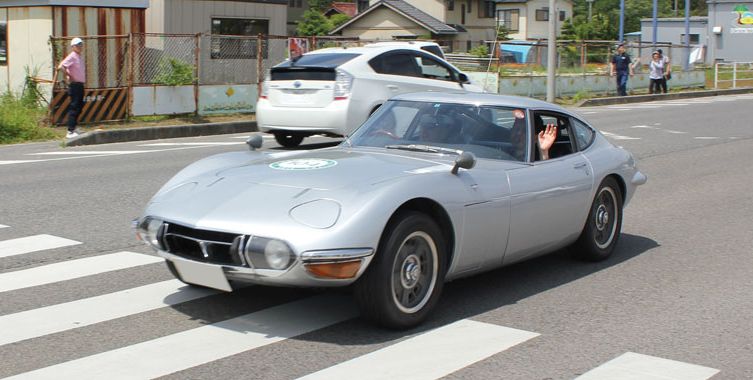 We were lucky enough to get behind the wheel of what is believed to be the only driveable example of the Toyota 2000GT in the UK: