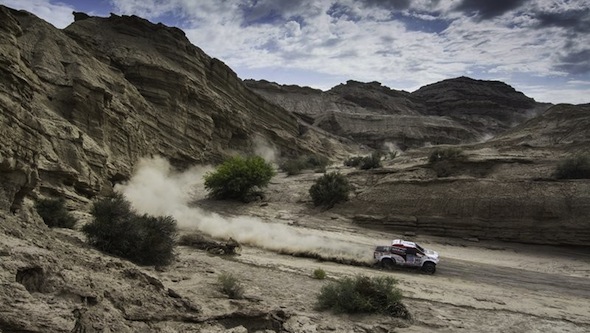 The punishing Argentinian environment again dented the progress of the number one Toyota Imperial Hilux in the fourth day of the Dakar Rally.
Watch the day four Dakar diary below.
Giniel de Villiers' Hilux again suffered from problems with its steering which necessitated four stops on the 657km route – but the team persevered to bring home a seventh-place finish, leaving them in sixth overall.
Given the degree of improvisation the pair had to show, the 25 minutes lost to today's winner Carlos Sainz could have been much worse. De Villiers and Dirk von Zitzewitz limited the damage thanks to spectators, who helped them out with oil.
The longest special stage in the South American era of the Dakar took the competitors in the car classification through numerous valleys, in which the co-drivers' navigational skills were put to the test. The first part of the day led through the open desert and washed-out routes. After a 157-kilometre neutralisation zone, the cars headed through mountain passes and fast, stony sections on their way to Chilecito. It was a day for taking calculated risks – avoiding punctures without being too cautious was the order of the day.
Following stage four, de Villiers said: "Today had a bit of everything that makes the Dakar so special: challenging sections for the driver, testing navigation for the co-driver. It was hot, long, and a hard nut to crack – just the way Dirk and I love it. The split stage started fantastically and we made good progress. However, we had to fill up with oil for the power assisted steering again in the second section. If we had not had to stop four times, who knows what might have been possible. We are a bit disappointed today, as – apart from the steering problem – the performance of the Hilux is really good and we have been absolutely flawless so far."
Von Zitzewitz added: "It is definitely frustrating. That special stage was tailor-made for us. We made our way through the competitors who set off in front of us really well, coped superbly with the dust, and did not have a single problem on the first section. The second part also began just as we would have hoped, but then the steering problems we encountered on day one returned. We had to stop four times, and actually ended up having to get oil from spectators. That obviously ruled out any chance of a good result today, and prevented us from making the progress we had hoped for in the overall standings. So be it. We will work with the team to try to get a handle on the problem with the steering. I remain confident that we will succeed, as the guys are doing an outstanding job. Tomorrow is a new day."
[youvid embded='t' vid='-zLl2eaLKUA']