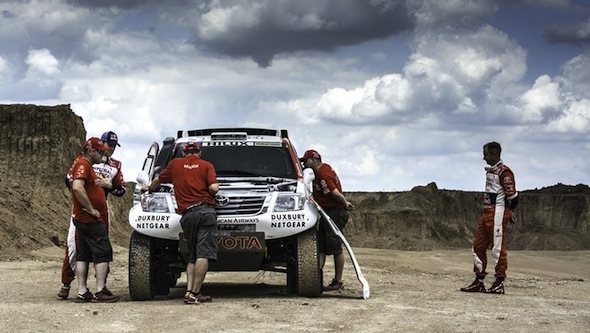 The Imperial Toyota Hilux of Giniel de Villiers and Dirk von Zitzewitz took a podium finish on the second day of the Rally Dakar.
Following a tough first day in which a power steering fault delayed the pair by 16 minutes, they climbed from 27th to sixth position overall by recording the third fastest time between San Luis and San Rafael, Argentina.
The Hilux ran perfectly and recorded an average speed of 109.3 kph over the 433-kilometre special stage.
Watch the video below to find out more about the equipment in the Imperial Hilux racers.
The day's route took the competitors round the 3,810-metre high Nevado and the 3,838-metre Payún – including sections on clayey, rocky ground at over 2,000 metres above sea level – before they headed into the Nihuil dunes. The vegetation, which resembles camel grass, makes the sandy mountains particularly steep, despite their soft grey sand. As such, they posed a genuine challenge for all the competitors.
The stage victory went to hot favourite Stéphane Peterhansel in his MINI.
After the second stage, de Villiers said: "We are back in business! We had a perfect stage today, made no mistakes, and so were able to make up a bit of ground. It was the perfect response to yesterday's difficult day. The dunes of Nihuil were particularly soft this time, and extremely difficult to drive. On top of that, the temperatures in the cockpit were extremely high. As such, the first two days were really testing for us. The gap at the top today shows the extent to which the diesels are dominant – we could not have done anything better. Despite this, we never give up and will try to make up more ground tomorrow."
Von Zitzewitz added: "We had to replace the steering again on the way to the stage. However, our team deserves huge praise: it got the Hilux back in perfect working order, and everything ran smoothly on today's stage. Giniel did an outstanding job today. He drove incredibly well and was always fully in control in the dunes. I personally did not have any problems at all with the navigation. Let's hope we continue in this vein over the coming days. It could be a bit cooler in the cockpit for me though."
Meanwhile, the second day proved more challenging for South African duo Leeroy Poulter and Rob Howie, who brought the second Toyota Imperial Hilux home in 16th place, 29 minutes behind their team-mates.
Results: Dakar Rally overall classification after leg 02
01. Stéphane Peterhansel/Jean-Paul Cottret (F/F), Mini, 6h 17m 02s
02. Carlos Sainz/Timo Gottschalk (E/D), SMG, 6h 17m 30s
03. Nasser Al-Attiyah/Lucas Cruz (Q/E), Mini, 6h 21m 12s
04. Joan Roma/Michel Périn (E/F), Mini, 6h 21m 21s
05. Orlando Terranova/Paulo Fiuza (RA/P), Mini, 6h 25m 33s
06. Giniel de Villiers/Dirk von Zitzewitz (ZA/D), Imperial Toyota, 6h 34m 12s
07. Christian Lavielle/Jean-Pierre Garcin (F/F), Haval, 6h 38m 01s
08. Krzysztof Hołowczyz/Konstantin Zhiltsov (PL/RUS), Mini, 6h 54m 10s
[youvid embded='t' vid='am2BaOj-NgQ']