We've shown you the teaser video and even given you the chance to drive it in our Drift Sprint competition, now we can bring you this exclusive full-length preview of the Toyota GT86 advert.
[youtube width="580″ height="420″]https://www.youtube.com/watch?v=HLThzvsPCkI[/youtube]It's the latest part in the 'Real Deal' campaign, which celebrates Toyota's return to sports cars and the rave reviews the GT86 has received so far for its exhilarating, accessible performance.
Launching on UK TV on 17 August with a 60 second spot, the clip shows the story of a computer-generated man tired of living in an artificial world, who resorts to driving the GT86 to bring a little bit of reality back into his life.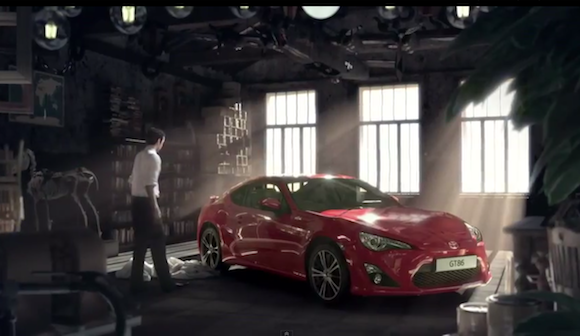 The ad is set to the Edith Piaf track, 'Non, Je Ne Regrette Rien', and is directed by Stink's Adam Berg with animation by Digital Domain, the Hollywood digital effects house founded by James Cameron.
The TV ad will be supported by press adverts and will run until March 2013.
Find out more about the Toyota GT86 or book a test drive here.