Picture the scene: You're a young petrolhead itching to get behind the wheel of a car for the first time and can't bear to wait the 10 or so years before you're legally old enough to do so. Do you A; convince your grandparents to buy you a 5mph electric 4×4 made of plastic? Or do you B; resign yourself to the fact that you'll just have to wait?
Fortunately, for young Billy Beckett, of West Wyalong, 500km west of Sydney, Australia, there was another option – get your clever-stick dad to build you a scaled-down Toyota Land Cruiser from scratch!
Built on the chassis of a go-kart, the metal-framed Land Cruiser (Ute in Australia) sports fully upholstered seats, a radio, snorkel, swag bag, spotlight, roof bar and chunky tyres.
Billy's dad Quentin is a welder who designs machinery that can collect scrap metal, and the Land Cruiser isn't his first project. Previously, Quentin built a working Thomas the Tank Engine replica for his boss's son that can go on rails or be driven on the pavement.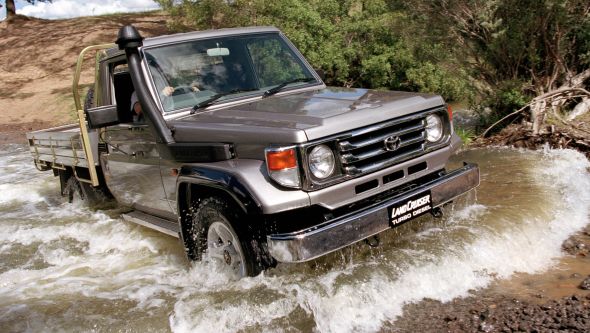 The youngest of 10 children, Billy first fell head-over-heels for Toyota 4x4s when taking a trip in his dad's Hilux in spring 2012. The family did what any Toyota off-roader is made for, and took the car on an epic road trip across the Australian bush, hunting in the remote Cape York, Far North Queensland.
And what does Billy think of his sweet ride? According to his mum Tanea: "He loves his Ute". She added: "He loves getting bogged, loves going off road. He really loves it."
Lets be honest, what boy wouldn't? Billy, happy motoring from Toyota GB!
See also: 
Build yourself a Dakar Land Cruiser
Detailed history of the Land Cruiser: Heavy and light duty models
Where next?
Itching to explore? If you'd like to test drive a Land Cruiser, leave us a comment below, and we'll be in touch shortly – unfortunately we don't have any in Billy's size though!