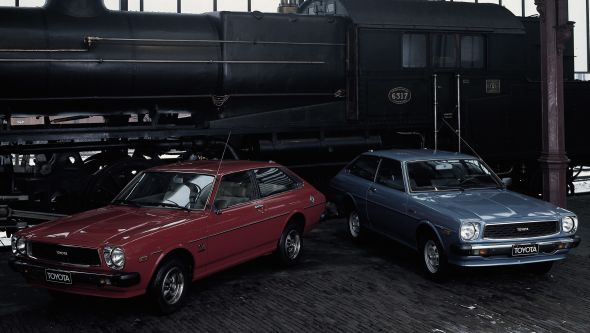 The third-generation Toyota Corolla was billed as the "ultimate family car" when it was introduced in April 1974 by its development leader, Shirou Sasaki.
No expense was spared in its development. It offered a new standard of safety and comfort features, while maintaining the economical purchase price and low running costs that were to prove so important during this exciting period of history. This new model also cleared the strict emission standards that had become a social issue internationally, earning Corolla worldwide acknowledgement as a technological triumph.
Thanks to its superior overall performance, high level of quality and dependable reliability, this generation Corolla quickly established itself as the best-selling car in Japan.
And it didn't stop there. During the 1974 fiscal year, annual production volume of Corolla exceeded that of the Volkswagen Beetle – winning it the title of world's best selling car. In fact, Corolla's popularity overseas was nothing short of astonishing, increasing the model's export figures to over 300,000 units annually.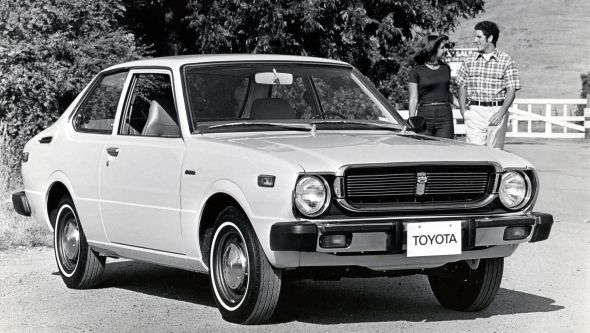 1974-79 Corolla: fulfilling the dream
In order to create a model that perfected the strengths of its predecessors and further increased Corolla loyalty, Sasaki proposed a concept described as "third generation fulfillment."
First, the team focused on improving driving performance, function, interior comfort and quietness. Next, vehicle width was increased and the sense of interior quality stepped up a notch. The team then endeavored to improve areas that appealed to the senses, implementing developments that focused on increasing the good feeling experienced by passengers.
1974-79 Corolla: originating new technology
From the outset the team had to comply with ever-stricter emissions targets. The Clean Air Act had come into force in the United States in 1963 but it was being regularly amended and expanded, the changing regulations of which were also being adopted in Japan. As a result, vehicles that did not clear these regulations could not be sold.
To handle this problem, a company-wide project was started, and the Higashi-Fuji Technical Center was established as a specialised research organisation for exhaust gas countermeasures. The engineers, primarily from the engine department, continued their efforts day and night, and eventually perfected a catalyst-based exhaust gas purification system that remains the standard today.
Further original Toyota technology was amassed during this period, including lean combustion and turbulence generating combustion methods. With these new countermeasures, the inevitable decrease in engine output was gradually restored.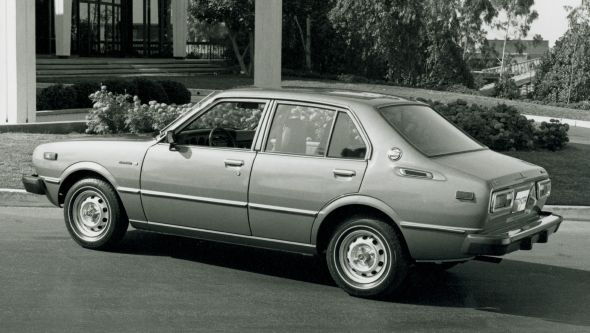 1974-79 Corolla: emission targets improve engine technology
Four engine variations were initially available in the Corolla: 1.2-litre 3K-H engine, 1.4-litre T-series engine, 1.6-litre 2T engine, and the 2T-G twin cam engine for the Corolla Levin.
Just one year and eight months into production, however, these units had to be deleted from the line-up due to their failure to meet new emissions regulations that came into force in 1975. This left only the 1.6-litre 2T-U and 1.4-litre T-U engines equipped with catalytic converters to prop up the entire range. The 'U' designation referred to engines equipped with at least one of the three Toyota Total Clean System exhaust gas purification devices of catalyst, combined vortex, and lean combustion.
Gradually, options were increased with new, more environmentally-friendly units. The range kicked off with a 1.2-litre 3K-U engine, followed in the latter half of 1975 by a 1.6-litre 12T that incorporated the newly developed lean combustion method. This was soon expanded by a 1.3-litre 4K-U engine and a 1.6-litre 12T-U that featured an oxidation catalyst which restored the power output that had been lost on the lean-burn 12T – in this case generating a maximum output of 88PS at 5600rpm and maximum torque of 96.2 lb/ft at 3400rpm.
With regard to the top-spec 2T-G twin cam Levin engine, countermeasures including an oxidation catalyst and electronic fuel injection (in place of the original Solex carburettors) formed an evolution into what became known as the 2T-GEU engine. It generated a maximum output of 110PS at 6000rpm and 104.9 lb/ft torque at 4800rpm; figures which were slightly down over the former model but conformed to strict new emissions targets and delivered improved fuel economy. So equipped, the Corolla Levin was reinstated into the range.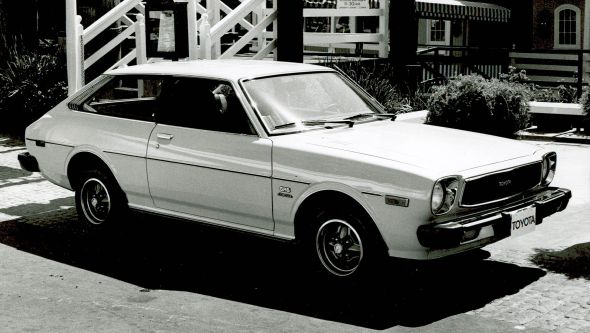 But the developments didn't end there. In time for the Corolla's mid-life facelift, the 2T-GEU was equipped with a three-way catalytic converter, which, along with further technological advancements, enabled the Levin to successfully surpass the performance of its original, carburettor version. Power rose to 115PS at 6000rpm and maximum torque to 108.5 lb/ft at 4800rpm.
In addition to these emission countermeasures, advanced technologies were also adopted into the third-generation Corolla to meet diverse market needs. These included a three-speed automatic transmission and variable ratio steering gears.
1974-79 Corolla: looking for a new design angle
As company-wide attention focused on exhaust gas cleaning, members of the design department decided on an angular design for the third generation Corolla.
The new form was supposed to portray a more robust image compared to the soft lines of the second generation, and lend Corolla some extra visual flare and individuality. Wind tunnel testing was introduced for the first time in the history of Corolla to hone the design and improve drag co-efficiency figures.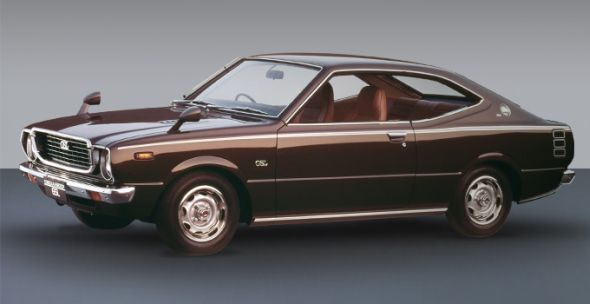 In addition to the saloon and estate models that were available in the two previous generations, a pillar-less Coupe was produced to augment the range. This marked the first time that a hardtop or semi-fastback design, a trend in higher grade models, was developed for the family car market. Though similar in profile to the saloon, the hardtop was further differentiated from the rest of the range through the inclusion of a triple-stack of streamlined air vents at the back of the rear three-quarter panel.
The new Coupe did appear at launch but was discontinued almost immediately afterward; it was only restored to the line-up once the market had familiarised itself to the new Corolla and the traditional, core versions (two- and four-door saloons, and four-door estate) had defined themselves against other vehicle segments.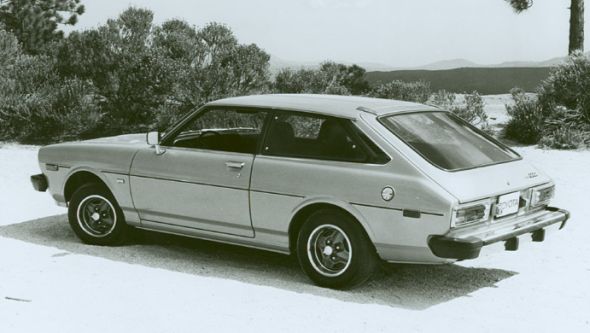 Other notable variations included a Liftback model, designed as a 'sporty wagon for multipurpose use'. As if to prove this lifestyle focus, Sasaki made it known that the luggage capacity was specifically designed to store the fashionable new short-style surfboards. Whether this feature was instrumental in its success or not, the Liftback version gained considerable popularity overseas, much more so than in the domestic market, necessitating a significant increase in production volume to meet demand.
Positive diversification within the new Corolla range was also achieved through the appearance of the front end. This could be seen in the radiator grille and shape of the bonnet, depending on the displacement of the engine mounted in the vehicle. Essentially, two different personalities were established for the Liftback and Coupe models, and the saloon and hardtop models.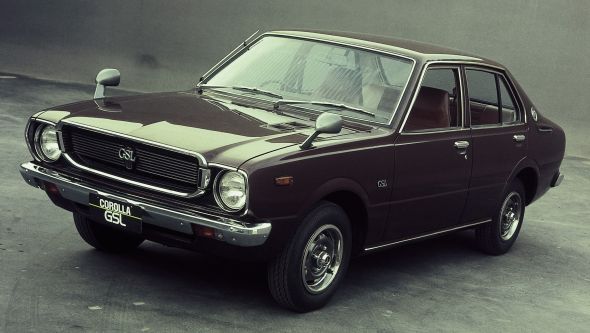 1974-79 Corolla: an inside job
Enhanced equipment and a meticulously finished, high-quality interior were characteristic features of the third-generation Corolla. Thorough motion studies were implemented based on ergonomics, the aim of which was to pursue ease of use for occupants.
Beginning with an instrument panel covered with a thick padding, an advanced layout was adopted, including the use of centralised operation switches within the centre console. A one-piece molded headlining was adopted on all models to ensure insulation and ample head clearance, while the front seats of two-door models incorporated a foot-operated device that tipped the seat backs forward to improve access to the rear bench. Wiper and light controls were integrated into combination stalks on the steering column, and boosted ventilators and bi-level heaters were adopted to enable the driver to switch between fresh and recirculated air for excellent cabin ventilation.
In addition to all these features, comfort was enhanced with huge improvements in noise, vibration and harshness (NVH) levels.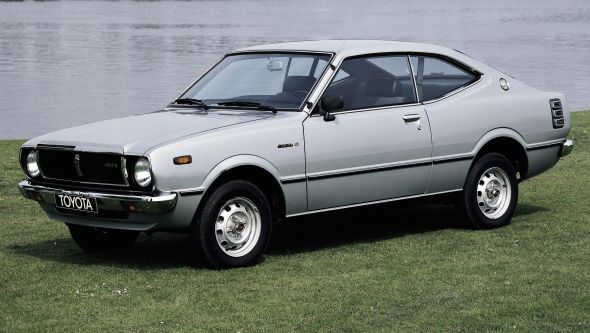 For the first time, passive safety features were widely adopted on the third-generation Corolla. An impact-absorbing body structure with a crush zone in the front to back direction was incorporated. Consideration was also given to side impact collisions by increasing door thickness.
Furthermore, three-point, emergency locking retractor seat belts were made standard on all models – a first on any Toyota model – and complimented with an impact-absorbing steering column. High-spec models were also equipped with front disc brakes as standard. Ultimately, these factors led to an increased body weight of approximately 40kg but it ensured that international safety standards were met.
1974-79 Corolla: a worldwide phenomenon
At the time of the third-generation Corolla's release, Japan was experiencing a social environment not especially conducive to car-buying, and sales failed to take-off as anticipated.
However, overseas sales significantly exceeded the initial plan, and record figures were achieved in annual exports – clearly the result of developments that pursued international quality standards and Toyota's firm grasp on the needs of overseas markets.
In the end, this model achieved an impressive total production volume of 3,755,029 units.
1974-79 Corolla: additional equipment
* Steel structured front seats for improved comfort and impact absorption
* Bumpers equipped with rubber corner protectors
* Windscreen wipers with intermittent setting
* Seatbelts with emergency locking retractor
* Side window defrosting vents
* Handbrake warning light
* Low fuel warning light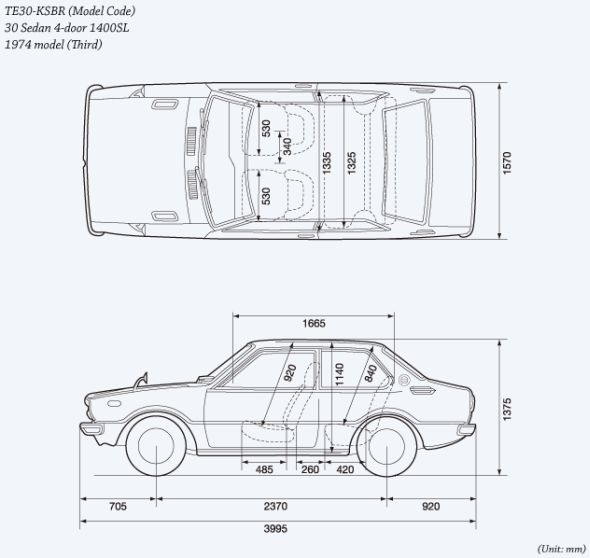 Shirou Sasaki: development leader
Shirou Sasaki joined Toyota Motor Corporation in 1949. After a period in the general engineering department of the engineering division, he assumed responsibilities in another department within the same division – chassis engineering. In this role Sasaki was responsible for the development of the rear suspension of the Crown and the suspension setup of the Publica.
In 1963, Sasaki moved to the product planning division where he was assigned to work under Hasegawa, development leader of the first-generation Corolla. Beginning with the second-generation Corolla, Sasaki served as the practical chief engineer under the direction of Hasegawa, who by then had assumed the office of assistant general manager of the product planning division. Then, beginning in 1971, Sasaki was involved in the full-scale developments of the third-generation Corolla as chief engineer.
Read more:
History of the first-generation Corolla
History of the second-generation Corolla
History of the fourth-generation Corolla
History of the fifth-generation Corolla
History of the sixth-generation Corolla
History of the seventh-generation Corolla
History of the eighth-generation Corolla
History of the ninth-generation Corolla