You are in a car and you know you are about to hit something. If you are the driver, you're likely to hit the brakes and turn the wheel; if you're a passenger, aware of what's about to happen, your instinct is to brace yourself for impact.
These changes in posture – braced or relaxed – aren't something physical crash test dummies can copy, but Toyota has produced new software for its THUMS* virtual human modelling that replicates these kinds of pre-collision reactions.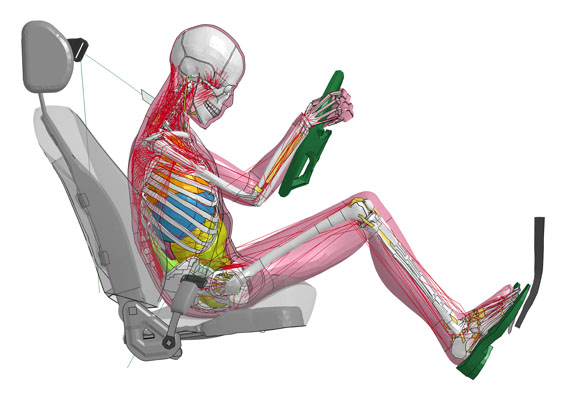 The latest version of THUMS adds a muscle modelling feature that can simulate the body attitude of different vehicle occupants, from relaxed to braced, allowing for more detailed computer analysis of the injures collisions can cause.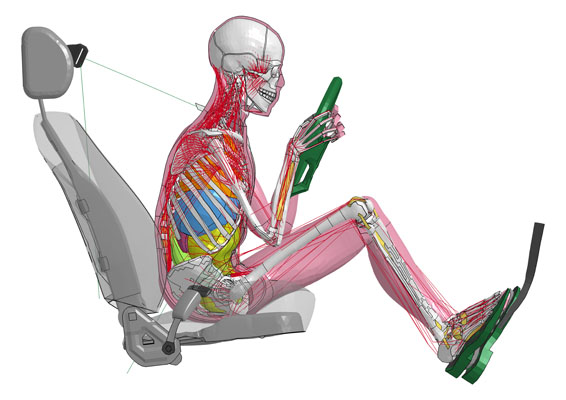 Until now, THUMS could only simulate changes in posture after a collision has happened, but the new Version 5 model allows changes prior to an impact to be scrutinised. This means the performance of seatbelts, airbags and other safety equipment can be studied more accurately, as well as more advanced pre-collision systems. The intelligence gained will help in the development of new safety technologies that can provide better occupant protection.
THUMS Version 5 has already been adopted by dozens of businesses, including vehicle and parts manufacturers, and is contributing to vehicle safety research worldwide.
About THUMS
By simulating many characteristics of different parts of the human body, from its overall shape to bones and skin, THUMS enables detailed analysis of the kind of injuries that can occur in a vehicle collision, such as fractures and severed ligaments.
Toyota began development of THUMS in 1997, working with Toyota Central R&D Labs. Version 1 was launched in 2002, followed by Version 2 in 2004, which added face and bones to the model; Version 4 in 2006, with a precise brain model; and Version 4 in 2010, which gained detailed modelling of internal organs.
* Total Human Model for Safety