Travelling north-south on the N41 through the Belgian town of Dendermonde, the Holvoet Toyota dealership holds a prominent position on the eastern side of the road. But while its glass-fronted facade and gleaming new models initially attract the eyes, your gaze quickly darts to a yellow vehicle displayed in the mezzanine level (see below).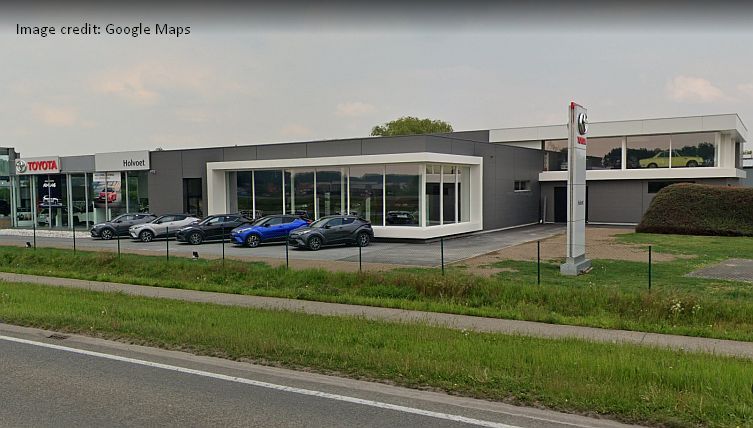 Though difficult to identify when buzzing past at speed, the silhouette is unmistakably that of a classic two-box saloon or coupe, perhaps something from the late Sixties. And that may strike you as unusual, because Toyota dealers are best known for displaying brand new vehicles.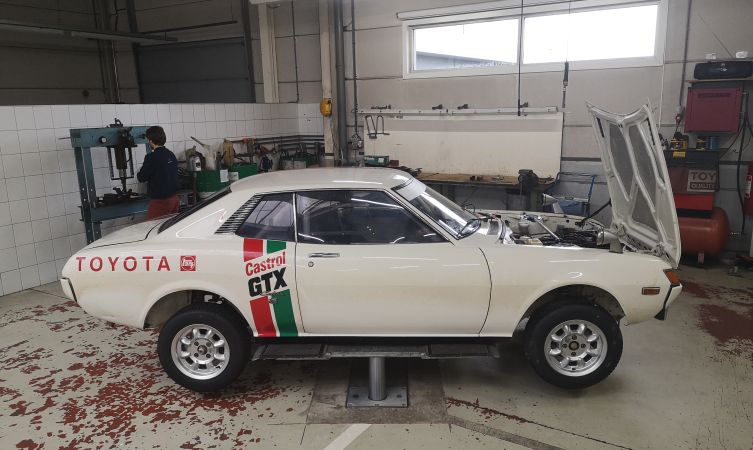 But Holvoet Toyota is not what you would necessarily call a traditional vehicle retailer. As the first Toyota dealer appointed in Belgium, the company has been building its reputation for new car sales and quality aftersales for more than 50 years. Because of this, many loyal customers come back year after year, decade after decade, often to have the same car looked after. It is a regular occurrence to see classic Toyota models passing through the modern service bays. For example, Holvoet Toyota still conducts the annual service of one particular owner's 2000GT!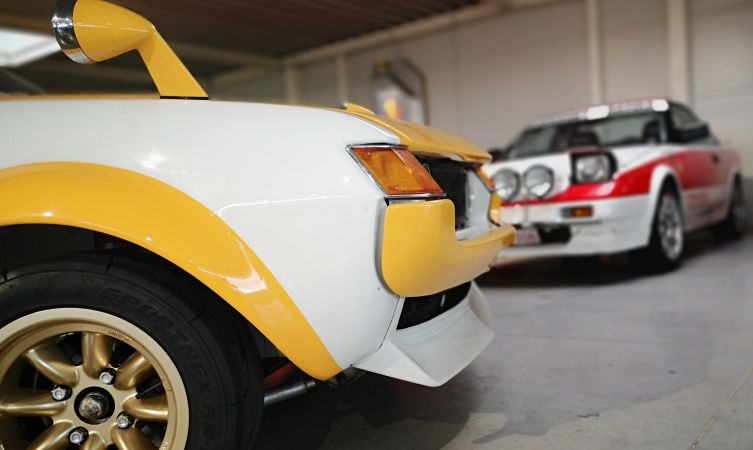 After inheriting the dealership from his father, branch manager Dominique Holvoet (main image and below) has continued the company legacy and capitalised on its association with classic models. Over the years he has scoured the globe to collect classic models. Many of these have been added to his impressive personal collection, while others are meticulously restored and then sold to fellow enthusiasts. His work is of an incredible standard and it is not uncommon for his restorations to be shipped back to Japan.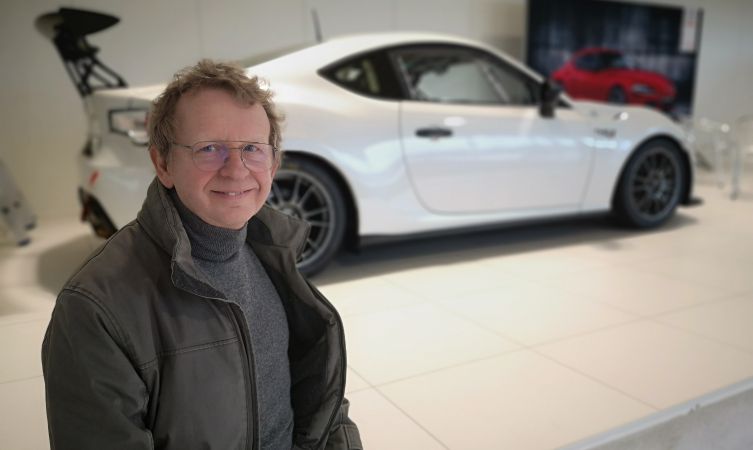 During our time with fellow Belgian enthusiast and rally historian Benny Heuvinck, we were privileged to be taken on a personal tour of the Holvoet collection by Dominique himself. The following is a brief overview of the models currently stored and displayed at the dealership.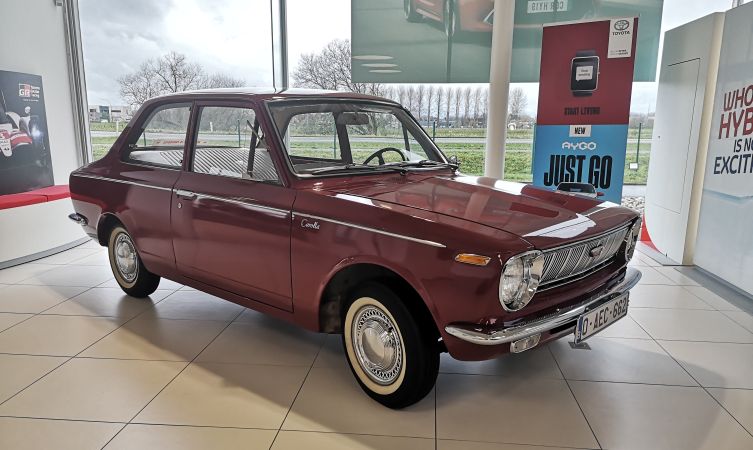 This 1967 Corolla is historically significant for being the first new Toyota sold in Belgium by the newly established Holvoet garage. After approximately 12 years and 200,000 kilometres of faithful service, Holvoet repurchased the car and treated it to an extensive restoration. The Corolla is now presented, quite literally, in showroom condition and displayed pride of place next to the dealership's main reception desk.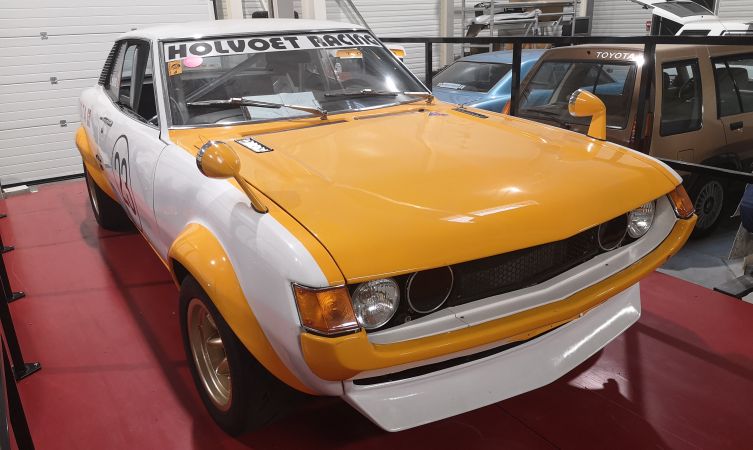 Similarly, this TA22 is notable for being the first Celica road car in Belgium. But more than that, it was modified almost immediately for competition, including having its original, single cam 2T-B engine breathed upon by UK tuner Piper. Dominique reports that the Celica took part in the multi-discipline Tour de France Automobile in 1972 and finished first in class. Interestingly, Toyota Japan heard about the car's success and despatched a team of Tosco mechanics to remove the engine for further analysis.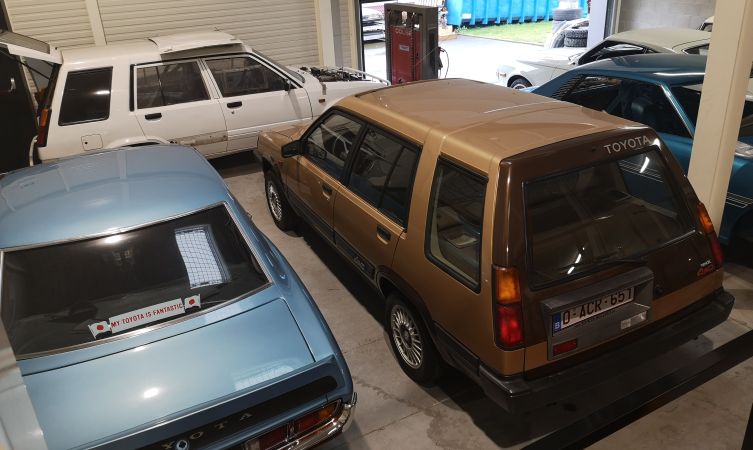 Can you remember the last time you saw a Toyota Tercel 4WD? Yet here are two of these rarities in the same room. The white example was driven by bicycle racer Eddie Merckx in the punishing Tour de Belgique off-road rally and is awaiting restoration, while the brown metallic car is another vehicle originally sold by Holvoet and repurchased for Dominique's collection.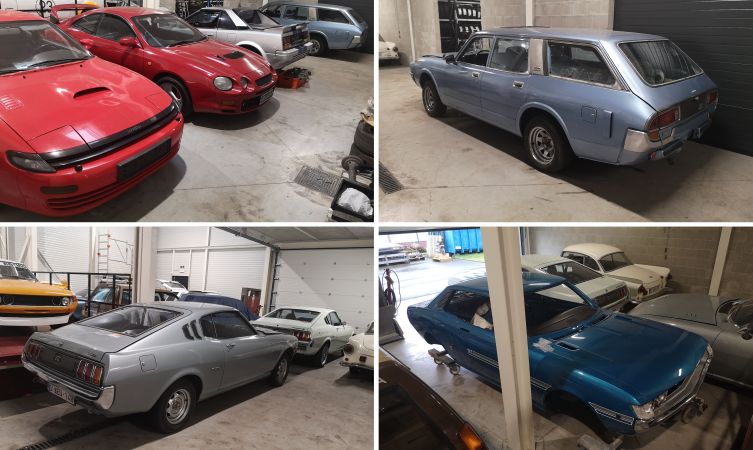 Dominque scours the whole of Europe for rare models in need of some attention. The turquoise TA22 Celica (above, bottom right) was found relatively nearby in France and is currently in the middle of a full restoration. However, the rare fourth-generation Crown estate (above, top right) was found much further away in Norway and transported back to Holvoet's waiting room.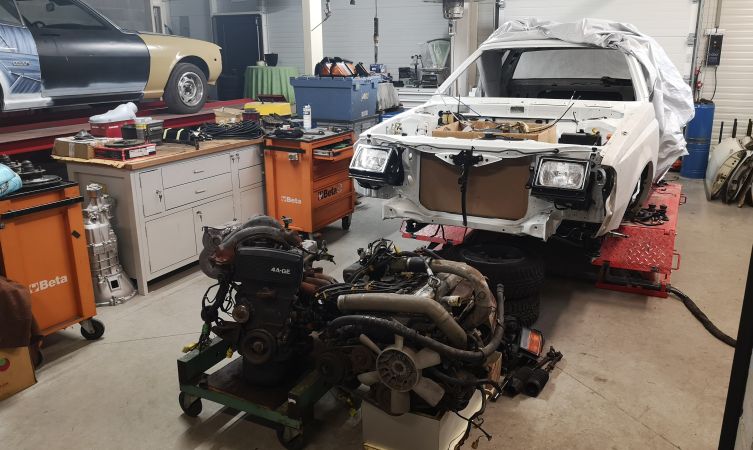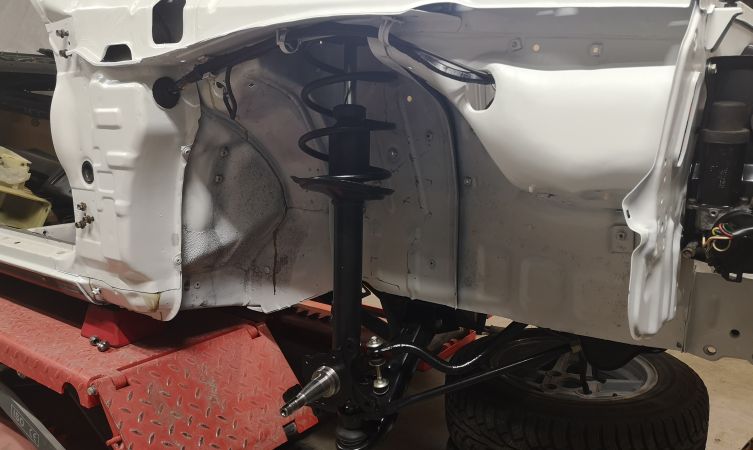 Currently undergoing special treatment in a side workshop is one of Dominique's prized possessions, a TA64 Celica GT-TS. This is chassis number 032 of just 225 examples built in 1982 as the homologation model for the highly successful Celica TwinCam Turbo that Toyota Team Europe campaigned in the WRC's Group B era. Now a year into its restoration, the quality of workmanship is particularly evident in the suspension components, and it is interesting to note unique parts such as the lightweight plastic front wings.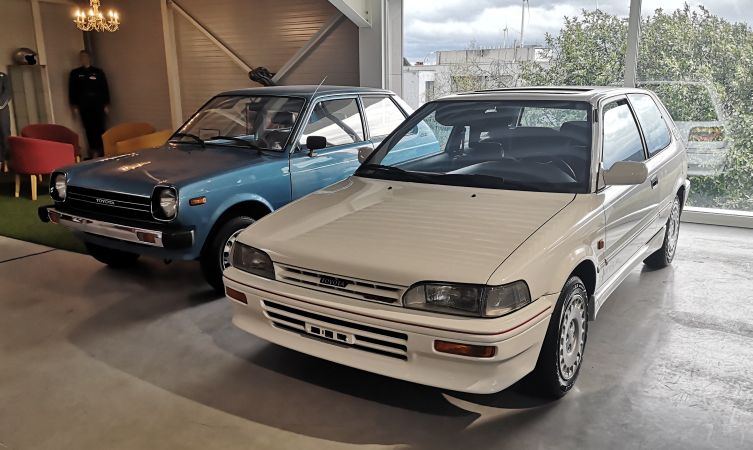 Moving upstairs into the mezzanine display area you can see from the road, the collection continues with an incredibly fresh-looking 1978 three-door KP60 Starlet DX that has travelled just 50,000 kilometres and never been restored. The AE92 Corolla GTi-16 is equally pristine after a roof-off restoration that reinstated the original electric tilt and slide sunroof.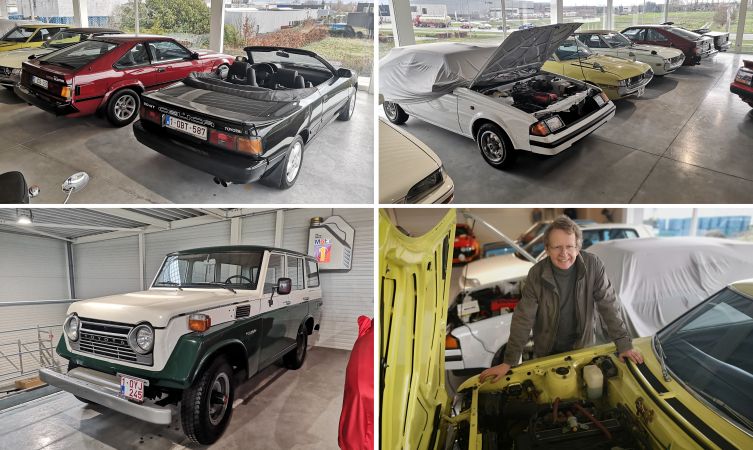 Celica models are a particular favourite of the Holvoet family. This yellow TA22 (above, bottom right) holds a special place in Dominique's heart as it has the double honour of being the first Celica he ever owned as well as his first restoration project. The white RA63 Celica it sits next to is nearing the end of its restoration, while the black Celica Convertible and red Celica Supra (above, top left) are both in their original state.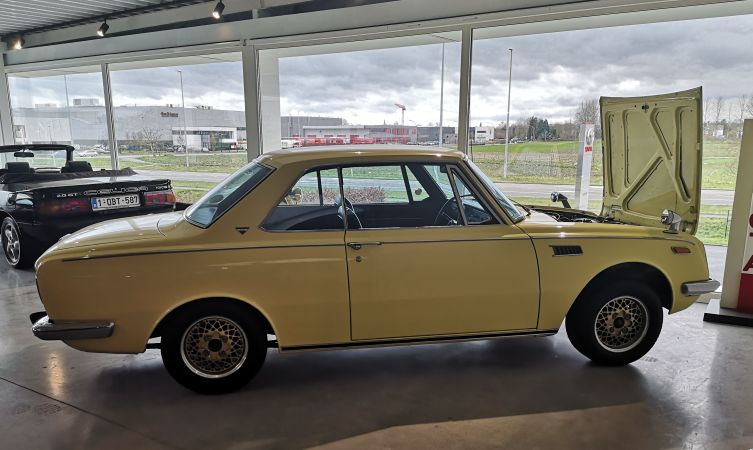 Then you reach what is arguably the highlight of Dominique's collection and the bright yellow model that arrests your attention from the N41 – a gorgeous RT55 Toyota 1600GT 5 from 1967. Although based on the third-generation Corona, the RT55 is not badged as such. Instead, it is considered a close relation to the iconic 2000GT, sharing much of that model's engineering recipe…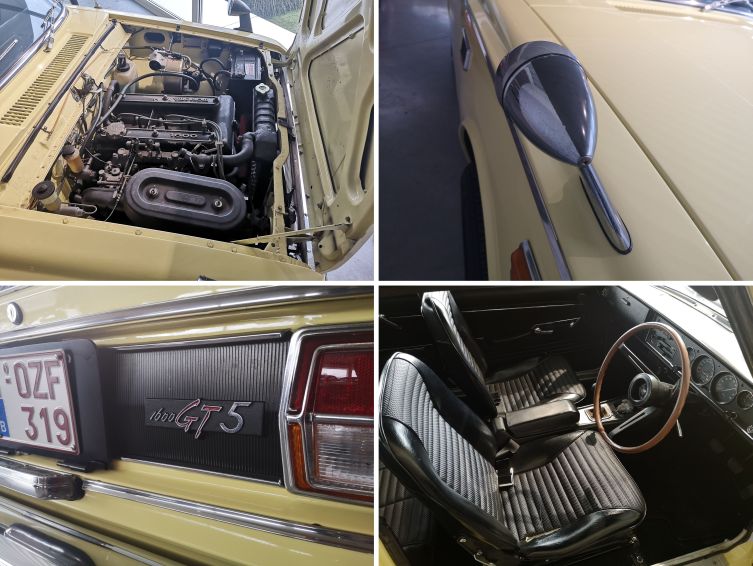 … So in addition to unusually high-spec components such as an electric fuel pump, electric aerial and five-speed transmission, the 1600GT featured alloy rear brake drums, two-tone 2000GT wing mirrors (note the anti-dazzle finish on the inside of the housing), 2000GT upholstery and instruments, and a bespoke, Yamaha-tuned 9R twin cam engine that was essentially a four-cylinder version of the sports car's straight six. It is said that only around 2,200 examples of the RT55 were built, with many used as race cars.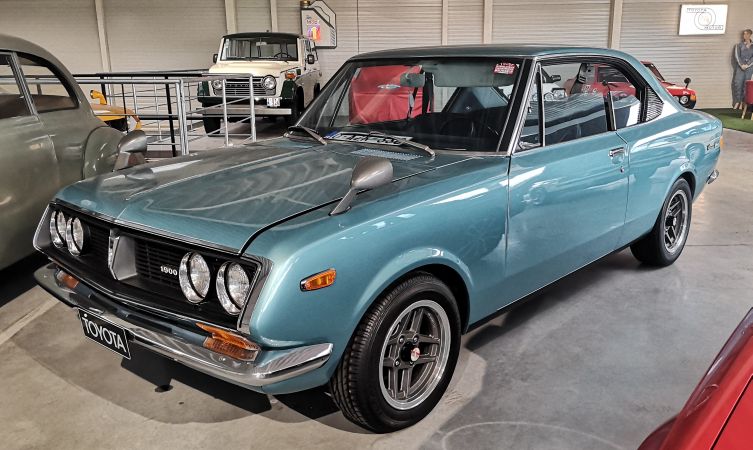 Our brief tour of Dominique's collection concluded with a beautiful next-generation RT72 Corona Mark II coupe from 1971. This streamlined coupe continues the themes originated by its older RT55 sibling and has even been enhanced with period correct 6.5×14″ ET10 TOM'S alloy wheels.
Is this the finest personal collection of classic Toyotas? With rare and highly sought after models positioned in all directions and across two levels, we believe it could be. But the best thing about this collection is that the exhibits are not static museum pieces. Each car is road-worthy, exceptional in one way or another, and many are available for purchase. Which has got to get you thinking…
Read more: Guy Nicholls, world-class Hilux collector
Toyota People… is a series that celebrates individuals with a special enthusiasm for Toyota, whether that is related to its vehicles, philosophies, or manufacturing processes. Read more here.