Toyota has successfully packaged a hydrogen fuel cell system into a compact module that can be easily used in many different applications, including mobility (buses, trucks, trains and ships) and stationary generators. The new hydrogen fuel cell module is expected to go on sale to fuel cell product manufacturers (referred to below as 'FC product companies') from spring 2021 or later.
Toyota is strengthening its role as an FC system supplier, alongside its work to popularise fuel cell electric vehicles (FCEVs). It will work with FC product companies to promote the use of hydrogen with FC products, reducing CO2 emissions, combating global warming and helping achieve future carbon neutrality.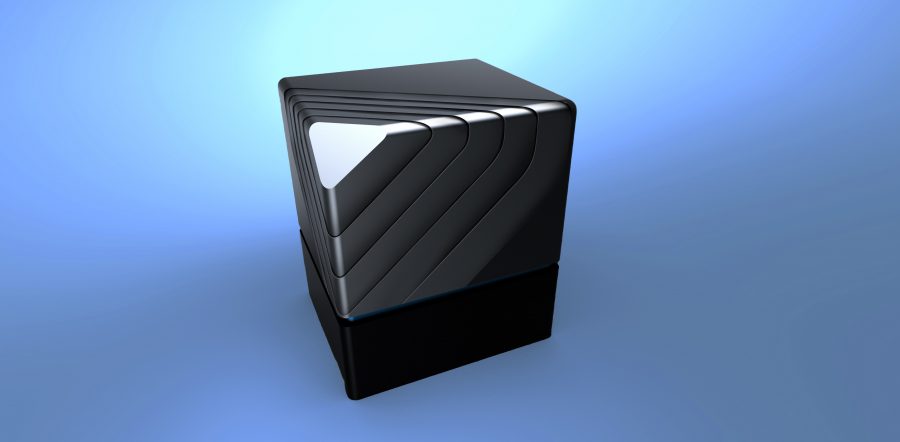 Across the world, countries and regions have been developing hydrogen policies, encouraging more companies to enter the market. As a result, the demand for hydrogen and FC technologies has been increasing, for a variety of uses.
Toyota's own initiatives towards creating a hydrogen society include the Mirai hydrogen FCEV saloon, the Sora FCEV bus, the supply of FC systems to customer businesses and allowing royalty-free use of many of its FCEV-related patent licences. From this experience, Toyota has become aware of how many companies across a wide range of industries are looking for FC systems that they can easily adapt for use in their own products.
Read more about hydrogen fuel cells
Toyota has responded by developing a new hydrogen fuel cell module that packages individual FC system-related elements from the second-generation Mirai. The FC stack and components for air and hydrogen supply, cooling and power control, have been brought together in single, compact module. Four versions will be available: vertical (Type I) and horizontal (Type II) with outputs of 60 or 80kW.
Hydrogen fuel cell module technical information
| | | |
| --- | --- | --- |
| | Vertical type (Type I) | Horizontal type (Type II) |
| Dimensions (l x w x h) | 890mm x 630mm x 690mm | 1270mm x 630mm x 410mm |
| Weight | 250kg (approx.) | 240kg (approx.) |
| Rated output | 60kW or 80kW | 60kW or 80kW |
| Voltage | 400-750V | 400-750V |
Target values, subject to change
Toyota produced the hydrogen fuel cell module drawing on technology know-how and experience gained over many years of FCEV development and Mirai's day-to-day use in many different environments around the world.
Hydrogen fuel cell module – product range
The new hydrogen fuel cell module has a wide (400-750V) voltage range and can be connected directly to an existing electric device equipped with a motor, battery and inverter, thanks to a built-in, dedicated boost converter. This simplifies the development and manufacture of FC products. In addition, the system's modular design greatly improves convenience.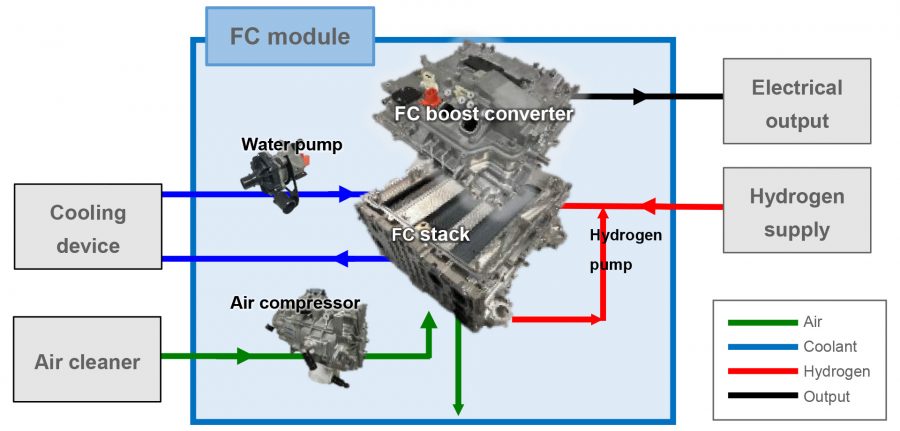 The four modules can be combined according to the application, with flexibility that allows for adaptation according to the output level and the space available for installation.
The modular concept eliminates the need for drawing up designs for individual installation and connection of FC system-related components. It also integrates and reduces the number of points where the module has to be connected to a device, allowing for easy installation.
Safety, reliability and expert technical support structure
Toyota has used its experience developing electrified vehicles to apply rigorous measures to ensure the safe use of hydrogen fuel and high voltages. These are based on a basic approach of ensuring hydrogen does not leak, and, in the unlikely event a leak does occur, ensuring immediate detection and stoppage.
Read more about hydrogen fuel cells
The hydrogen fuel cell module has been designed to work in a broad range of operating environments: at low and high temperatures; at high altitudes where the oxygen level in the atmosphere is reduced; and in applications involving vibration.
FC product companies using the module can call on the support of highly experienced engineers to help determine the best layout and design, according to fuel economy, duration of use, running costs and other considerations.
High output and economic efficiency
The new hydrogen fuel cell module benefits from advances made in space-saving in the Toyota FC stack, such as eliminating the need for a humidifier by circulating the water produced by the power generation process. This has helped it achieve a world-class level of output density in relation to volume.
Maintenance requirements are simple and infrequent, helping reduce the lifetime costs, from procurement and use to eventual disposal.
Click here to learn more about the all-new Toyota Mirai FCEV