The dreams of a cleaner, environmentally friendly world are edging closer to reality each day, and the 'hydrogen society' is one of the boldest steps so far. Toyota is playing a significant role in its development, and not just with the ground-breaking Toyota Mirai fuel cell electric vehicle.
With more pressure being placed upon finding greener power sources, hydrogen has taken strides in recent years by proving itself to be a useful alternative to fossil fuels. However, with much of the discussion about future fuels being occupied heavily by electricity, hydrogen remains a slightly left-field choice – although rapid developments and new applications are bringing the concept of 'hydrogen society' into view.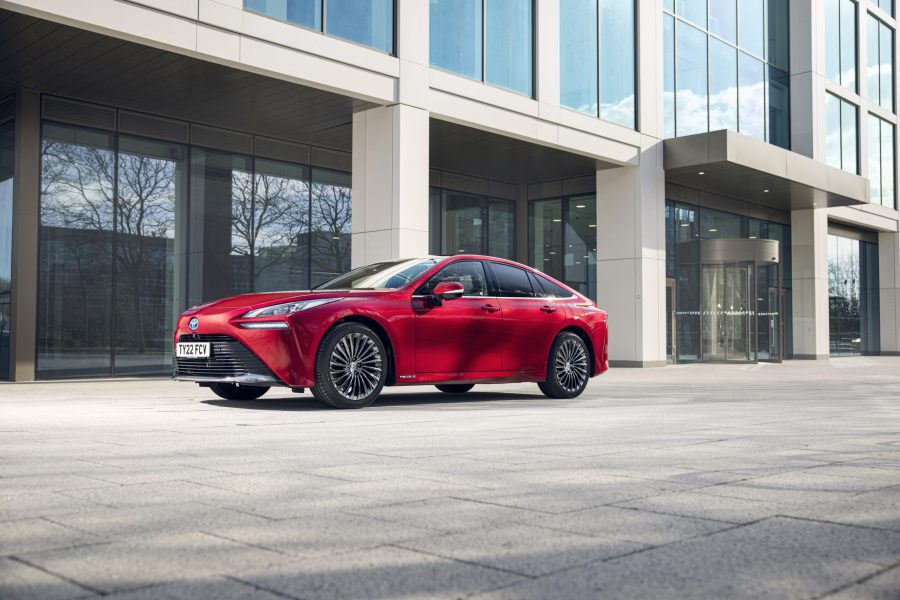 The benefits are clear – literally. Unlike other energy sources, the only by-product of using hydrogen as a power source is water, and is easy to store and transport in large amounts. Sustainable systems are needed to replace fossil fuels which are having a negative effect on our environment. Hydrogen promises to have the biggest impact on decarbonising – it is a secure alternative moving us closer towards a cleaner society.
Determined to both raise the public awareness of hydrogen as an alternative energy source to electricity and also prove its versatility in a wide variety of uses, the hydrogen society aims at creating a world where hydrogen is at the leading edge of power and energy demands.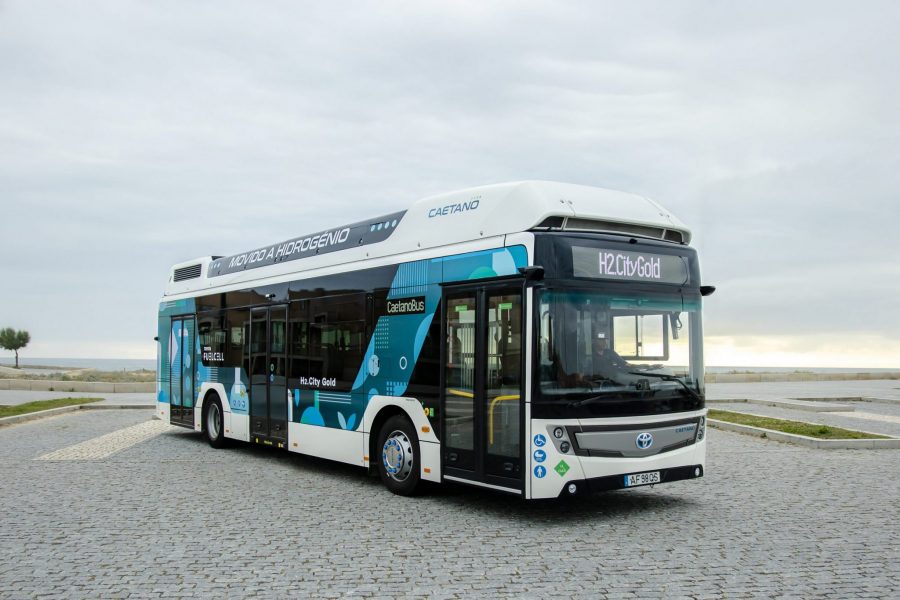 Toyota, Air Liquide and CaetanoBus join forces to accelerate the development of hydrogen mobility in Europe
Air Liquide, CaetanoBus and Toyota Motor Europe have signed a memorandum of understanding with the aim of developing integrated hydrogen solutions. Joint projects will explore infrastructure development and the use of vehicle fleets to accelerate the expansion of hydrogen mobility for both light and heavy-duty vehicles. The partnership reflects the shared ambition of the three partners to contribute to the decarbonisation of transport and accelerate the development of local hydrogen ecosystems for multiple mobility applications. 
The three companies will use their complementary expertise to address the entire value chain of hydrogen mobility, ranging from renewable or low-carbon hydrogen production, distribution and refuelling infrastructure, to the deployment across different vehicle segments. Initially the focus will be on buses, light commercial vehicles and cars, with a further aim to accelerate the heavy-duty truck segment.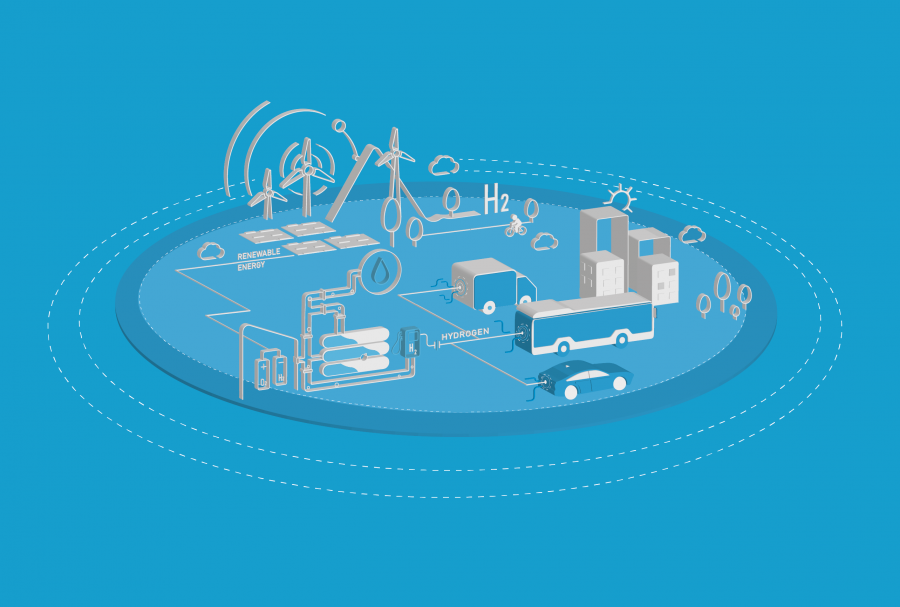 By exploring joint opportunities, the three major players in hydrogen mobility will contribute to the emergence of new hydrogen ecosystems across Europe – a key step towards stimulating demand and facilitating hydrogen access for mobility applications. This includes the infrastructure of refuelling stations, as well as integrated vehicle supply offers (leasing and service) to customers such as taxi companies, fleet operators, local authorities, and others. The integration of different applications and projects within a hydrogen ecosystem, where supply and demand meet, is intended to create a virtuous circle enabling the overall hydrogen infrastructure to further mature. This initiative represents another step along the path of decarbonisation, which is consistent with the stronger focus from European governments and the readiness of hydrogen technologies.
You may just think that a few cars run on hydrogen, but you'd be wrong. Below you will find a list of all manner of machines and technologies that benefit from using hydrogen, and the list keeps growing each year. The items you will see below are all working towards the same end goal, to create a hydrogen society.
So what are some of the potential applications of hydrogen as a power source?
Hydrogen society: fuelling stations
The ITM Power hydrogen refuelling site located at Johnson Matthey Fuel Cells in Swindon has been open since September 2018 for public and private fleets operating fuel cell electric vehicles. The station uses electricity sourced from a renewable energy contract, combined with water to generate hydrogen on-site, with no need for deliveries.
ITM Power is the world leader in the design and manufacture of hydrogen energy systems and its main aim is to take excess energy from the power network and convert this into hydrogen. The company operates seven hydrogen fueling stations in the UK, with plans to build another six this year, including one recently opened at Gatwick. It is anticipated that there will be 65 H2 fuelling stations in the UK by 2025. Check out this map to see where refuelling stations already exist.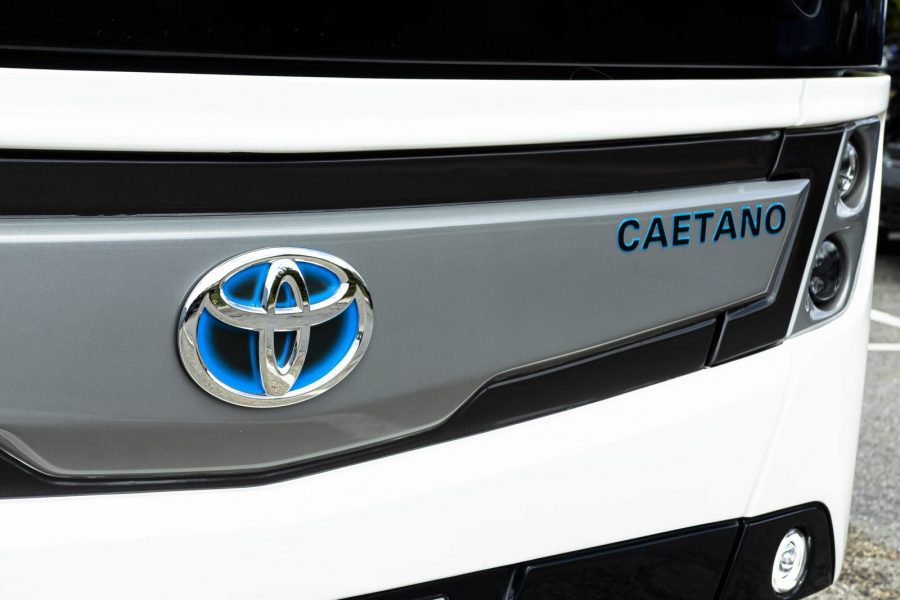 Hydrogen society: fuel cell power generators
Verification tests are being carried out on a stationary fuel cell generator that makes use of the fuel cell system (FC system) installed in the Mirai and uses the hydrogen by-product.
The tests, which are being carried out jointly between Toyota and Tokuyama will run to 2022. The tests will evaluate aspects including the energy efficiency and the stability of the generated output, durability, ease of maintenance of the generator.
As well as this, the tests will be used to estimate the impact on power generation from the use of by-product hydrogen, and the economics of this in comparison with purchasing from an external source. The end goal is to produce a high-performance generator at a reasonable price, by using components from the existing Mirai fuel cell system.
Through these tests, Tokuyama and Toyota will further advance efforts towards the realization of a hydrogen society.
Hydrogen Society: m
obile power generation/output system
Toyota and Honda are collaborating on the development of a new mobile electricity generation and output system. Named Moving e, the system comprises a Toyota-derived hydrogen fuel cell bus that can be used as a high-output and large-capacity source of power, which can be transferred via a power exporter to Honda's mobile power packs.
The concept aims to deliver electricity to areas that might have suffered a power grid failure in the wake of a natural disaster. The fuel cell bus would be driven to a stricken area so that the onboard equipment can be used to restore power. Other practical applications could include supplying electricity to outdoor events, such as concerts. Testing of the concept began on 1 September to coincide with Disaster Prevention Day in Japan.
Hydrogen society: drones
Loughborough-based Intelligent Energy is a leader in fuel cell engineering, producing a number of fuel cell products with outputs of up to 100kW and its hero products are hydrogen-powered drones. These have an average of 70 minutes of flying time compared to 17 minutes of flying time for drones with conventional batteries. One of Intelligent Energy's hydrogen drone clients in South Korea has even achieved the world record for drone flight of 12 hours, 7 minutes, and 22 seconds.
Intelligent Energy also produces other cleaner power products for the construction industry, including portable power units, like the phone chargers provided on the Hydrogen Society press event, as well as lighting towers and construction crew welfare cabins.
Hydrogen society: lighting towers
You may have noticed noisy generators or lighting systems at festivals or events, which frequently run from diesel fuel if the venue is off the electric grid. Mobile lighting towers from TCP (Taylor Construction Plant) provide an eco-friendly alternative, as the Ecolite TH200 hydrogen fuel cell off-grid lighting tower runs in virtual silence, with zero emissions.
It also uses Prismatic Lens technology to prevent light pollution and unwanted glare by operating within the mesopic range on the spectrum, which produces light similar to lunar light, instead of replicating white light like many other mobile lighting units. The fuel cell lighting units have already been used at events such as the Notting Hill Carnival.
TCP has also developed a clean air alternative to a 5kW diesel generator for off-grid applications.
Hydrogen society: construction site cabins
Ecosmart ZERO is the first viable welfare alternative for companies working to reduce their carbon footprint on construction sites. The company's award-winning welfare units provide temporary outdoor workplaces where there is no mains power or buildings available, providing shelter, toilets, hot water, and heating for workers, powered by hydrogen instead of diesel, with zero emissions and no noise.
The units are fuelled by hydrogen bottles, but on sunny days up to 100% of the power demands can be met by solar panels on the roof.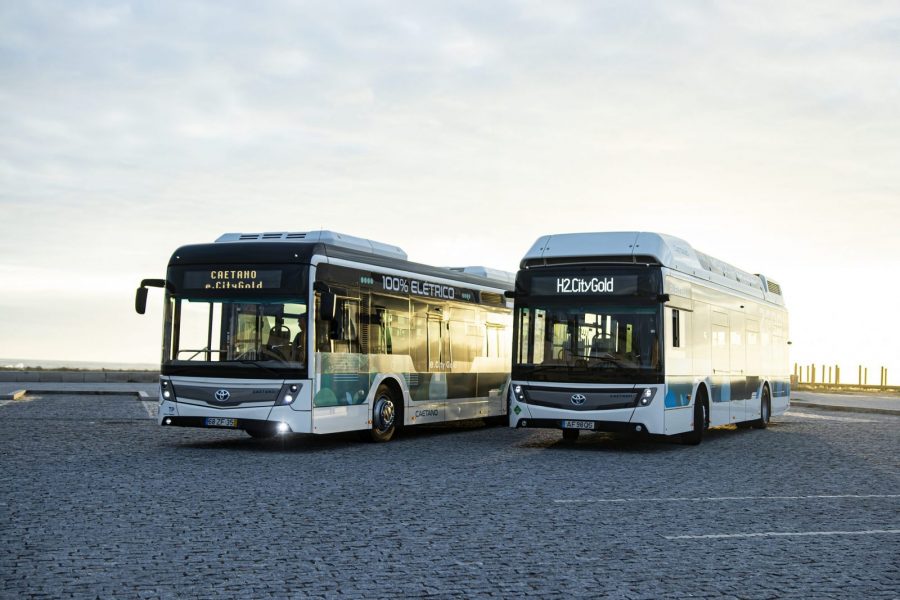 Forklifts, trucks and buses 
The hydrogen transport revolution isn't limited to cars, as Toyota Material Handling Europe provides hydrogen-powered forklifts trucks, while Arcola Energy provides zero-emissions power trains and batteries for heavy vehicles such as buses, trucks, and trains.
This year the first fleet of 35 hydrogen-powered buses will be on the road, with 25 to be deployed in Liverpool, owing to a partnership between Arcola and Alexander Dennis bus manufacturers. Arcola believes heavy-duty busy vehicles are the ideal early market for hydrogen transport.
Also, in early 2020, Toyota teamed up with its Hino Motors subsidiary to work on a hydrogen fuel cell truck. Toyota already has ten heavy-duty hydrogen-powered trucks on the roads of California as part of its Project Portal venture. But this project will adapt the newly developed Hino XL Series chassis with Toyota's fuel cell technology to deliver a Class 8 truck (above) with exceptional capability and zero harmful emissions. This collaboration expands upon the existing effort to develop a 25-tonne fuel cell truck (below) for the Japanese market which was announced earlier this year. The first demonstration vehicle is expected to be launched in the first half of 2021.
Toyota, along with several other businesses, has confirmed that on-road trials of the fuel cell trucks will begin in Spring 2022. The on-road trials will help to verify the feasibility of using fuel cells to reduce CO2 emissions in logistics and accelerate the commercial adoption of FCETs, contributing to the development of a sustainable society.
Vehicles such as trucks and buses are the hardest to convert to run as battery electric vehicles without trading load capacity and range. Hydrogen energy storage provides a much greater energy-to-weight ratio, so fuel cell vehicles can go further and carry more within vehicle weight limits.
Hydrogen society: trains
JR East, Hitachi, and Toyota have entered into an agreement to develop fuel cell electric trains. With this collaboration, Toyota aims to improve the environmental superiority of railways and help realise a carbon-free, sustainable society.
The combination of JR East's vehicle design and manufacturing technologies, Hitachi's railway hybrid drive system technologies and Toyota's fuel cell technologies will enable the companies to adapt automotive fuel cells for railway applications. Testing is scheduled to start in Japan in March 2022.
Hydrogen society: boat

s

Energy Observer is the first energy-autonomous hydrogen-fuelled vessel to sail around the world. Toyota has been at the heart of the six-year Energy Observer project since its launch in 2017. The futuristic boat is propelled by electricity using a mixture of different renewable energy sources and a system that can produce carbon-free hydrogen from seawater.

The relationship developed even further in early 2020 when key components from the Toyota Mirai's fuel cell system were used in a new, compact fuel cell module suitable for use aboard Energy Observer.

In 2017 the experimental science vessel embarked on a six-year journey that will see it visiting 101 ports in 50 different countries.
cars
Of course, we can't discuss the hydrogen society without saluting the Mirai, our pioneering vehicle which will contribute to a hydrogen society. In addition to its fuel cell technology and zero-emissions performance, it is fun to drive, can be refuelled in 2-4 minutes and has a range of about 300 miles.
Mirai cars have been sold to a range of commercial companies wanting to champion zero-emissions transport and to reduce their carbon footprint, including Transport for London, University College London, Imperial College London, the Science Museum and the Metropolitan Police Service.
The second-generation Mirai, introduced towards the end of 2020, benefits from a Toyota New Global Architecture (TNGA) platform and improvements to its fuel cell system to achieve better dynamic performance and an increased driving range, enabling one of the goals of the Toyota Environmental Challenge to move ever closer.
Hydrogen society: refuse collection vehicles
Derbyshire county council is among the first in the UK to trial the use of two dual-fuel hydrogen/diesel refuse vehicles for both commercial and domestic collections. The typical weight of such vehicles, combined with the geographical range required for their duties, means that the use of clean hydrogen power will help make significant cuts in the amount of carbon dioxide they produce.
The two new vehicles will be based and refuelled at the Toyota Motor Manufacturing (UK) plant in Burnaston, Derbyshire, and are scheduled to be in use by the end of 2022. This change is one of the latest steps in assisting the council to de-carbonise its vehicle fleet with the overall intention of becoming carbon neutral by 2030.
Read more: Why does Toyota make hydrogen-powered cars?