Toyota Motor Europe (TME) has joined forces with the Dutch VDL Groep (VDL) to break into the market for heavy-duty hydrogen trucks, using Toyota's fuel cell technology. The project has the potential to accelerate the decarbonisation of the road logistics sector, an important element in TME's strategy to achieve full carbon neutrality by 2040. 
The hydrogen system's lower weight allows heavier payloads to be carried and its rapid refuelling time is ideal for transport that needs to be kept on the move. Trucks can be filled up with hydrogen just as quickly as with diesel and their demand for large volumes of hydrogen positions them as key contributors to the development of sustainable infrastructures around key routes.
VDL will build its first fuel cell truck by summer this year, followed by more vehicles which will be assessed on Toyota's logistics routes in the autumn. The project will consolidate learnings on how to deploy fuel cell trucks, supporting Toyota's longer-term vision of decarbonising logistics and reducing its carbon footprint, going beyond the electrification of its passenger vehicles.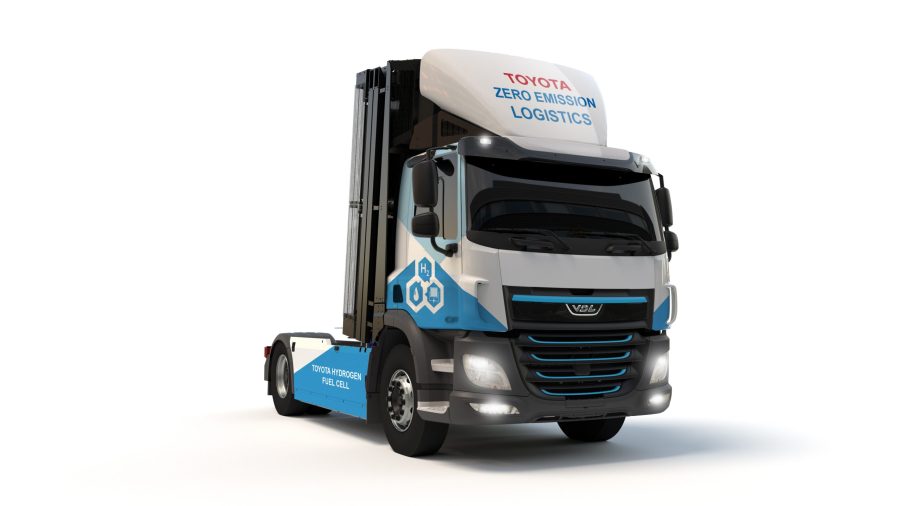 Fuel cell trucks will also have a key role in the growth of a wider European hydrogen ecosystem, strongly supporting transport decarbonisation and an ecological energy transition. Heavy-duty trucks are critical in the generation of a healthy supply and demand dynamic for hydrogen. The profitable feedback loop will stimulate the development of sustainable infrastructure, while allowing other new mobility applications to emerge. The infrastructure for hydrogen trucks can simply be extended to support other hydrogen vehicles that can use the same filling stations. This new project is one of many Toyota has recently established with multiple partners; others include light commercial vehicles, boats, trains and buses, with the goal of accelerating the transition to a hydrogen economy.
*In the context of this press release, "zero emission" refers to zero harmful emissions at the vehicle's exhaust.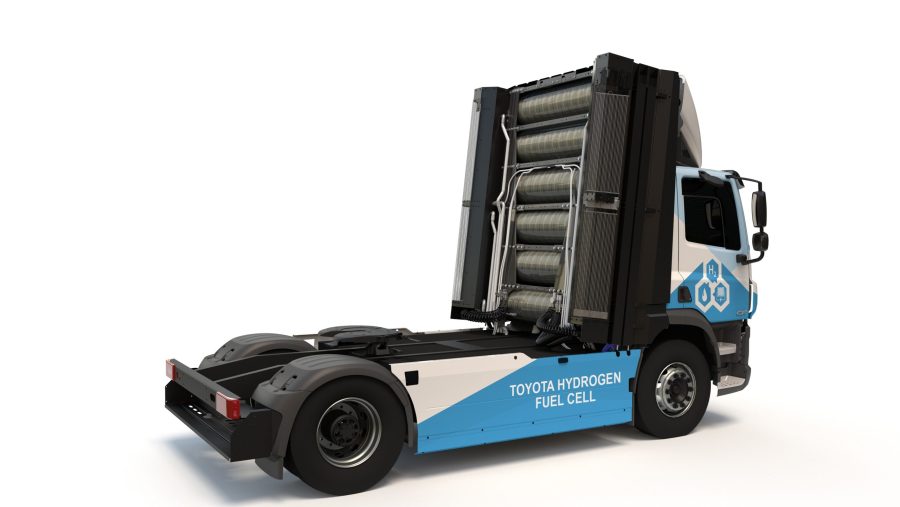 Toyota to co-develop hydrogen fuel cell trucks with Hino Motors
Toyota's hydrogen fuel cell technology is set for a new home in a heavy-duty commercial vehicle. The hydrogen fuel cell truck joint-project with Hino Motors in March 2020 marked another step forward in Toyota's support for a hydrogen society powered by clean energy.
A modified Hino Profia FR1AWHG truck will incorporate two Toyota FC Stacks, the newly developed fuel cell stacks destined for the next-generation Toyota Mirai. A new large-capacity high-pressure (70MPa) hydrogen tank will be developed to enable a proposed 370-mile cruising range.
Hydrogen has a high energy density, making it an effective fuel for the demands of a heavy-duty truck. They need sufficient range to drive from city-to-city, but also need fast refuelling so they can stay on the move.
A heavy-duty truck also needs to carry cargo, so the new truck's chassis has been specially designed to incorporate all the elements of the electrified powertrain (fuel cell stacks, hydrogen tank, AC motor and lithium-ion battery) while maintaining load capacity.
The development of electrification technology for commercial vehicles will help to achieve Toyota and Hino's plans for a 90% reduction in CO2 emissions by 2050. This alternative powertrain will provide significant environmental benefits and help to further develop electrified vehicle technologies for a wide range of transport, not only passenger vehicles.
Toyota is putting an additional ten heavy-duty trucks powered by the Mirai's hydrogen fuel cell on the roads of California as it expands its vision for zero-emissions haulage, as part of a venture called Project Portal.