The new Toyota Mirai hydrogen fuel cell electric vehicle takes Toyota's advanced FCEV technology to a higher level, offering dynamic, contemporary styling and a more rewarding and engaging drive.
A comprehensively redesigned fuel cell system, intelligent packaging and improved aerodynamic efficiency help extend the Mirai's driving range to around 400 miles, with no tailpipe emissions other than pure water.
Toyota began development of a hydrogen fuel cell electric vehicle in 1992 and successfully introduced the first-generation Mirai in 2014. As you can read below, the new Mirai hydrogen FCEV is improved in every aspect.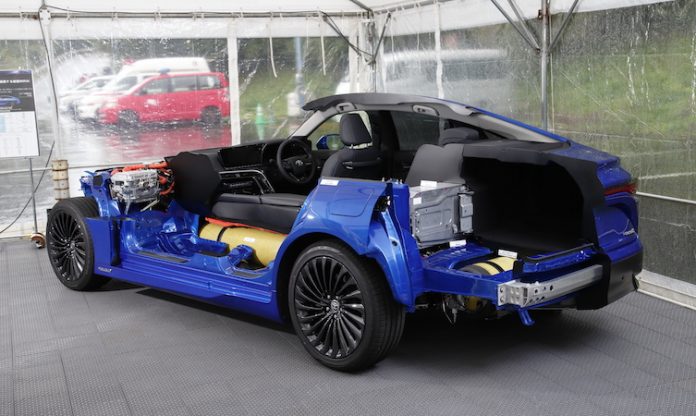 Mirai hydrogen fuel cell: improved performance
A key priority for the new Mirai has been to improve the driving range compared with the first-generation model, with the aim of exceeding the distances typically achieved by today's battery electric vehicles. Increased hydrogen fuel capacity, improved efficiency and better aerodynamics all contribute to extending the driving range by 30% to around 400 miles, giving the new Mirai genuine long-distance driving capability.
The new Mirai's packaging has also been significantly improved, largely thanks to the use of Toyota's modular GA-L platform. A redesigned and more efficient FCEV powertrain, notably with the fuel cell stack moved from beneath the cabin to the front compartment (equivalent to the engine bay in a conventional car), has allowed for a more spacious, five-seat interior with improved legroom for rear-seat passengers.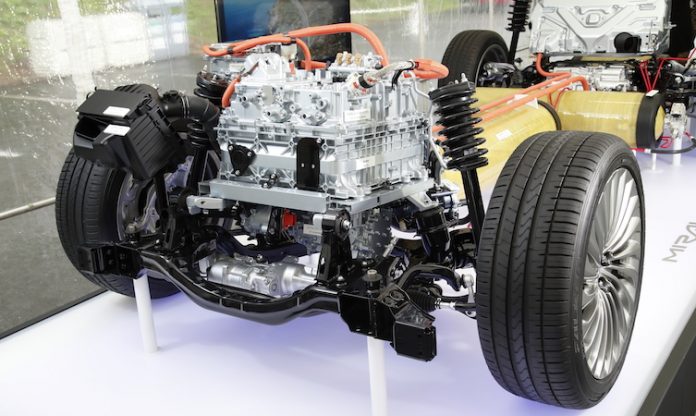 Crucially, the adoption of the new GA-L platform has enabled the fitment of a third high-pressure hydrogen fuel tank. The new tanks have a stronger, multi-layer construction and are arranged in a 'T'-configuration, the longest running longitudinally and centrally beneath the vehicle floor, with two smaller tanks set laterally beneath the rear seats and luggage compartment. Together they can hold 5.6kg of hydrogen, compared with 4.6kg in the current Mirai's two tanks.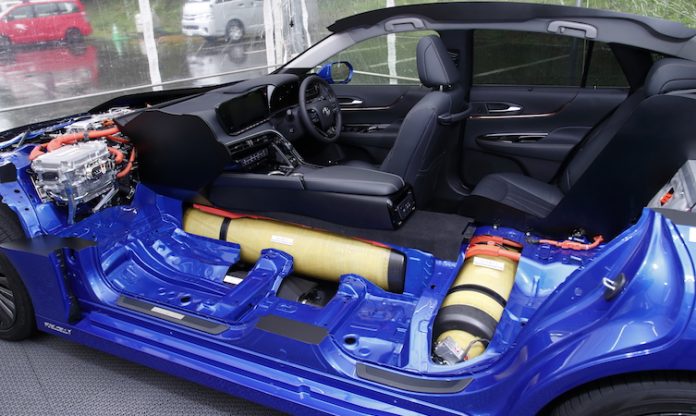 Additionally, the high-voltage battery and electric drive motor are positioned above the rear axle. This optimised powertrain and fuel tank layout helps contribute to the new Mirai's ideal 50/50 front-to-rear weight distribution.
Mirai hydrogen fuel cell: emotional appeal
One of the principal aims for the new Mirai has been to give the car a stronger emotional appeal, making it attractive as much for its looks as it is for its environmentally-friendly performance and the way it drives. The new GA-L platform and Toyota's advances in FCEV technologies have together made this possible.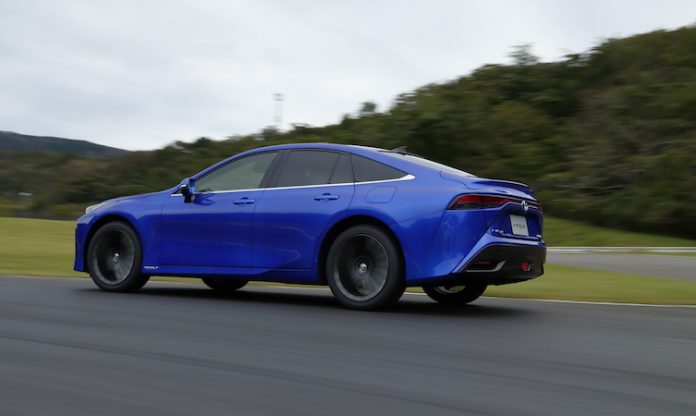 The new Mirai benefits from more attractive proportions. Overall height has been reduced by 65 mm to 1,470 mm, and there is a 140 mm increase in the wheelbase, to 2,920 mm. With the rear overhang extended by 85 mm, overall vehicle length is now 4,975 mm. A 75 mm increase in the track width and the use of larger, 19-inch front and 20-inch rear wheels give a more dynamic stance and offer a visual representation of the new Mirai's lower centre of gravity.
Mirai's hydrogen fuel cell stack
Toyota's new fuel cell stack and fuel cell power converter (FCPC) have been developed specifically for use with the GA-L platform. All the elements in the stack frame – including the water pumps, intercooler, air conditioning and air compressors, the hydrogen recirculation pump and the stack case itself – have been brought together and made smaller and lighter, while at the same time improving performance. By concentrating the system connections within the case, fewer components are needed, again saving space and weight.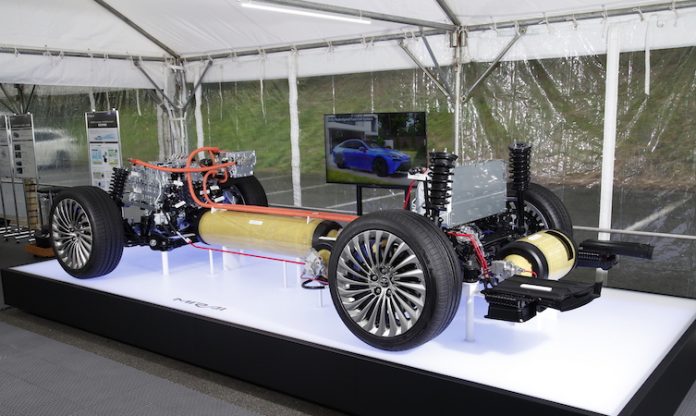 The fuel cell stack uses a solid polymer, as in the current Mirai, but while it has been made smaller and has fewer cells (330 instead of 370), it sets a new record for specific power density, at 5.4 kW/l (excluding end plates). As a result, maximum power has risen from 114kW (153bhp) to 128kW (172bhp). Cold weather performance has also been improved, with start-up now possible at temperatures from as low as -30°.
2021 Toyota Mirai – technical specification
| | |
| --- | --- |
| Power system | 128kW Fuel Cell Stack |
| Power density | 5.4 kW/l |
| Motor | 134 kW electric – rear wheel drive |
| Fuel | 5.6kg compressed hydrogen |
| Range | Approx. 400 miles (approx. 30% greater than current model) |
| Seating capacity | 5 |
This focus on innovation and improvement across every powertrain component has delivered a 50% weight reduction yet a 12% increase in power.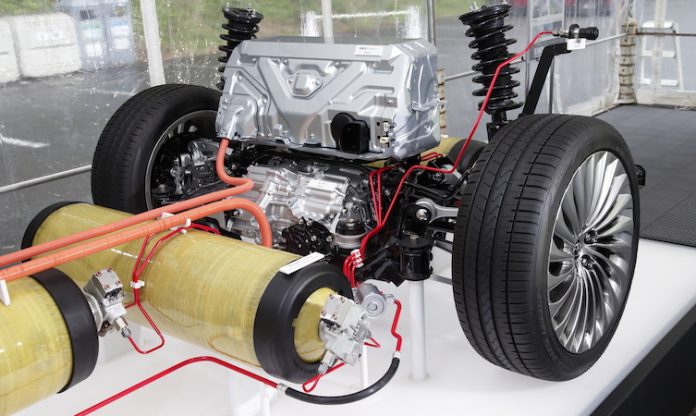 The new unit also incorporates the Fuel Cell DC-DC Converter (FDC) and modular high-voltage parts, while achieving a 21% reduction in size over the current system. Weight has been cut by 2.9kg to 25.5kg. Toyota's first-time use of a next-generation silicon carbide semiconductor material in the intelligent power model (IPM) transistors has enabled an increase in output and lower power consumption while using fewer transistors, which in turn allows the FCPC to be made smaller.
Elsewhere, the air intake contains sound-absorbing material so noise from the air inlets is unnoticeable in the cabin, while the exhaust has a larger-capacity silencer, which also contributes to the quieter cabin. The complete air system is almost 30% smaller than in the current Mirai and weighs 34.4% less.
Mirai hydrogen fuel cell: new lithium-ion battery
The new Mirai is equipped with a lithium-ion high-voltage battery in place of the current model's nickel-metal hydride unit. Although smaller in size, it is more energy-dense, giving a higher output and superior environmental performance. It contains 84 cells and has a 4.0 Ah capacity versus 6.5 Ah of the current Mirai. Weight has been reduced from 46.9 to 44.6kg and output has improved from 25.5kW x 10 seconds to 31.5kW x 10 seconds.
The battery's air-cooling path has also been optimised, with discreet inlets either side of the rear seats.
Mirai hydrogen fuel cell: an engaging drive
The adoption of the GA-L platform has given the new Mirai a lower centre of gravity, which helps to deliver superior dynamic performance and the fundamental stability characteristics of a front-engined car. The improved dynamics are also aided by increased body rigidity, which has been achieved with strategic bracing and the wider application of adhesives.
The new platform adopts new multi-link front and rear suspension in place of a front MacPherson strut and rear torsion beam arrangement. Thicker anti-roll bars are also used, along with optimised upper and lower ball joint location and overall improved suspension rigidity. This new set-up provides high levels of stability, responsiveness and ride comfort.
Further benefits are gained with the use of larger wheels and tyres. The 19-inch front and 20-inch rear wheels are fitted with 235/55 R19 and 245/45 R20 tyres respectively, with low rolling resistance and quiet running contributing to fuel efficiency, stability and quiet cabin environment.
The Mirai's improved aerodynamics and lower drag coefficient figure, aided by a lower roof line and full underbody cover, contribute towards the improved dynamics and the increased cruising range.
The new Mirai also rewards its driver with an improved driving character. The extra power of the new fuel cell stack and battery is harnessed for smooth, linear takeoff, while highway driving is relaxed and stress-free, with excellent throttle response at all speeds. When driving on winding roads, the Mirai's dynamic poise is complemented by strong acceleration out of bends.
Innovative filter
A catalyst-type filter – a Toyota innovation – is fitted in the Mirai's air intake. As air is drawn into the vehicle to supply the fuel cell, an electric charge on the filter's fabric element captures microscopic particles, including sulphur dioxide (SO2), nitrous oxides (NOx) and PM 2.5 particulates. The system removes 90-100% of particles between 0 and 2.5 microns in diameter from the air as it passes into the fuel cell system.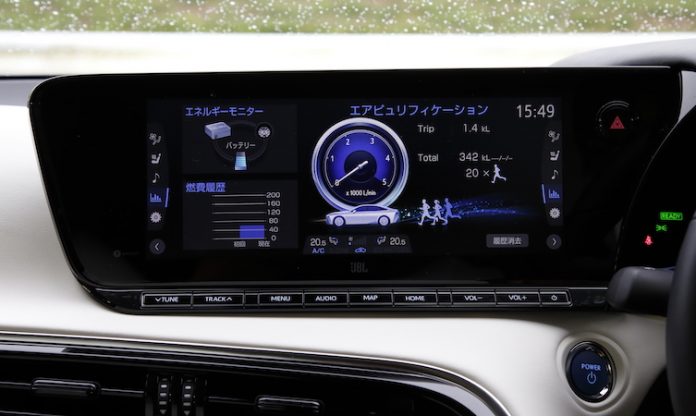 Targeting a 10-fold increase in sales
With the introduction of the second-generation Mirai, Toyota is targeting deeper market penetration with a 10-fold expansion in global sales volume. This growth will be supported by the new model's stronger performance and greater customer appeal, notably as a more affordable vehicle with a selling price reduced by around 20%.
The practicality of hydrogen FCEV ownership will also steadily increase as markets improve their hydrogen infrastructure, the number of filling stations rises and governments and local authorities introduce new incentives and regulations for cleaner mobility.
Read more How the Mirai fits into the wider hydrogen society
Read more Toyota Mirai helps ZeroAvia fly high on hydrogen