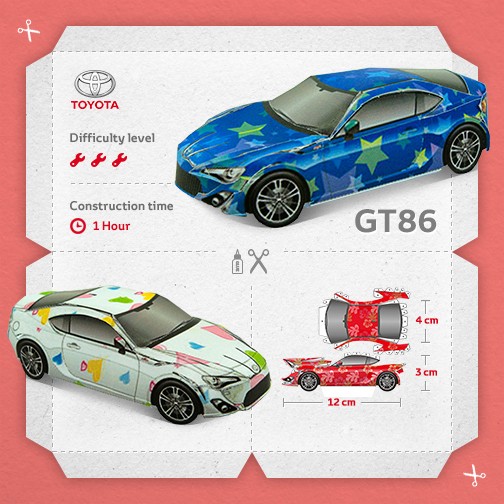 Great-looking and easy to cut out with scissors – these are the virtues of this Toyota GT86 which you can download and build! And that's not all, as the car comes in three eye-popping prints, so if blue doesn't tickle your fancy, you could try orange or white and pink.
In the coming weeks, we'll be releasing cut-out versions of other models in the Toyota range. If you fancy something a little more practical, then you might want to wait for the RAV4 cutout, while the Prius papercraft is a must for any hybrid fan.
Don't forget to share your efforts with us on Facebook, Twitter or Instagram. The next papercraft car will be revealed next week.
Where next?
Build yourself a Toyota Prius
Build yourself a Toyota RAV4
Build yourself a Toyota Land Cruiser V8
Build your own Toyota Land Cruiser