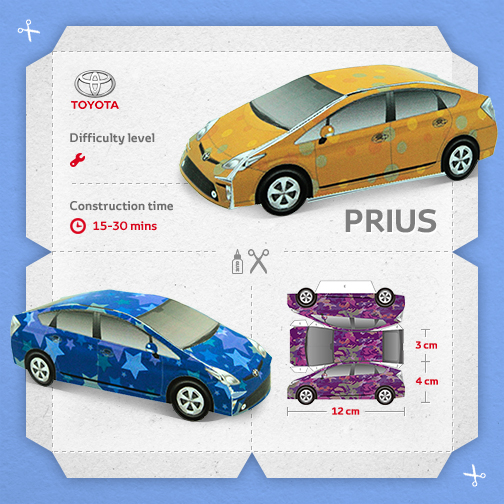 The world's most popular mass-produced hybrid car – the Toyota Prius – is the second model in our range to get the papercraft treatment, after the GT86. The model is the easiest of our papercraft cars to build, thanks to its curvaceous shape.
A high-resolution version of the Prius can be downloaded here. In the coming weeks, we'll be releasing cut-out versions of other models in the Toyota range.
Don't forget to share your efforts with us on Facebook, Twitter or Instagram – we'd especially like to see you try your hands at all of the papercraft cars! The third model will be revealed next week.
Where next?
Build yourself a Toyota GT86
Build yourself a Toyota RAV4
Build yourself a Toyota Land Cruiser V8
Build your own Toyota Land Cruiser
Build yourself a Dakar Land Cruiser
By Eliott Farr