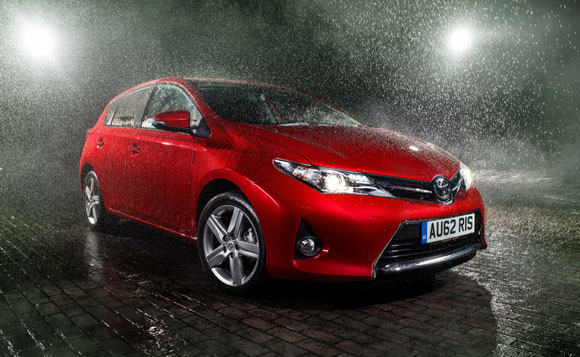 See also:
10 reasons to choose the Toyota Auris
11 ways the Toyota Auris makes owners' lives easier
What are Toyota Auris owners saying about the car?
Toyota Auris review
Low running costs and peerless reliability are the foundations of Toyota Auris ownership, but they're not all that the car has to offer. Sharp exterior styling, a low centre of gravity and a driving experience that is significantly more focused than its predecessor, mean that Auris is a head-turning car that is as at home blasting through twisting back roads, as it is taking on the might of the school run.
We cast an eye over the attributes that make Auris a car for those wanting to stand-out from the humdrum small family car crowd.
In design and engineering terms, a key priority for Auris was to: "Develop a stronger emotional appeal for those who want to feel more connected to their car through the way it looks and the way it drives."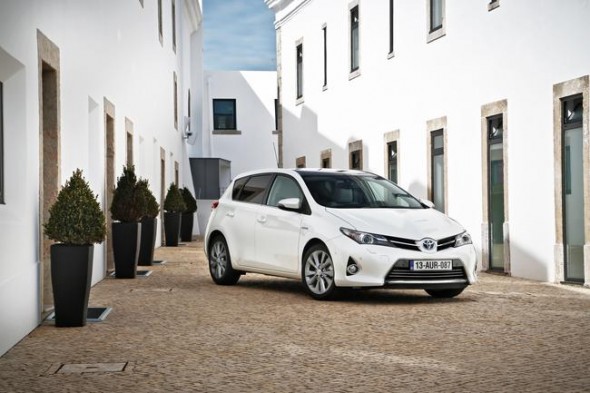 To achieve this, the designers focused on creating a sculptured and visually arresting exterior. The distinctive, sporty styling of Auris is known as the 'Keen Look'. It is perhaps most pronounced at the front, where a trapezoidal lower air intake and sloping upper grille feature, alongside LED daytime running lights that are integrated into the headlights for a sleek, premium appearance. The purposeful look is finished off by a chrome-edged grille that blends seamlessly into the projector headlights, and a large Toyota badge which is set lower than on the previous-generation Auris, to accentuate the car's low centre of gravity.
In profile, designers have ensured that Auris avoids anonymity. The ride height has been lowered by 10mm, compared with its predecessor, and the windscreen is steeply raked, flowing into a stepped roofline, which reduces drag – in fact the model features a class-leading coefficient drag of 0.277.
Every grade of Auris – including entry-level 'Active' models – features a roof-mounted spoiler. Combined with 16-inch, five-spoke, black and silver alloy wheels on Icon Plus models and 17-inch graphite-coloured alloy wheels on Excel Hybrid models, the car boasts a sporty look, without the expensive running costs of high-performance variants of rivals.
Behind the wheel, the hallowed GT86 coupé has influenced the way in which Auris drives. As with GT86, making Auris lightweight was an engineering priority. The result is a car that is 40kg lighter than the model it replaced in 2012, meaning responses to driver inputs are more immediate, and overall, the car feels quicker.
The Auris is one of the lowest cars in the small family car class. This translates to a low-slung driving position, which makes the driver feel closer and more connected to the road. The bodyshell is extremely rigid – thanks to the use of high tensile steel – and the MacPherson strut front suspension and double wishbone rear system (Hybrid models only) has been revised to incorporate optimized trailing arm bush characteristics. In layman's terms, this means that the model corners well and soaks up bumps effectively. Weighty steering ensures the car is involving to drive when you want to have some fun.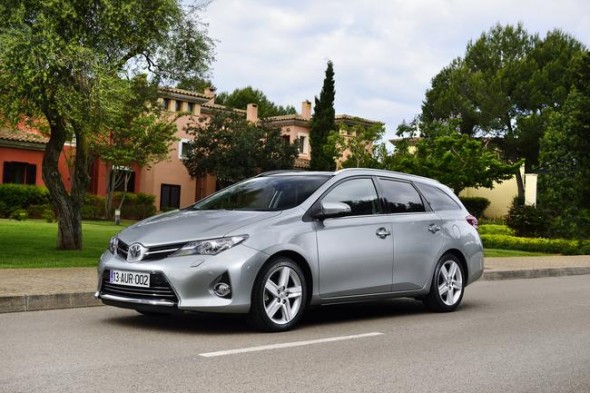 An increased focus on design and driving dynamics for Auris, has not gone unnoticed by the British motoring press. CarBuyer praises the model's stiffer suspension set-up, writing: "Toyota has stiffened the Auris' suspension in an effort to make the car more fun to drive and it means that there is limited body lean in the corners."
Auto Express points out the desirable looks of Auris, and the fact that it is more of a driver's car than in the past. The publication writes: "The Toyota Auris is a significant step-up in terms of style, practicality and efficiency over the car it replaces. It's better to drive, too"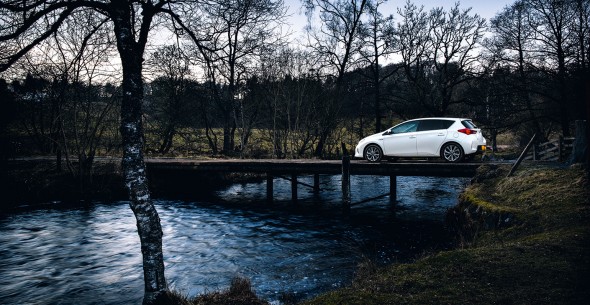 Auris owners have extolled the emotional virtues of their cars too. Richard McKenzie bought his Auris Icon earlier this year and comments on WhatCar?: "I have been surprised at the looks that I have been getting from other drivers. Perhaps because I opted for white which, when clean, looks very stylish."
Paul Udale, who owns a 1.6-litre petrol Auris Excel writes: "This is my first Toyota and I was attracted to the styling of this car.
"If you want to be different from the Focus/Golf/Astra crowd, then give the Auris a go, you won't be disappointed…"
Prices for the Auris range start at £13,995* and every Auris comes with a 5-year, 100,000 warranty. All hybrid variants dip below the magic 100g/km barrier, so are exempt from annual road tax (Vehicle Excise Duty). The model is available in a choice of hatchback and 'Touring Sports' estate bodystyles. When you combine these attributes to the car's stylish looks and excellent handling characteristics, you end up with a car that truly appeals to both your head and your heart. Try one today.
See also:
10 reasons to choose the Toyota Auris
11 ways the Toyota Auris makes owners' lives easier
What are Toyota Auris owners saying about the car?
Toyota Auris review
Where next?
Further information about the Auris range is available on the designated section of the Toyota UK website. If you would like to test drive one, leave a comment below, and we'll be in touch shortly.
*Price correct at time of writing