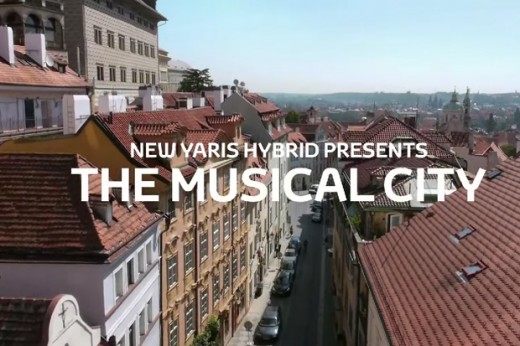 Toyota has an impressive back catalogue of memorable TV ads, and we've just released another – for the Yaris Hybrid – so we take a look back at seven held in high regard by both us and the critics.
1. Yaris Hybrid: The musical city (2014)
Unveiled in August 2014, 'The Musical City' is a Pan-European ad that captures the unbridled joy of driving the silky smooth and impeccably-refined Toyota Yaris Hybrid. The ad sees urbanites taking to the wheel of a Yaris Hybrid Excel and navigating their way through a musical version of Prague, in which every street sign has been changed to reflect the names of classic pop and rock songs.
To encourage the drivers and their passengers to sing along, the Yaris Hybrid stereo was connected to the GPS system and each time the car turned a corner, it triggered a new song according to the street name. The drivers had the opportunity to choose what to sing by choosing which route to drive.
What's so great about it?
The ad taps into something that is familiar to us all – singing along to a great song in the car. The messaging – that city driving is an enjoyable experience if you drive a Toyota hybrid – is spot-on, and did you hear that blonde gentleman's renditions of 'Uptown Girl' and 'Total Eclipse of the Heart'? Simply marvelous.
2. Corolla: A car to be proud of (2003)
The Toyota Corolla is one of the best-selling cars of all time – 41 million have found homes since 1966! Its one-time slogan 'A car to be proud of' seems just then, and never was that thinking explored more creatively than in this genius US commercial from 2003.
The ad sees a plump woman select a set of Toyota Corolla keys from a bowl at a swinger's party; a previously nervous-looking group of men, realising the keys the woman has chosen, then stand-up to claim ownership of the car, and the screen fades to black as the aforementioned 'A car to be proud of' tagline appears on screen.
What's so great about it?
It worked. This advertisement formed part of the 'A car to be proud of' campaign, which won a Silver Lion Award (Cars category) at the 2002 Cannes International Advertising Festival and a 2004 Silver Clio Award. US sales of Corolla rocketed too – 262,064 Toyota Corolla found homes in 2003, against 195,767 in 2002.
3. Sienna: The Swagger Wagon ft. Busta Rhymes (2014)
Unveiled in August 2014 – unveiled at the same time as The Musical City – this ad from our friends across the pond has been produced to promote the new Sienna MPV and is a follow-up to a previous 'Swagger Wagon' commercial from 2010, which you can watch here.
It features chocolate-box American family, the Neuberts, waxing lyrical about their Sienna – the 'Swagger Wagon' – with a little help from rapper and producer Busta Rhymes.
What's so great about it?
Er, hello – it's got Busta Rhymes in it! But, crucially, the ad is relatable, recounting stories of school runs, early bed times and reminding us that swearing is bad. Those neon lights make the car look terrific too.
4. Celica: What a feeling (1981)
The 1980's were great, weren't they? It was the decade that gave us Super Mario Bros., Pac-Man, comically large mobile telephones and talking car dashboards, so it's fitting that this advertisement for the 1982 third-generation Celica has a computer game-esque treatment.
"Out of the past into a thousand tomorrows" the Celica leaps towards the screen from a cartoon sun, in what appears to be its very own planet. The car then proceeds to show us what it's made of out on the road, and those semi-retractable headlights make us weak at the knees.
What's so great about it?
It's pure '80s. The primitive animation, hyperbolic voiceover, and the iconic wedge profile of the Celica all combine to create a warm, nostalgic glow.
5. Toyota Camry: It's reinvented (2012)
The US sure loves the Camry. Last year, it was the country's best-selling car for the twelfth year straight and 10.3 million of the saloons have been sold there in the last 31 years.
For the 2013 model year, the car was updated, sorry, 'reinvented', and generally made a bit more awesome. What would it be like if everything in life was as clever and exciting as the Camry? A little something like this ad, probably…
What's so great about it?
The ad won The One Club's 'Public Choice Award' and it sure is brave. There wasn't really much wrong with the old Camry and sales were brisk, so saying that this one is so radically different was a bold move, but one that is in-keeping with one of the founding principles of Toyota – to continuously improve.
6. Auris: Fall in love with driving again (2014)
This Pan-European ad, unveiled earlier this year, kicked-off our 'Fall in love with driving' campaign for our six-strong range of hybrid models. It extols the importance of putting love into everything that you do; a message that extends to driving.
In the ad, a man wanders through a grey city, encountering characters who have become disillusioned with different aspects of everyday life. There is the warring couple who have fallen out of love, the woman who appears to have let work take over her life, and the drivers stuck on a gridlocked street; all of the banal situations are then juxtaposed with an upbeat Auris Hybrid driver.
What's so great about it?
The head case for hybrid cars – excellent fuel economy and lower CO2 emissions – is well-documented, but this ad brings the desirability and driveability of our hybrids to the forefront.
7. Highlander: The Muppets Super Bowl Joyride (2014)
This year's Super Bowl saw the Seattle Seahawks triumph over the Denver Broncos and attracted a record audience of 111.5 million viewers, making it the most-watched TV event in US history.
Naturally, this makes it a hotly-contested event to sandwich an ad between, and Toyota USA pulled out all the stops to ensure that its spot – for the 2014 Highlander 4×4 – was the best.
Entitled 'Joyride', the 60-second broadcast sees The Muppets teach ex-NFL player and actor Terry Crews ways of 'unborifying' his lifestyle by borrowing his fun-ctional Toyota Highlander. Music, elderly ladies playing bingo, wine-making, singing vegetables and a full-blown carnival follow, in one of the most vivacious car ads of all time.
What's so great about it?
NY Daily News wrote of the ad: "Who doesn't love the Muppets? Add the good-natured attitude and outrageously chiseled form of Terry Crews – the former sultry spokesperson of Old Spice ads – and you have a Super Bowl commercial that lives up to the pre-game hype." We couldn't have put it better ourselves.
Where next?
5 of the wackiest Toyotas ever produced
6 innovative projects from the Toyota Motor Corporation
10 reasons to #LoveHybrid
GT86: The real deal in the real world
Toyota Camry: The US top seller
Detailed history of the Toyota Corolla
Detailed history of the Toyota Celica