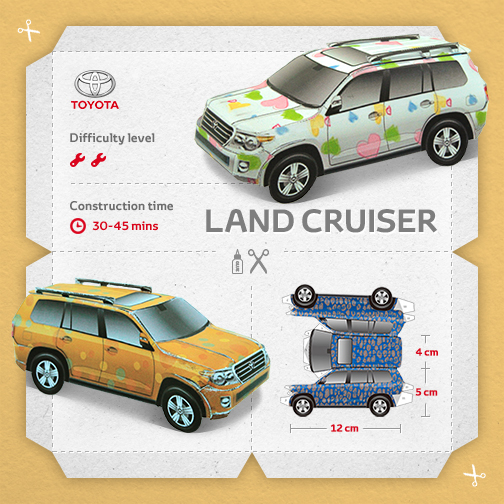 The Toyota Land Cruiser V8 is the fourth and final car in our range to be turned into a papercraft model for you to build at home.
A high-resolution version of the Land Cruiser V8 can be downloaded here. You can download and complete all four of the papercraft cars by clicking the links below. Why not line them all up and snap an awesome photo?
Don't forget to share your efforts with us on Facebook, Twitter or Instagram.
Download your paper Land Cruiser V8
Download your paper RAV4
Download your paper Prius
Download your paper GT86
Where next?
Build yourself a Toyota RAV4
Build yourself a Toyota Prius
Build yourself a Toyota GT86
Build your own Toyota Land Cruiser
Build yourself a Dakar Land Cruiser
By Eliott Farr