The Toyota Proace is the perfect partner for anyone who needs a reliable, spacious and well-equipped van to meet their business needs. Powered by a choice of three efficient diesel engines – 90hp 1.6-litre, 128hp 2.0-litre or the range-topping 163hp 2.0-litre – and available in various combinations of length and roof height, there's bound to be a Proace suitable for you.
With up to 7m³ of loadspace capable of hauling as much as 1200kg of payload, high equipment levels for conducting business on the go, or even the extra passenger space afforded by the Proace Crew Cab, the Proace is the van that can.

DRIVING
A day spent driving the Proace is an effortless task, with all of its diesel engines producing plenty of load-hauling torque while being fuel efficient and meeting the latest Euro 5 emissions standards.
The 90hp 1.6-litre engine, paired with a five-speed manual transmission produces 180Nm of torque. The larger 128hp and 163hp 2.0-litre engines are equipped with a six-speed manual gearbox and produce 320Nm and 340Nm of torque respectively. A large fuel tank and up to 44.1mpg (2.0-litre engine) give the Proace a potential driving range of over 770 miles, more than enough to keep you motoring all day long.
COMFORT
The Proace is designed to help you deliver a productive day's work, so it's comfortable and well-equipped. All models share the same levels of equipment, including air-conditioning, Bluetooth and electric windows. Additionally, the Proace is equipped with a front bench seat that seats two or optionally available with an individual front passenger seat for no extra charge. The Proace Crew Cab adds a second row of seats, enabling travel for as many as six people (including the driver).
PRACTICALITY
To meet the needs of modern business, the Proace is offered in a combination of two lengths and two height options. On the normal vans, the standard 3,000mm wheelbase version (L1) is offered with a standard 1,942mm roof height (H1), while the longer 3,122mm wheelbase version (L2) comes in H1 or H2 (2,276mm) roof heights. The Proace Crew Cab is only available in L2H1 configuration.
The Proace has a payload capacity of 1,200kg (1,000kg on L1H1 models), with a load volume of between 5m³ and 7m³. And to make it easy to get at your payload, sliding doors on each side and twin rear doors that open to 180 degrees give superb access. A glazed, top-hinged tailgate is available as a cost option on standard roof height vans.
SAFETY
When you have to keep going in all conditions, the Proace is there to help and protect. Stability control is fitted as standard to ensure maximum grip in heavy rain, snow and ice, and anti-lock brakes help to bring you safely to a stop when braking heavily. If the worst should happen, driver and passenger airbags are fitted to minimise injury.
RUNNING COSTS*
Thanks to the efficient diesel engines in the Toyota Proace, running costs are kept as low as possible. In the standard roof models, the 1.6-litre engine delivers 42.2mpg on the EU-regulated test cycle, and the 2.0-litre does even better with 44.1mpg on the same test. High-roof 2.0-litre models return 39.8mpg. Service intervals are set at 10,000 miles or once every twelve months.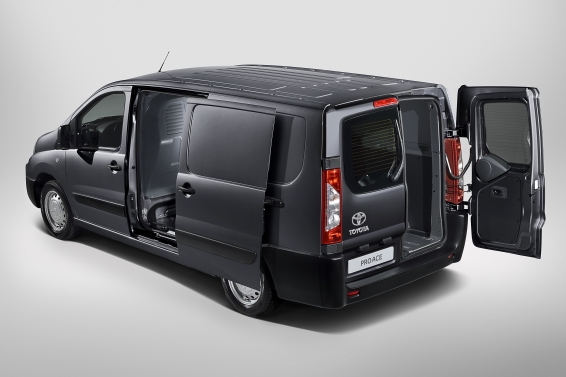 QUALITY
The Proace enjoys the same three-year/100,000 mile mechanical warranty as Toyota's other light commercial vehicles, with paintwork covered for three years and 12 years anti-corrosion protection.
PRICES*
The 1.6-litre Toyota Proace costs £18,634.17 (all prices after VAT reclamation) for the short wheelbase L1 version or £19,217.50 for the long wheelbase L2 version. Proace vans with the 128hp 2.0-litre start from £19,384.17 (L1H1 model) and peak at £21,550.83 for the long wheelbase, high-roof L2H2 model. The most powerful 163hp 2.0-litre Proace vans range from £20,384.17 (L1H1) to £22,134.17 (L2H2). Lastly the Proace Crew Cab comes in at £23,300.83. Optional extras include ply lining from £162.50, steel bulkheads from £125.00, and metallic paint for an extra £412.50.
For the very latest promotional offers and competitive finance packages on the Toyota Proace, and to arrange a test drive, visit the designated Proace section of the Toyota website.
*Prices correct as of February 2015