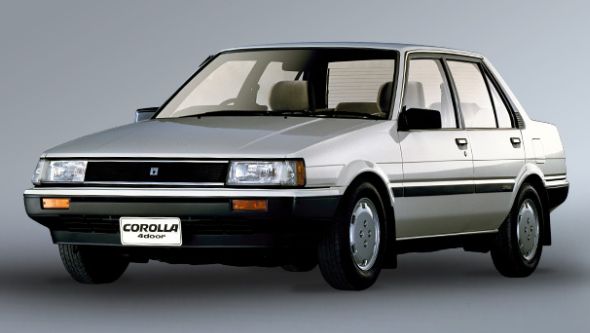 Two months after the Toyota Corolla achieved the production milestone of ten million units, the new fifth-generation model was introduced to the Japanese market. Its launch in May 1983 marked the culmination of three key development themes: to showcase technical innovations, to begin the conversion to front-wheel drive, and to deliver space and styling that appealed to a younger generation. It became the most comprehensive model change in Corolla history.
The fifth-generation Corolla was revolutionary for introducing computer technology into the shaping of the exterior, the engineering of the powerplants, and the overall control of its engine and gearbox range.
The list of features and new technologies found in new Corolla was extensive. Examples included a sleek aerodynamic body with a graceful silhouette, a choice of drivetrains (front-wheel drive for optimised interior space and comfort, or rear-wheel drive for improved driving excitement and a sportier feel), high-performance engines, fine-tuned suspensions and smooth powertrains. Little wonder the new generation car went on to become the top-selling car in Japan and achieved an enviable reputation overseas, strengthening its position as the world's best-seller.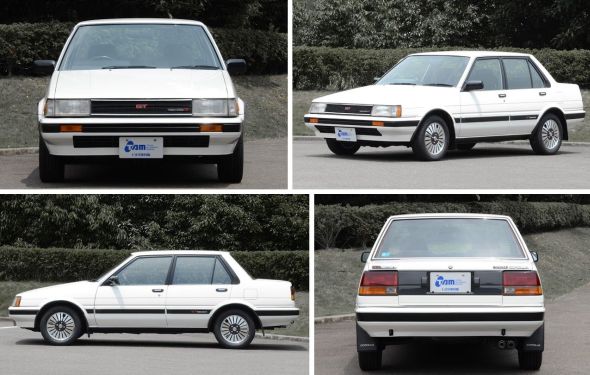 1983-87 Corolla: leading from the front
No doubt as a result of the phenomenal success of the outgoing model, Fumio Agetsuma retained his position as chief development engineer for the new fifth-generation Corolla. Incredibly, Agetsuma outlined his bold vision for the next generation car in March 1979, the very same month that the class-defining fourth-generation Corolla went on sale.
In the late Seventies the evolving automotive marketplace was beginning to reveal that front-wheel drive might become a mainstream format. By that time Toyota had already launched its first front-wheel drive passenger car in the shape of the 1978 Tercel, but Agetsuma's suggestion of converting Toyota's worldwide best-seller to this format was not immediately digestible. The idea was therefore met with extreme caution so as not to upset Corolla's loyal fan base.
Nevertheless, Agetsuma's enthusiasm for engineering advancement, not to mention his advocacy that front-wheel drive was more stable at high speed and offered greater interior flexibility, soon won over Toyota's board of directors. The plan to switch to front-wheel drive was therefore approved in the first quarter of 1980, which opened the floodgates for technological breakthroughs incorporated in almost every area of the car's development.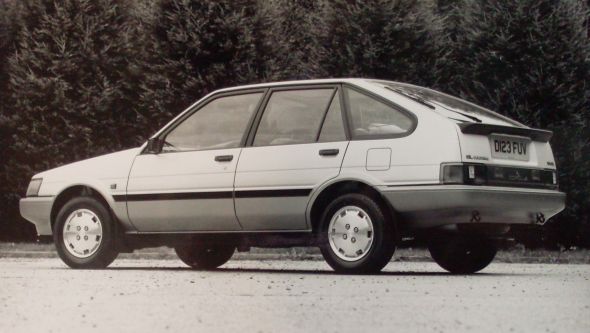 1983-87 Corolla: costs and technicalities
Changing from rear- to front-wheel drive was not a simple procedure. It came with significant hurdles, the first of which was a technical issue. Front-wheel drive requires a complex mechanism to transmit drive power to the road surface while simultaneously steering the front wheels.
Because of this, Agetsuma was apprehensive about the durability and serviceability of this set-up after miles of use on rough roads – the sort of roads found in some export markets that the previous generation Corolla had shrugged off. In fact, around this time a European manufacturer had experienced catastrophic results when its new front-wheel drive vehicle was driven on poor quality roads. This issue would have to be resolved before the vehicle could be launched.
The second hurdle was that of cost. Preliminary calculations showed that wholesale conversion of the Corolla plant from producing front engine, rear-wheel drive cars (FR) to front engine, front-wheel drive cars (FF) at a predicted rate of 727,000 units per year would be way too expensive. So a solution was found that made use of both new engineering technology and as much existing equipment as possible.
Instead of adopting a front-wheel drive layout for every new model, it was decided that Corolla would be produced in both brand-new FF and carried-over FR platforms: FF for more comfort-oriented models, and FR for performance-focused variants. This appeased both those opposed to front-wheel drive and those who recognised the clear market demand for this format, but importantly it also reduced the predicted equipment expense by almost half.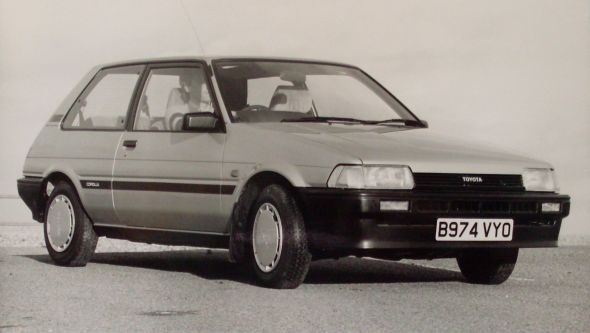 1983-87 Corolla: fresh-faced and youthful
The fifth generation was the first Corolla to make use of Computer Aided Design in the development process and the rapid preparation of three-dimensional renderings from clay models, a task that would normally have taken three experienced designers a full month to achieve.
The essence of the concept was to create a technically innovative vehicle with an original, youthful style, but also one that could trace many of its design cues to the first-generation Corolla. Although older customers in Japan felt the new car's styling was pitched excessively towards the youth market, this was not shared by the rest of society. Its fresh appearance positively influenced the domestic automotive market and propelled Corolla once again into the position of world's best-selling car.
Style was only one of the objectives associated with the body, however. Research into crash protection was rapidly increasing, and of the 600 prototype vehicles Toyota produced during the development of the fifth-generation Corolla, approximately 100 of these were dedicated to collision tests.
Analysis of these tests led to a revolutionary body structure being designed. By allowing portions of the body to crumple in a controlled way in the event of a collision, this crushable structure efficiently absorbed and dispersed impact load. Similarly, the impact-resistant bumpers of the new car were made of plastics rather than metal or polyurethane, and were integrated with the body.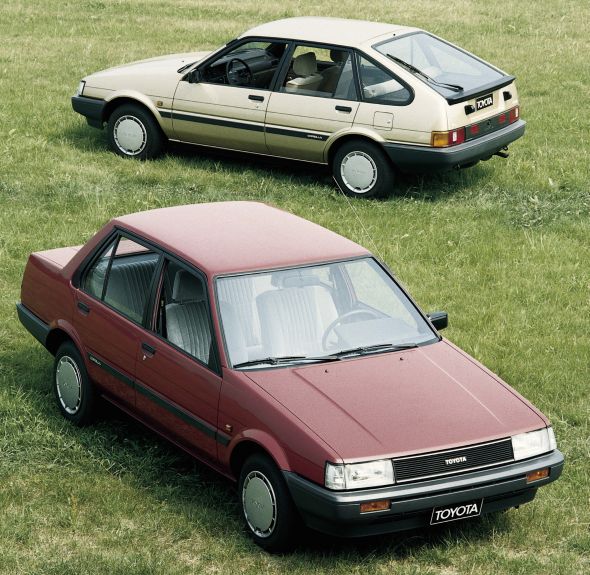 Five distinct body types were available from launch: four-door saloon, three-door hatchback, five-door liftback, and two- and three-door coupes. The FF drivetrain was limited to hatchback, liftback and saloon models, while FR was reserved solely for coupes.
In terms of the exterior, new Corolla's large, slanted nose with bespoke headlamps and rounded wedge shape was designed to emphasise surface beauty, while the proportions were carefully measured to utilise the inherent packaging benefits of a FF drivetrain. The saloon adopted a clean, notchback style with familiar two-box proportions, while the five-door model focussed on aerodynamic characteristics, targeting a more youthful style and increased functionality. Coupe models, on the other hand, were based on the saloon, adding a free-form rear hatch culminating in a trailing edge pinched into a spoiler shape.
Concerning this overall style, Agetsuma stated: "I think that their gently curved silhouettes will create a new trend in world car designs."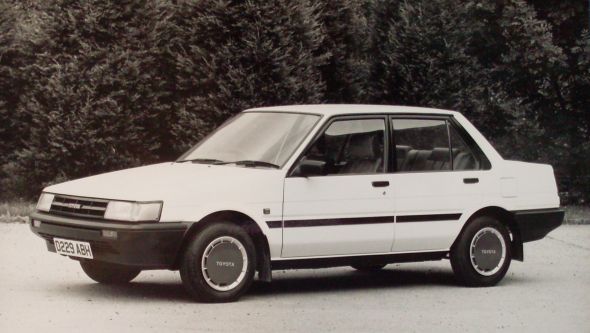 1983-87 Corolla: shared engines, different orientations
Its trend-setting nature was seen elsewhere, too. Toyota had begun full-scale use of computers in the design of its engines since 1980, primarily to calculate efficient shapes and complex rigidity values. A result of this was that new Corolla featured many world-first mechanisms within the engine range, and the team posted more than 500 patent applications during the entire development process.
From launch the petrol engine line-up for FF models consisted of the 1.3-litre 2A-LU engine and 1.5-litre 3A-LU, plus the newly developed 1.6-litre 4A-ELU with electronic fuel injection. Interestingly, the new 'L' alpha designation in engine coding signified the transverse orientation of a powerplant originally designed for longitudinal mounting.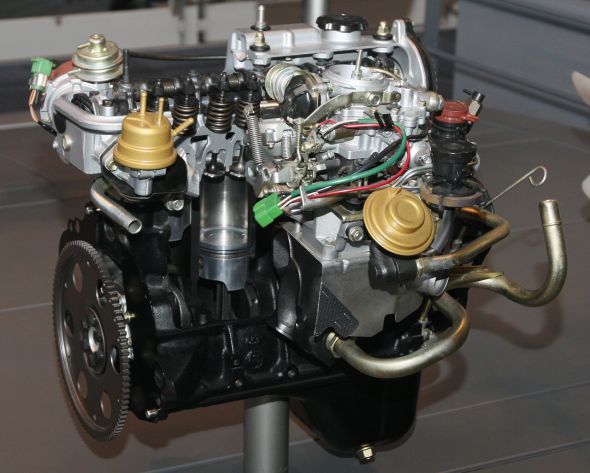 Though derivatives of A-series units used in the previous generation Corolla, the 2A and 3A engines had been extensively reworked to improve fuel economy and power by adopting new features. Among these, the fitment of a swirl control valve, manifold converter and integrated ignition assembly was a world-first, designed to optimise combustion efficiency at low to medium speeds. These were instrumental in the 2A achieving a creditable 74PS at 6,000rpm and 79 lb/ft torque at 3,600rpm, while the larger 3A produced 83PS at 5,600rpm and 87 lb/ft at 3,600rpm.
The new 4A-ELU was a derivative of the lightweight and fuel-efficient 3A motor, increased in displacement from 1.5- to 1.6-litres. It also benefited from electronic fuel injection and the recently developed Toyota Computer Controlled System (TCCS) to electronically time the ignition spark. This performance engine generated a maximum output of 100PS at 5,600rpm and maximum torque of 101 lb/ft.
Later in the model's history, in May 1985, the 2A-LU was replaced with the more modern multi-valve 1.3-litre 2E-LU. It also used a swirl control valve but added cross-flow type intake and exhaust ports, a three-valve-per-cylinder layout, and a variable venturi carburettor to increase power – hence its improved 81PS and 80 lb/ft figures. Furthermore, a computer-controlled Partial Lean System was included to stabilise combustion in lean air/fuel conditions, contributing to superior fuel economy.
Meanwhile, the only alternatively fuelled Corolla for some markets came in the form of a 1.8-litre 1C-L diesel engine with 65PS and 83 lb/ft carried over from the previous generation.
1983-87 Corolla: the last of the rear-drivers
Rear-wheel drive coupe models emphasised sporty driving characteristics by using either 1.5- or 1.6-litre engines, both mounted longitudinally. This latter variation, frequently known as the Hachi-Roku (or 'eight-six' in Japanese) in reference to its 'AE86' chassis code, was the last Corolla with a FR drivetrain. Its numerous race and rally successes, not to mention its lead role in popularising the sport of drifting, means this model has become one of the most cherished and iconic vehicles in Toyota's modern history.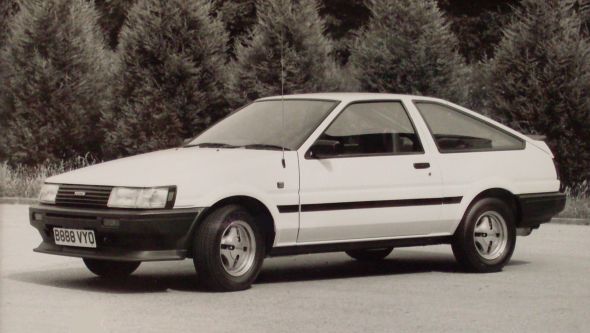 Similar to the 3A engine fitted to FF models, the second-generation 1.5-litre 3A-U was designed as an entry level performance unit. It benefited from improvements in fuel economy and overall performance, partly due to the fitment of a dual-branch exhaust manifold.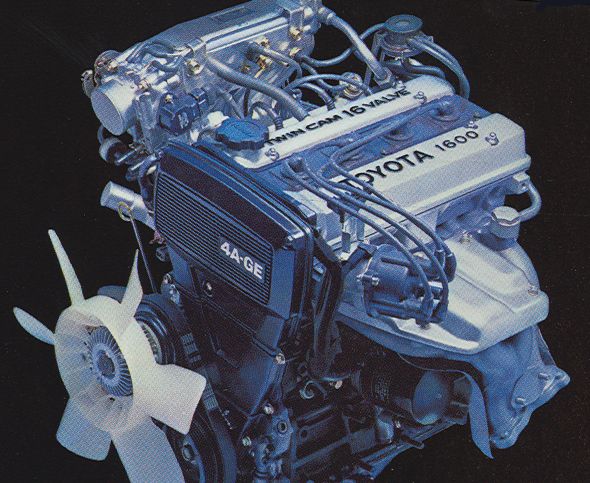 However, the true high-performance version was a more serious derivative of the 3A – the new 1.6-litre 4A-GE Lightweight Advanced Super Response Engine (LASRE). Originally designed as a single overhead cam unit to replace the famed 2T-GEU, 18 months into development the engine was converted to double overhead cam format with a 16-valve head to boost its high-rev output as well as increase its intake, combustion and exhaust gas efficiency levels. Along with its DOHC design, the 4A-GE incorporated new technologies including an aluminum cylinder head, forged crankshaft, Toyota Variable Induction System and higher compression ratio. As a result, the engine generated a maximum output of 130PS at 6,600rpm and maximum torque of 110 lb/ft at 5,200rpm.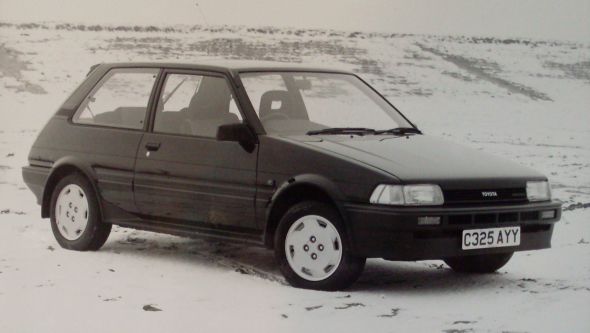 In October 1984 this engine became available in 4A-GEL format and offered in selected FF saloon and hatchback models.
1983-87 Corolla: manual or automatic for the people
Just as the engine range of the fifth-generation Corolla was either new or extensively updated, the same could be said about the car's four- or five-speed manual transmissions. For instance, in FF models the overall length was shortened to accommodate a transverse drivetrain.
Slick as the manual gearboxes were, an automatic transmission was the preferred option in Japan and many export markets, a fact reflected in the sheer variety of self-shifting options. Three-speed automatic gearboxes were initially fitted to lower powered 1.3- and 1.5-litre FF models, while a three-speed automatic with a lock-up clutch was available on diesel Corollas. A more efficient four-speed automatic with a lock-up clutch and overdrive mechanism replaced the three-speed transmission in February 1984.
Coupe models with the 3A-U engine were available with an optional four-speed automatic with a lock-up clutch from launch – a rare feature among 1.5-litre cars and one that made a great impact within the class. For the most part, however, coupe models were best with the standard five-speed manual gearbox, but later in the vehicle's life the 4A-GE became available with a four-speed ETC-S automatic transmission, the first of its kind within this class. Electronically controlled, the transmission's on-board computer helped it respond to various road conditions, such as moving off on slippery road surfaces and driving on winding roads. This high-tech new transmission had actually been available from launch in FF models with the 4A-EL engine.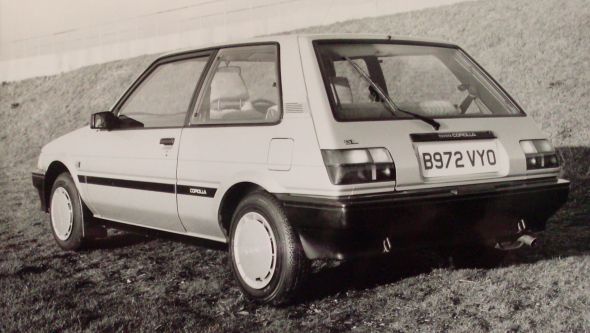 1983-87 Corolla: space efficiency
When creating the interior the development staff took a clean sheet approach in order to generate sufficient room for five adults. Within this market sector, improvements in interior space were usually limited to millimetre increments, so Toyota's agonising over the interior layout to gain several centimetres of extra room in most directions was seen as revolutionary.
Space was maximised through a number of methods, such as moving the steering wheel forward, lowering the floor and adopting a more vertical angle for the rear window. Expanded dimensions also made a significant contribution to interior comfort. Headroom and legroom were both increased over the previous generation Corolla, and the fully reclining front seats now featured an extended slide range and finer pitch adjustment to deliver optimal driving posture. Split folding rear seats were available to increase the versatility of saloon models, while coupe models featured distinctively designed lounge-type seats shaped to appear like they were integrated into the surrounding side panels.
Efforts were made to enhance equipment levels. Central door locking made getting in and out more convenient, and power was also applied to the front windows, door mirrors and sunroof. Intermittent wipers reduced driver effort and interior comfort was improved with the greater availability of air conditioning.
1983-87 Corolla: new drivetrain, new suspension
As a result of the conversion to a FF drivetrain, all suspension setups for saloon series models were new designs. A MacPherson strut with an L-shaped lower arm were developed for the front suspension, while a dual-link strut with two lower arms was adopted for the rear end.
The suspension set-up on coupe models was different, utilising the same proven layout first seen in the third-generation Corolla – a four-link coil with a lateral rod. However, the suspension alignment and lateral rod positioning were reviewed to improve driving stability and ride comfort.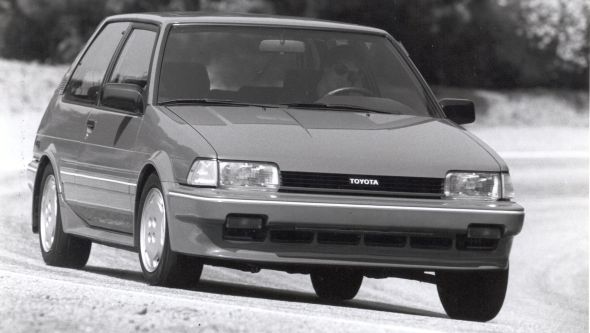 All fifth-generation Corolla models used rack and pinion steering, a large proportion of which were available with power steering. However, many buyers were still not comfortable with the idea of assisted steering, so Toyota made it possible for customers to delete this feature from any model.
1983-87 Corolla: additional equipment
* Lights on notification buzzer to prevent accidental battery drainage
* Accelerator-free auto drive function for low-speed manoeuvres
* Innovative bar-type digital rev counter for improved visibility
* Integrated mud guards to reduce dirt and scratching
* Electrically-powered remote control door mirrors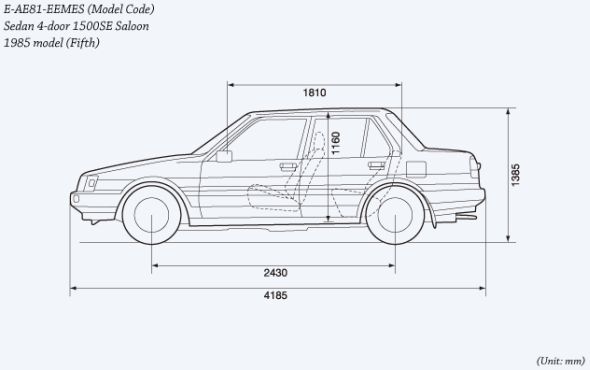 Read more:
History of the first-generation Corolla
History of the second-generation Corolla
History of the third-generation Corolla
History of the fourth-generation Corolla
History of the sixth-generation Corolla
History of the seventh-generation Corolla
History of the eighth-generation Corolla
History of the ninth-generation Corolla