The latest Toyota Hilux is the product of over 40 years of development and continual improvement, which explains why it's Europe's best-selling pickup.
Famed for its tough, rugged abilities ready to tackle the harshest conditions you can throw at it – it's been to the North and South Poles and most points in between – the Hilux takes everything in its stride thanks to its reliable, fuel-efficient 2.5 and 3.0-litre diesel engines, selectable four-wheel drive transmission (manual or automatic), and superb build quality.
And with a choice of three body styles – Single Cab, Extra Cab and Double Cab – and three comfortable model grades, the stylish Hilux is just as competent at performing the everyday jobs asked of it.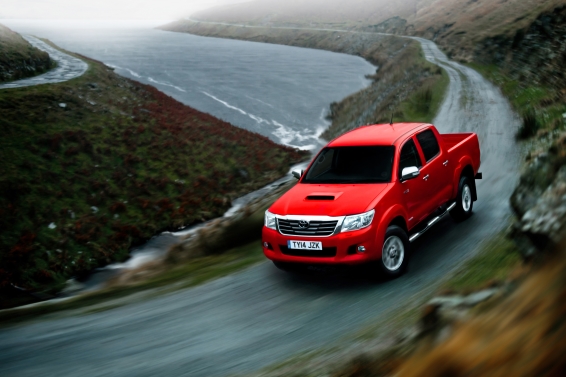 DRIVING
The Toyota Hilux is powered a choice of two diesel engines, both meeting the latest Euro 5 emissions standards. The 2.5-litre D-4D diesel, combined with a five-speed manual gearbox on Active and Icon models, achieves 38.7mpg on the combined test cycle making it the most fuel-efficient choice, while the Invincible model's 3.0-litre D-4D engine has greater power and high torque to tackle the very toughest jobs. An optional five-speed automatic transmission is offered on the flagship Invincible models, equipped with Toyota's Artificial Intelligence system that automatically reacts to up and downhill slopes to provide the best performance.
All Hilux models have part-time four-wheel drive, activated by an automatic differential when on low grip surfaces or off-road, but use rear two-wheel drive in normal conditions to improve fuel economy and reduce noise. Off-road driving is especially easy for the Hilux due to its high ground clearance and special gearing for steep ascents and descents. On the road, the suspension has been designed to deliver a comfortable ride with excellent steering feel.
COMFORT
Although it's a rugged utility vehicle at heart, the Hilux has a refined, quiet ride more like that of a normal passenger car. The cabin is roomy and Icon and Invincible models are fitted with the latest Toyota Touch 2 multimedia unit with Bluetooth connectivity and a rear-view camera or optional Touch 2 with Go system that adds navigation.
The Hilux Invincible also has cruise control and automatic air-conditioning, with the new range-topping Invincible X sharing these same high equipment levels but with the addition of extra interior and exterior styling options. The Hilux Active is offered in two-seater single cab, extra cab (two front seats and a compact rear bench) and four-seater double cab body styles, with the Icon, Invincible and Invincible X models available in double cab configuration only.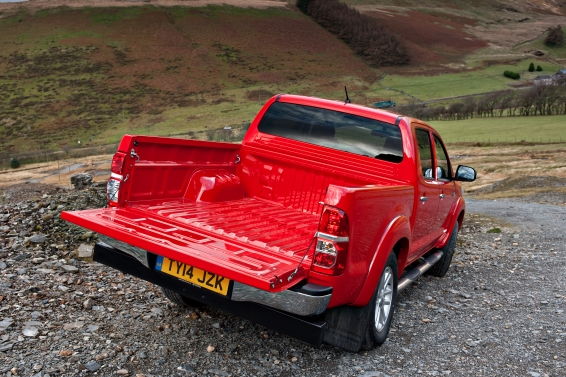 PRACTICALITY
You can't get much more practical than a pickup, so the Hilux excels in this area. A reliable workhorse, it has a large rear deck measuring 1545mm, 1830mm or 2340mm in length (dependent on body style) and more than 1500mm wide. Strong suspension can cope with payloads of between 820 and 1060kg (dependent on body style) and the powerful engines give all Hilux models a 2800kg braked towing capacity.
Inside, all Hilux models have a centre armrest storage box, lockable glovebox, and cup and bottleholders, while extra cab and double cab models have storage areas under the rear seats. A range of hard tops, tonneau covers and deck linings are optionally available.
SAFETY
Built to withstand the toughest conditions, it's no surprise that the robust Hilux is also very safe. Its rigid construction makes it incredibly strong, and that inherent strength is enhanced by several safety measures fitted as standard, including anti-lock brakes (aided by other braking safety systems), traction control, and a limited slip differential to maintain grip on slippery surfaces. All Hilux models can be purchased with Vehicle Stability Control and the Hilux Invincible also includessix airbags to protect occupants.
RUNNING COSTS*
Improved fuel economy and lower emissions mean that the Hilux is even more affordable to run. A year's road tax costs £225 for all Hilux models, and the 2.5 D-4D diesel with manual transmission achieves 38.7mpg on the combined test cycle; the 3.0 D-4D engine gets either 36.7mpg (manual) or 32.8mpg (automatic) on the same test. Like other Toyotas, service intervals are set at 10,000 miles or once a year.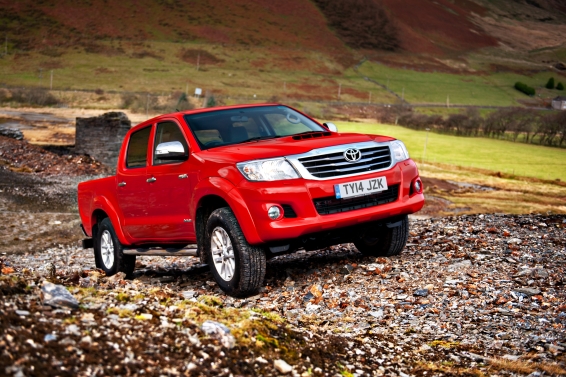 QUALITY
Buyers expect excellent quality from Toyota vehicles, and the Hilux is no different. It has a rust-resistant body that uses anti-corrosion panels, which is why Toyota confidently covers the body against corrosion for six years (three years on the deck panel), the paintwork against defect for three years (one year for the deck panel). Mechanically, the Hilux is backed by a three-year, 60,000 mile warranty.
PRICES*
For VAT-registered commercial customers, prices (after VAT reclamation) for the Toyota Hilux Active (2.5 D-4D) range between £17,259.17 and £18,925.83, depending which body style you choose.
The double cab Icon (2.5 D-4D) and Invincible (3.0 D-4D) models cost commercial customers £20,050.83 and £21,759.17 respectively, with the automatic gearbox option for the Hilux Invincible adding an extra £1000. The Hilux Invincible X (3.0 D4-D) is available for £23,842 (manual) or £24,842 (auto). On Active and Icon models, the addition of VSC costs just £250.
Retail prices for the Toyota Hilux range from £17,259.17 (Active single cab) to £24,842.50 (Invincible), with the optional automatic gearbox costing £1200 more on Invincible models.
For further information, and to arrange a test drive, visit the designated Hilux section of the official Toyota UK website.
*Prices correct as of February 2015