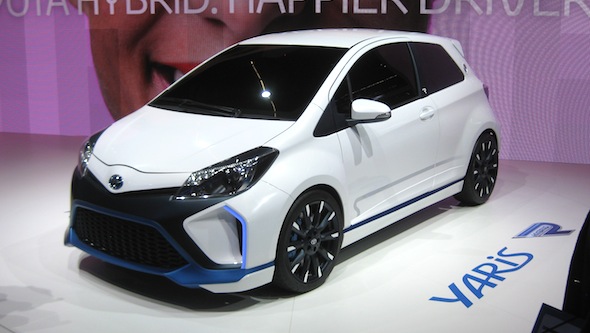 The sensational Toyota Hybrid-R concept car has made its public debut at the 2013 Frankfurt Motor Show.
The Hybrid-R's 420bhp turbocharged petrol-electric powertrain offers a glimpse of future hybrid engine technology – demonstrating ways in which it can deliver more than fuel efficiency and low emissions.
The three-door "super" supermini pairs a 300bhp 1.6-litre turbocharged petrol engine with two 60bhp electric motors to provide four-wheel drive – improving cornering speed and stability.
Unveiling the car, Didier Leroy, President and CEO of Toyota Motor Europe said; "We are the only manufacturer who could take such a bold step… The fact is, more and more people are buying our Hybrid cars."
"But despite this success, we must continue to focus on delivering excitement and passion. Key to our success on track is our Hybrid Racing System engine. So, we started to dream about how this engine could work in a road car – and this is the result. The Toyota Yaris Hybrid-R."
"We are the the World undisputed hybrid leaders. I can promise that this is a position we will maintain."
Mr Leroy was joined on stage by Daniele Scholachi, Vice President at Toyota Motor Europe, who continued; "We believe this car could have two driving modes, one for track and one for road."
"However it is used, we are sure that it could put a big smile on the face of the driver…"
See more images here.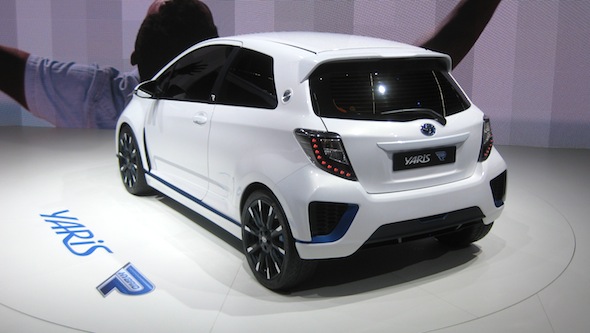 By combining this impressive power output with an advanced traction control system, the Yaris Hybrid-R also explores the idea that by controlling the speed of individual wheels, The Hybrid-R's speed, stability and safety can all be increased together.
Though there are no plans to put the Yaris Hybrid-R into production, the way in which its hybrid engine works offers an insight into possible future development options for petrol-electric powertrain technology.
The front wheels are powered by the race developed, turbocharged engine while those at the rear are each individually driven by a 60hp electric motor – the same as those used in the standard Yaris Hybrid.
Uniquely, a third electric motor also features, and is mounted on this car's six-speed sequential gearbox. This 60hp motor provides no extra drive, but works as a generator during deceleration to recover energy from braking. During acceleration it sends electricity to power the rear electric motors.
Inspired by technology developed for the TS030 Hybrid Le Mans car, the supercapacitor has been shown to be perfectly suited to the requirements of driving on track, which requires brief and immediate bursts of power.