An absolutely cracking year for Toyota in 2021 resulted in our brand collecting more than 40 awards, with key models such as the all-new Yaris Cross, Proace Electric and GR Yaris being honoured by both critics and motorists alike. With several new models joining the range over the coming 12 months, it's likely that Toyota will continue its winning streak and claim another raft of awards during 2022.
As our cars, services and people are recognised for their achievements in the automotive industry and beyond, this article will be updated throughout the next 12 months to reflect the growing number of honours bestowed upon us during the calendar year.
GR86 scoops 'Fun Car of the Year' by Northern Group of Motoring Writers
In their annual awards ceremony, the Toyota GR86 has been recognised as the most fun car of the year according to the Northern Group of Motoring Writers.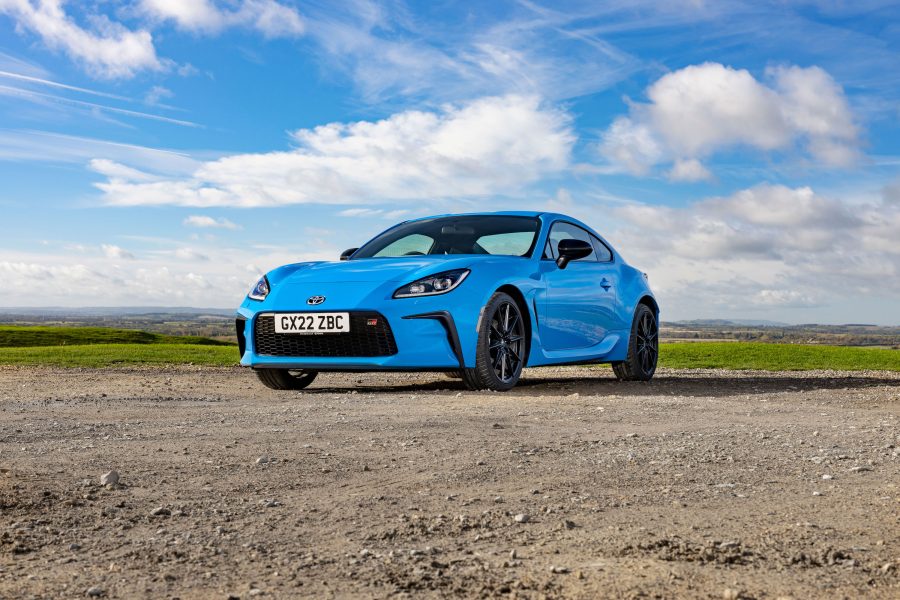 James Fossdyke, part of the Northern Group's COTY committee, sang the praises of the GR86: " Like its predecessor, the GR86 impressed with its sublime handling, as well as improvements in refinement and everyday usability. The result is one of the all-time great sports cars, with balance and poise to rival cars that cost twice as much, as well as classic sports coupe looks. With prices starting at around £30,000, the GR86 is the bargain of the century and a deserving winner of the Northern Group of Motoring Writers' Fun Car of the Year 2022."
Double win for Toyota Gazoo Racing by Autosport
Autosport has crowned both Kalle Rovanpera and the Toyota GR Yaris Rally1 in their 2022 awards ceremony, a huge achievement for the WRC Team.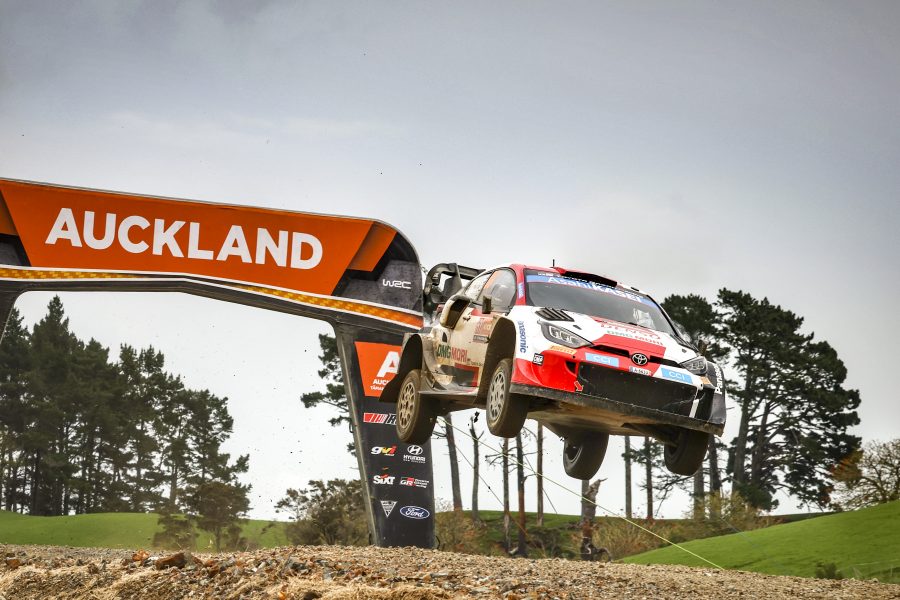 Speaking of the vehicle, judges at Autosport mentioned "The class of the WRC field at the start of the Rally1 era, taking Toyota to a clean sweep of world titles, with Rovanpera romping to six wins and Ogier adding another triumph with the final round still to come. A 1-2-3-4 in Kenya demonstrated its superiority against the rest."
As for the youngest-ever WRC champion, Autosport commented "Kalle dominated his way to a maiden WRC title, which looked assured halfway through the year when he notched up his fifth win in the first seven rounds. Small blips in Belgium and Greece delayed his coronation, which came with victory in New Zealand."
DrivingElectric Award for the Toyota Proace City Electric.
The Toyota Proace City Electric has picked up another accolade, being named Best Small Electric Van in the DrivingElectric Awards. The honour saw the battery-electric compact van being described as the "no-brainer" choice for its all-round qualities.
Announcing the award, DrivingElectric Editor Richard Ingram said: "The Toyota Proace City Electric… is our Best Small Electric Van for 2023. Easy to drive, versatile and quick to charge, it makes the switch to electric a no-brainer for so many business owners."
GR86 crowned Top Gear's Sports Car of the Year
The Toyota GR86 has carried off Top Gear's Sports Car of the Year award, the magazine declaring itself "enraptured" by the sell-out coupe.
The accolade continues a winning bloodline, coming 10 years on from GT86, the model's predecessor, having been named Top Gear's Car of the Year and two years after GR Yaris claimed the Hot Hatch of the Year title.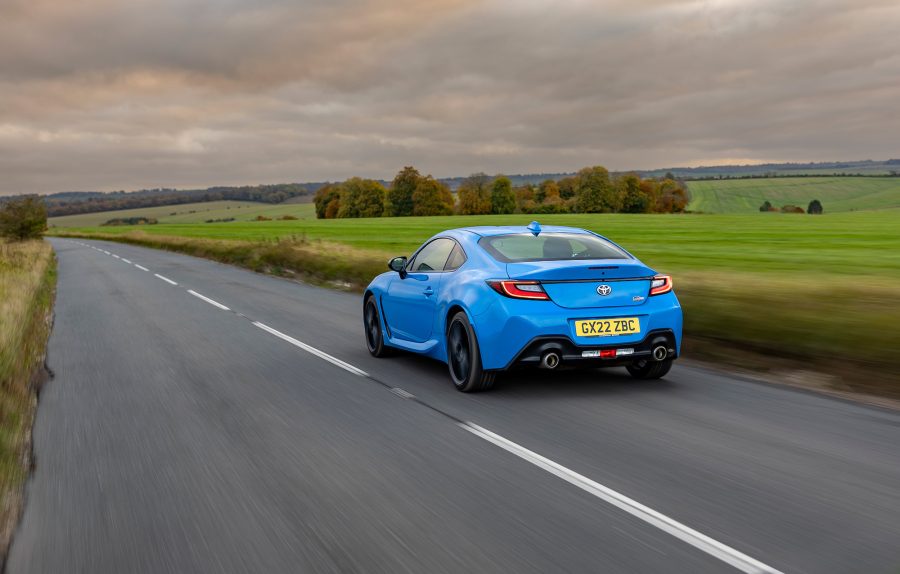 Jack Rix, Top Gear Editor, said: "Forget poor-man's-Porsche jibes – this thing flew out of showrooms quicker than a GT3 RS. It deserved to. The GR86 is delightful, a blend of mildly improved ingredients that meld together for a genius whole. We're enraptured that it exists."
Success for Toyota Hilux and Corolla Commercial in the What Car? Van and Commercial Vehicle Awards
The Toyota Professional range of light commercial vehicles has again proved its strength in depth with success in the What Car? Van and Commercial Vehicle Awards. Hilux took the honour of Best Commercial Pick-up and Corolla Commercial was named the Best Car-based Van – the first award for the British-built model since its launch earlier this year.
According to the judges, Hilux has unrivalled strengths as a workhorse, while Corolla Commercial is acclaimed as the best model in its class.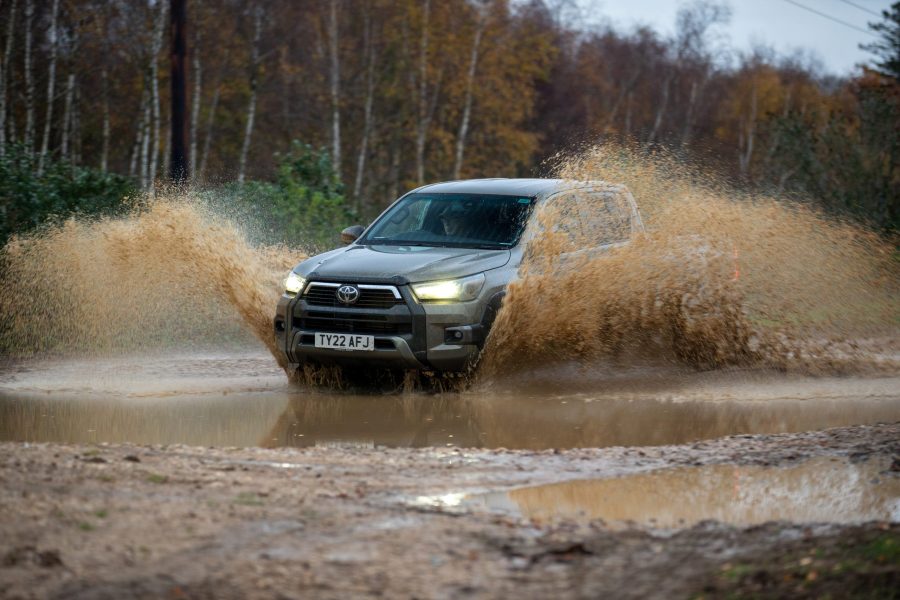 What Car? assessed each model on its performance as a working vehicle, taking into account qualities such as payload and off-road capability rather than ride comfort. Driveability around town and on faster roads was also considered.
Commenting on the award for Hilux, Darren Moss, What Car? Deputy Editor, said: "No pick-up truck rival is as capable as a working vehicle as the Toyota Hilux… it's as adept at moving you and your family over hill and dale as it is hauling cargo." He also praised Hilux's price tag and its "rock-solid" residual value, concluding: "For load-lugging in the rough stuff, there can be no better companion."
Corolla Commercial, developed and manufactured at Toyota's Burnaston plant in Derbyshire, broke new ground last year as the market's first full hybrid electric van. Moss expressed unequivocal praise: "Toyota has created the best car-based van round. It's more spacious than rivals inside and it has an interior which feels built to last. Plus, thanks to its hybrid set-up, it also has the potential to lower your fuel bills."
Aygo X wins News UK City/Small Car of the Year
The Toyota Aygo X has won its UK first award by winning The Sunday Times City/Small Car of the Year in their annual awards ceremony.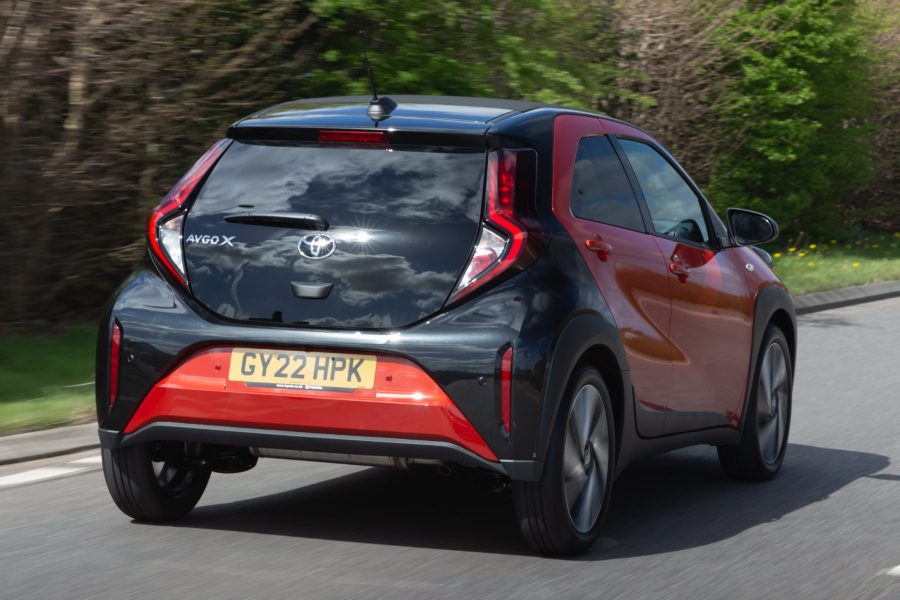 Discussing the Aygo X, The Sunday Times judges noted, "City cars prove big doesn't mean better, with compact proportions, impressive manoeuvrability and efficient powertrains.
The Toyota Aygo X has all of those things but also impressed us in terms of practicality and style, with a commanding driving position and slightly raised ride height, allowing it to scale every sleeping policeman and conquer every pothole."
Toyota's Rachel Shepherd wins an Inspiring Automotive Women Award
Rachel Shepherd, Toyota (GB) General Manager, People and Workplace Experience, has been named a winner in the Automotive 30% Club's Inspiring Automotive Women Awards.
The awards celebrate women who help women to join, progress and remain in the sector. They recognise the critical role women can play in helping companies to build inclusive cultures, increase female representation and reap the benefits of a gender-balanced business. This year the club received 279 nominations from 34 UK businesses.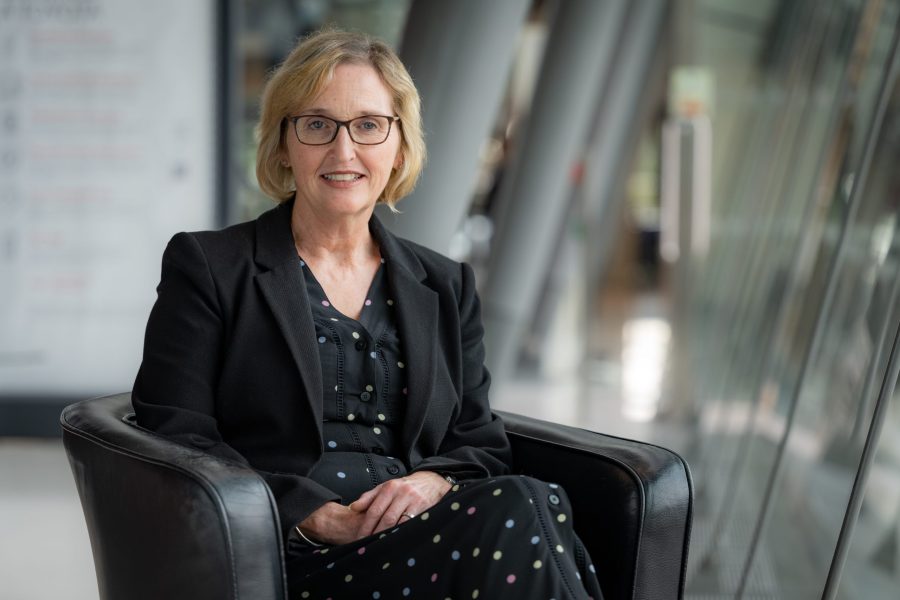 Shepherd, who has been at Toyota (GB) (TGB) since 1999, was honoured by the award judges for her collaborative and consultative approach to developing people, including devoting time to personally coach and support individuals. She plays a leading role in driving the company's development as a first-class employer with an inclusive culture and a considerate, caring environment. She has worked on many initiatives to further the careers of women at TGB, including the introduction of a 'women on the verge of brilliance' development programme and policy development in areas such as menopause.
Toyota Prius and Hilux win Car Buyer Used Car Awards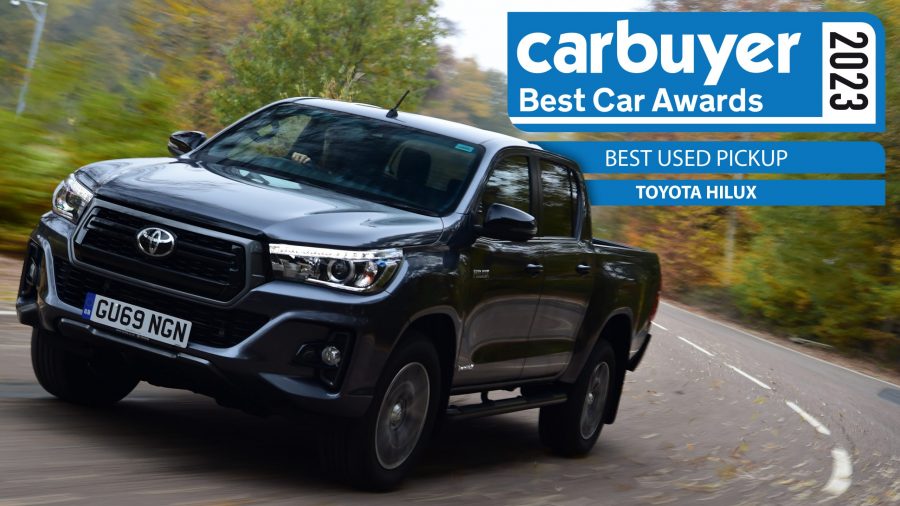 Distinctly different Toyota models have been recognised in the 2023 Car Buyer Used Car Awards, with honours for the hybrid pioneer Prius and the "invincible" Hilux pick-up.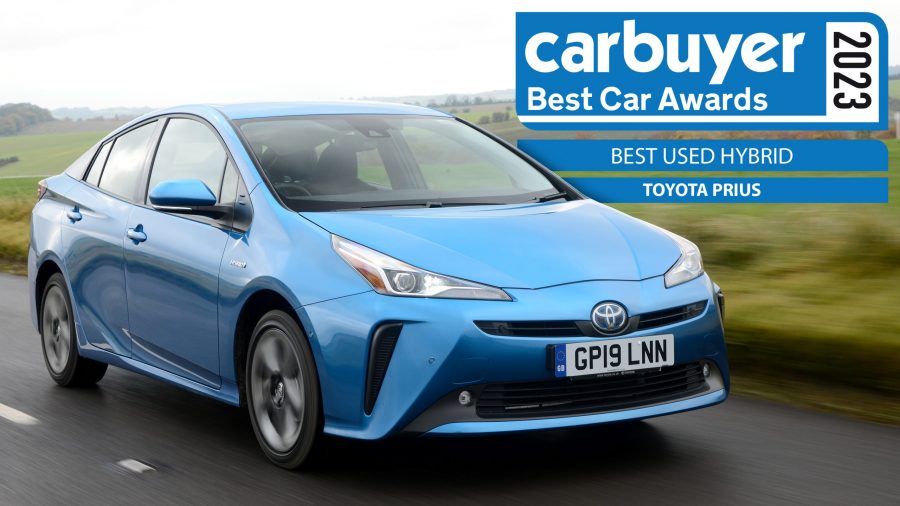 Customers for all used Toyota vehicles up to 10 years old or with up to 100,000 miles on the clock can take advantage of a manufacturer's warranty package that provides 12 months'/10,000 miles' cover each time they take their car or van to an official Toyota workshop for a qualifying service. The warranty is provided at no extra cost, up to a limit of 10 years/100,000 miles. Terms and conditions apply; full details are available here.
Honours for Proace City and Hilux at the Parkers Awards
The Toyota Proace City has been awarded Best Small Van for the third consecutive year and the Toyota Hilux has won Pickup of the Year at the 2023 Parkers Awards.
Keith Adams, Editor of Parkers, said: "The Proace City's winning ways continue, taking top spot in this category for the third year in a row. It's great to drive, with efficient, refined diesel engines and a comfortable cab. And the best models will carry over a ton of payload, which makes it highly useful for such a small van. We've singled it out for its amazing aftersales package, which includes up to 10 years of warranty cover, plus impressive dealer support. This is a great small van that's elevated over its siblings thanks to the ownership experience."
Turning to the Toyota Hilux he added: "Few vehicles are as at home in hardcore terrain, yet the Hilux is greatly improved on road in recent years thanks to its powerful 2.8-litre diesel engine and suspension that has been refined to improve its ride. There is a GR Sport model coming at the end of 2022 that will add more styling flourishes to the already smart top-trim versions. On top of all this, is the up-to-10-year warranty – both a sign that Toyota has confidence in its products, but also a reassurance that the brand will have your back should things go wrong."
Toyota Yaris retains Best Small Car title at Business Car Awards
The Toyota Yaris has been awarded Best Small Car for the second year running at the Business Car Awards.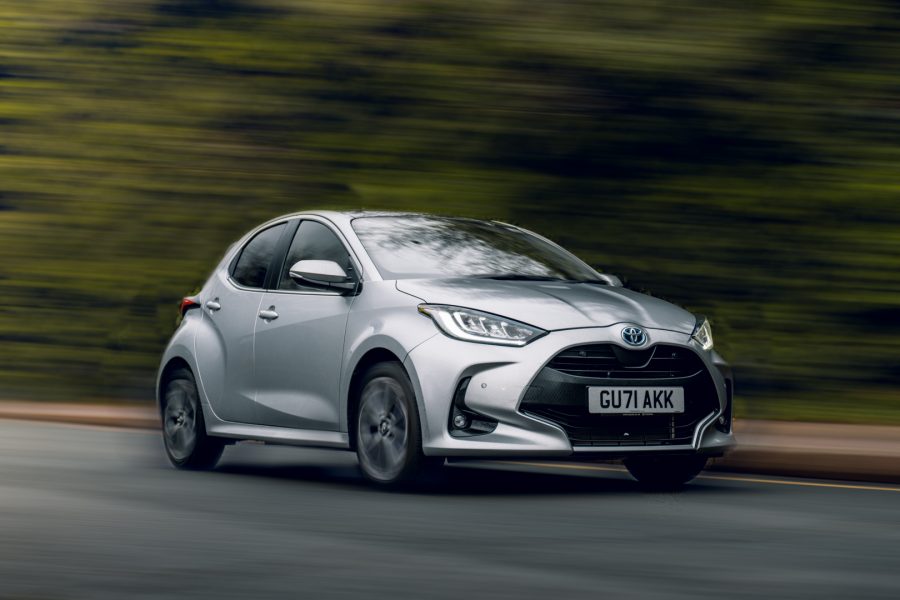 Martyn Collins, Editor, Business Car magazine, said "Nothing launched over the last 12 months could really match the Toyota's package of efficiency from its hybrid drivetrain, plus its full suite of safety systems. The Yaris also looks good, drives well, and boasts impressive residual values – so it holds on to the crown for a second year.
Other models highly commended during the evening were Yaris Cross in the Best Compact SUV category and RAV4 in the Best Medium SUV category.
Toyota Yaris wins Affordable Hybrid Car of the Year in the Auto Express New Car Awards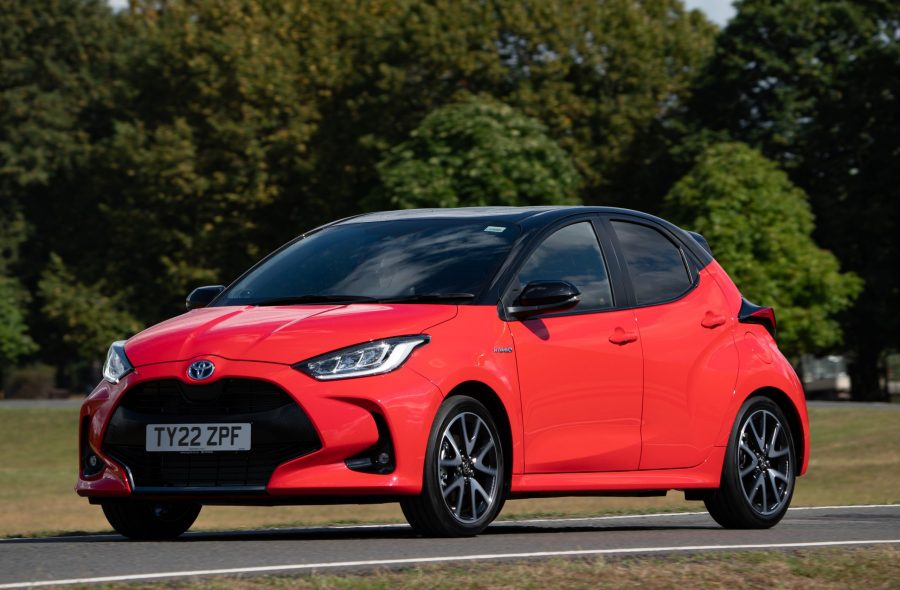 In 2012, the Toyota Yaris became the UK and Europe's first hybrid electric small hatchback. Ten years on and it is still very much the leader in its class, as witnessed by another title to add to its tally – Affordable Hybrid Car of the Year in the Auto Express New Car Awards.
Steve Fowler, Auto Express Editor in Chief, said: "Toyota's long persistence with hybrid technology has really started to pay off as the wider industry has moved towards electrification and no car demonstrates this better than the Yaris. It's the baby of Toyota's hybrid range and yet it's the model that feels furthest ahead of the curve in its class, delivering economy that none of its rivals can match."
While Yaris Hybrid led the way, Auto Express also commended no fewer than three other Toyota models: Aygo X in the city car category; Yaris Cross in the Small SUV of the Year class; and Hilux, in contention for Pick-up of the Year.
Mairi Gordon of Toyota Motor Manufacturing UK wins manufacturing category of Autocar Great Women in the British Car Industry awards
Mairi Gordon from Toyota Motor Manufacturing UK (TMUK) has won the manufacturing category of the Autocar Great Women in the British Car Industry awards, while Paula Cooper, Liz Mehdevy and Sharon Wright, from Toyota (GB), were named in the prestigious Top 100 list.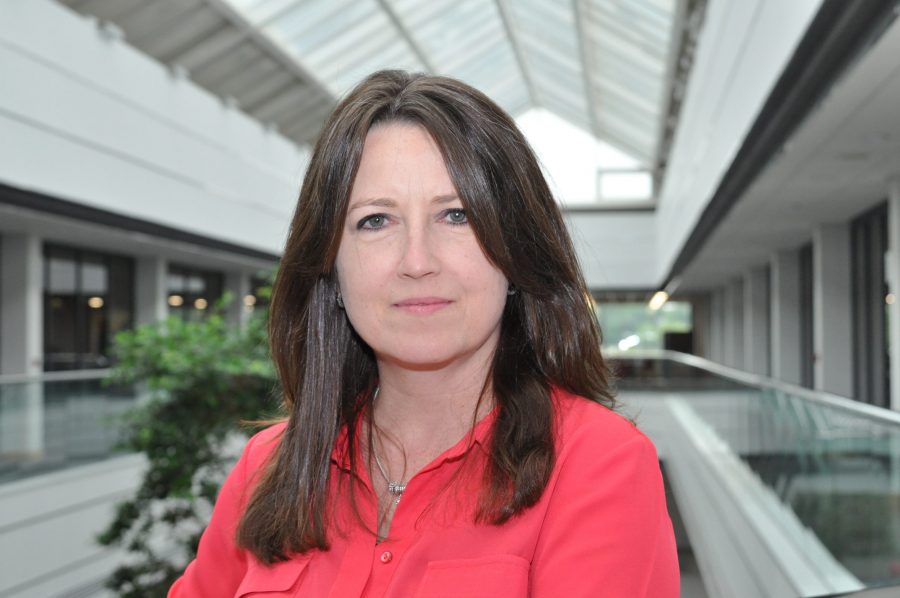 The awards, run by Autocar in association with the Society of Motor Manufacturers and Traders (SMMT), and judged by a panel of automotive experts, recognise the top 100 women leading the British car industry.
Mairi Gordon is the most senior manager at Toyota's Deeside engine production centre in North Wales, overseeing manufacturing, maintenance, engineering and quality assurance at the plant. Gordon moved to Deeside in September 2019 from Toyota's vehicle assembly plant in Burnaston, Derbyshire, where she was general manager of the production control division. Prior to this year's award, she also featured in the Top 100 list in 2018.
Paula Cooper has led the Toyota (GB) customer strategy division, Consumer One, since 2016, and also sits on the company's UK board. She heads the team responsible for improving the Toyota customer experience, using data to identify new trends. Her work has included the introduction of online retailing and launch of subscription services for the Toyota and Lexus brands. Cooper won the Mobility and Digital category of the Awards in 2020 and has also previously featured in the Top 100 list.
Sharon Wright, Senior Manager of Toyota National Franchising, is responsible for 182 Toyota and 47 Lexus retailers across the UK, implementing plans such as new retail concepts and the national EV infrastructure, and agreeing network standards. She joined Toyota in 2018 as a senior consultant to research fleet readiness across Toyota's European markets.
Liz Mehdevy, Toyota GB General Manager Legal (General Counsel) and Compliance, joined the company in 2016. Mehdevy ensures that Toyota (GB) meets its legal responsibilities and regulatory standards.
Awards – 1
Toyota wins 2022 Car Design Award for Concept Vehicles with the Compact Cruiser EV
Toyota has won a prestigious 2022 Car Design Award with the Compact Cruiser EV concept car. Created by the team based at Toyota ED2 in Nice, the vehicle was unveiled last year at Toyota's Mega Web centre in Tokyo.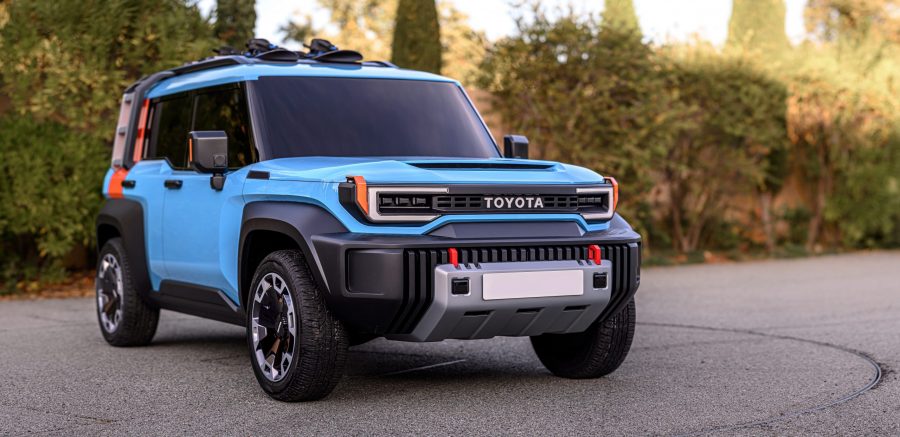 The Compact Cruiser EV builds on Toyota's strong off-road vehicle heritage and is designed to enhance the lifestyles of its target customers – young, professional urban dwellers who enjoy active outdoor leisure pursuits – with an engaging, go-anywhere, all-wheel drive EV experience. Its rugged, tough exterior borrows a number of styling cues from the legendary first generation Land Cruiser, including its off-roader silhouette and simple, strong body sections.
The Car Design Award for Concept Vehicles was presented to Toyota at a ceremony held at the ADI Design Museum in Milan during this year's Milan Design Week and the world-famous Salone del Mobile – the Milan Furniture Fair.
Awards – 1
Toyota GR86 is voted Autocar's 'Best Fun Car' of 2022
The hotly anticipated Toyota GR86 has already begun scooping prestigious awards before it arrives in showrooms, with Autocar naming the sports coupe Best Fun Car at its annual awards ceremony.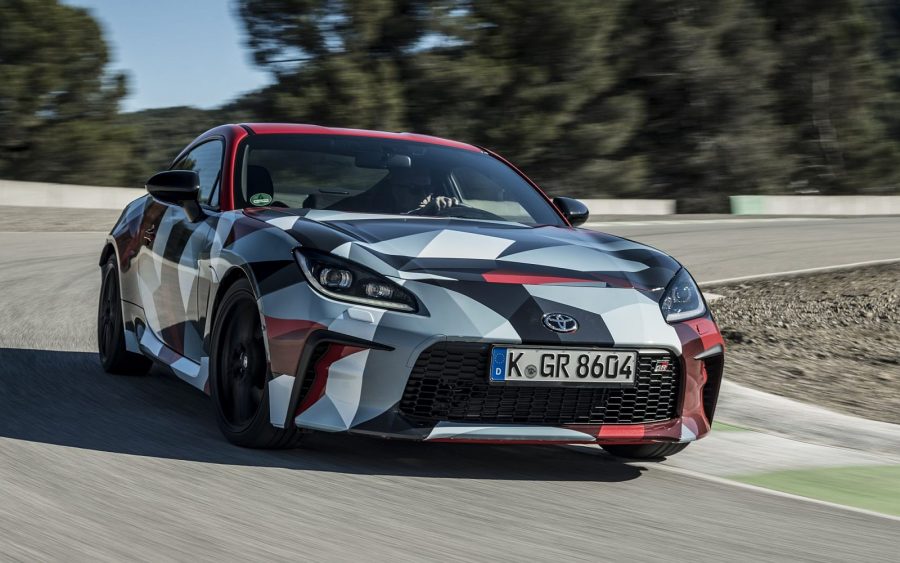 Autocar editor Mark Tisshaw revealed the award was decided "on the strength of road driving and plenty of fast lapping at the Parcmotor Castellolí circuit in Spain (see image above). We will drive finished production cars [soon]… but we already know that they will be brilliant: just a little faster, grippier and more purposeful than the hilariously indulgent GT86 but still an invitation to power-slide that not even a Trappist monk could decline!" And then with a sense of urgency he added: "So if you want a really enticing and usable sports car at a great price, now really is the time."
The GR86 joined its stable mate, the multi-award-winning GR Yaris, in collecting Autocar awards. The supercar-baiting supermini was also voted one of five future classics by Autocar readers and visitors to The National Motor Museum where an example will go on display this summer.
Awards – 2
Hilux, Yaris Cross and Proace take honours at the Fleet World Great British Fleet Event
Toyota Professional commercial vehicles are continuing their award-winning success, this time at the Fleet World Great British Fleet Event. Toyota Proace Electric won the title of Best EV Van and Hilux was named Pick-up of the Year. In addition, Yaris Cross was the winner of the Best Fleet Small SUV category.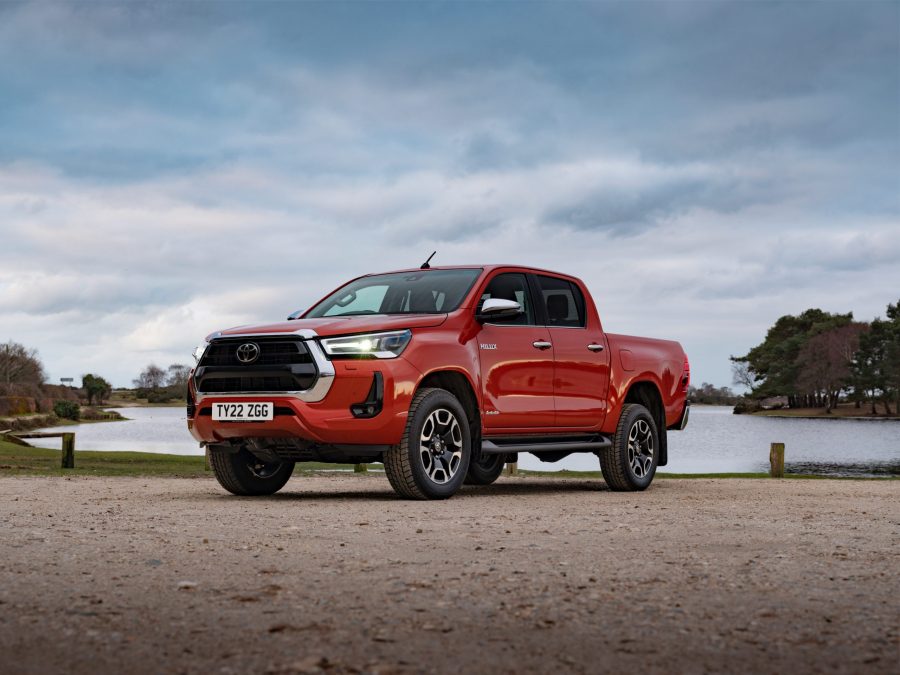 John Kendall, Editor Van Fleet World, described Proace Electric as "a winning combination" and highlighted how the introduction of a more powerful 2.8-litre engine in the Hilux range has added to its customer appeal, commenting that "few pick-ups have such a comprehensive range."
Turning to Yaris Cross, John Challen, Fleet World Editor, remarked: "Building on the success of the impressive Yaris, this B-segment SUV appeals squarely to fleets with efficiency, a willing hybrid powertrain and comfort from a spacious and well-built interior."
Awards – 3
Triple success for Toyota at Fleet News Awards
Toyota Professional commercial vehicles were to the fore in the Fleet News Awards this week, with Proace City named Best Small Van and, in battery-electric form, Best Zero Emission Small/Medium Van. RAV4 was also honoured, taking the Best Mid-size SUV award for a third time.
Commenting on Proace City, the judges remarked: "The addition of a viable electric offering helps the Toyota Proace City to stand out in this category, while its best-in-class warranty, strong residual values, twin side load doors, excellent total cost of ownership and solid payload make it the winning package.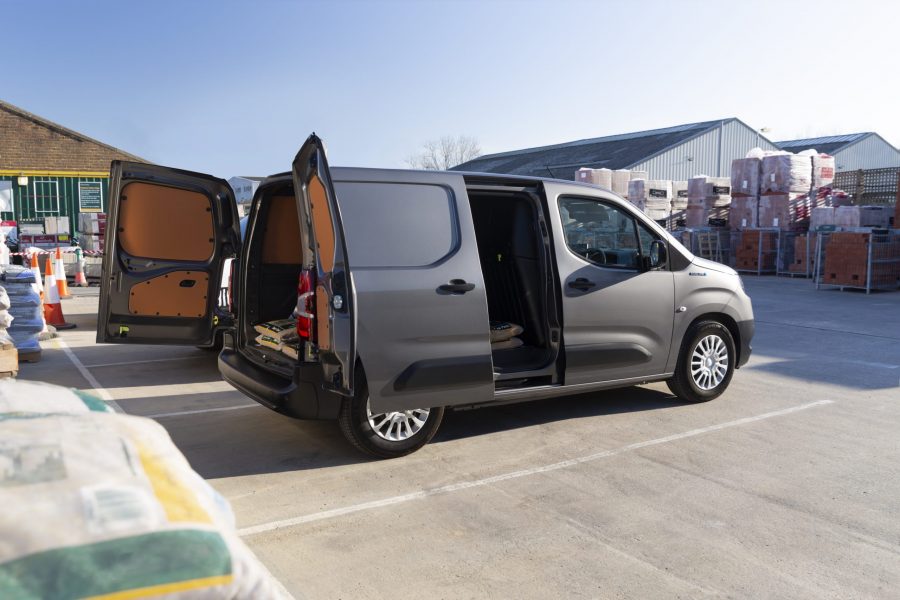 "The Proace City Electric is the perfect van for the urban home delivery market, it has class-leading warranty, attractive pricing and great aftersales service, all wrapped up with a real-world range that meets most fleets' daily requirements."
The judges' comments acknowledged RAV4's continued success in the award. They noted: "A three-time winner in this category, RAV4 has excellent real world fuel efficiency, best-in-class electric range and is spacious and reliable, making it popular with drivers. Good looking, well equipped, safe and reliable, it's the perfect choice for fleets and their drivers."
Awards – 3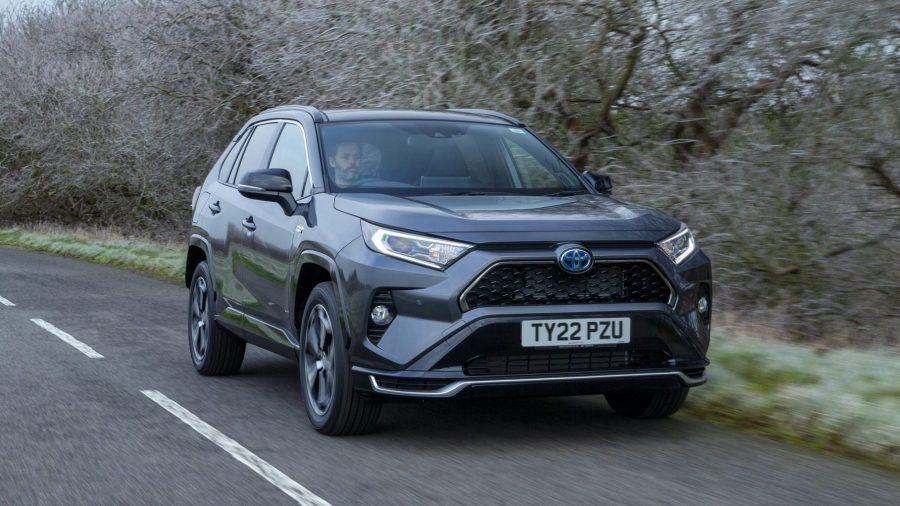 Toyota Awards 2022: Yaris Cross wins best small crossover title in the UK Car of the Year Awards
The newly launched Toyota Yaris Cross has picked up its first significant honour, being named Best Small Crossover in the 2022 UK Car of the Year Awards.
The hybrid-electric Yaris Cross impressed the awards' judges, a group of the UK's most experienced automotive journalists and commentators. Each member of the panel put the car through its paces, prompting high praise.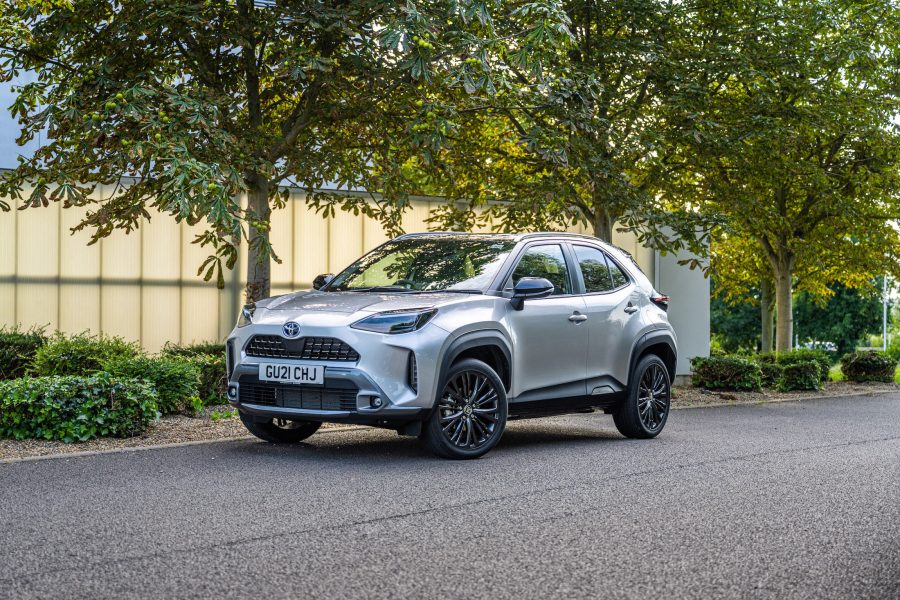 Alex Grant remarked how the car "reaps the rewards" of Toyota's long experience in hybrid technology, being "competitively priced" compared to conventional petrol and diesel models and "offering some of the highest real-world efficiency short of a plug-in hybrid."
In a similar spirit, Tim Pitt noted how the hybrid system is "particularly impressive around town, where the majority of driving is EV-only." Alex Robbins praised the "accessible eco-friendly motoring" and highlighted Toyota's "smashing" warranty – up to 10 years/100,000 miles with the Toyota Warranty programme.
Quality was the key for Tom Sharpe, who said: "Offering more space than anything wearing a Yaris badge has the right to, and trim quality approaching that of its Lexus premium sister brand, the Yaris Cross should be an instant hit with buyers."
Awards – 1
Toyota Yaris Cross Wins What Car? True MPG Award
The Toyota Yaris Cross has won the 2022 What Car? True MPG award, setting a new record for average fuel economy in the magazine's independent test.
Launched in the UK in summer 2022, is powered by Toyota's fourth-generation fully hybrid electric system – the same hyper-efficient powertrain that's featured in the Yaris hatchback. Founded on almost a quarter of a century of Toyota hybrid technology expertise, it enables a high percentage of pure electric, zero-emission EV driving in typical urban commuting journeys.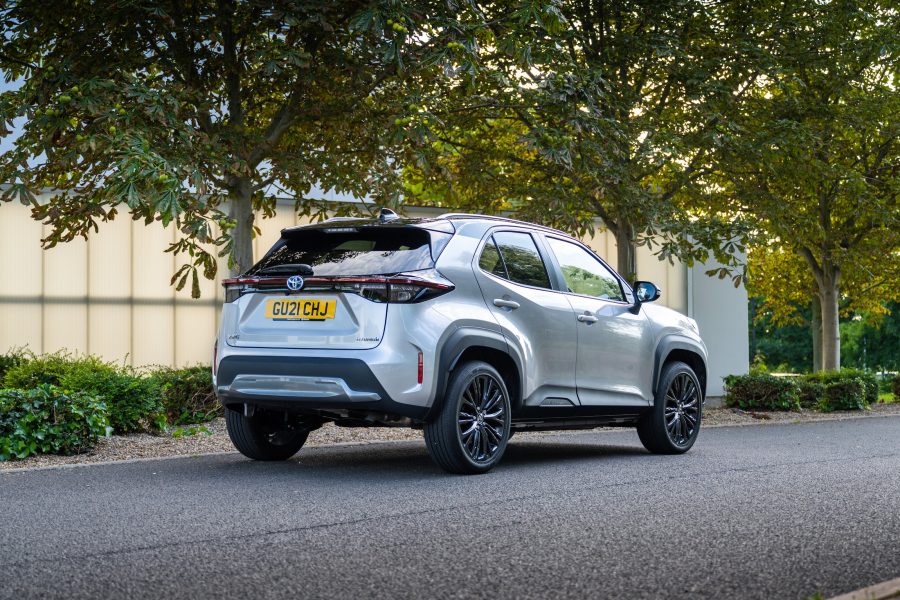 Steve Huntingford, What Car? Editor, said: "The Yaris Cross averaged 60.1mpg in our real-world True MPG fuel economy test – the best average figure we've ever seen and encouragingly close to its official total of 62.7mpg. But even more impressively, it achieved an astonishing 103.3mpg on our True MPG town cycle."
What Car? presents its True MPG figures as to performance that people "can typically expect from a car when it's driven sensibly and within speed limits." The standardised test procedure replicates a mixed driving route on a rolling road and is carried out in controlled laboratory conditions, so results are not affected by external factors such as weather conditions and traffic.
Awards – 1
Toyota Awards 2022: Proace and Proace Electric Take Honours at Company Car & Van Awards
The Toyota Proace has retained its title as Medium Van of the Year and Proace Electric has won Medium Electric Van of the Year in the Company Car & Van awards.
Proace is the medium-duty van in the Toyota Professional range of commercial vehicles, covering all areas of the segment with a choice of three body lengths and four powertrains. The addition of Proace Electric in 2021 added two fully electric versions to the line-up, with no compromise on load space. With a choice of a 50 or 75kWh lithium-ion battery, Proace Electric can achieve a zero-emission driving range of up to 205 miles.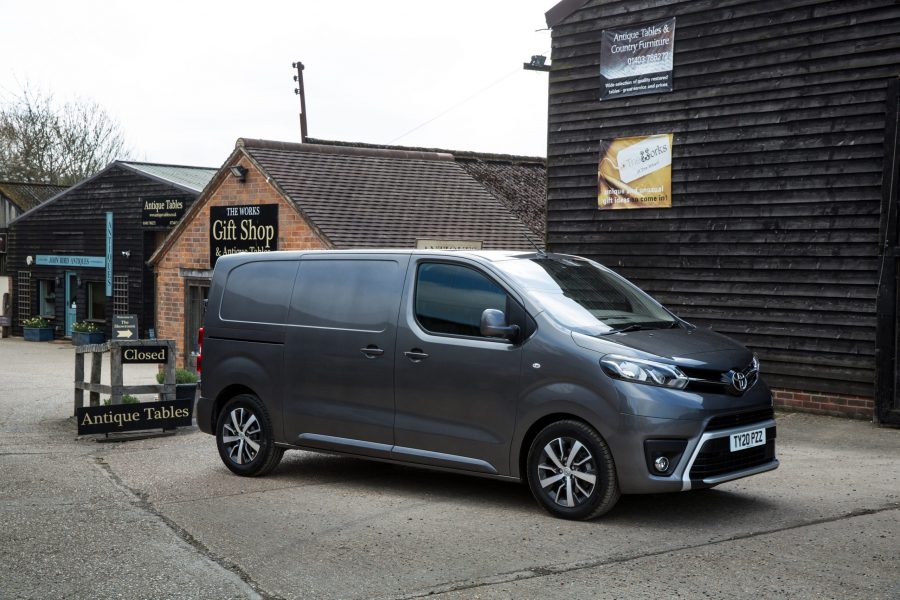 Andrew Walker, Company Car & Van Editor, said: "The Toyota Proace retains our title of Medium Van of the Year 2022. It's slightly different from its Stellantis siblings, offering more standard equipment and a longer warranty, with a slightly higher price point. It also features a cleverly designed cabin, a raft of safety features and the latest tech, plus the peace of mind that comes with owning a Toyota."
He continued: "The Proace Electric is great to drive, features a 200-mile range, comes with a competitive payload, has a user-friendly cabin and offers the connectivity that van operators demand from their commercial vehicles. It's one of the best electric vans you can buy."
Awards – 2