Toyota president Akio Toyoda has presented the company's far-reaching strategy for carbon neutrality by outlining its plans to offer 30 battery electric vehicles (BEVs) by 2030. Below are excerpts from the transcript of his presentation.
Akio Toyoda: "I would like to talk about Toyota's strategy for achieving carbon neutrality – particularly our strategy for BEVs, which represent one of the most promising options. I believe that achieving carbon neutrality means realising a world in which all people living on this planet continue to live happily. We want to help realise such a world. This has been and will continue to be Toyota's wish and our mission as a global company. For that challenge, we need to reduce CO2 emissions as much as possible, as soon as possible. We are living in a diversified world and in an era in which it is hard to predict the future.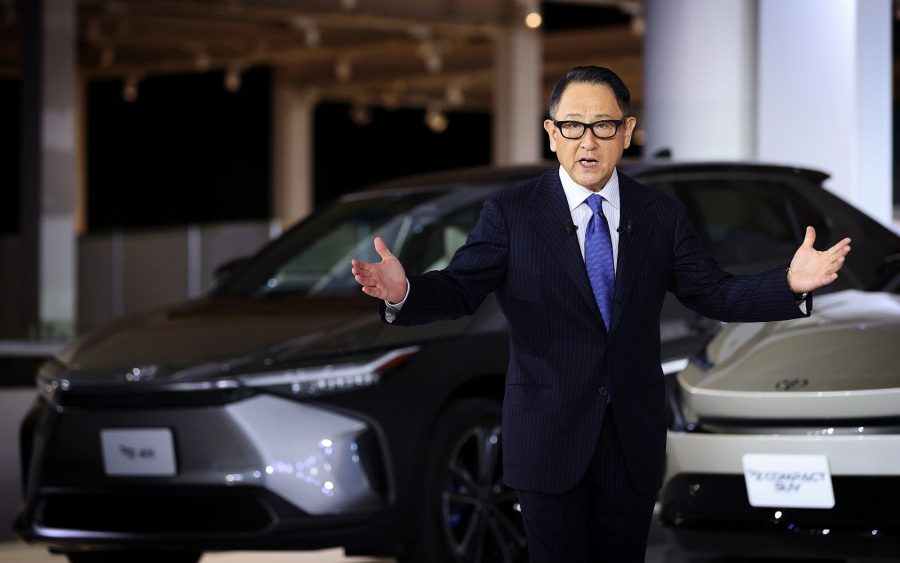 "Therefore, it is difficult to make everyone happy with a one-size-fits-all option. That is why Toyota wants to prepare as many options as possible for our customers around the world. We believe that all electrified vehicles can be divided into two categories, depending on the energy that they use. One category is that of "carbon-reducing vehicles". If the energy that powers vehicles is not clean, the use of an electrified vehicle, no matter what type it might be, would not result in zero CO2 emissions. The other category is that of "carbon-neutral vehicles". Vehicles in this category run on clean energy and achieve zero CO2 emissions in the whole process of their use. We at Toyota will do our utmost to realise such vehicles.
"Today, we would like to present to you what we have been preparing for the future. Let's start with the Toyota bZ series of our dedicated BEVs. The Toyota bZ means going "beyond Zero". Freedom of movement and fun to drive for all. Our goal is not only to reduce CO2 emissions and other negative impacts to zero. Our goal goes beyond those. For the bZ series, we developed a dedicated platform for battery EVs to meet the diverse needs of the global market.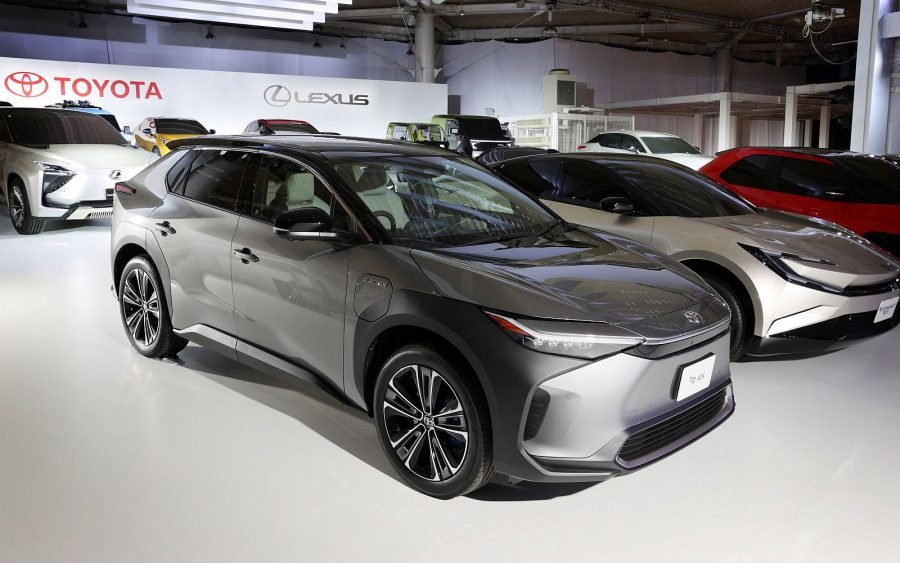 "The first model in the line-up is the bZ4X here, which we recently announced. Jointly developing it with Subaru enabled us to pursue smoothness and manoeuvrability as well as the drivability of a genuine SUV. For its launch next year, we are preparing for the production of the bZ4X at Toyota's Motomachi Plant right this very moment. We will soon deliver it to our customers.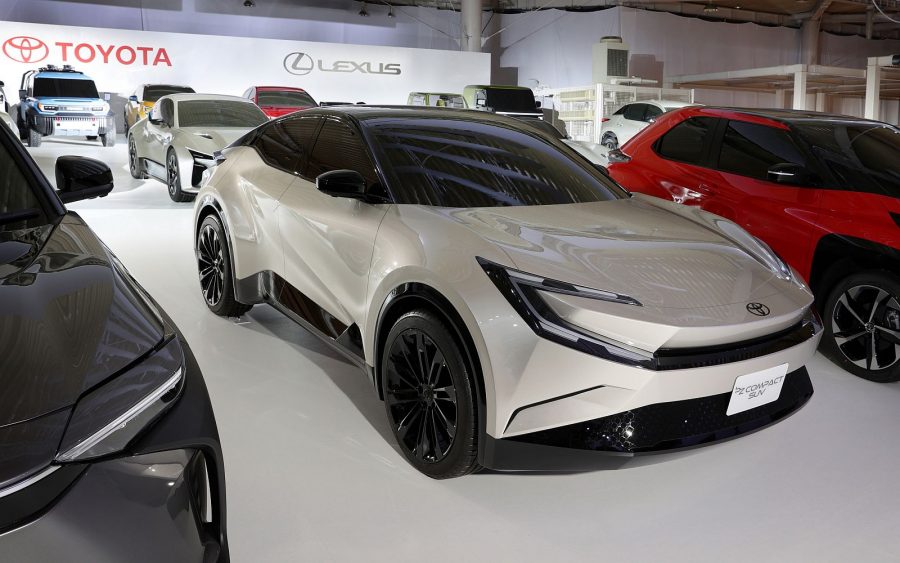 "Furthermore, we are expanding the bZ series line-up. Please have a look at these two models. This midsize SUV has a beautiful silhouette that presages a new era for BEVs. At just a single glance, its styling can invite you to want to get in and go for a drive. And this is the most compact SUV in the series—a small battery EV with a comfortable interior designed with Europe and Japan in mind.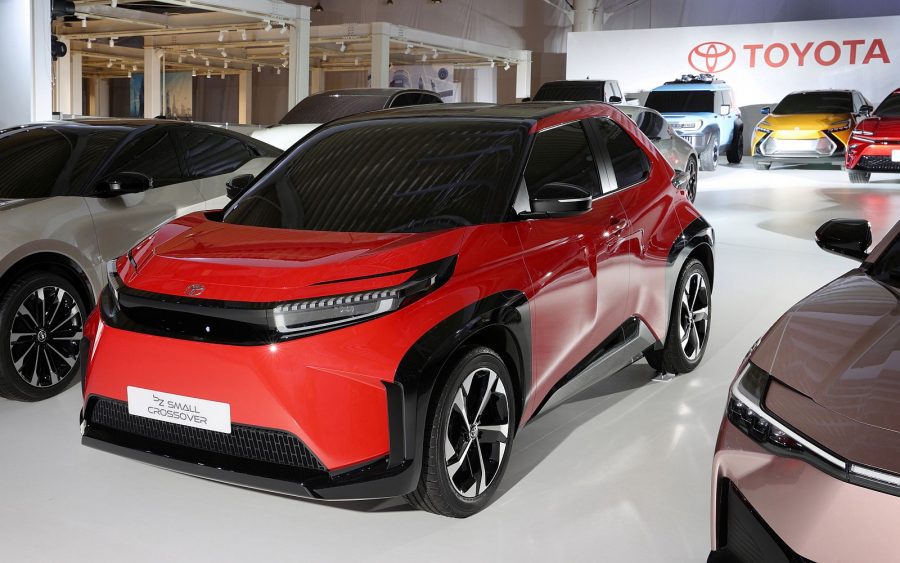 "The more batteries you add to extend cruising range, the bigger, heavier, and more expensive a vehicle becomes. Because this SUV is a small vehicle, there is something we must be thorough and very particular about. And that is – power efficiency. The important thing is to what degree we can increase a vehicle's overall energy efficiency; in other words, how much less energy a vehicle needs to run. This is exactly the technology that Toyota has been refining for more than 30 years. Putting our best efforts into all aspects of these, with this vehicle we are aiming for a power efficiency of 125 watt-hours per kilometre, which would be the highest in the compact SUV class.
"And this is a midsize sedan that meets customers' expectations for a first car. We also have a large SUV with available third-row seats that allow families to experience fulfilling times together. What do you think?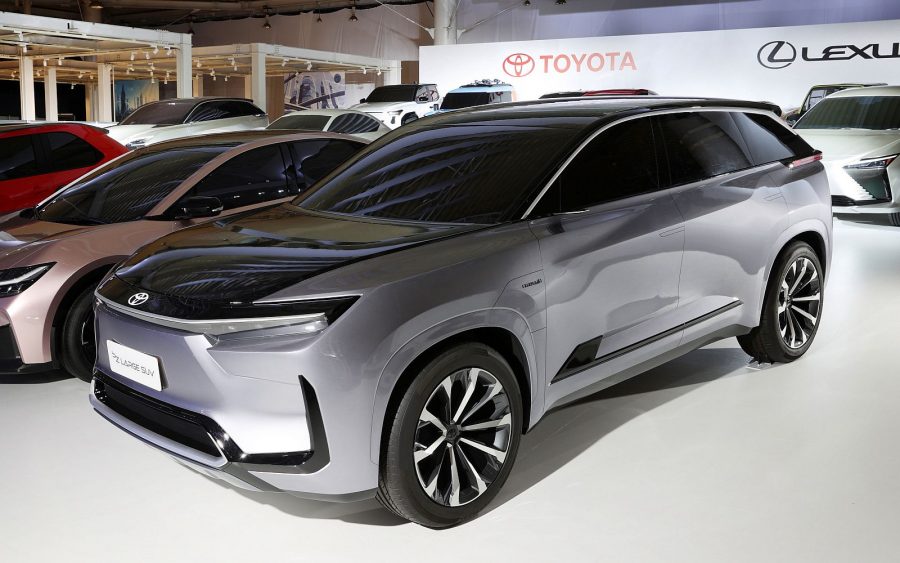 "We will not only add battery EV options to existing vehicle models but will also offer a full line-up of reasonably priced mass-production models, such as the bZ series, to meet the needs of all kinds of customers. By doing so, we hope to deliver to customers around the world the unique and beautiful styling as well as fun-to-drive aspects of BEVs, and the experience of a life with battery EVs.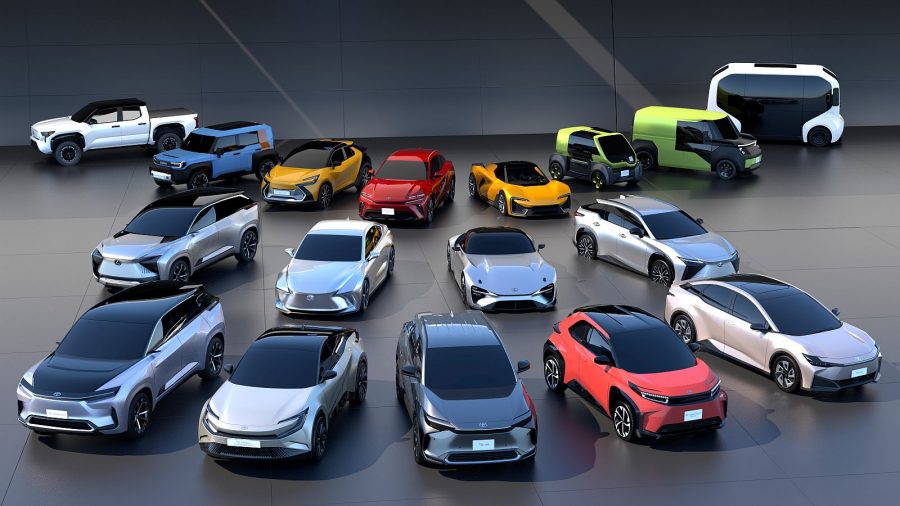 "Toyota is a global company supported by customers around the world. The Toyota brand now offers more than 100 models of engine-only vehicles, hybrid electric vehicles, plug-in hybrid electric vehicles, and fuel cell electric vehicles in more than 170 countries and regions. The Lexus brand has introduced more than 30 models of engine-only vehicles, hybrid electric vehicles, and plug-in hybrid electric vehicles in more than 90 countries and regions. Furthermore, we will expand the options for carbon-neutral vehicles by offering a full line-up of battery EVs. Specifically, we plan to roll out 30 BEV models by 2030, globally offering a full line-up of BEVs in the passenger and commercial segments. Please take a look. This is Toyota's greater BEV line-up! Welcome to our showroom of the future!

"The vehicles you see [here] – they are the diverse Toyota BEVs. The world is becoming ever more diverse. People are increasingly confident in making their own choices to lead free and enjoyable lifestyles. At Toyota we believe that truly good products create new experiences for the customer, enhancing their chosen lifestyle directions.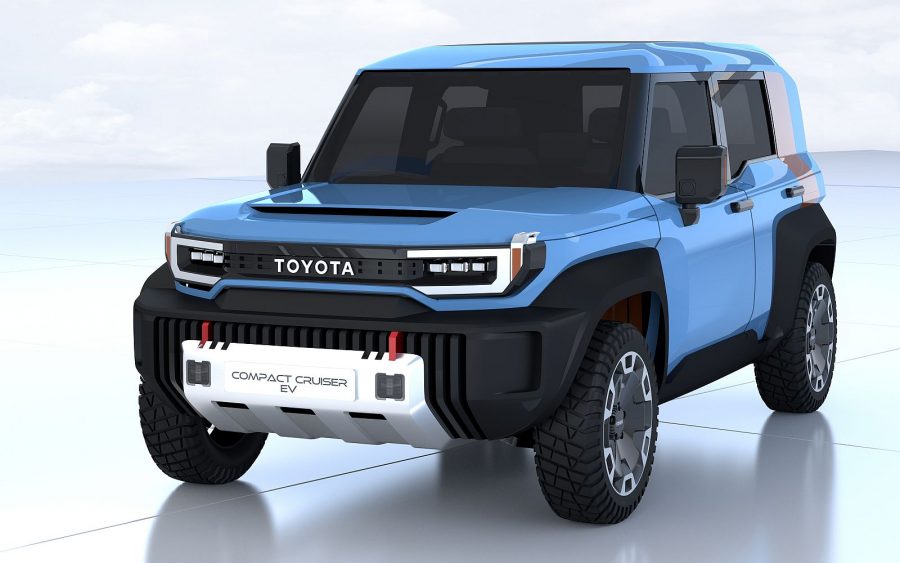 "From that point of view, each electric vehicle should be unique and special, not only those on dedicated platforms but also those related to existing models. Whether that means building on Toyota's off-road heritage to create new exciting recreational experiences or finding new ways to combine versatility with dynamic driving.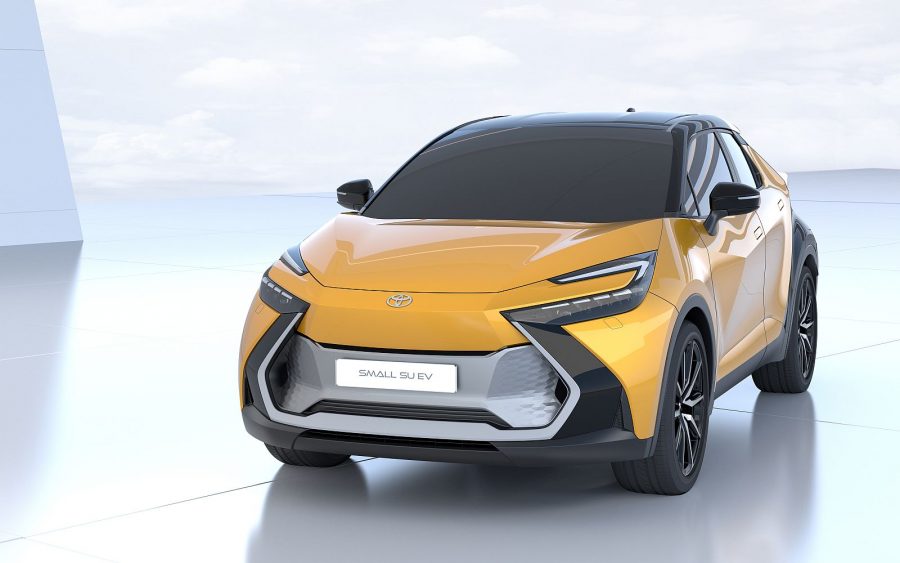 "Commercial use models such as the e-palette will change the face of daily life in the city. But we will also challenge smaller size segments for new mobility solutions. Compact ultra-versatility will open up new and exciting possibilities for both work use and for youngsters to personalise. As well as new approaches for the smallest segments, such as "made-for-sharing", where different variations cater to different business scenes.
And last, but certainly not least, car fans like Akio Toyoda will certainly not be disappointed. The EV era is an opportunity and a chance for more variety and more fun! An EV for you, an EV for me, and an EV for everyone. "An EV for everyone".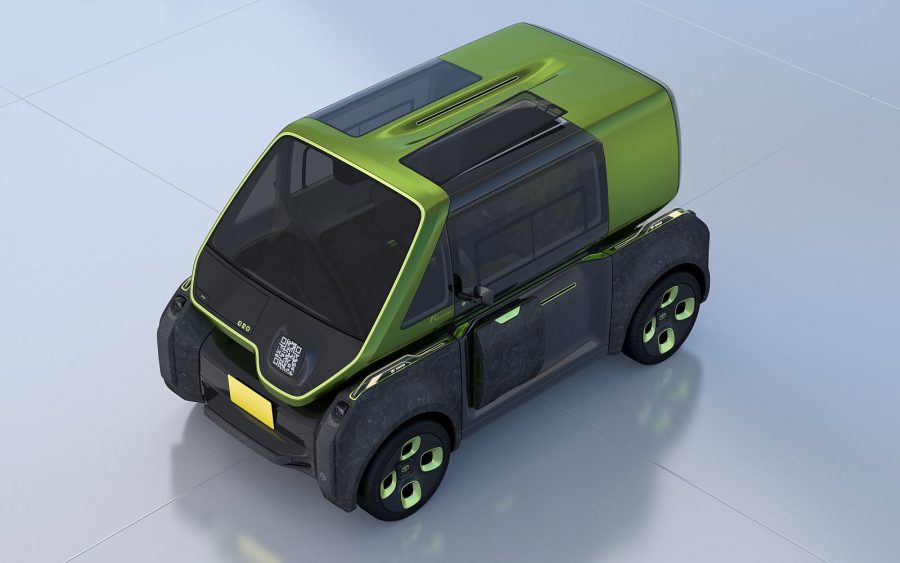 "So, what did you think about Toyota's BEVs? The future that we showed you today is by no means far away. Most of the Toyota BEVs that we introduced here are models that will be coming out in the next few years. We aim to achieve global sales of 3.5 million BEVs per year by 2030. Lexus aims to realise a full line-up of battery EVs in all vehicle segments by 2030 and to have BEVs account for 100% of its vehicle sales in Europe, North America, and China, totalling one million units globally. And it aims for BEVs to make up 100% of its global vehicles sales in 2035.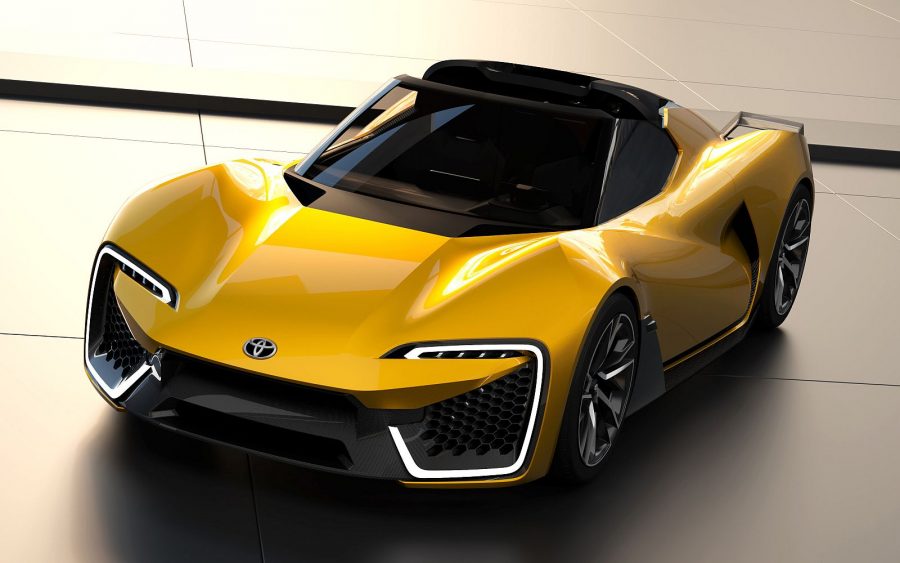 "To achieve these goals, we have invested in various areas for a long time. In the area of vehicle development, in 1997, Toyota launched the Prius, the world's first mass production hybrid electric vehicle. But in fact, our development of BEVs had started before that. In 1992, we established the Electric Vehicle Development Division, and we introduced the RAV4 EV to the market in 1996. After that, in the 2000s, we demonstrated our small prototype commuter EV "e-com" in various places. Furthermore, in 2012, we introduced the "COMS", an ultra-small EV, and the small "eQ" EV. Thus, we have long explored the potential of BEVs.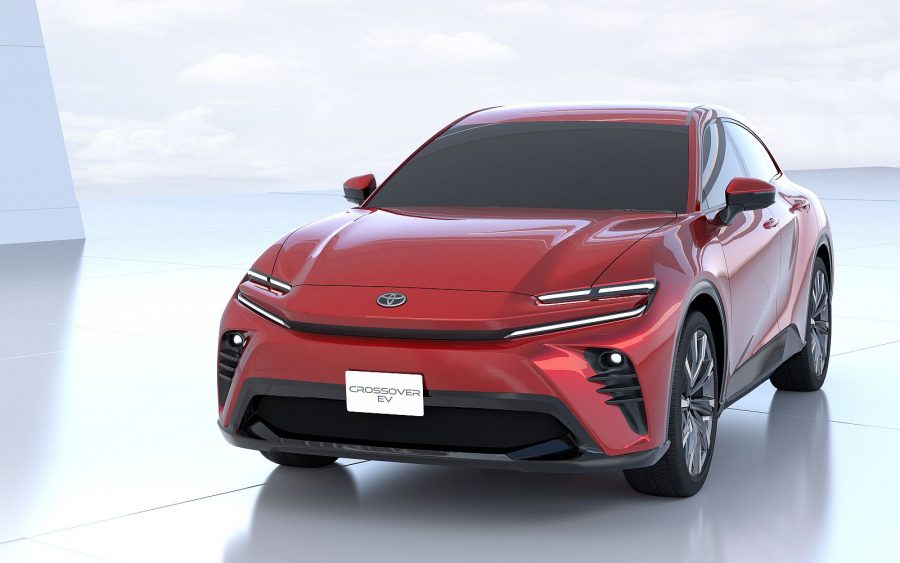 "We launched the C+pod and C+walk this year and have accelerated the development of BEVs, including the e-Palette, that provide people with freedom of movement in various scenes. At the same time that we started our development of BEVs in the early 1990s, we also began our development of fuel cell electric vehicles, which run on hydrogen. In 2002, we introduced the Toyota FCHV to the market and went through various demonstrations, and in 2008, the vehicle was redesigned into the Toyota FCHV-adv. Based on such long-term efforts, in 2014, the first-generation Mirai was finally launched. Since then, using the technologies concerned to power other vehicles such as buses and large trucks, our fuel cell electric vehicles have also continued to evolve.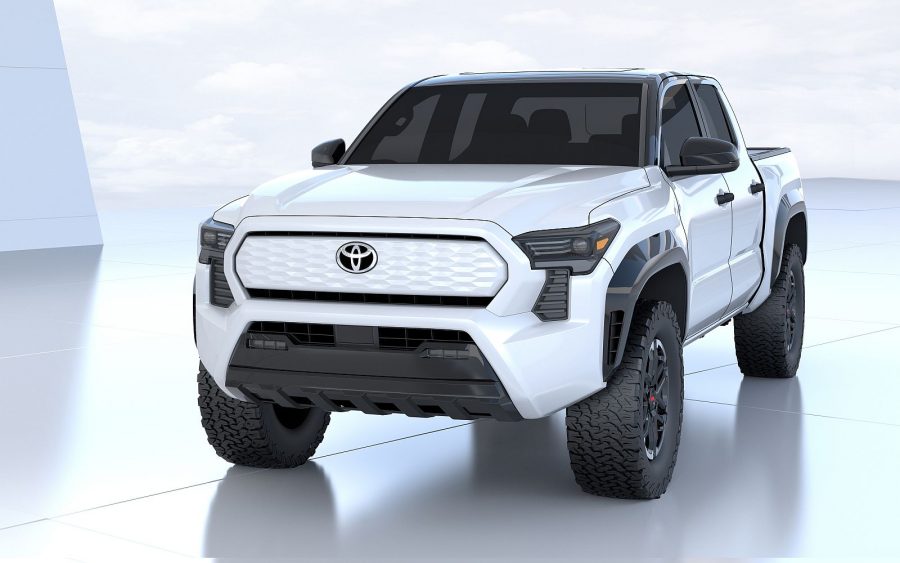 "In the area of batteries, Toyota has continued to research, develop, and produce batteries in-house for many years. In 1996, we established what is today Prime Earth EV Energy. While refining our technologies related to nickel-metal hydride batteries, we started accelerating the development of lithium-ion batteries in 2003. Furthermore, since having established our Battery Research Division in 2008, we have been advancing research on solid-state batteries and other next-generation batteries. Last year, we established Prime Planet Energy & Solutions to accelerate integrated efforts in the battery business. Over the past 26 years, we have invested nearly one trillion yen and produced more than 19 million batteries. We believe that our accumulated experience is an asset that gives us a competitive edge. Going forward, we will increase our new investment in batteries from the 1.5 trillion yen announced in September to 2.0 trillion yen, aiming to realise even more-advanced, high-quality, and affordable batteries.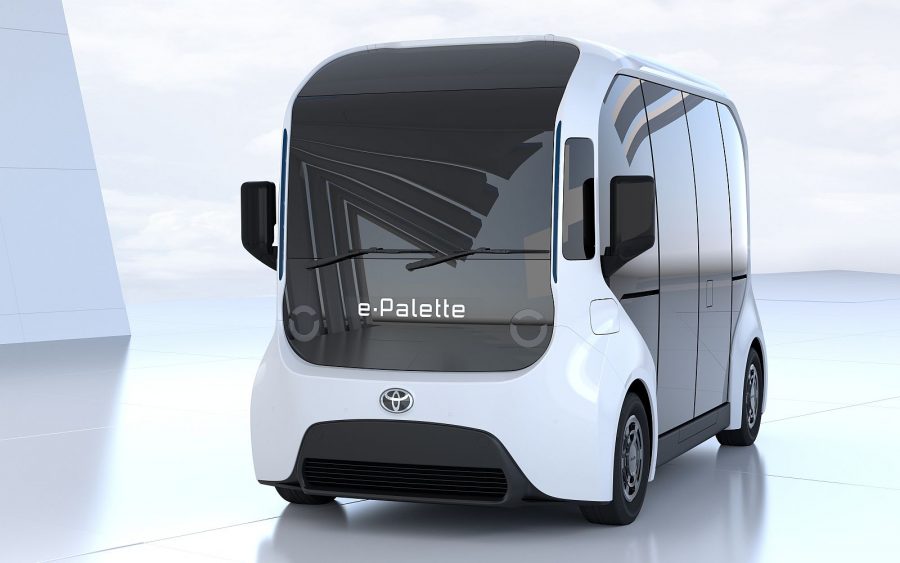 "When it comes to natural resources, Toyota Tsusho began conducting lithium and other surveys as early as in 2006 and has been working to secure stable sources. And in the area of energy, Toyota Tsusho has been working to secure renewable energy sources such as wind and solar power generation for more than 30 years. Furthermore, at manufacturing plants, we are aiming to achieve carbon neutrality by 2035 by continuously making steady improvements toward reducing energy use and by expanding the use of innovative production engineering technology. In this diversified and uncharted era, it is important to flexibly change the type and quantity of products produced while keeping an eye on market trends. We believe that the reduction in lead times and high-mix, low-volume production methods that we have cultivated through the Toyota Production System, along with the steady efforts of Japanese manufacturing, will enable us to be competitive going forward.

"We will continue to advance initiatives in all areas together with many of our partners among Toyota Group companies, suppliers, and dealers. Energy plays a critical role in achieving carbon neutrality. That is exactly why Toyota is committed to providing a diversified range of carbon-neutral options to meet whatever might be the needs and situations in every country and region. It is not us but local markets and our customers who decide which options to choose. As for why we try to keep so many options, in terms of business management, one might think it'd be more efficient to focus on fewer choices. However, we believe that quickly adapting to changes in the future is more important than trying to predict the future, which is uncertain. That is why we want to keep options available for our customers until the right path is clear.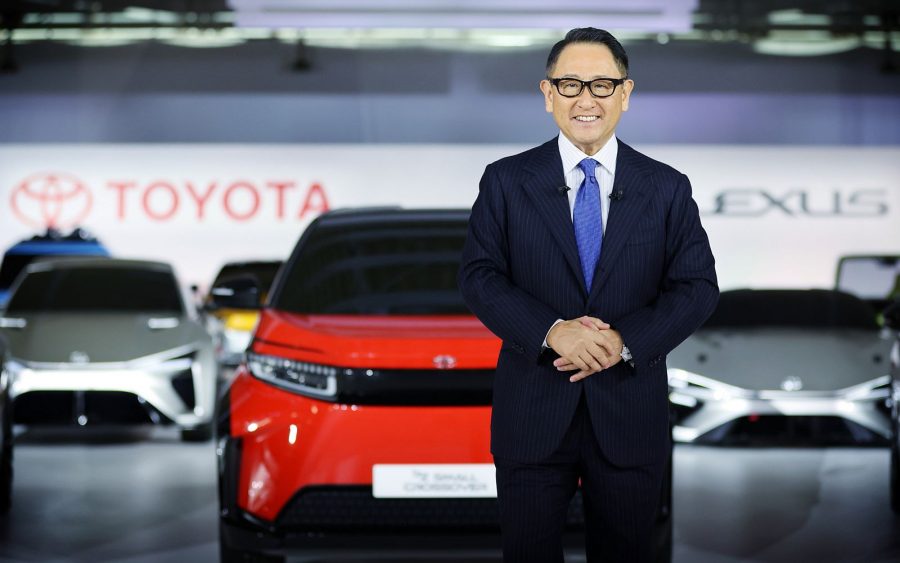 "We at Toyota aim to be a company that contributes to the global environment, seeks to bring happiness to people, acts, and stays close to its customers. To sum it up, we want to become a company that produces happiness for all, for both individuals and society. We want to pass on an ever-better future for the children of today and those who will come after them. We always want the future to be brighter. I believe that the future is something to be created by all of us together. Japan's automotive industry is home to our 5.5 million colleagues who have supported Japanese manufacturing and mobility. And we have many more colleagues throughout the world. If we all take action with unity of mind and with will and passion, we will be able to leave behind many smiling faces and a beautiful Earth for the next generation.
"That is what I believe. And that is what we will achieve. Thank you."
All venue photos courtesy of Noriyaki Mitsuhashi / N-Rak Photo Agency