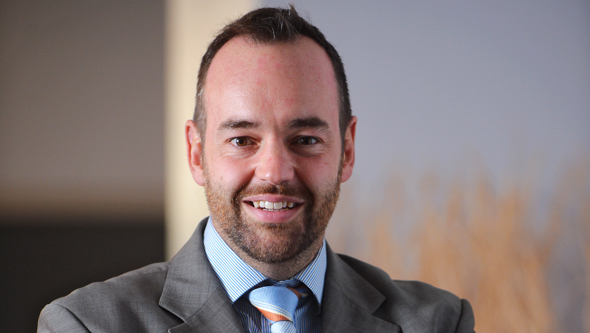 The next generation of Toyota multimedia system – Toyota Touch 2 – is currently available on the Land Cruiser and Verso and will be rolled out onto other Toyota model over the following months. We speak to one of the men behind Touch 2 – Sigi Killemaes.
TB: What is the philosophy behind the Toyota Touch 2 multimedia systems?

SK: The concept is built around what we call affordable innovation. We wanted to offer the features and functions of premium systems at an accessible price, so that as many customers as possible can benefit. Furthermore, we wanted Toyota Touch 2 to have a much closer integration with the car, expanding its use to display many vehicle functions.
We've kept the system's cost down because we don't integrate an embedded communication module in the car. Instead, we use the customer's mobile phone as a sort of modem to connect to the internet. This also avoids the need for a second data subscription.
Previously we were a little concerned about using the phone as a connection device, but actually it works pretty well. If you have to connect your Bluetooth for your hands-free phone use and music anyway, it simply becomes part of the same process.
And we've made the process of going online much simpler with this next-generation system, too. We have wireless connection, so you simply set up your phone as a WiFi hot spot and then log into that via the car.
TB: What is new on Toyota Touch 2?
SK: First, we wanted to improve the quality of the screen to give a much sharper and brighter image.
All the menu screens have been redesigned as well, with help from ED2. We felt the need to involve them because on-board multimedia systems are becoming increasingly important to customers, and we value their design direction on such a significant piece of equipment.
The screens now have a much deeper, 3D effect and feature a "boat floor" motif running through the designs, which helps give the different screens a visual consistency.
We also have a new range of connected services, using partners who are leaders in their fields, such as TomTom for traffic services and Google for search-related functions. And, provided they have a compatible phone, users can use MirrorLink to replicate their smartphone display on the vehicle screen, and even operate their phone from there.
TB: What is Toyota Online?
SK: Toyota Touch 2 with Go provides the Toyota Online function, giving access to a number of services that give the driver peace of mind.
Via TomTom HD Traffic you can receive real-time updates about any incidents or congestion on your route and, if necessary, the system will provide detour options.
Online Local Search is an additional POI database that comes with an online search function, so you can use it to find any kind of place of interest more easily, using Google and TomTom Places.
You can also activate applications to keep you informed about available parking spaces, fuel costs and weather forecast where you are heading. We also offer a Twitter application and "Glass of Water" – a sort of game to encourage more economical driving in a way that's fun, but not distracting.
Last, but certainly not least, Toyota is the first mainstream brand to offer Google Street View and Panoramio services.
Google Street View is very helpful in familiarising yourself with your destination before you arrive. You can see what the surrounding area is like, and even where you might park the car.
Panoramio goes a step further. It provides user-uploaded images of city landmarks and places of interest. So if you are on holiday with the car, you can check the map for any POI, view a full image and then let the navigation system guide you there.
TB: Do the Toyota Touch 2 systems use Google Maps?
SK: No they don't, because that service runs on-line and to use it you have to be connected all the time. That means if you were travelling across national borders, your 3G bill would become astronomical.
That's why we use a hard drive system, which has the additional benefit of being better tailored for the car. It won't drop out when you drive through a tunnel, for example. The only thing you need connectivity for is traffic information, and that doesn't even have to be 3G.
TB: How do you ensure customers can cope with the growing complexity of HMI systems?
SK: With an increase in functions, it's essential to have a clear and easy-to-use HMI. So when we were developing Toyota Touch 2, we invested a lot of time and effort in achieving this.
For example, we have increased the number of languages for the voice recognition system, which we have otherwise kept as simple as possible. Many systems incorporate things you can do much more quickly using the buttons. Our philosophy is different. We've focused on three key commands. So no matter what menu you're in, you can set a navigation destination, play any music track from your iPod or phone, dial any number, or ask for any contact by name, in just one sentence. This also improves road safety.
The Toyota Touch 2 systems have been designed to be as user-friendly as possible in many other ways too. For instance, if you type a destination address, the system will react to the first letter with background suggestions, starting with the largest cities first.
We've also improved our customer portal at my.toyota.co.eu. Users can now manage their subscriptions and map updates more easily. It even allows you to be in contact with your car online.
If, for example you're researching a destination on Google Maps, you can right-click and send it directly to your car's navigation system. It's as simple and convenient as that.
TB: Can older systems be upgraded to the latest software?
SK: To a certain extent, they can be. You can update maps every six months, and we also provide updates for any software developments. All you need to do is download the latest version to a USB and then plug that into the car to update the Toyota Touch 2 software.
During the lifetime of the first generation system we introduced new features, applications and software that customers could install. We provide support for each system for at least 10 years, so if you buy a second hand car you can still make any upgrades that the previous owner didn't take up. And of course we will be doing the same thing for this new system.
See also:
How to set up an online account
How to pair your phone for calls, music and internet
How to search online With Google Streetview And Panoramio
How to send directions to your device

An introduction to apps
How to use sat-nav features
How to update your maps and software
Over The Air Installation Of Apps