The seven-seat Toyota Prius+ is the perfect car for the needs of a growing family, while still being kind to the wallet and the environment. Providing families with the space and seven seats of an MPV wrapped in a stylish, aerodynamic design, the Prius+ uses Toyota's latest Hybrid Synergy Drive technology to deliver the fuel efficiency, low mpg and low emissions that people expect from a Toyota Prius.
The seven-seat Toyota Prius+ is available in Icon, Excel and Excel Plus trim grades and joins the standard Prius and the Prius Plug-in to complete Toyota's Prius line up.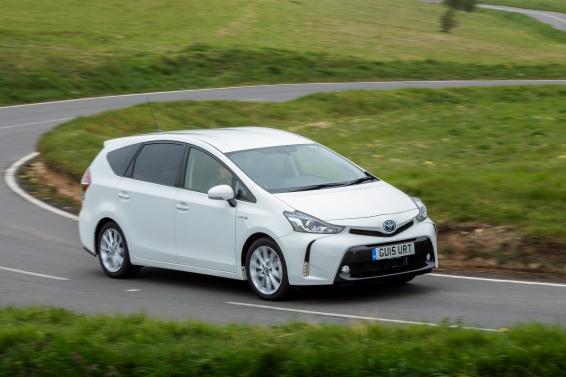 What is the seven-seat Prius+ like to drive?
The heart of the driving experience is Toyota's 134bhp Hybrid Synergy Drive system, combining a 1.8-litre VVT-i petrol engine and a powerful electric motor. The seven-seat Toyota Prius+ can operate purely on electric power (EV mode) or petrol power, or a mix of both – that's how Toyota makes it fuel efficient and quick enough for today's busy roads. On the go, the Prius+ use an e-CVT automatic transmission for a smooth drive and, even though it's a little larger than the normal Prius, Toyota has tuned the suspension for a smooth, supple ride.
In Normal driving mode the seven-seat Toyota Prius+ uses electric power up to 31mph before the petrol engine comes into play, but there are also three extra modes that the driver can select: EV, Eco and Power. EV mode is for near-silent electric-only motoring, Eco mode lessens throttle response for greater fuel economy in everyday driving, and Power mode delivers quicker engine response when you put your foot down.
How comfortable is the seven-seat Prius+?
As the Prius+ can operate on electric power only, Toyota has paid great attention to reducing noise in the passenger compartment – excellent sound-proofing and thick window glass keep out road and wind noise for a more peaceful experience inside.
To carry seven people comfortably, Toyota has used an incredibly compact lithium-ion battery pack mounted in the centre console to free up space for a third row of seats behind the sliding second row seats. The Prius+ also has greater legroom for all rear seat passengers than the standard car, made possible by its longer length, and headroom is improved throughout compared to the Prius.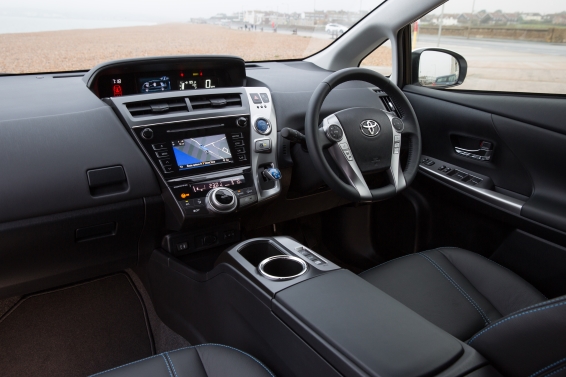 All Prius+ models are well-equipped with automatic air-conditioning, cruise control, and Toyota's Touch 2 multimedia system that provides touchscreen control, Bluetooth connectivity, DAB digital radio and a rear-view camera. Excel and Excel Plus models add navigation from the Touch 2 with Go system, while the top-of-the-range Excel Plus also has leather upholstery and a DVD rear seat entertainment package that includes dual monitors – perfect for the kids!
How big is the boot in the seven-seat Prius+?
Flexibility allows the Prius+ to be whatever you need it to be. With all seven seats in place, its longer wheelbase and wider loadspace means that you still have 232 litres of luggage space. Fold the row flat and that number shoots up to 784 litres, and because the second row of seats can be folded independently you can then pop a seat or two forward to transport longer items. Fold all the rear seats flat and the maximum loadspace available is 1,750 litres.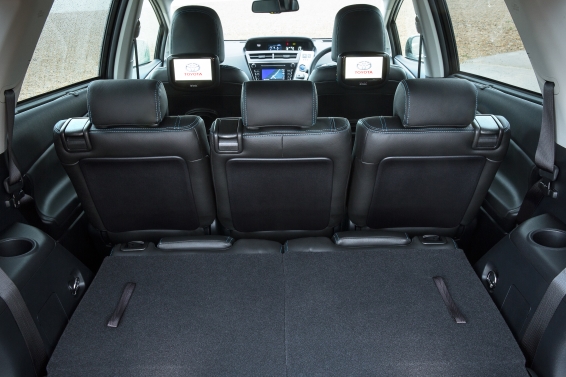 It's not just the luggage space that makes the Prius+ practical for family life, though – large gloveboxes, door pockets and a 60-litre underfloor storage space in the boot give ample space for all your kit and caboodle!
Safety
Seven airbags protect occupants in the event of an accident, but Toyota would much rather you weren't in that position at all! That's why the Prius+ is loaded with safety features to actively prevent an accident, including traction and stability control to maintain grip and prevent skidding, brake assist to maximise the effects of the anti-lock braking system, and hill-start assist control to ensure a smooth, bump-free start on inclines. If you do have to brake sharply, the brake lights will also flash repeatedly to alert drivers behind.
For Excel and Excel Plus models, Toyota has also fitted its radar-based Pre-Crash Safety system that constantly watches out for potential collisions and takes preventative action to avoid or minimise an accident. The same radar technology is utilised for Adaptive Cruise Control, maintaining a safe distance to the vehicle in front even when speeds change.
Intelligent Park Assist is also available on Excel and Excel Plus models, a fantastic system that automatically and safely steers the Prius+ into suitable parking spaces while the driver simply operates the throttle and brakes.
Running Costs*
The full hybrid Prius+ is an incredibly fuel-efficient MPV, with the 16″-wheeled Icon model achieving 68.9mpg on the combined test cycle (64.2mpg for the 17″-wheeled Excel and Excel Plus models).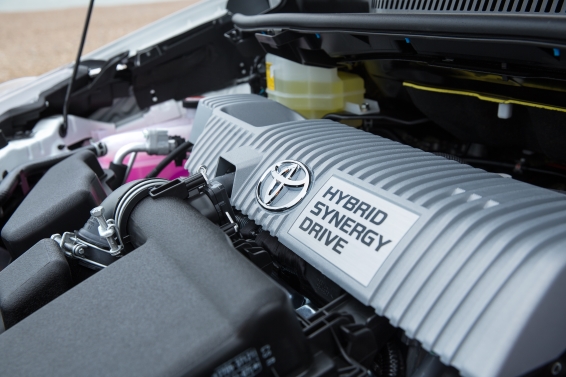 Helped by its emissions-free EV running, the Prius+ Icon emits just 96g/km of carbon dioxide, so is exempt from UK road tax. The Excel models are just above the threshold, emitting 101g/km, but are still tax-exempt for the first year of ownership and road tax costs just £10 a year after that. Servicing is only required every 10,000 miles or once per year.
Quality
Every Prius+ carries the same five-year/100,000 mile warranty as other Toyota cars, with the hybrid battery covered by a separate eight-year/100,000 mile warranty. The exterior of the Prius+ is guaranteed against paint defects for three years and corrosion for 12 years, regardless of mileage.
Prices*
The Prius+ Icon costs £26,995 on the road, with the Prius+ Excel priced at £29,245 and the range-topping Excel Plus available at £31,245. All are well-equipped as standard but if you fancy something extra, optional upgrades include metallic (£495) or pearlescent paint (£650), a protection pack (£325), and front and rear parking sensors (£550).
For further information about the Prius+, visit the designated section of the Toyota website. If you'd like to experience the Prius+ for yourself, leave a comment and we'll be in touch!
*Prices correct as of 01/03/16; information in this article was correct at the time of publication.