Why settle for just one Toyota Yaris review when we have collected all of the UK motoring publications reviews into one handy place? After being invited to test-drive our new Toyota Yaris on a combination of Britain's roads earlier this year, the national motoring press has had its say. Scroll below to see who said what about our latest car.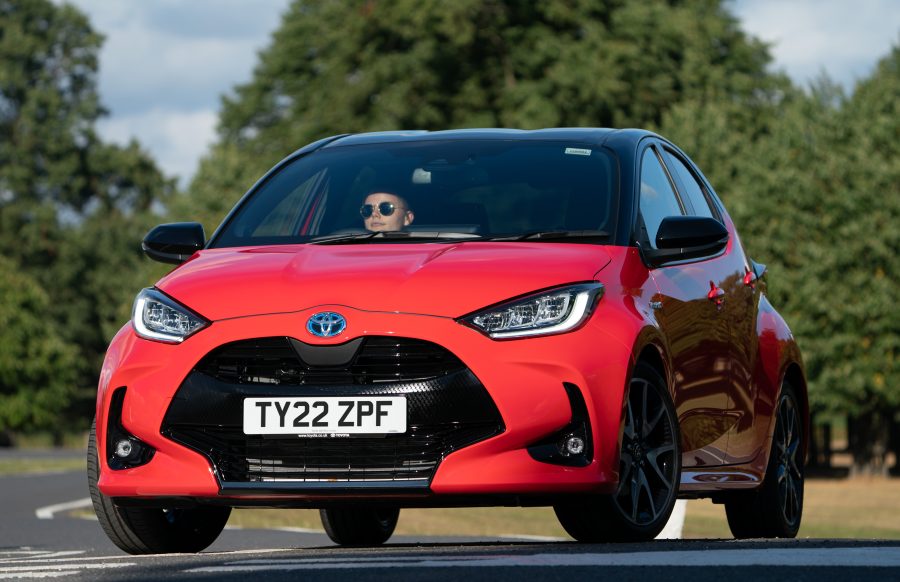 Toyota Yaris review
"Lately, Toyota seems to have remembered those things called 'hype' and 'desire'. [Its] butch wheel arches, squat rear and rising beltline… give it an attitude that its predecessor lacked.
"It uses the same comparatively costly modular platform that underpins the larger Corolla. The benefits are a much stiffer car, a lower centre of gravity and accommodation for several driver assistance systems, all of which are standard on the Yaris.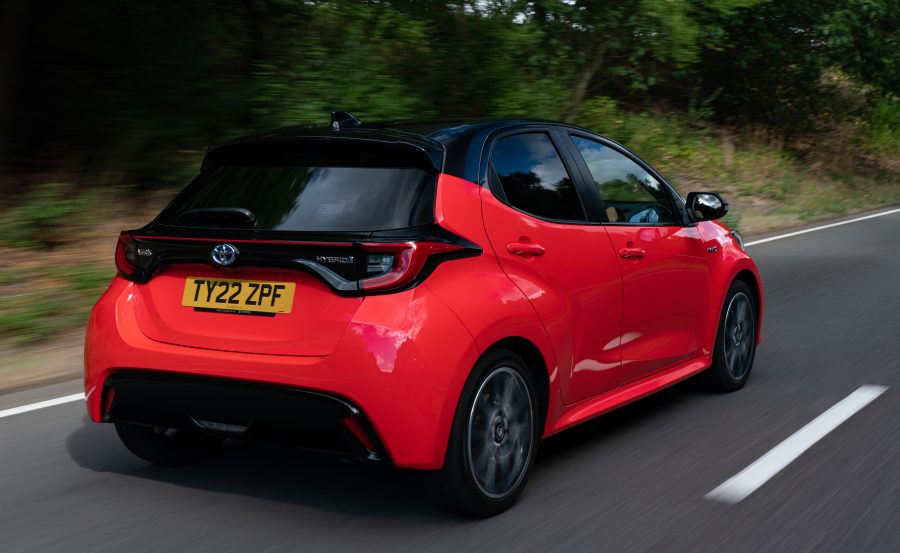 "Fundamentally, this is the most interesting Yaris cabin since the original. Perceived quality has taken a leap forward. Add in the supportive seats, racy steering wheel and widely adjustable steering column and you have an environment that feels mature but not dull.
The best thing about the Yaris is its new chassis
"But the best thing about the Yaris is its new chassis. It's very neutral, and so this little car corners tidily and claws genuinely good grip. The Yaris is now better than before in the areas that matter and more characterful than at any time since its inception."
"The latest Yaris should be on the shortlist of any supermini buyer. Its hybrid powertrain feels mightily efficient… and the fact that the all-new fourth generation is being offered only as a hybrid is very telling.
"Around town the direct steering and taut chassis make it easy to manoeuvre, and the hybrid powertrain does spend a lot of its time running on electricity alone. We saw 65mpg on our mixed route, and perversely, that figure rose sharply in every town centre.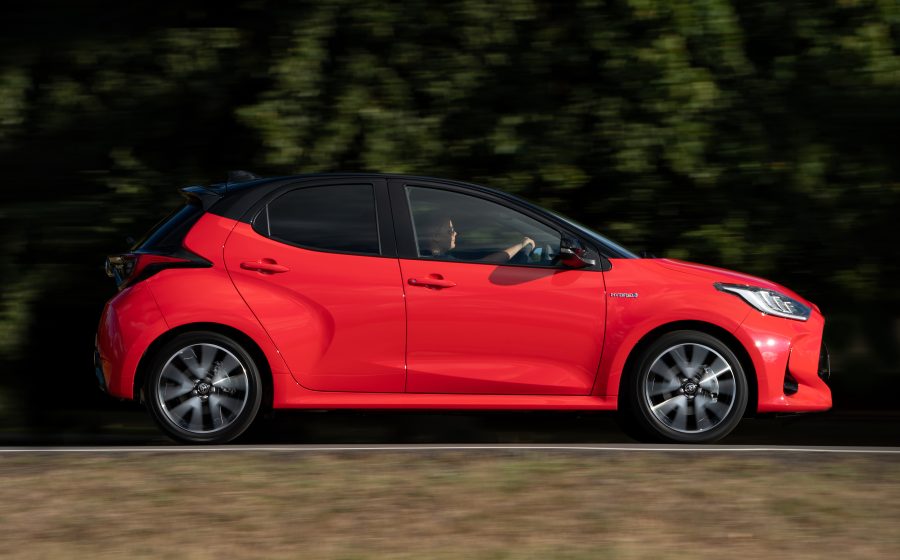 The miles-per-gallon rose sharply in every town centre
"Inside, the fascia is smart and functional, and it's good to see a half-decent infotainment system, with the proper phone connectivity, mounted high on the dash where it's easy to use."
"When most manufacturers are only just releasing Now That's What I Call a Hybrid! 01, the latest Yaris debuts the Japanese brand's fourth compilation of a petrol-electric drive system.
"This new system is hugely economical. The outgoing Yaris Hybrid's WLTP mpg figure is 48.7 [and] the new Yaris will officially do up to 68.9. The beefier battery helps [it] operate in pure EV mode for around 80% of the time in typical urban journeys and can be driven up to 80mph before the petrol engine kicks into life – that's 55mph higher than the previous version. All in all, there's 16% more power yet a 20% reduction in CO2 emissions – a win-win.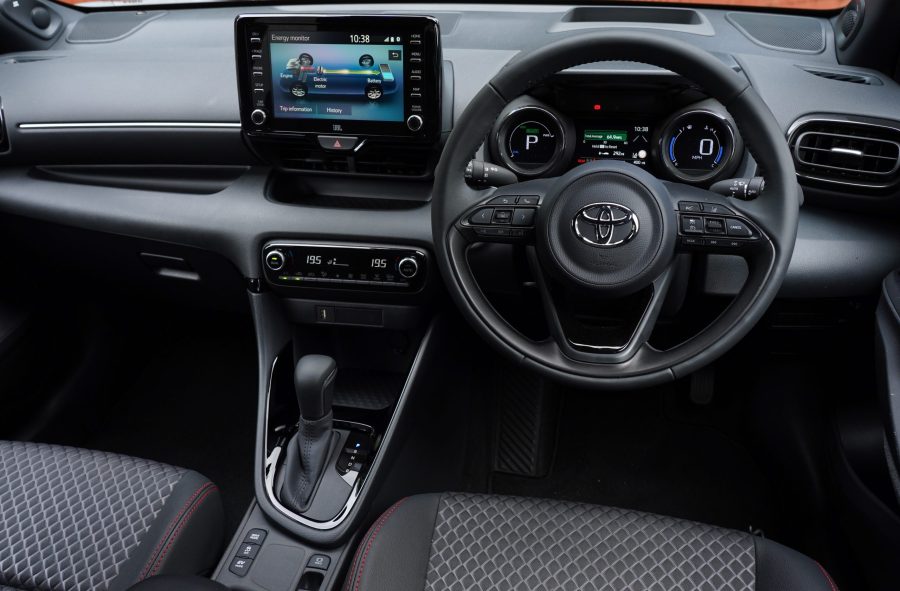 You'll have fun driving it around town
"If you already liked the Yaris, this is better than ever, except now you'll have fun driving it around town and not solely ride the feel-good factor of being a little more environmentally responsible."
"It's a good-looking thing, isn't it? The rear end and optional two-tone paint mean it's recognisably Toyota, and you'll spend most of your time behind the wheel looking at those swollen rear arches in the wing mirrors. Nice.
"The Yaris only weighs a little over a ton… [and] the hybrid assist means it'll sprint away from the lights. In terms of efficiency, it's mighty. A real-world 60mpg or above is completely achievable and the hybrid system is supremely well-integrated. In either of its normal or eco modes, the Yaris will silently switch to electric-only power whenever you come off the accelerator.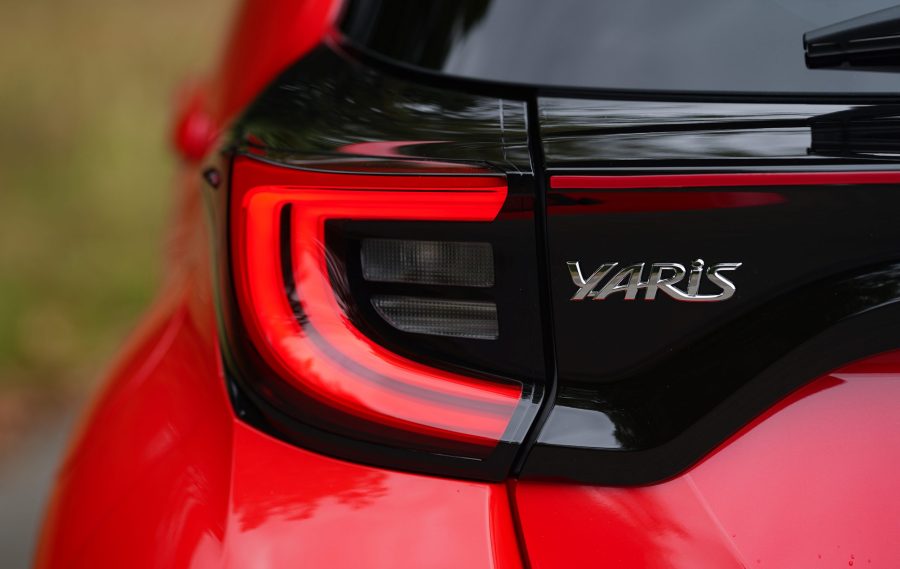 It's a good-looking thing, isn't it?
"It'll be safe too. Toyota is claiming it was "engineered to be the world's safest compact car". To justify that, whichever trim level you go for you'll get Toyota Safety Sense… [and] this is the first Toyota to be equipped with centre airbags. Clever."
"Toyota's electrified expertise is very much in evidence. A new platform underneath, a greater emphasis on sharp handling and bold new styling all add up to an appealing package which… should be entirely fuss-free to own and drive.
"The previous Yaris was already impressive in terms of its safety kit and this new one simply builds on that. Unlike many rivals, Toyota doesn't 'hide' safety tech on the options list and every new Yaris comes with Toyota Safety Sense.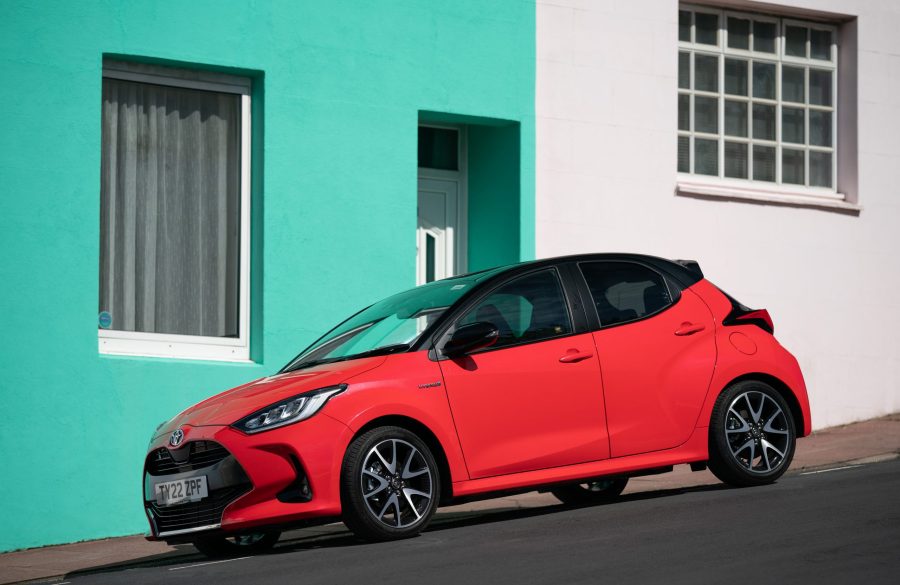 Toyota doesn't hide safety tech on the options list
"The benefit of [its] new proportions is felt in the handling, the car's lower and wider stance giving it a bigger 'footprint', meaning it feels more stable and more fun to drive. You can get a respectable distance at town speeds without firing up the petrol engine. And on bigger roads with both petrol and electric power combined the Yaris has a respectable turn of speed."
"Toyota's new approach has created a car that is good-looking – contemporary and ahead of the game. The new construction is stiffer than before and that has helped on the handling front while noise levels are nicely suppressed.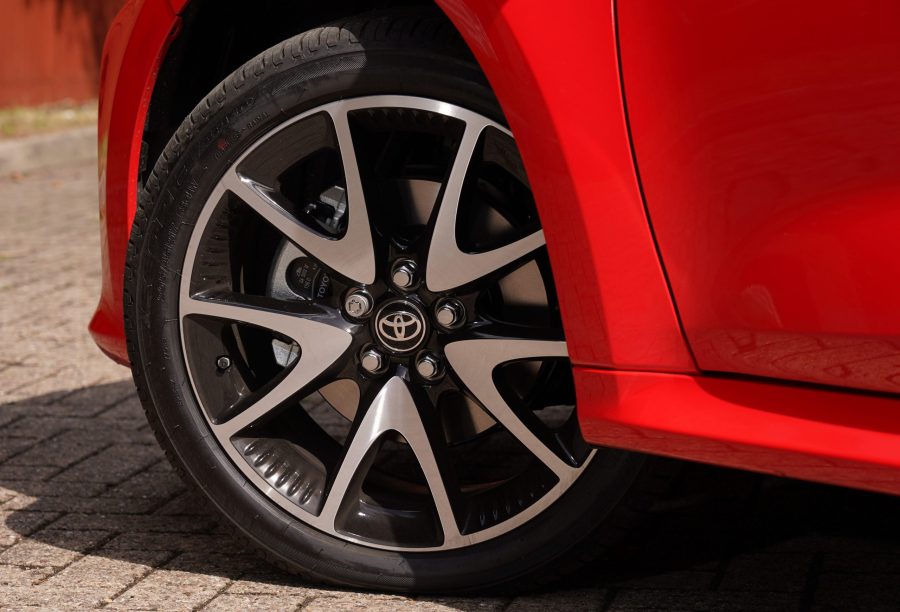 It is contemporary and ahead of the game
"Safety is a strong point and the Yaris marks the introduction of some new features including a device to prevent impacts when turning at a junction. The new Yaris has moved on… and it is genuinely a little model with big car features."
"To drive, it's leaps and bounds better than its worthy predecessor. It's appreciably more responsive. Handling is more stable and it shows greater maturity over bumps. Better than that, it's able to go head-to-head with the sector leaders, with the ace card of its excellent hybrid tech up its sleeve.
"The interior is interesting, with great attention to detail. It perfectly complements the exterior, with its distinctive nose, bulging arches and sporty rear infused with WRC attitude.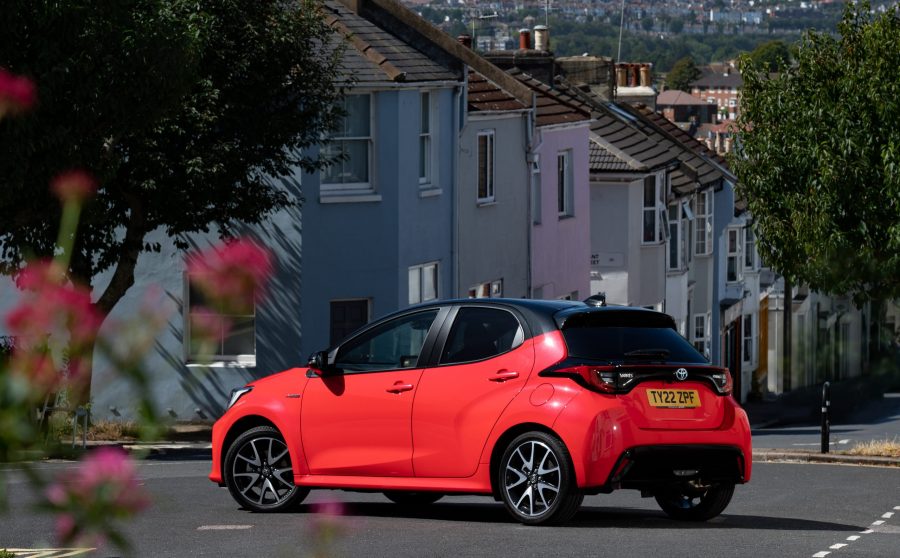 Switching between pure electric and engine-on is seamless
"Chances are, you'll start off in electric mode. The engine kicks in a little later – but now with a deep three-cylinder throb. It sounds much nicer and more refined. Switching between pure electric and engine-on is seamless… And the combination of more powerful motors and battery gives an instant extra boost when you press the accelerator. Also amazing was how, on level roads at 70mph, it could even run in pure EV mode, engine fully off. Seriously impressive."
The Scotsman
"There's no question this is the best-handling, most fun-to-drive mainstream Yaris. In town it's a hoot. The beefier battery helps the Yaris operate in pure EV mode for around 80% of the time in typical urban journeys.
"The CVT automatic gearbox… [is] now one of the best. Gone are any thoughts of elastic bands; this version is a huge step up. Combined with the impressive torque levels and stiffer chassis, the Yaris is an agile little beast you can dart around with and have some fun.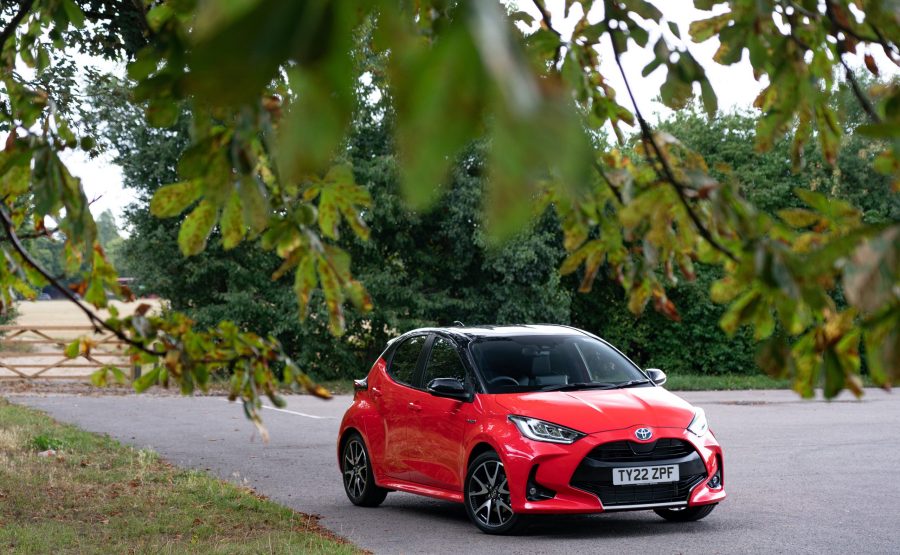 This is the best-handling, most fun-to-drive Yaris
"But this is what will make you sit up: the new Yaris will officially do up to 68.9mpg, based on the more demanding and realistic WLTP test. And without trying, on my two-hour drive I achieved 63mpg."
Toyota Yaris review videos
Toyota Yaris review:Carwow
Toyota Yaris review:CarBuyer
Toyota Yaris review:Cargurus