A five-year-old has scooped a trip of a lifetime to Japan after being chosen as one of the 30 finalists of the Toyota Dream Car Art Contest.
Luo-Tong Sim, from Buckinghamshire, won the under 8s category in the UK competition back in February with her Balloon Car entry. This is a light, solar-powered balloon-like car that is accident-proof and pollution-free. It is made from recycled materials and can be folded into a bag.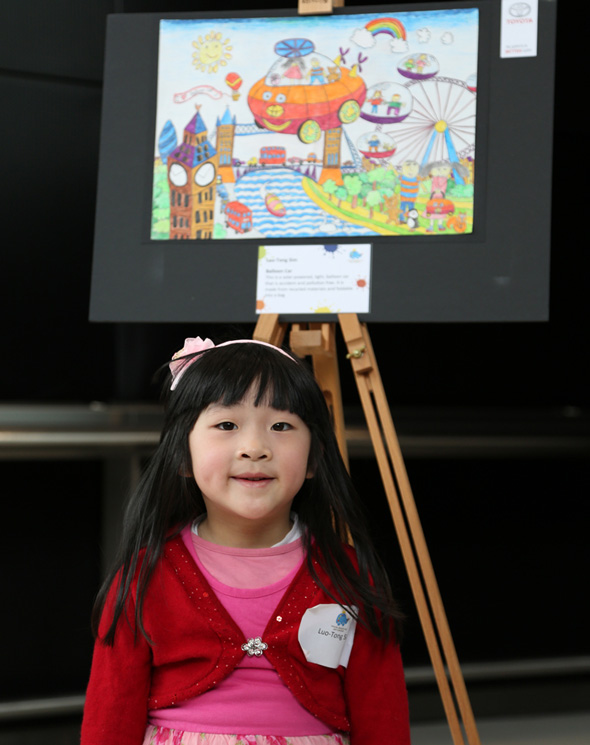 Luo-Tong Sim and her winning Toyota Dream Car entry
The UK Awards ceremony took place in February at Toyota GB HQ in Burgh Heath, Surrey, where the finalists were invited with their families to the prize giving. The top three winning artworks in each age category (Under 8s, 8-11 yrs and 12-15 years) were then entered into the Dream Car World Contest. There have been more than 660,000 entries from around 80 countries all over the world.
We are pleased to announce that Luo-Tong Sim has been chosen as one of 30 finalists from around the world. She and her family are off to the Award Ceremony in Japan, between 25th and 29th August.
We congratulate Luo-Tong on her amazing achievement and wish her the best of luck in the world contest!
See also:
Toyota Dream Car Art Contest 2014 winners announced
Dream Car Art Contest – 2014
By Iain Reid