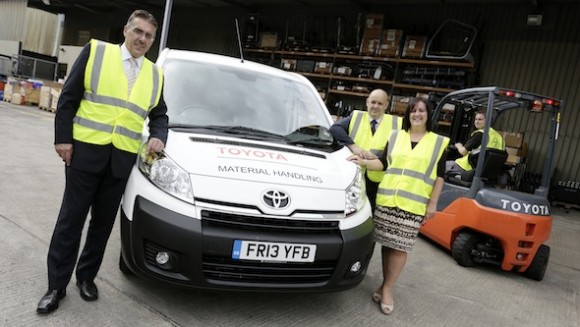 Toyota Material Handling UK (TMHUK) has made the new Toyota Proace its medium-duty van of choice. TMHUK, who provide national sales and servicing for Toyota forklift trucks and warehouse equipment, have signed an initial contract with Toyota Fleet Services – who will supply 116 vehicles to TMHUK.
The Proace's blend of functionality and low ownership costs found favour with TMHUK, who have ordered exclusively long wheelbase, standard height models – powered by a 126bhp 20-litre diesel engine. The vans will form part of a four-hundred strong fleet of light commercial vehicles (LCVs), and will be used by TMHUK engineers for a variety of operations – including national servicing and repairs.
Launched as a replacement for the Hiace earlier this year, the Proace range comprises a choice of nine different configurations – including two vehicle lengths, two height options, payloads of one or 1.2 tonnes and a choice of three diesel engines. The vans supplied to TMHUK have been fitted with racking by specialist supplier Bott inside the cavernous 6m3 loadspace.
TMHUK's workforce are well catered for in the cabin – equipment includes air conditioning, Bluetooth, electric windows, driver's seat height adjustment and reach and rake adjustment for the steering wheel. Safety and security are taken care of through the fitment of ABS with emergency brake assist, VSC stability control and driver and front passenger airbags.
Speaking of the acquisition, Phill Bird, After Sales Director for Toyota Material Handling UK said. "After a rigorous process of testing the Toyota Proace ticked all the boxes for comfort, efficiency and effectiveness for our field technicians. Their vehicles are more than just a van, they have to provide a spacious environment providing parts storage and a mobile workshop to deliver our trademark of world class support and the Proace provides both with comfort and style to match."