The history of the Toyota Avensis isn't as straightforward as you might imagine. When the Avensis arrived in October 1997, it had the unenviable task of replacing the much-loved, British-built Carina E. Building on the solid reputation carved out by the Carina over more than a quarter-century, the new Avensis was designed to bring greater levels of refinement and maturity to Toyota's mid-range European line-up.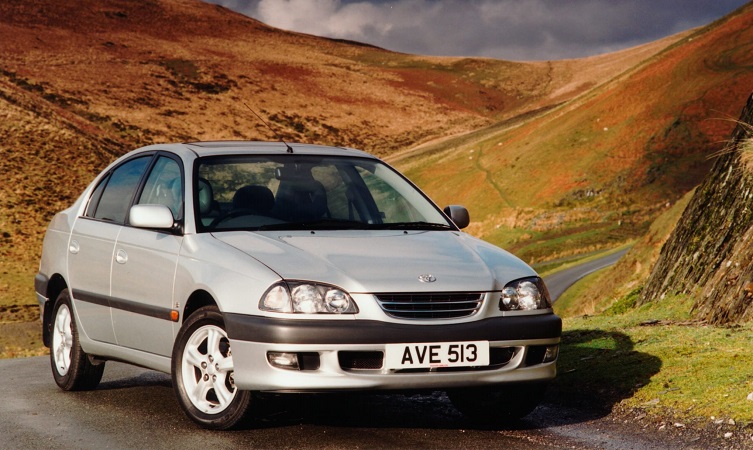 It also marked the start of a new naming strategy that adopted an 'is' suffix across core models. Two years later, the all-new Yaris replaced the Starlet, while Auris eventually replaced the long-standing Corolla badge in 2007.
History of Avensis – 1997 to 2000
Prior to the launch of the first-generation Avensis, market research suggested that product differentiation between Corolla and Carina E was uncertain. So while the new eighth-generation Corolla was given a distinctive 'insect eye' facial treatment, the Avensis retained a more evolutionary approach. This was a calculated move as the Carina E was Toyota's top-selling model, and there was no desire to alienate its traditional and very loyal audience.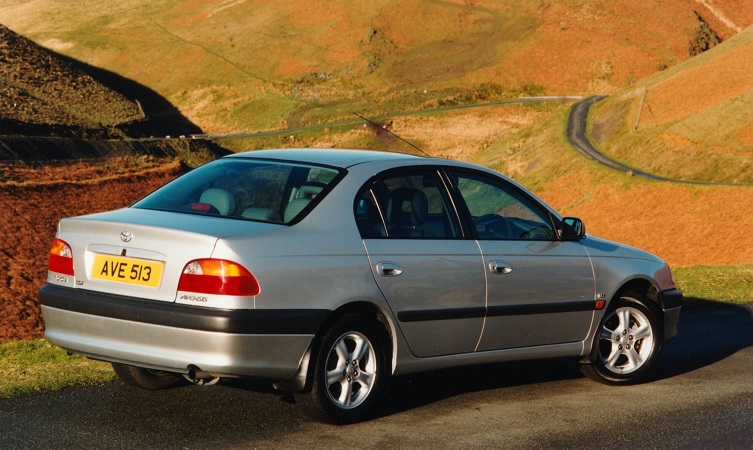 Theoretical development of the new Avensis began in June 1993 when the chief engineer set out on a fact-finding tour of six European countries that laid the groundwork for engineering and design objectives. By November that year, nine design ideas were advanced for further development, of which the most promising two were rendered as full-scale clay models.
Discussions between the Japanese and European design teams led to a number of revisions, which culminated in the selection of a clean, elegant saloon with a cab-forward shape. The design was then applied to the liftback (below) and estate models.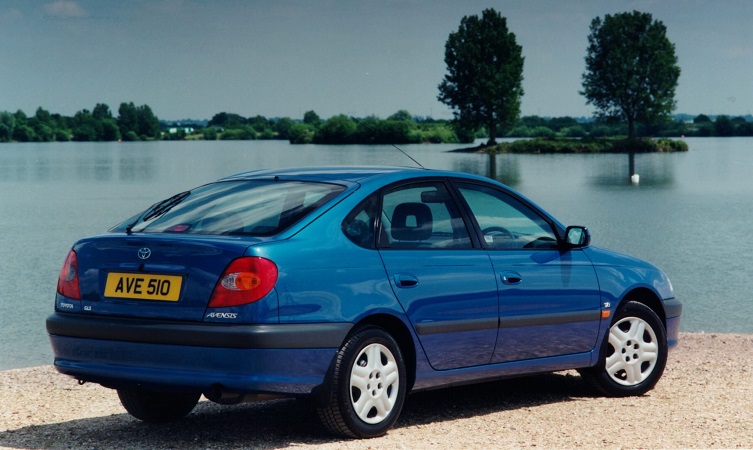 While the exterior design was primarily led by Japan, Toyota's European design studio took charge of the interior. Colours and materials were tuned to European tastes and prevailing trends, although a special 'Stone Panel' element within the centre console offered a nod to Japanese lacquer ware. The structure of the seats was another task given entirely to European technicians.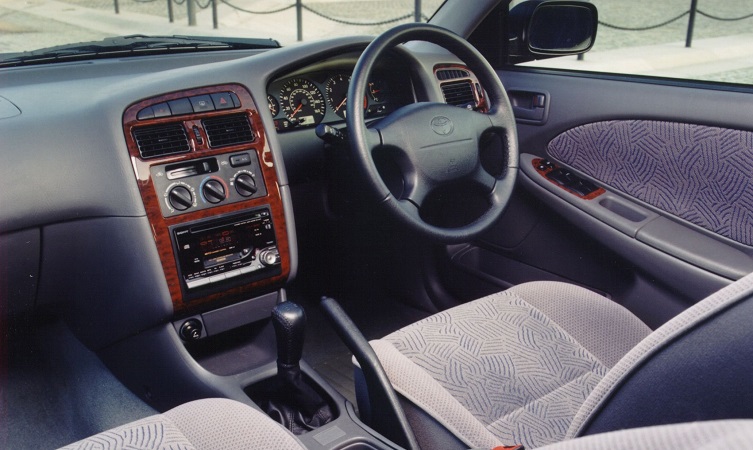 Compared to the outgoing Carina E, the engineering team was offered twice as much time to localise the character and dynamic qualities of the Avensis. Adhering to the development team's buzz phrase of handling with ride, numerous mechanisms were implemented to improve responsiveness, steering feel, rigidity and stability.
Meanwhile, rather than being hard-mounted to the body, the front and rear sub-frames were now sat on rubber bushes to better isolate occupants from road noise. Thanks to these and many other commitments to the driver, the pleasure was enhanced and the Avensis became more than simply a device to get from A to B.
On its introduction, Avensis was powered by the same range of four-cylinder engines as Carina E (1.6-, 1.8- and 2.0-litre petrol and 2.0-litre diesel) albeit refined and remapped to offer more urge at low to medium engine speeds. Together with drive-by-wire throttle management, low rolling resistance tyres and more slippery aerodynamics, Avensis was around three per cent more fuel-efficient in real-world driving conditions. A five-speed manual gearbox was standard on all models, though a four-speed automatic transmission could be specified on 1.8- and 2.0-litre petrol engines.
The UK range retained the familiar and straightforward grade structure, beginning with the base S model and followed by GS, GLS and CDX.
History of Avensis – 2000 to 2003
In August 2000 the first-generation Avensis was extensively refreshed to help retain its position as Toyota's UK-built best-seller. Externally, the differences were relatively minor, including jewel-effect headlamps, two-tone rear combination lamps and the relocation of the front Toyota logo within a new, slatted grille.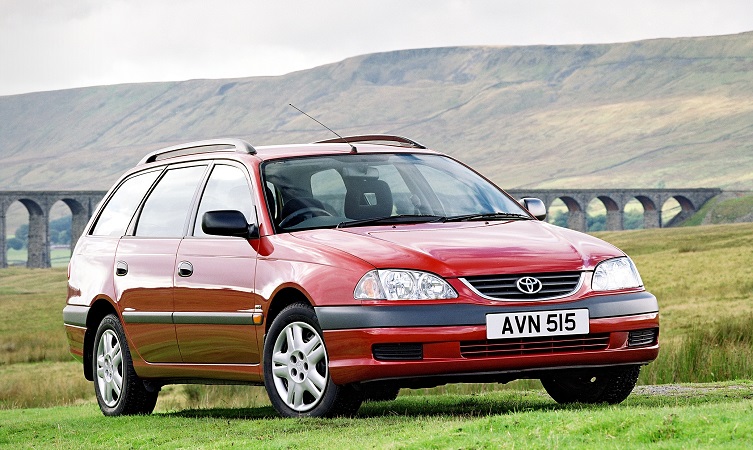 Meanwhile, the interior featured higher quality materials, redesigned heating and ventilation controls, and an audio system integrated into the centre console. Audio and vehicle information could now be shown on the system's multi-functional display, with higher-grade models also being equipped with remote audio control switches on the steering wheel. All regular editions except the base S were equipped with air conditioning and satellite navigation – the latter feature being unique in the class.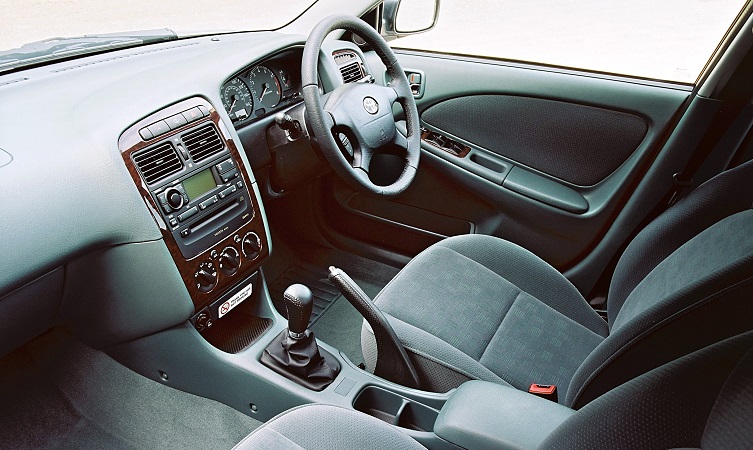 Of greater significance for this refreshed model was the introduction of an entirely new range of powerplants. This consisted of three new Variable Valve Timing-intelligent (VVT-i) petrol engines – 1.6-, 1.8- and a direct-injection 2.0-litre – and the first European application of Toyota's new all-alloy D-4D common-rail direct-injection diesel engine. All units offered more power, lower fuel consumption and cleaner emissions.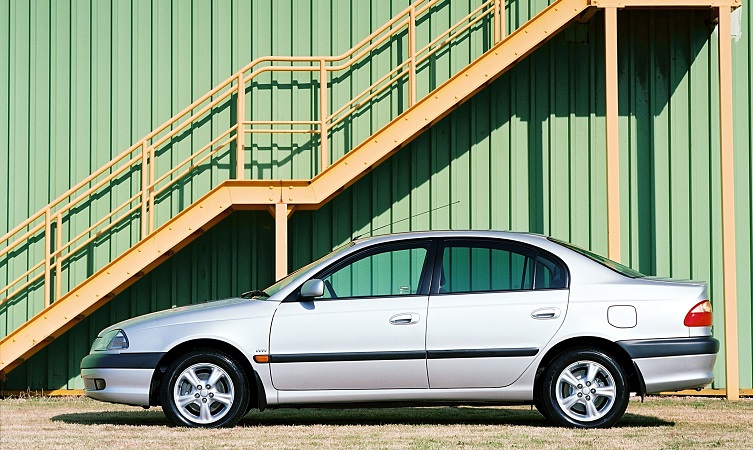 In August 2001 the Avensis range was expanded to include a fourth derivative – the Avensis Verso. It followed Yaris Verso as the second model in Toyota's MPV sub-brand in Europe. Although this vehicle wore the Avensis name, it was known in other markets as the Toyota Ipsum and shared only the 2.0-litre petrol and diesel engines with its namesake.
History of Avensis – 2003 to 2006
Having sold more than 450,000 units in Europe, Toyota aimed to raise the stakes with its new locally designed, developed and engineered flagship model, the second-generation Avensis. It was felt that by delivering superior quality in every aspect of the car's engineering its emotional appeal would be improved, and when this was combined with Toyota's traditional rationality a truly great product would be created.
The arrival of the second-generation Avensis completed the renewal cycle of Toyota's core products, which started with Yaris and Corolla. It was also notable for being the first Toyota model to be exported to Japan.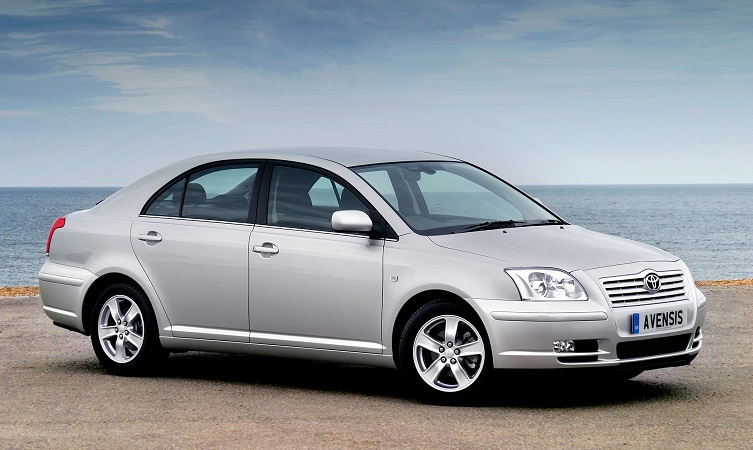 Produced exclusively by Toyota Manufacturing UK at Burnaston, Derbyshire, the Avensis was not just one new car; it was three. Saloon, hatchback and Tourer (estate) body styles were all available from the March 2003 launch. Five new specification grades were devised – T2, T3-S, T3-X, T4 and T Spirit – and a choice of engines that was the first of its kind to be compliant with forthcoming Euro IV emissions regulations.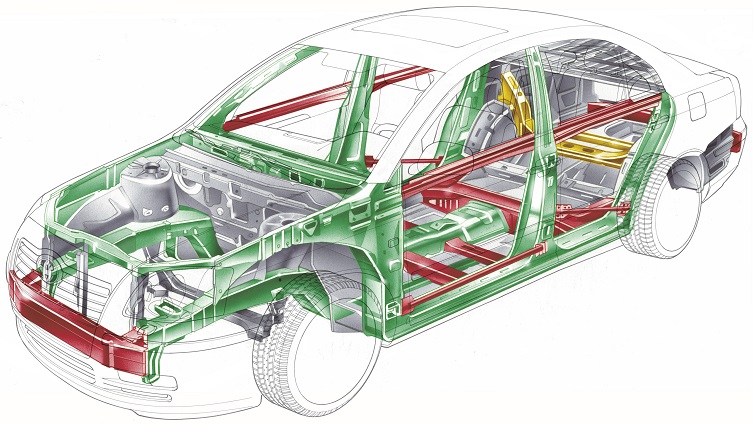 Safety was a fundamental priority during development. This was evidenced by the nine SRS airbags – including Europe's first standard-fit driver's knee airbag – offered across the range, an exceptionally strong Minimal Intrusion Cabin System body (see image above), and the availability of a full suite of active safety aids. The combination of these features helped Avensis set a new record score for adult occupant protection in Euro NCAP crash testing.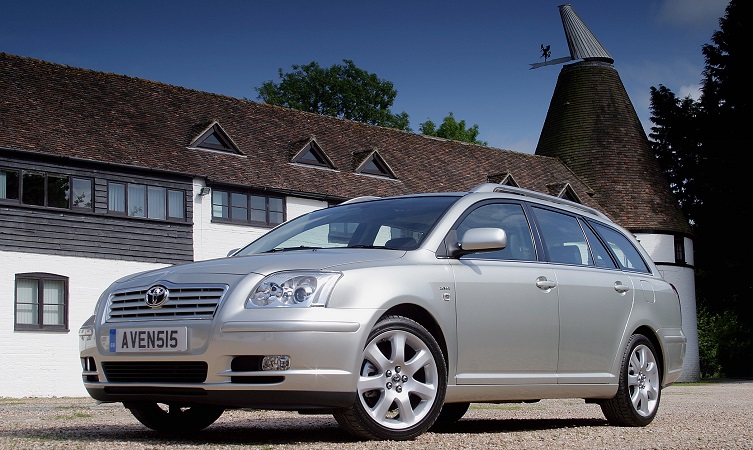 Central to the handling character of the Avensis was the combination of new MacPherson strut front suspension and a double wishbone-type rear suspension derived from the dynamically acclaimed seventh-generation Celica. The compact dimensions of the new rear suspension also allowed for a bigger, flatter luggage space, which in turn allowed the car to be shorter than some of its D-segment contemporaries while being larger and more roomy than the previous model.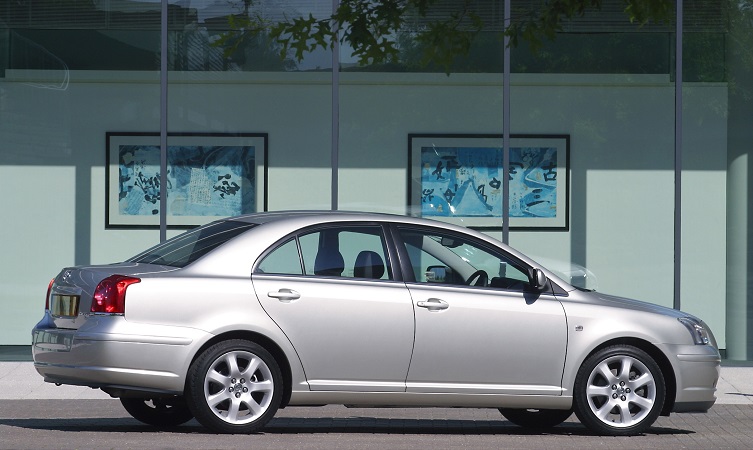 Driving pleasure was also provided by unrivalled engine technology. Initially available with either a 1.8-litre VVT-i or 2.0-litre direct-injection petrol engine, greater choice appeared in May 2003 with the arrival of the familiar 2.0-litre D-4D diesel engine, this time enhanced with a variable nozzle turbocharger.
Further options outside of the core range arrived in January 2004, consisting of a 2.4-litre VVT-i petrol engine and new, more powerful 2.0-litre D-CAT engine. The latter was lauded as the world's cleanest diesel for its ability to capture harmful emissions and particulates within its four-way catalyst.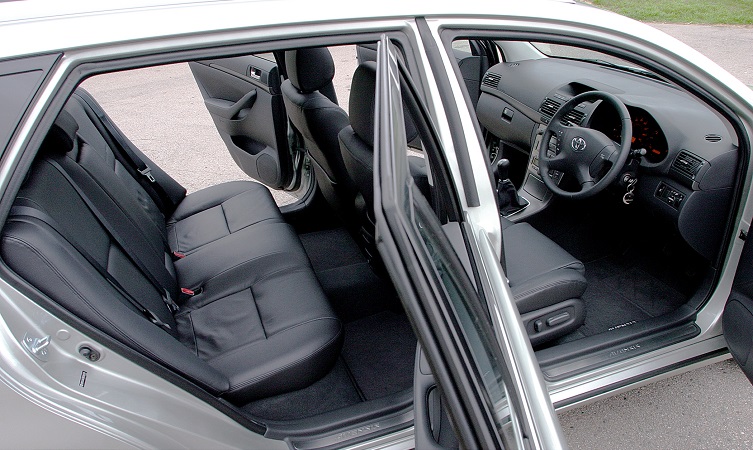 Most models came with a five-speed manual gearbox. However, petrol versions were available with a new automatic transmission that gave the driver the option to take manual control of the gears, effecting sequential shifts via gentle prods of the gear lever.
Quality was engineered into the car through attention to four human senses. This was achieved in many ways, from the fit and finish of the interior trim to the reassuring sound of the doors opening and closing. Even changing the type of polyurethane of the dashboard created a more neutral and inviting smell.
Equally, noise reduction was one of the major considerations in achieving the model's high level of refinement. Engine and road noise was suppressed by extensive application of vibration damping measures and a new sound deadening material that was half the weight of that used previously.
Although the time for a model revision was looming on the horizon, in July 2005 Toyota made the decision to begin staggering the introduction of two new diesel engines and strengthen the model's position within the popular D segment. The first to arrive was a 148bhp 2.0-litre D-4D, while a more powerful 175bhp 2.2-litre version with D-CAT technology became available from early 2006 so that Avensis now covered 99% of the sector in terms of power range. Both diesels were matched to a new, more compact six-speed manual transmission.
History of Avensis – 2006 to 2008
A mid-life revision arrived in July 2006, providing these two recently introduced diesel engines with the newer packaging they deserved. The three diesel options were now primarily identified by a numerical power indication – 130, 150 or 180 – while the existing 1.8- and 2.0-litre VVT-i petrol engines were carried over.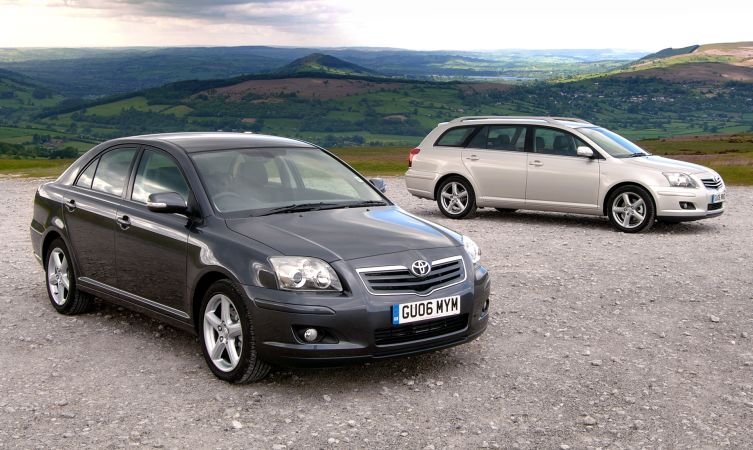 Styling enhancements included a gently refreshed front end and new rear lenses, while the side repeaters were now integrated into the door mirrors. In the cabin, quality was improved with new upholstery and dashboard trim inserts. Small but rewarding adjustments were also made to the suspension and steering system to achieve noticeable improvements in ride and handling quality. A few months later, touchscreen satellite navigation was provided as standard on all models from T3-S upwards.
History of Avensis – 2009 to 2011
The new, third-generation Avensis made its world debut as the centrepiece of Toyota's stand at the Paris motor show in October 2008. Again designed in Europe and built in Britain, it raised the bar for style, performance, economy and emissions with the aim of tempting both private and company car drivers.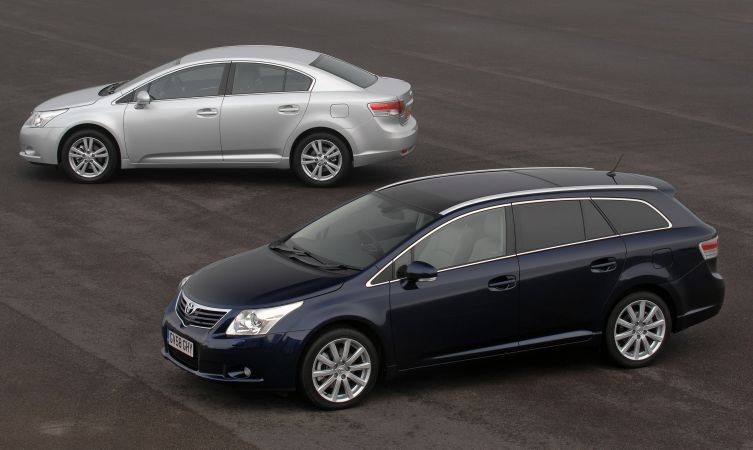 As such, the engine line-up was particularly strong and presented a very cost-effective case for buyers. A new suite of Toyota Optimal Drive technologies had been developed to balance driving pleasure with strong environmental performance and reduced running costs.
Ultimately, this led to the introduction of three all-new Valvematic petrol engines (1.6-, 1.8- and 2.0-litre), the highlight of which was the addition of variable lift across the inlet valves, as well as revised 2.0-litre D-4D and 2.2-litre D-CAT diesel units. Six-speed manual transmissions were now fitted as standard, though the petrol engines could be specified with Multidrive S continuously variable transmission. And for the first time on a Toyota diesel passenger car, a six-speed automatic was also available on the 2.2-litre D-CAT 150.
The third-generation Avensis went on sale in January 2009. In contrast to its predecessors, the robust, new, five-star safety-rated platform was exclusively produced in either saloon or estate body styles, with four familiar grades: T2, TR, T4 and T Spirit. All were generously equipped and featured a complement of active and passive safety systems, while certain models could also be specified with a high-tech Pre-Crash Safety pack – the first time such advanced preventive systems were available on a UK Toyota model.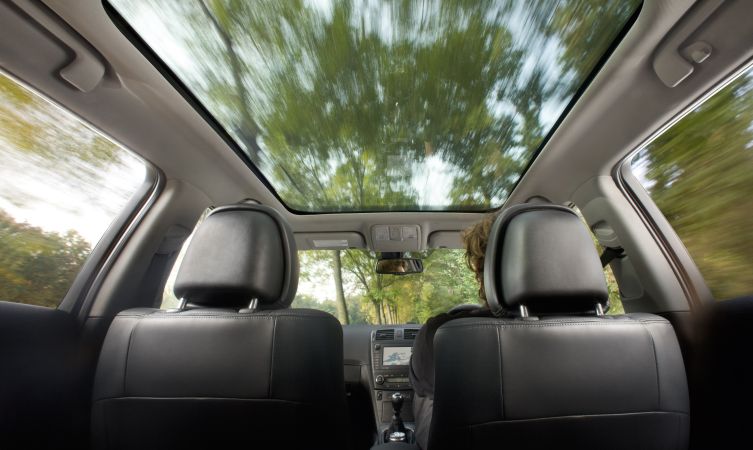 By the end of 2010, more than 1.8 million Avensis vehicles had been built, destined for sale in Europe and beyond, even as far as Japan. But in 2011 the model became more visible as it was launched into motorsport when Toyota returned to the BTCC under the Next Generation Touring Car regulations. Initially, two privateer teams committed to running the specially developed Avensis in the inaugural 2011 season, and the model continued to be a force to be reckoned with until it was replaced with Corolla in 2019.
History of Avensis – 2011 to 2015
The revised, third-generation Avensis was unveiled at the Frankfurt Motor Show in September 2011 and represented the largest mid-life investment Toyota had made for any model. Changes included tweaked exterior styling that followed Toyota's new design language, improved interior quality and strategic changes to the powertrains and driving dynamics. Production of this new model began in November 2011.
In particular, the top-selling 2.0-litre D-4D engine was extensively revised in order to dip under the 120g/km tax threshold set by almost a third of European countries, therefore attracting generous tax benefits for both private and fleet buyers. Meanwhile, the interior was boosted by Toyota's range of affordable, touchscreen multimedia systems, with the new flagship Touch and Go Plus making its world debut in the model.
A couple of years later and following the lead set by the Auris and Verso, the 2013 Avensis adopted Toyota's new grade structure, with Active, Icon, Icon Plus and Excel replacing the previous designations. Interestingly, although Avensis had traditionally appealed to private customers, the third-generation model had become increasingly popular with the fleet market. So by the time the Avensis was treated to its second mid-life revision, it was this sector that drove many of the changes.
History of Avensis – 2015 to 2018
By 2015, around 87% of all Avensis sales were to fleet and business customers, who in turn drove demand for greater sportiness and style, new engines and innovative technology. The latest Avensis was therefore designed to deliver significant improvements in those key areas and increase the model's businesslike appeal. This was particularly evident in the new grade structure: Active, Business Edition, Business Edition Plus, and Excel.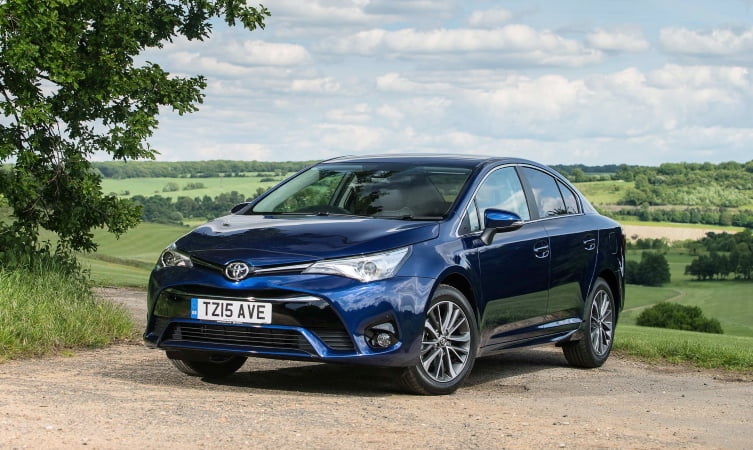 New exterior styling once again brought Avensis into line with the latest Toyota design language, including the adoption of LED lamp technology. Meanwhile, the cabin was all-new, with higher levels of quality and comfort and new colour-ways. Where safety was concerned, Avensis adopted the new Toyota Safety Sense package across the range, and as a result, became the third successive generation of Avensis to secure a five-star Euro NCAP safety rating.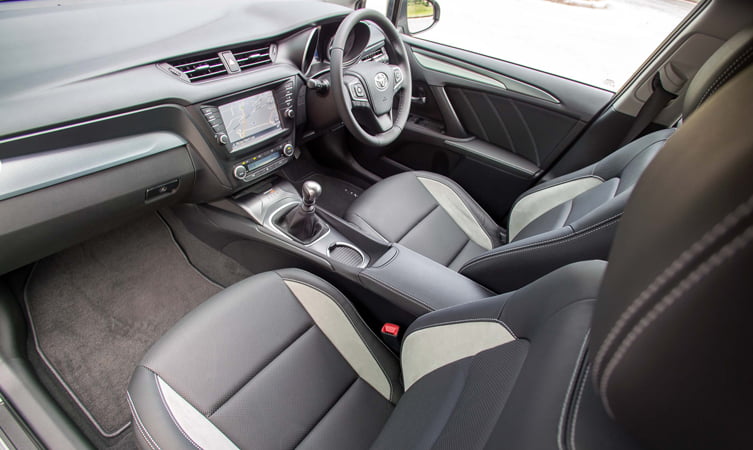 In terms of the tax-affecting engine line-up, the revisions here were more substantial. All petrol engines other than the 1.8-litre Valvematic were dropped in the UK. Two new Euro 6-compliant diesel engines were introduced, the first being a BMW-sourced 110bhp 1.6-litre D-4D unit that replaced the outgoing 2.0-litre D-4D 130. Working with a six-speed manual transmission, the smaller capacity engine was 20kg lighter and 8.0% more fuel-efficient, while emissions were reduced from 119 to 108g/km despite delivering greater urgency beyond 3,000rpm.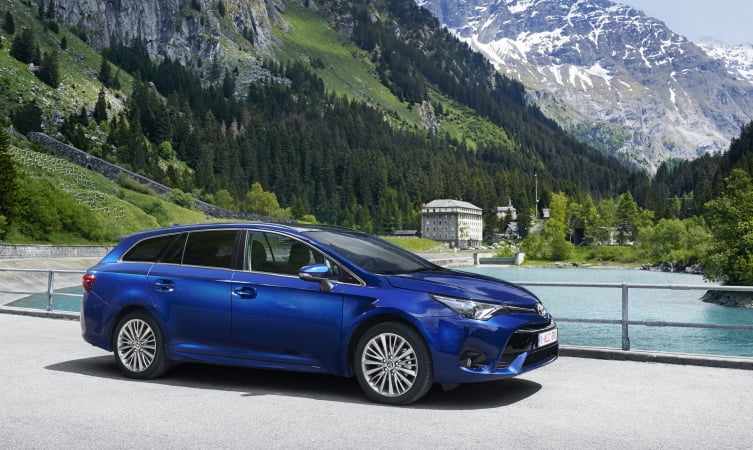 The second diesel engine was a new 141bhp 2.0-litre D-4D that replaced the outgoing 2.2-litre D-CAT 150. Though tuned for a stronger focus on performance, numerous developments meant it could still return well over 60mpg and produce 119g/km of CO2 emissions.
Unfortunately, however, the arrival of the 2015 Avensis came at a stormy time within the auto industry. Scandal had irreparably damaged diesel's reputation and the once-powerful D-segment was in slow decline. The model's most successful year in the UK was 2004, and by the conclusion of production in 2018, Avensis had accumulated 301,675 sales compared to 230,131 for its longer-lived Carina predecessor.