From one man's inspiration to one of the biggest and most respected businesses on the planet, this is a brief Toyota history from its foundations to the launch of the company's first domestically developed passenger car, the 1955 Toyopet Crown.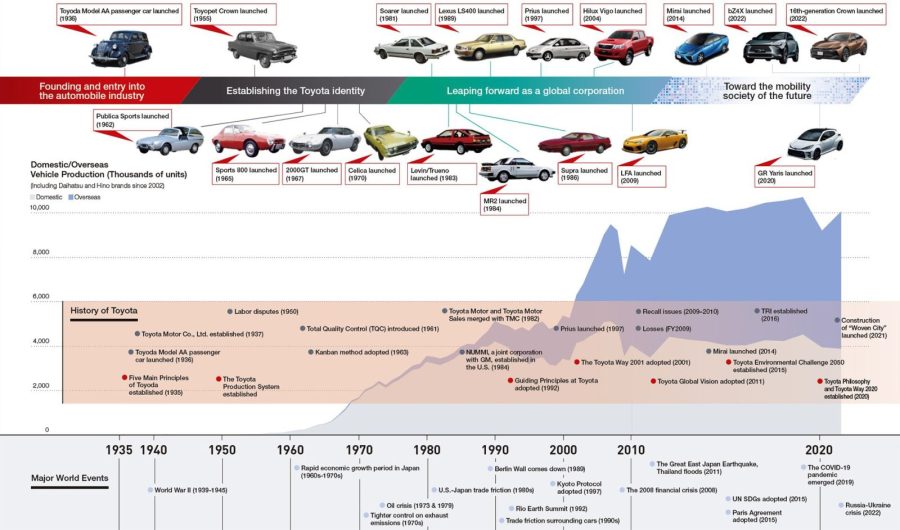 Toyota history: 1867-1937
Kiichiro Toyoda was the founder of what is now known as Toyota Motor Corporation. However, his inventiveness and business acumen was inherited from his father Sakichi Toyoda (1867-1930), who started his working life as a carpenter before finding international success in the production of Japan's first self-powered weaving looms for the textile industry.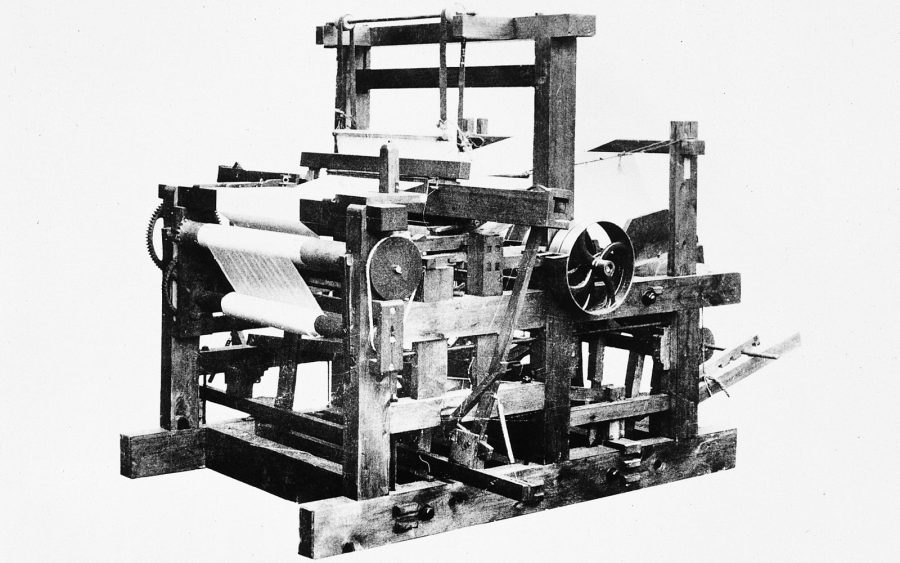 As a child, Kiichiro was fascinated by his father's weaving machines and through a combination of observation and physical interaction became fully conversant in their workings. He gravitated towards engineering courses through school and university, and made excellent contacts with academics and like-minded students whose later careers would prove to be invaluable in his next venture.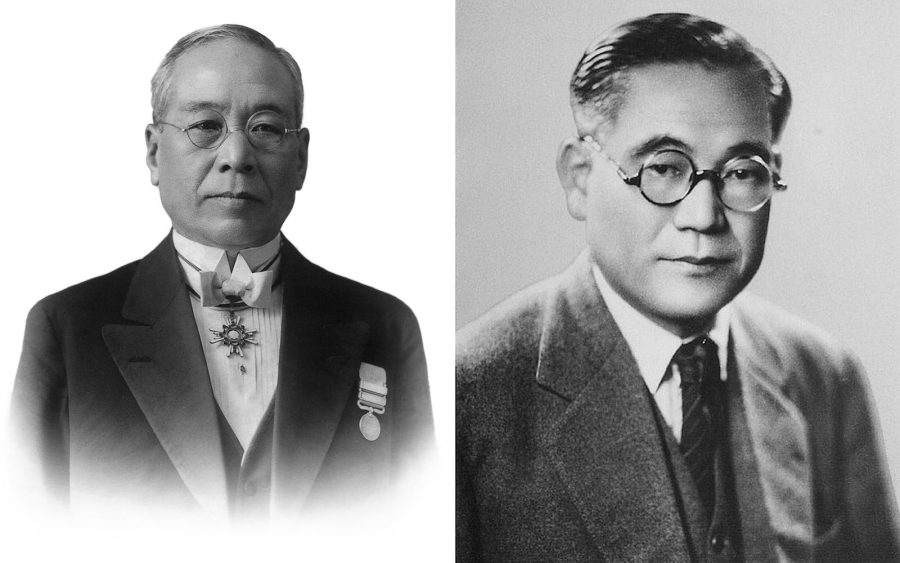 Following his graduation, Kiichiro worked for his father and was tasked with overseeing the research and development of looms with automatic shuttle changing mechanisms. In a little over 20 years since Sakichi began his quest to improve the efficiency of the weaving industry, the family had built a successful loom manufacturing business. Towards the latter end of that time frame, Kiichiro's further innovations finally made his father's dream of automated looms a reality. Full-scale production of Toyoda's new Type G automatic loom began in 1927, and capacity quickly rose from 300 to 1,000 units per month.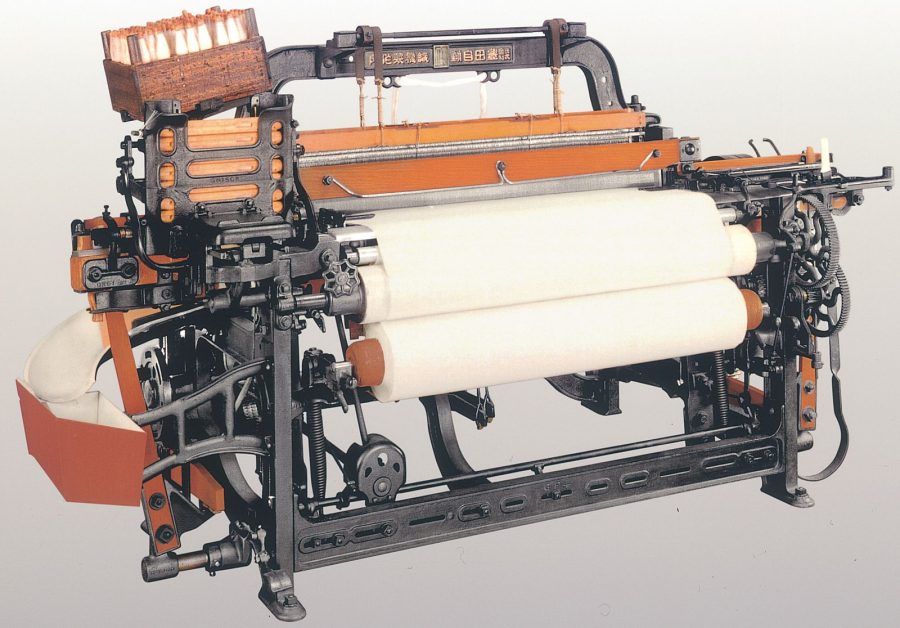 Toyoda's automatic looms were widely acclaimed for their ability to increase productivity. Indeed, the technology was sought by textile companies eager to recapture market positions that had been lost during World War I. The largest of these was British firm Platt Brothers of Oldham, which in 1929 agreed to pay £100,000 for the rights to use Toyoda's patented technology and therefore protect its key markets. Little was it appreciated at the time but Platt Brothers had unwittingly provided Kiichiro with the capital that helped provide the platform to fund his passion project – automobile manufacturing.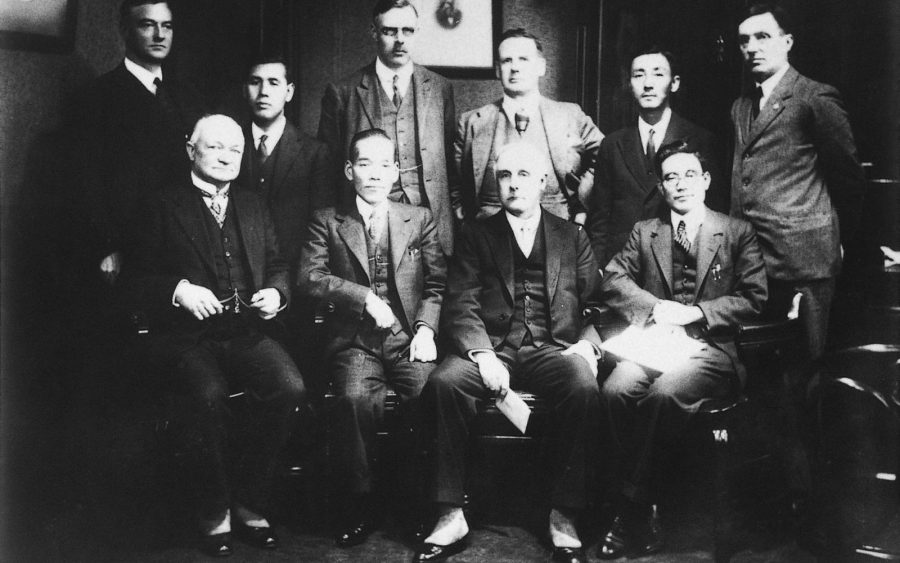 Evidently, Kiichiro had his finger on the pulse. His desire to diversify the Toyoda family's loom-making business coincided with the Japanese government presenting a plan to develop a domestic automotive industry. So in 1933, Kiichiro established an automotive division within Toyoda Automatic Loom Works and recruited a small but passionate team of engineers and industry experts to assist him in this venture.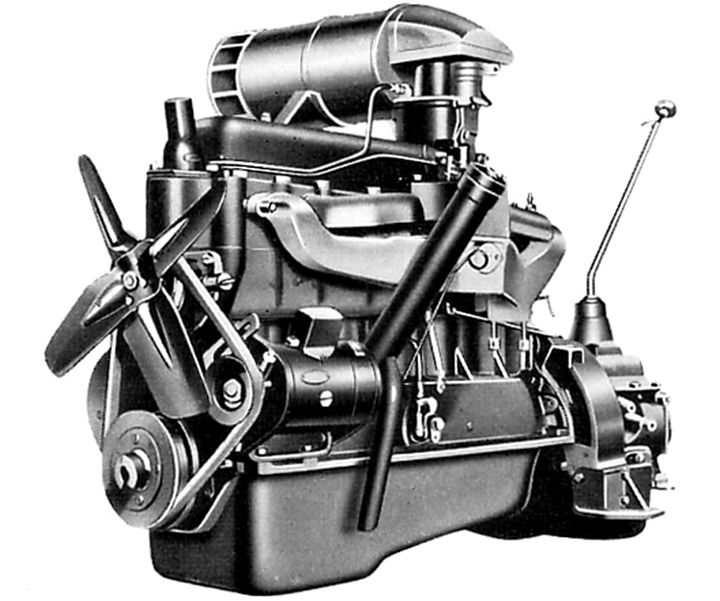 The team's first task was to create a new engine based around Chevrolet's contemporary 'Stovebolt' straight-six. While reverse-engineering this powerplant, Toyoda's team was able to create improvements in the cylinder head and intake manifold, which in turn produced more power. A similar approach was taken with the company's first prototype vehicle, the 1935 Toyoda Model A1, which was heavily influenced by the streamlined DeSoto Airflow.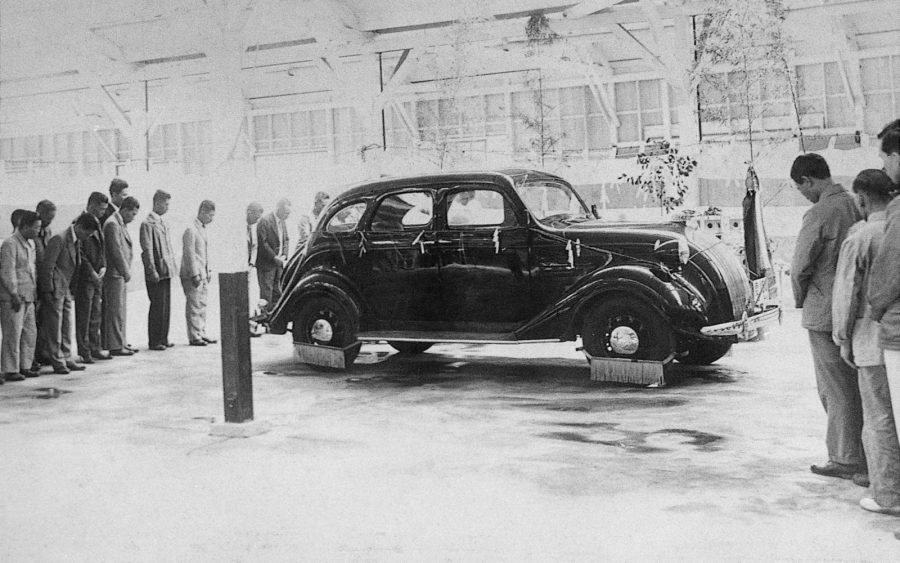 Toyoda's next prototype was the 1935 Toyoda Model G1 truck, which utilised the new Type A engine and a stretched version of the Model A1's ladder chassis but with an in-house designed body. This truck was historically significant for being the first Toyoda production vehicle, and the first to be exported to foreign markets. Its immediate profitability drove the development and later production of the Toyoda Model AA saloon and Model DA bus.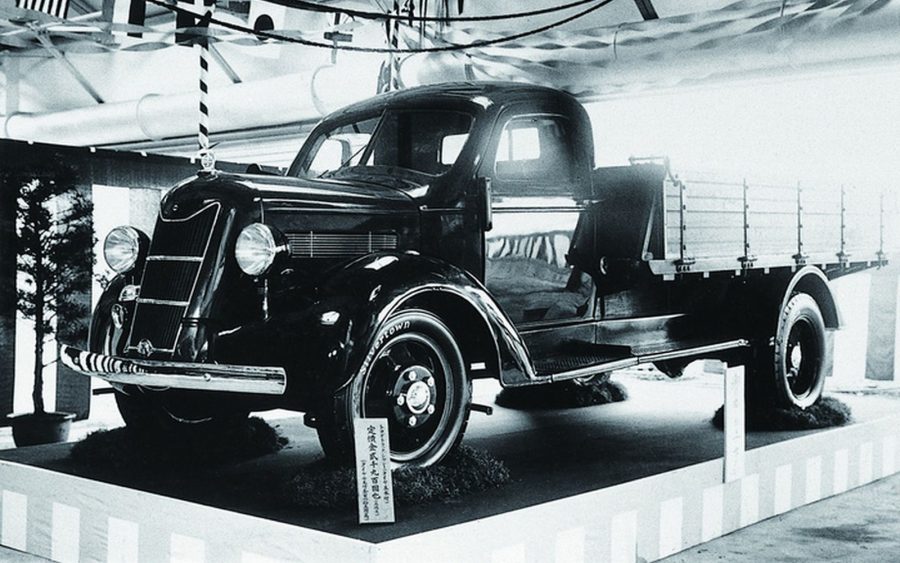 Toyota: 1937-1956
Assisted by the introduction of automotive manufacturing laws in 1936, Toyoda's new business was booming and had outgrown its position as an offshoot of its parent company. So in April 1937 the automobile department of Toyoda Automatic Loom Works was legally registered as the Toyota Motor Company Limited (now Toyota Motor Corporation), the subtle change of consonant within the founder's surname delivering an appealing eight-stroke signature and more balanced pronunciation.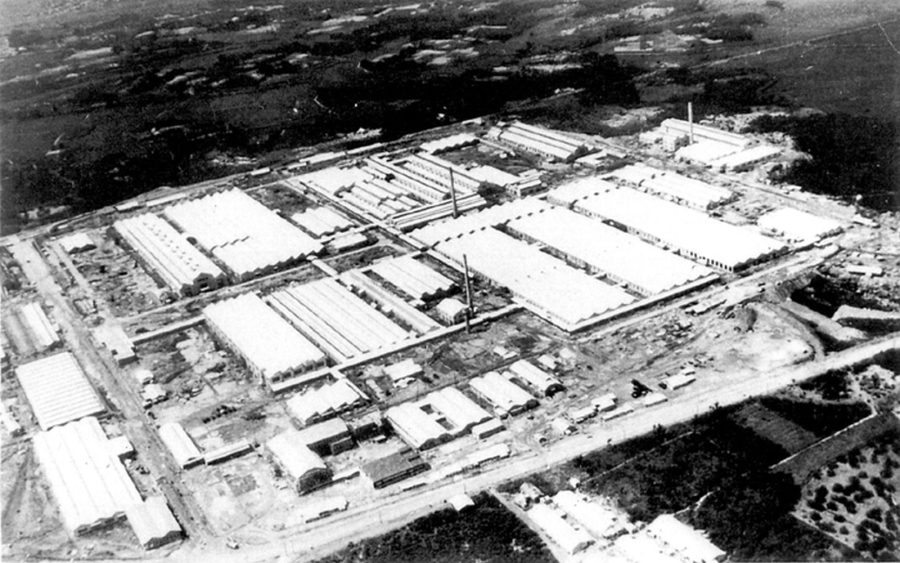 Operations at the Koromo Plant, the company's new dedicated production facility, began in November 1938 with a staff of 5,000 employees and a production capacity of 2,000 units per month. Although the layout and workflow was based on large-scale production facilities in the USA, Kiichiro streamlined the process with an innovative, just-in-time production system that provided the early foundation for today's Toyota Production System.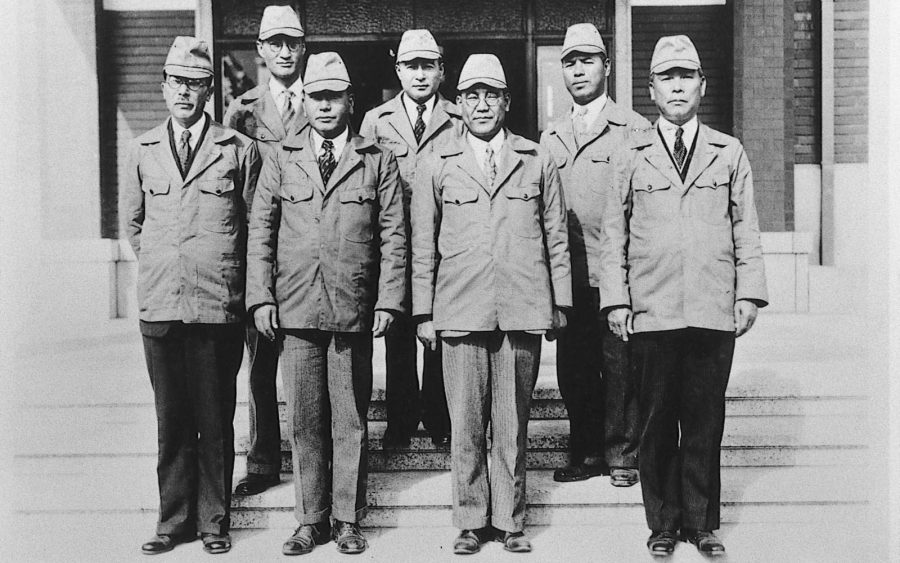 Japan's wartime economy suffered severe material shortages, which led to the government prohibiting passenger car production in the late 1930s. During this time of restrictions, the fledgling Toyota company focused on supplying cars and trucks for military use, although Kiichiro took on personal projects developing electric vehicle storage batteries, diesel engines and alternative fuel technologies.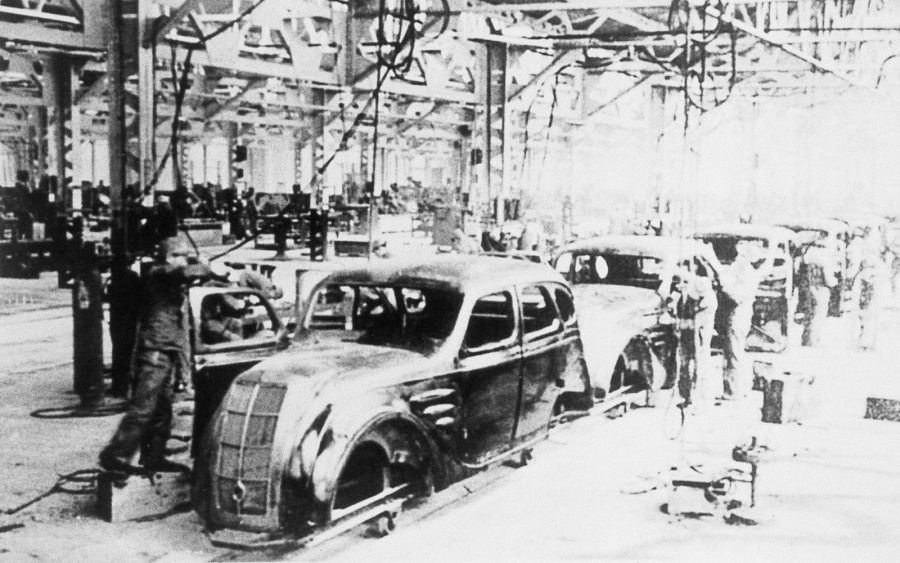 Just one day before the end of World War II, one quarter of Toyota's new Koromo Plant was damaged during an air raid. But that didn't stop Kiichiro resuming commercial vehicle production just three days later. Passenger car production was a little slower to get going again, primarily because restrictions limited numbers. Nevertheless, Toyota kept the wheels of industry turning by developing and producing 197 examples of the new, aerodynamically styled Model SA – the company's first small passenger car – in the five years between 1947 and 1952.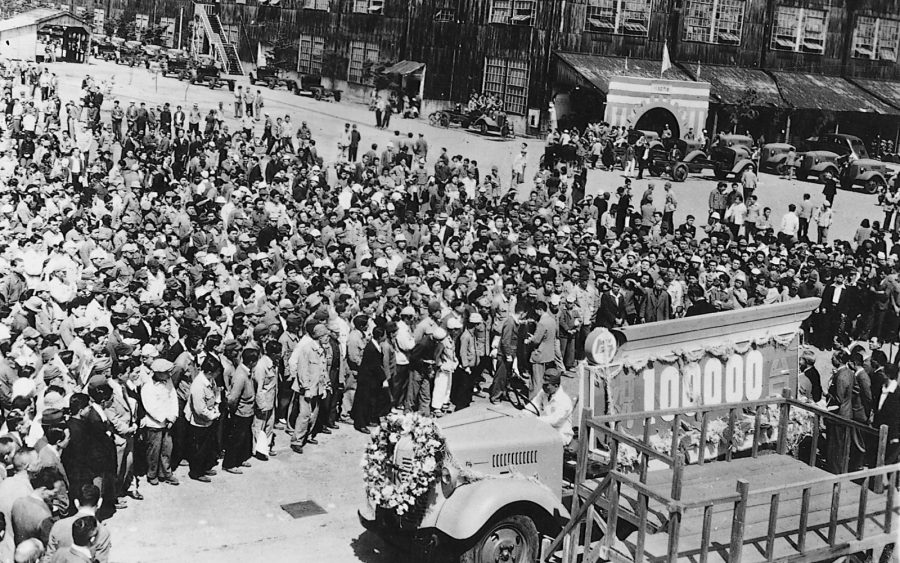 But Toyota's fortune was about to change. In 1951, Kiichiro instituted a five-year plan to modernise the company's production facilities, which saw a shift to automation that allowed one employee to operate multiple machines. This required considerable investment, the return on which could not be guaranteed with small-scale production.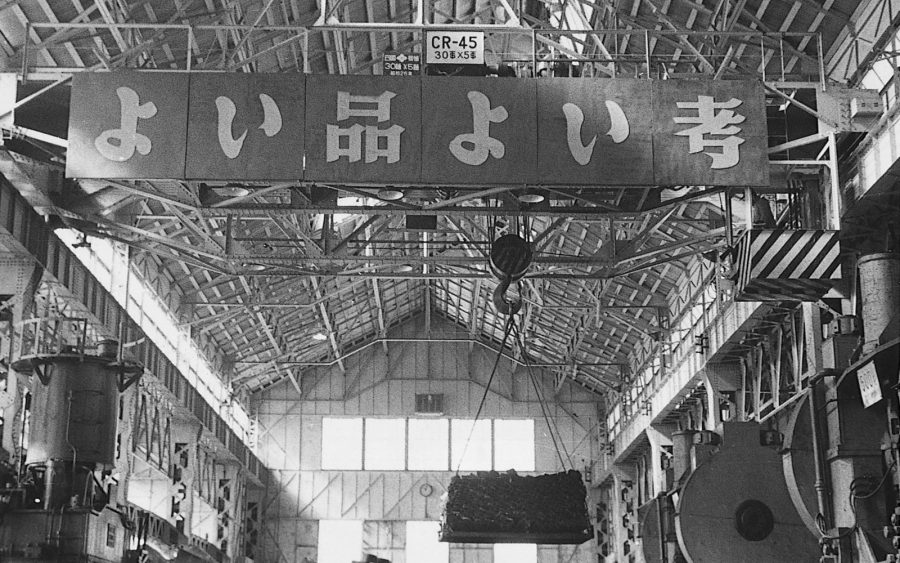 The establishment of Toyota's new and highly efficient automated production method – now adopted worldwide as the Toyota Production System – initially targeted a doubling of the company's existing capacity, which would take production from 1542 to 3,000 units per month. Yet by the end of 1956, Toyota was making some 5,000 vehicles each month. This rapid growth was spurred on by the sales and critical success of the 1955 Toyopet Crown, the first entirely Japanese-made passenger car, the first Japanese car to use independent front suspension, and the first Japanese car to be exported to the United States.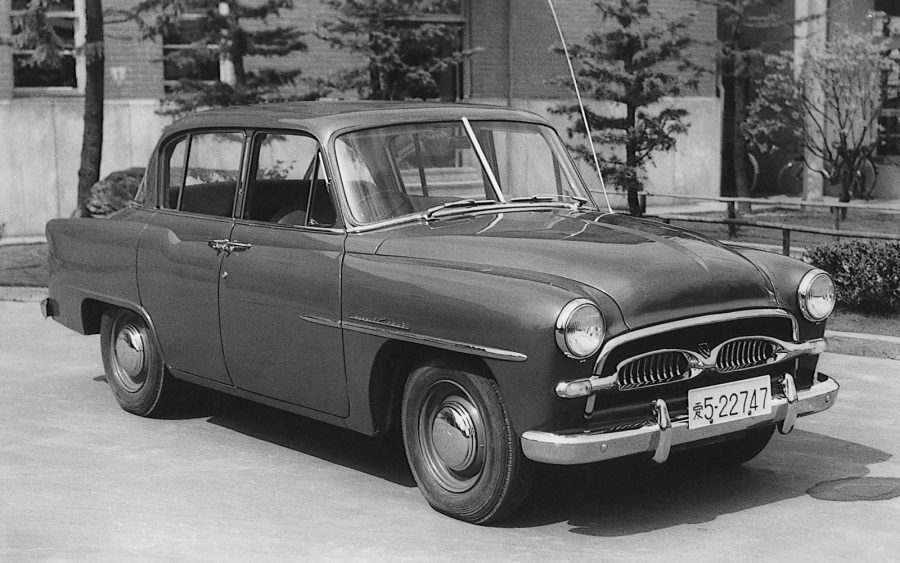 It was the fulfilment of Kiichiro Toyoda's dream to develop and build a domestically produced passenger car. Sadly, however, the founder and former president of Toyota Motor Corporation never lived to see that dream realised. Kiichiro died suddenly from a cerebral haemorrhage in March 1952, aged 57.
Learn more about Toyota history: History of the Toyota Crown