The Toyota Crown is widely regarded as a living legend. It is the longest-running model in Toyota's passenger car history, having been in continuous production since it was introduced in 1955. But the Crown was also notable for being the first passenger car to be developed and built entirely in Japan, serving as an inspiration to the entire Japanese car industry.
Toyota's All-Japanese Car Policy
The aftermath of World War II left the Japanese car industry facing total reconstruction. In an effort to re-establish the domestic passenger car industry and catch up with Western counterparts, some Japanese manufacturers entered into agreements to produce foreign-licensed designs. As examples of this, Isuzu formed an alliance with Hillman, Nissan did similarly with Austin, and Hino joined forces with Renault. But Toyota wanted to maintain its pre-war policy of self-reliance.
Toyota was convinced that by developing its own projects which incorporated technologies masterminded in-house it would have a head start over corporations copying the designs of others, no matter how good those designs might be.
Laying the Groundwork
The Toyota Crown was preceded by a number of post-war models dating back to the 1947 Toyota SA two-door saloon (below).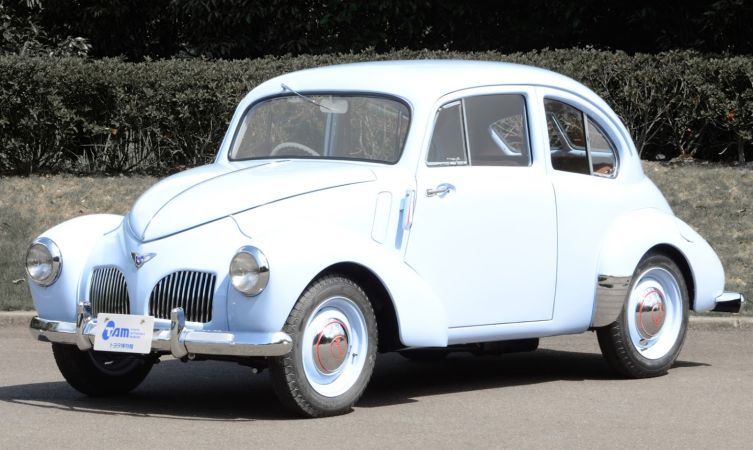 This was later stripped back to its ladder frame chassis to create the SB truck before being modified and redesigned once again to produce the related SC, SD and SF versions. Of these, only the four-door SF (1951-1953) saloon was ever produced in any number, primarily in response to high demand from taxi companies as private car ownership was still negligible in Japan in the early Fifties.
In September 1953, Toyota made a further step forward in saloon car manufacturing with the introduction of the SF's successor, the RH model (above). Visually identical to the outgoing car, this 'Super' model was powered by a bigger 1.5-litre R-series engine.
Toyota Crown: First generation (Jan 1955 – Sept 1962)
The first Toyota Crown rolled off the production line at the Koromo plant (now Honsha plant) on 1 January 1955. Its mechanicals were tailored to meet the prevailing needs and road conditions in Japan, while the curvaceous shape and rear-hinged rear doors echoed the styling cues of company's first car, the Toyota AA.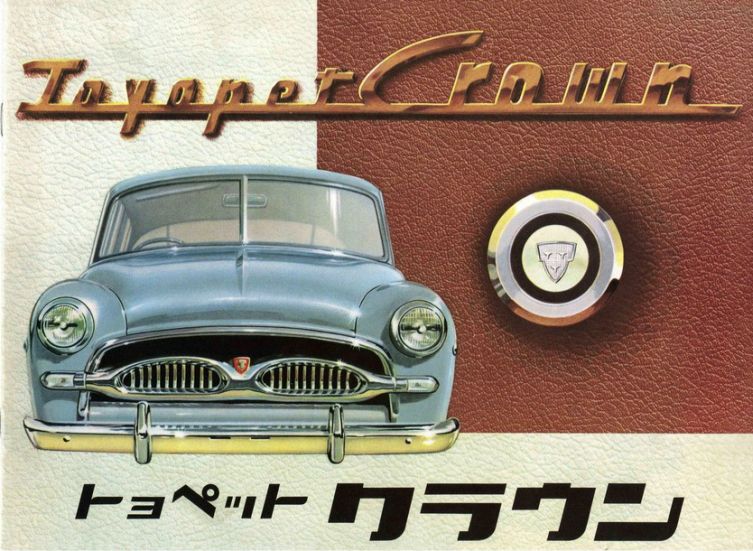 Under the bonnet was the proven 1.5-litre 48bhp R-series engine and a three-speed manual transmission linked to a column shift mechanism. Drive was transferred to the rear wheels via a hypoid-gear differential, while the brakes and clutch were both operated hydraulically. Inside the car were bench seats front and rear, which could accommodate a total of six passengers.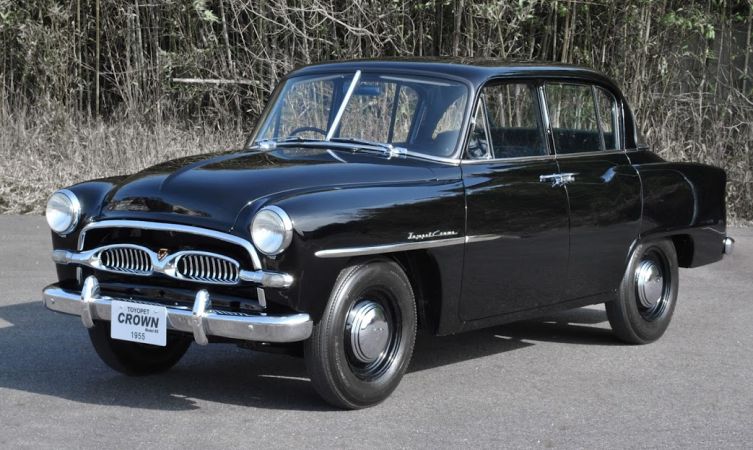 Whereas Toyota's previous passenger cars shared their ladder frame underpinnings and suspension setup with its light commercial vehicles, the four-door Crown saloon was better tailored to its target market. It featured a newly designed suspension setup that incorporated independent double wishbones and coil springs, with the rear adopting three semi-oval leaf springs.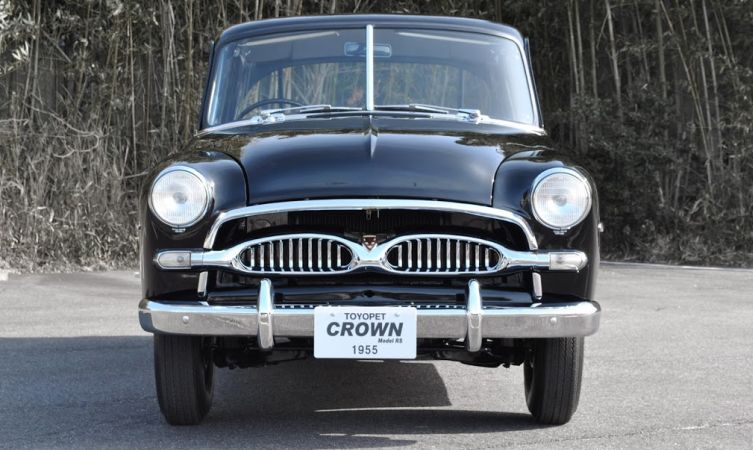 Indeed, the principle features of ride comfort and durability were so well-balanced that the Crown was enthusiastically received by wealthy individuals, companies, government agencies and taxi firms alike. This enthusiasm heightened in December 1955 when the Crown Deluxe model was added to the range, benefiting from luxuries such as a standard-fit radio and heater, not to mention a 55bhp version of the R-series engine.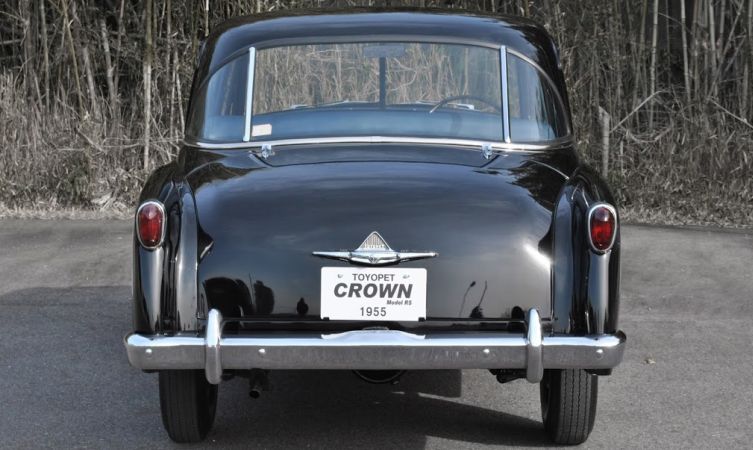 In the Japanese market the Crown was chalking up impressive sales, but Toyota had its eyes set on world markets. So in 1957 the Crown became the first Japanese-built car to enter the 10,000-mile Round Australia Rally, and to the surprise of many, came third among the foreign entries.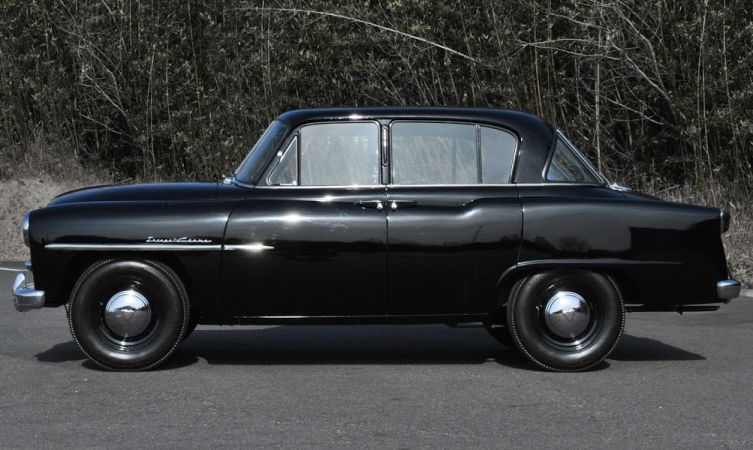 The Crown was also chosen to pioneer Toyota's passenger car entry into the United States market in August 1957, but lacked the power necessary for driving on American superhighways. In light of this, Crown models with a 1.9-litre 3R engine were introduced to the Japanese market in October 1960 for improved high-speed touring.
Toyota Crown: Second generation (Oct 1962 – Sept 1967)
The Crown was eight years old before it received its first full model change. Among the many improvements was the addition of an estate version to supplement the four-door saloon body style. A commercial van and pick-up truck were also produced from the new Crown platform, though these were marketed under the Masterline brand.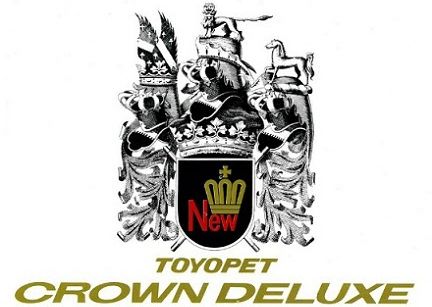 In contrast to the outgoing generation, the new Crown was radically modern in style, with a flat-deck, three-box silhouette and a striking four-lamp grille. Overall, the new saloon models were 325mm longer, 70mm lower and 15mm wider than before, and offered greater straight-line stability. At a little over 4,610mm long, the new Crown now stretched beyond the small car category and into luxury saloon territory.
Beneath the body was a rigid new low centre-of-gravity X-shape chassis frame, which replaced the conventional ladder arrangement of previous Toyota saloon cars. All versions had coil spring front suspension but only deluxe grades adopted coil spring rear suspension; all other variants used traditional leaf springs.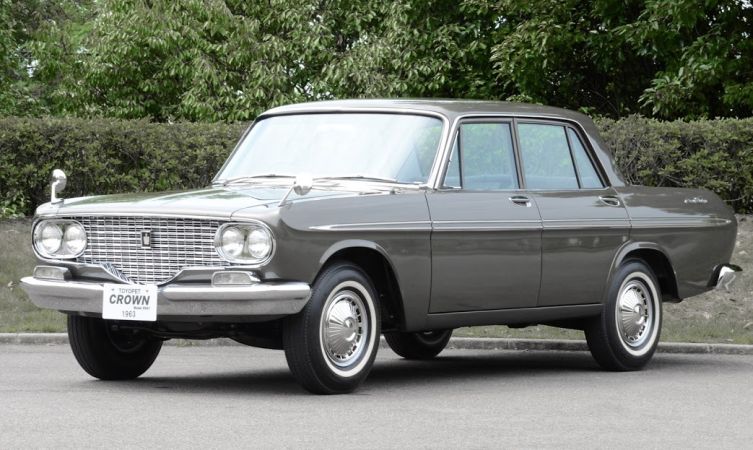 Just one engine was initially available, the 90bhp 1.9-litre 3R four-cylinder unit used in the previous generation, however this was now said to be powerful enough to endow the Crown with a 140km/h (87mph) cruising speed. The standard transmission was a three-speed manual with overdrive, but a two-speed Toyoglide semi-automatic gearbox was available as an option.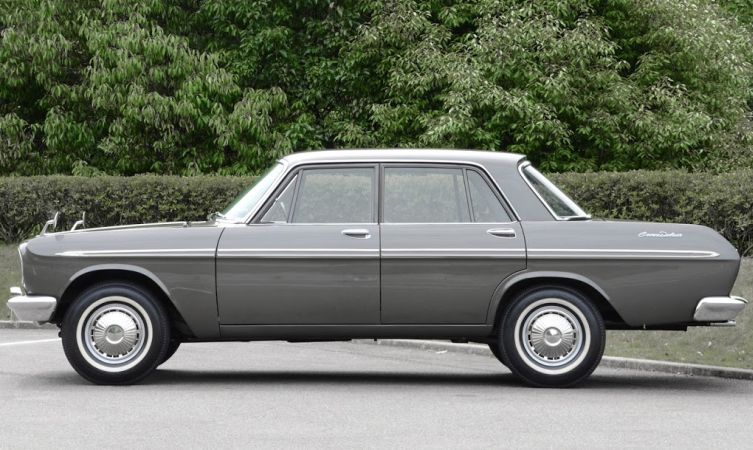 Operated through a column shift mechanism and without a clutch pedal, Toyoglide was Japan's first automatic transmission with a torque converter and was developed as a result of the growing popularity of automatic vehicles. On its introduction in 1959, just one percent of Crown models were specified with Toyoglide, but within three years that figure had risen to 14 percent and was increasing rapidly. So in September 1963 the next generation, fully automatic Toyoglide transmission was made available in the Crown range.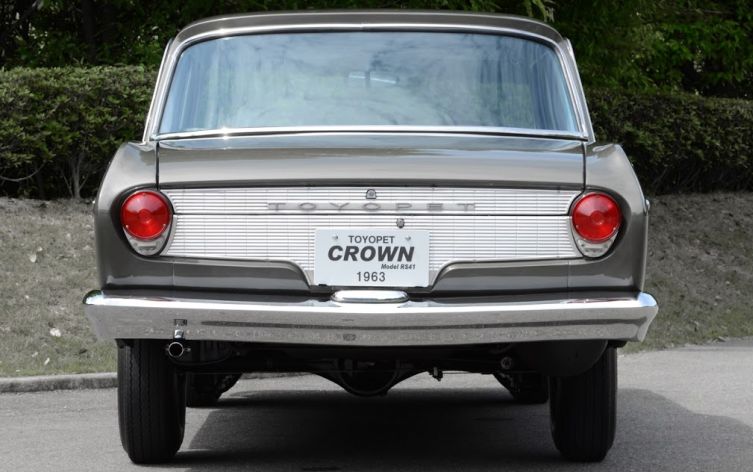 Further improvements were applied in November 1965 in the form of a newly developed in-line six-cylinder 2.0-litre M-series engine. Two versions were available, consisting of a 105bhp unit for the deluxe models and a 125bhp twin carburettor version for the newly introduced 'S' grade model.
This sporty derivative featured a four-speed manual transmission with a floor shift mechanism, upgraded suspension and servo-assisted disc brakes. Instead of the standard front bench seat, it came with separate reclining seats with seat belts, as well as round instrument meters that included a tachometer.
By this point in the Crown's life, when the body styles, engines, transmissions and trim were combined, there were now eight different models. This generation was also the first to reach Europe, when an entrepreneurial car importer in Denmark secured a distribution agreement with Toyota in May 1963 and brought 190 cars across.
Toyota Crown: Third generation (Sept 1967 – Feb 1971)
The objective for the third-generation Crown was to meet the challenge of Japan's rapidly growing superhighway system with improved power, comfort and safety. Meanwhile, the aesthetic was the first to emerge from Toyota's new Design Dome facility, following a theme of 'The Beauty of Japan'. The new Crown had graceful, subtly curvaceous styling that now extended into the glasshouse; for the first time every window was moulded with some form of curvature.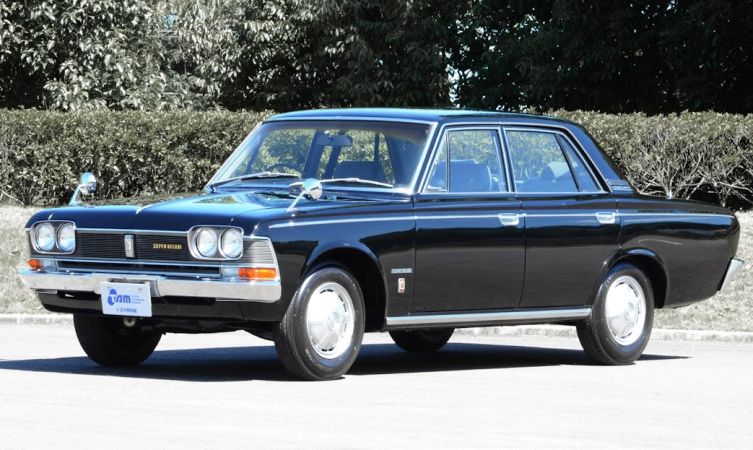 While earlier Crown models had been particularly favoured by taxi companies and government agencies, Toyota chose to market the new car more vigorously toward individuals. As a reflection of this strategy, advertising material featured white rather than black cars, as white was the favourite colour of the car-buying public. It was a successful move that led to a rapid increase in the number of private buyers.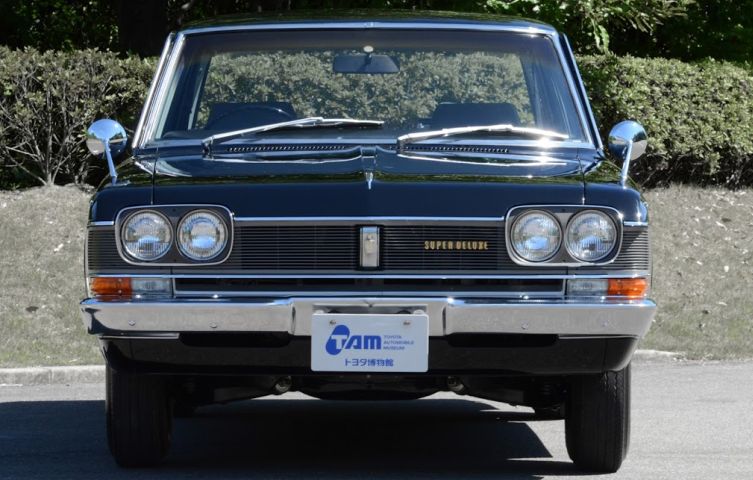 Great care was taken during the development of the new Crown to eliminate noise, vibration and harshness during driving. Of equal importance was the incorporation of all the features needed to meet the most stringent domestic and export market safety standards. Among these was another change to the chassis frame design, where the X-shape design of the previous generation car was upgraded to a new perimeter-style frame that afforded greater collision protection for passengers. So strong was it that the new design continued for more than two decades afterwards.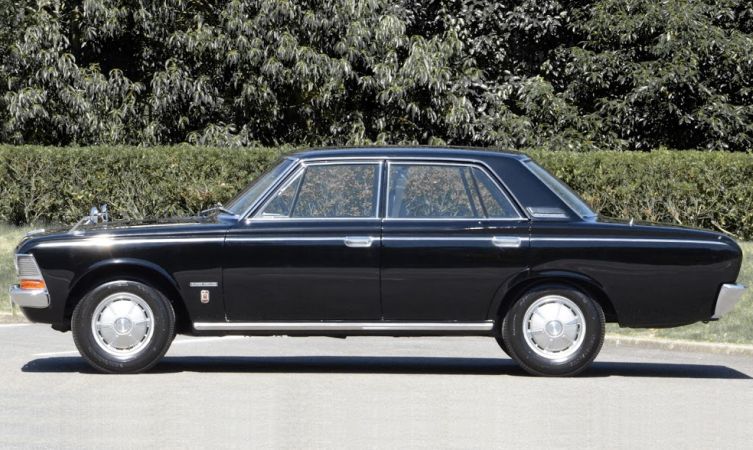 Although available as either a saloon or estate, increased options within these body styles meant a total of 34 different Crown varieties. A sporty two-door coupe was produced for the first time, while new owner-focused deluxe grades offered a good selection of accessories at affordable prices.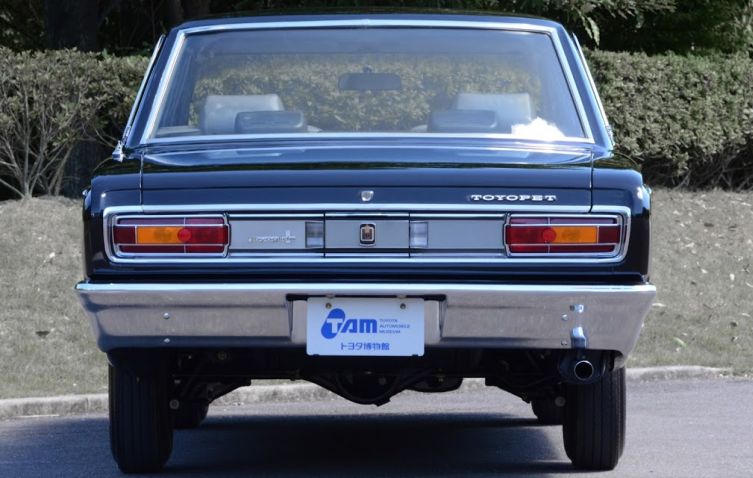 Irrespective of configuration, most Crown engines now had 2.0-litre displacement, from the latest 5R version of the four-cylinder R-series found in base model cars to a selection of four power outputs (100, 105, 110 or 125bhp) in the six-cylinder 2.0-litre M-series. A 2.3-litre six-cylinder 2M engine was also available but as it was not as popular as the smaller M-series unit.
By May 1970, the cumulative total of Toyota Crown production had reached one million units.
Toyota Crown: Fourth generation (Feb 1971 – Oct 1974)
Previous Crown generations had been marketed under the Toyopet name but the fourth-generation car was the first to become officially known worldwide as the Toyota Crown. The available body types included a four-door saloon, two-door coupe (frequently known as 'hardtop') and a five-door estate – the same configurations as the outgoing car.
Similarly, as the pace of life continued to increase and high-speed travel became more common, so the model's major development criteria of safety, luxury and performance were upheld again.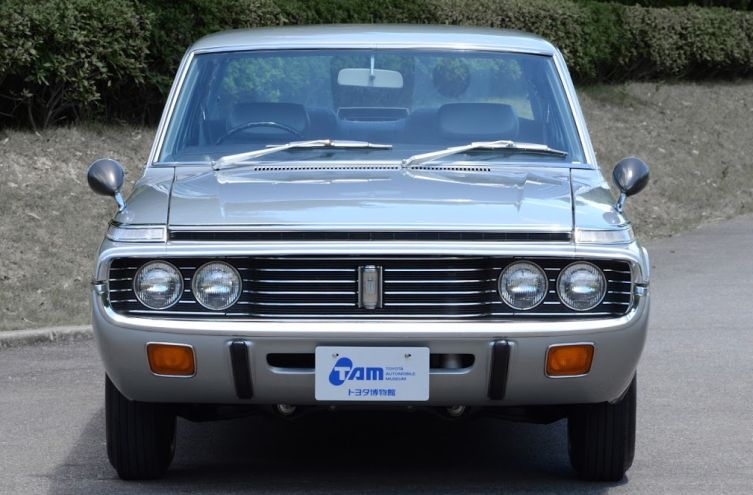 Most of the mechanical components, including the perimeter frame and engine line-up, were inherited from the third-generation car. All models were initially offered with a choice of 2.0-litre powerplants – 5R four-cylinder or M-series six-cylinder – although in May 1971 a larger 2.6-litre 4M straight six was introduced to saloon and coupe models to enlarge consumer choice.
Technological advancements were primarily applied elsewhere. Toyota's new electronically controlled automatic transmission was introduced for smoother, more economical driving, while electronic anti-skid braking control was included to increase safety.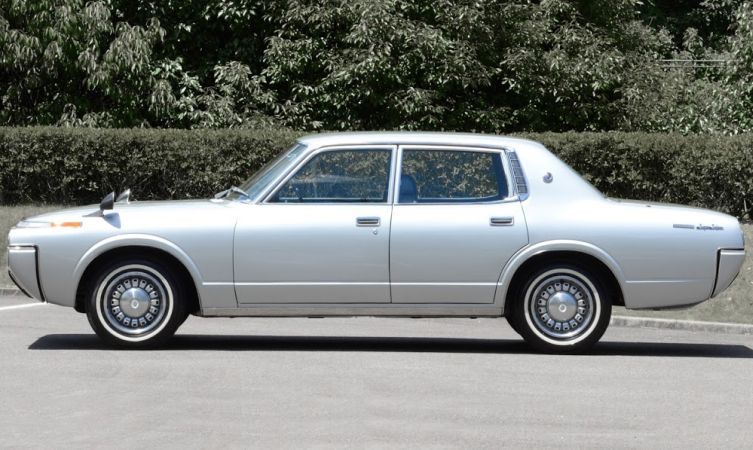 However, the most notable change was in the futuristic body design, which featured a unique, spindle-shaped body that tapered toward the front and rear. The body lines were honed to be more aerodynamic and many protruding parts were eliminated; even the bumpers were integrated into the body, a design feature that was way ahead of its time.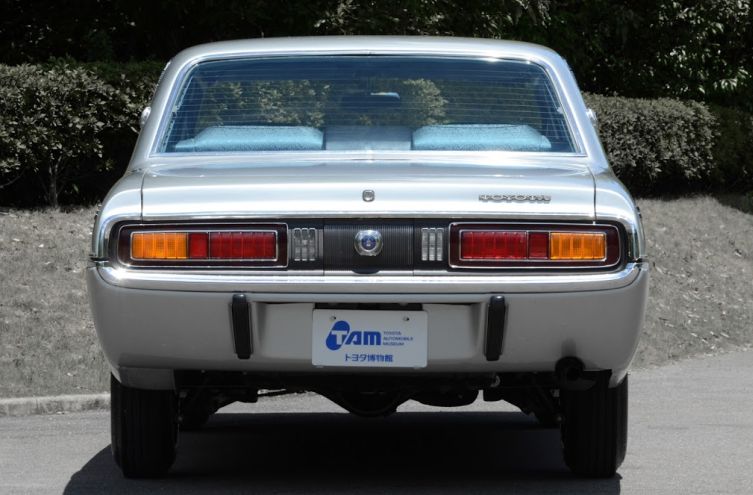 Toyota expected the avant-garde shape to appeal to the individual customers it had been gently soliciting since the buyer-focused marketing campaign rolled out for the previous generation. But disappointing sales figures soon showed that the styling had failed to attract the expected number of individuals or corporate buyers. As a result of this, the Toyota Crown slipped from its class-leading position for the first time since 1955 and plans for a facelift were hurriedly put into action.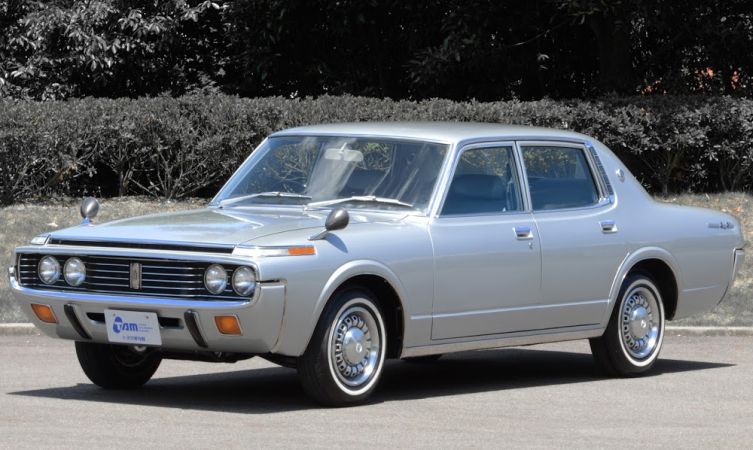 The failure of the fourth-generation Crown in North America was directly responsible for the model being discontinued there in 1973, its position as Toyota's largest family car quickly substituted by the new Corona Mark II. Meanwhile, in other markets, the facelift model arrived in October 1973 and lasted for a further year.
Toyota Crown: Fifth generation (Oct 1974 – Sept 1979)
The fifth-generation Crown saloon arrived on the market in October 1974, neatly coinciding with the model's twentieth anniversary. It was followed the month after by the other body variations: a two-door hardtop, a newly added four-door hardtop, and an estate. In total there were now 63 different Crown models.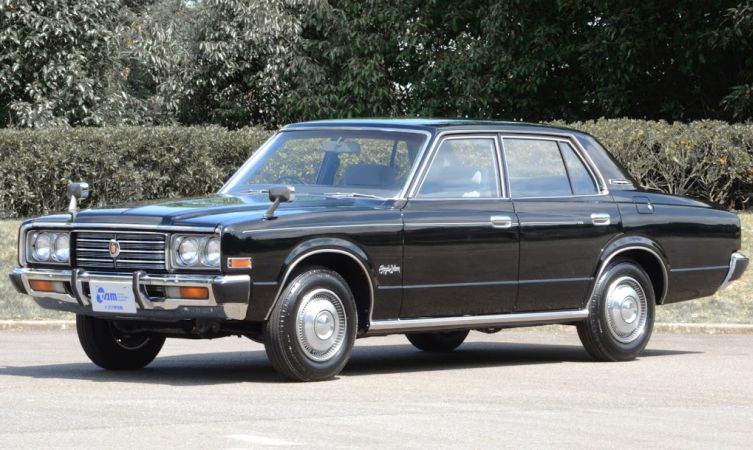 Despite its association with coupe styling, the new four-door 'hardtop' was similar to the saloon in that it retained B-pillars for structural safety but had the sporty impression and window line of a coupe. In contrast, the two-door hardtop continued without centre pillars, although opera windows were added to the thick C-pillars to enhance rear visibility and give the model a distinctive design feature.
In terms of design, Toyota took a lesson from the relative failure of the previous generation and toned down the appearance with more conventional, linear styling in an effort to win back customers.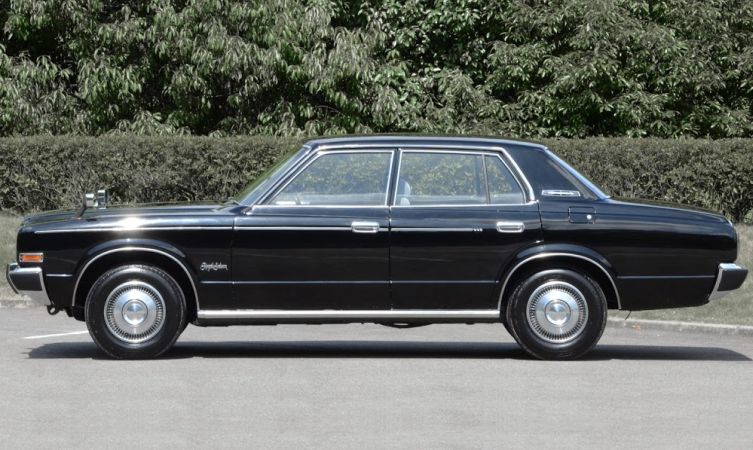 An area which Toyota didn't restrain itself in, however, was technological advancement. The new car was more comfortable to drive, had a broader range of only six-cylinder engines (2.0-litre and 2.6-litre displacements) and could be specified with up to five different transmissions. It also offered increased passenger room and an evolved floor pan. Brake performance was improved, a new electronic 'OK Monitor' fault detection device was added, and noise and vibration was further reduced.
Another timely innovation was Toyota's electronic fuel injection system, which automatically monitored engine temperature, timing and speed to adjust air-fuel ratios. The result was a more efficient engine, increased economy, 10 per cent more power and reduced emissions.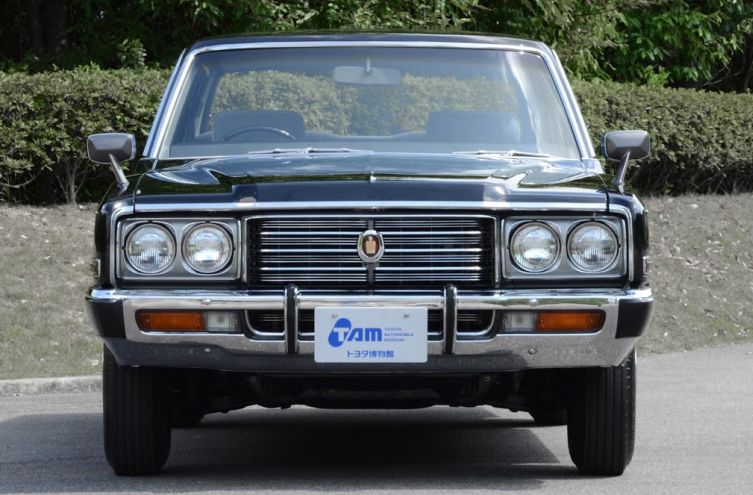 In October 1977, Toyota used the Crown to unveil its first diesel-powered passenger car. The four-cylinder 2.2-litre L-series engine was the first of its kind in Japan to adopt a belt-driven overhead cam system. It also featured a Bosch distributor-type fuel injection pump that required no oil checks and performed well even at high engine revolutions.
Thanks to the success of this model, Toyota added two more diesel models to the home market line-up in September 1978. They offered the choice between a five-speed manual gearbox or automatic transmission with overdrive.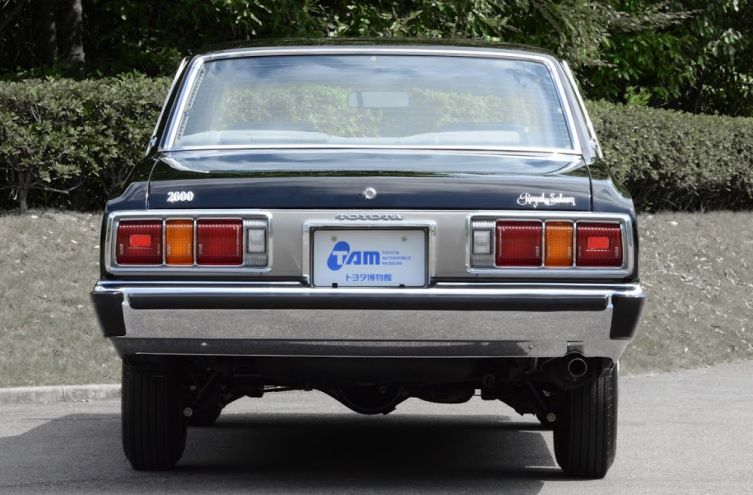 The fifth-generation Crown restored the model to its position of market supremacy within the luxury car class. Soon after launch, cumulative production topped 1,500,000 and by April 1979 the two millionth Crown had rolled off the assembly line.
Toyota Crown: Sixth generation (Sept 1979 – Aug 1983)
The next-generation Toyota Crown arrived to market after an interval of almost five years. It offered all the qualities of luxury, reliability, quietness and comfort that buyers had come to expect of the model, but into this mix was an increased use of advanced technology that responded to people concerns about energy conservation and environmental awareness.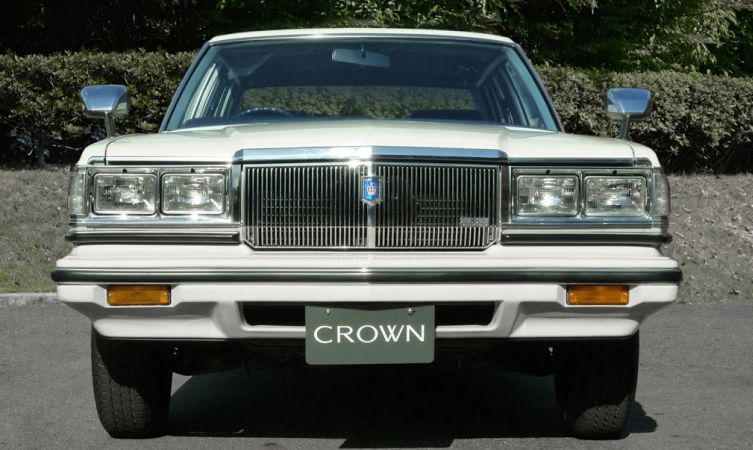 The car was lighter than the outgoing model, its lines were cleaner and the newly developed 2.8-litre 5M straight-six engine was more powerful and fuel efficient than the smaller 2.6-litre engine it replaced. A further innovation applied to this generation Crown included the arrival of Toyota's first turbocharged passenger car engine in October 1980.
Model derivations now numbered up to 70, based on petrol and diesel powerplants and a choice of five body variations: four-door saloon, two- and four-door hardtops, estate and van. Of these, the four-door hardtop was notable for adopting centre pillars that were virtually invisible when the side windows were rolled up, a design that was so well received it became a standard Crown feature throughout the rest of the Eighties.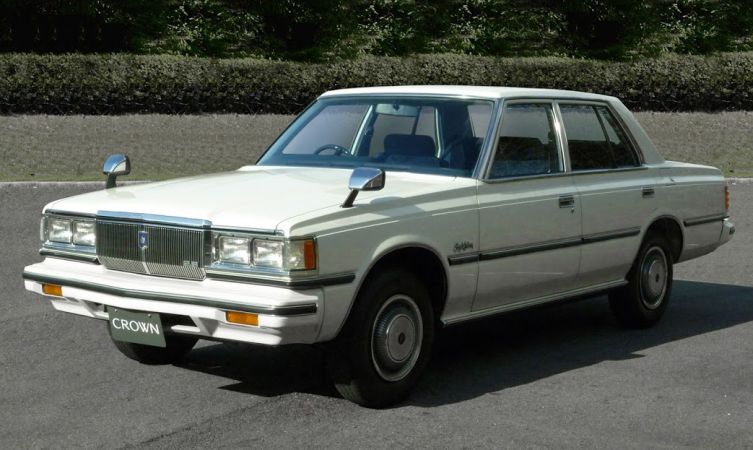 As befitting a formal saloon, Crown accessories became even more luxurious than before. Examples of these were typically available in the top-end 2800 Royal Saloon model, which offered a microprocessor-based cruise control system as an option, as well as other microcomputers to display readouts for elapsed driving time and estimated time of arrival.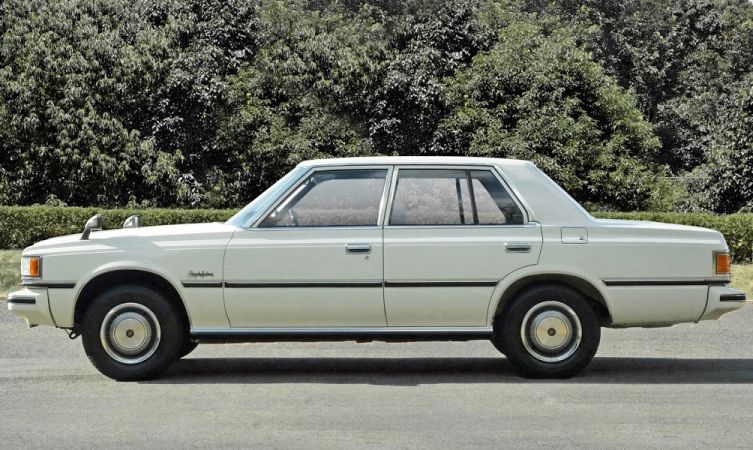 The sixth-generation Toyota Crown ceased production in Japan in August 1983 and Toyota GB took the decision to discontinue the model line at this point in order to make room for the smaller Toyota Camry as the manufacturer's largest family saloon car. Sales figures therefore slowed from 252 units in 1983 to just 37 in 1984 as stocks eventually dried up.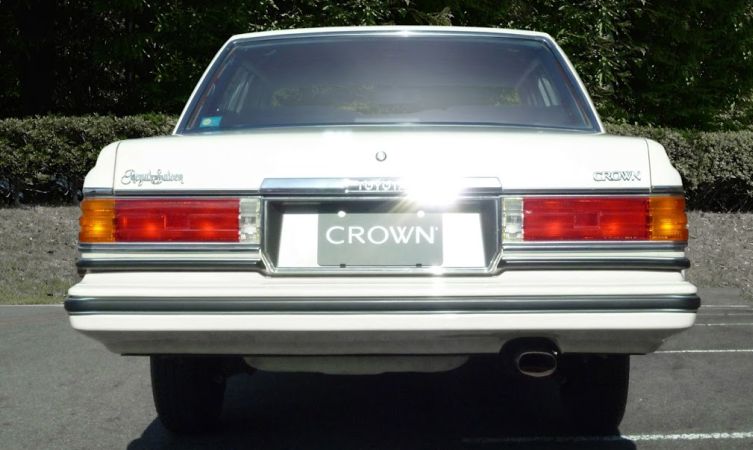 From the introduction of the Toyota Crown to the British market in October 1968 through to its discontinuation in 1984, a total of 10,713 cars had been sold. At the time of publishing, the Crown is currently in its fourteenth generation in Japan with a cumulative production total of six million units.
Is the Toyota Crown sold in the UK?
Unfortunately Toyota centres in the UK do not sell the Crown, but to check out our current product range, please click here.