Even Toyota's cars reach the end of the road eventually, which is why we are introducing a new system that promises a cash reward for helping us ensure they are responsibly and efficiently disposed of.
Launched today, Rewarding Recycling gives customers peace of mind and ensures that end-of-life vehicle recycling is carried out to the highest environmental standards.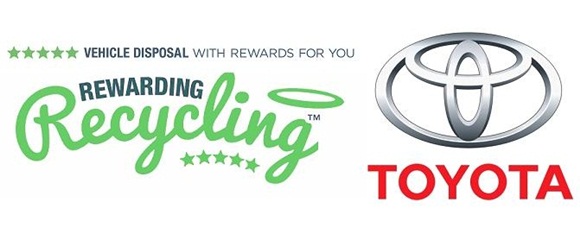 The process is simple to follow. The first step for owners wanting to dispose of their Toyota is to visit www.toyota.co.uk where they can input their vehicle registration number and postcode, generating an instant valuation for their car.
They can then select their preferred Toyota centre* for dropping off their vehicle, and at the time of the hand-over they will be given a PIN.
Entering this number on-line will automatically generate payment of the agreed vehicle value by BACS to the customer's chosen bank account, making the whole process simple, secure and cash-less.
After being received by the Toyota centre, the vehicle will be collected for final disposal by Autogreen, which has been Toyota's end-of-life vehicle recycling partner since 2005.
Autogreen's processes fully comply with UK and European standards and ensure that recyclable vehicle parts and materials are recovered, and any waste generated is disposed of safely and responsibly.
Thomas Rosselle, Toyota Manager CSR and Environmental Affairs, said: "We've introduced Rewarding Recycling not only to make the job of disposing of their car simpler for customers, but also to ensure the process is done in an environmentally responsible way.
Putting this system in place supports our 360-degree environmental leadership that extends all the way from initial vehicle design, through production and customer ownership through to end-of-life recycling to the highest standards."
Rewarding Recycling means customers can organise vehicle disposal through people they can trust at the participating Toyota centres and can be sure of being paid a fair price.Toyota will also accept other makes of vehicle through the scheme, too, dealt with in just the same way.