The new 2015 Toyota Auris is the latest generation of Toyota's popular family hatchback, launching with a stunning new look, an improved range of engines and even greater levels of safety. That's in addition to its well-established reputation for reliability, practicality and affordability.
With a practical five-door hatchback body, the 2015 Toyota Auris is available from launch in five well-equipped trim levels – Active, Icon, Business Edition, Design and Excel .
It also comes with a range of five powerplants that includes a brand new 1.2-litre turbocharged petrol engine, a new 1.6-litre D4-D diesel, a highly-efficient, Euro 6-compliant 1.4-litre D4-D diesel that can return up to 83.1mpg, and Toyota's world-leading 1.8-litre petrol-electric Hybrid Synergy Drive powertrain.
Toyota's new Safety Sense package gives the option of adding the very latest in active safety features, such as a lane departure warning system, road sign assist and a pre-collision system to avoid or minimise the severity of an accident.
And as all Toyota Auris models, including the Auris Touring Sports estate version, are built right here in Britain, you can enjoy the ride safe in the knowledge that you're supporting British manufacturing.
Driving
Reflecting the demands of modern drivers, the 2015 Toyota Auris is more economical, kinder to the environment and costs less to run, and yet hasn't lost any of its character from behind the wheel.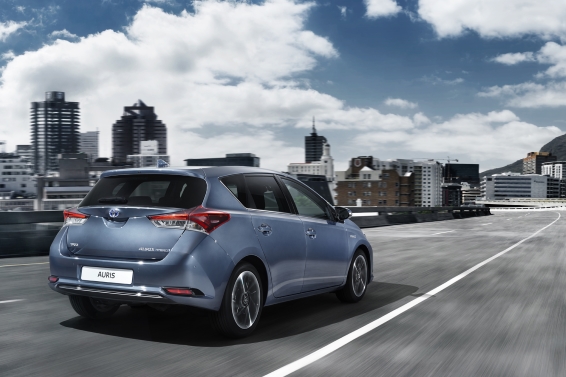 The revised engine line-up includes two petrol engines (a 1.2-litre turbocharged petrol engine or 1.33-litre dual VVT-i), two diesel engines (the updated 1.4- or new 1.6-litre D4-D diesel) or the incredibly popular 1.8-litre petrol electric hybrid, so whichever Auris you choose will be an enjoyable car to drive.
Out on the road, improvements to the suspension and steering settings mean that the 2015 Toyota Auris drives brilliantly, with confidence-inspiring feedback for the driver from its dynamic handling.
Comfort
Any journey in the 2015 Toyota Auris is a real pleasure thanks to its spacious, premium-quality cabin that is modern and well-equipped.
You'll enjoy the feel of the latest soft-touch materials, the support of Auris' comfortable seats, and its intuitive onboard entertainment system that includes a 7″ touchscreen (Icon models upwards).
A visually cleaner dashboard design and improved soundproofing make the Auris a calmer and more peaceful place to be too.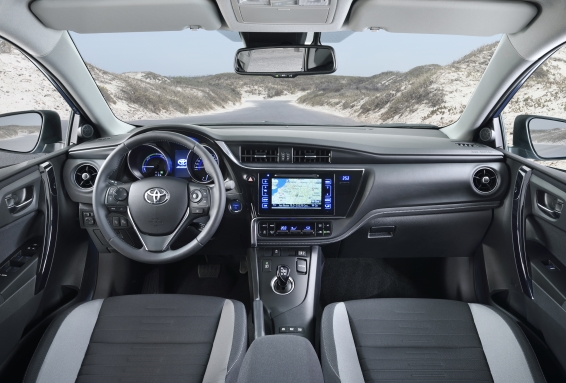 Practicality
With five doors and a hatchback that gives easy access to the spacious boot, the 2015 Toyota Auris is the ideal family car. Its folding rear seats expand the available bootspace from 435 of litres to 1,199, making the Auris extra-practical for those occasions when you need that bit more space for load-lugging.
Toyota doesn't penalise hybrid drivers either, ensuring that the hybrid battery is packaged under the rear seats so that the Auris Hybrid has exactly the same amount of legroom and boot space as any of the non-hybrid models.
Safety
Toyota is proud that, like many of its models, the Auris has achieved the maximum five-star EuroNCAP safety rating, demonstrating Toyota's commitment to safety. As well as its strong construction and standard safety measures like multiple airbags and anti-lock braking systems, the 2015 Toyota Auris is also offered with the new optionally-available Safety Sense package.
This suite of active technologies uses a windscreen-mounted laser and camera to warn the driver if the car begins to drift out of its lane, as well as automatically switching the headlights from low- to high-beam, and identifying relevant road signs. Toyota's Pre-Collision System, also part of the Safety Sense package, constantly monitors the road ahead, alerting the driver and activating braking systems to help prevent accidents.
Running Costs*
The 2015 Toyota Auris is designed to make your money go further – literally. On the official combined test cycle, the petrol-powered Auris achieved up to 61.4mpg (1.2T with Multidrive S CVT transmission), rising to 80.7mpg for a diesel model (1.4 D4-D). Carbon dioxide emissions for the petrol and diesel Auris models are as low as 92g/km meaning that, on some models, you won't have to pay a penny in road tax.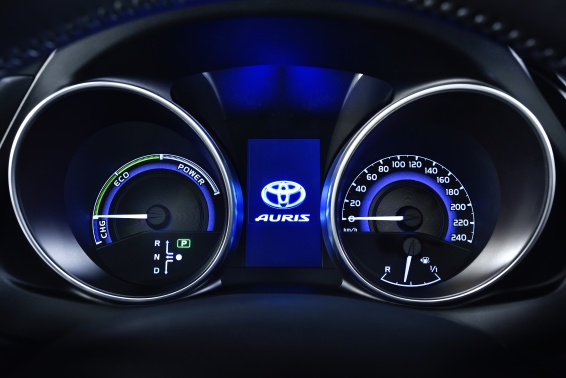 At 82g/km, the Auris Hybrid similarly qualifies for the zero-band of road tax, and achieves up to 80.7mpg on the combined cycle. An obvious benefit of the Hybrid Synergy Drive system is that can drive in town for up to two miles in electric-only EV mode, using no fuel at all and emitting no harmful exhaust. If you do a lot of short journeys, imagine how much you could save.
Quality
The 2015 Toyota Auris is built here in the UK at Toyota's plant in Burnaston, Derbyshire, and adheres to the same strict quality standards that Toyota demands at its domestic plants.
Like the rest of Toyota's range, the Auris enjoys a comprehensive warranty for five years or 100,000 miles (whichever you reach first). In addition, there's a three-year warranty against rust and paint defects, and 12 years' anti-corrosion cover.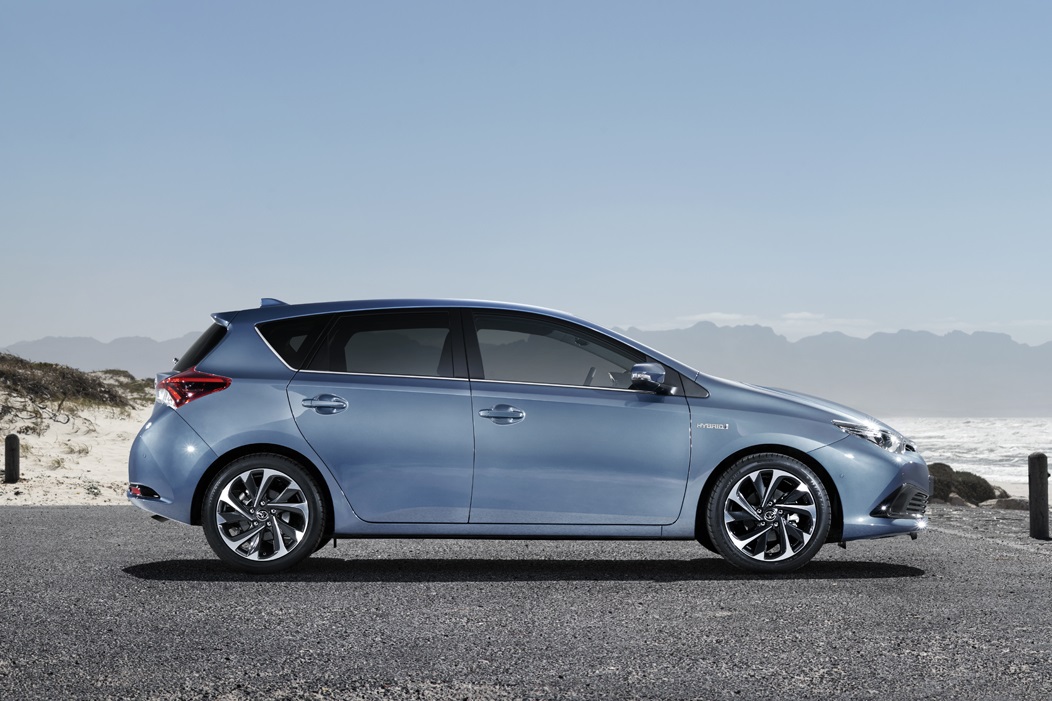 Prices*
The 2015 Toyota Auris starts from £15,645 on the road for the Active model with 1.33 VVT-i petrol engine, although a current promotional offer reduces the price to just £14,495 until the end of March 2016. The new 1.2T VVT-i petrol engine is available in Icon, Business Edition, Design and Excel grades, ranging from £18,695 to £22,085 with the six-speed manual transmission, or an extra £1000 for the automatic transmission.
For diesel options, buyers have the choice of the 1.6-litre D4-D engine, available in all trim levels from Icon upwards, or the 1.4-litre D4-D exclusively offered in the Auris Business Edition. The 1.6 D4-D costs between £19,895 and £23,285 dependent on trim, with the 1.4 D4-D Auris Business Edition priced at £20,295.
The Auris Hybrid is again offered in every trim level, starting at £20,045 for the Active model and rising to £24,395 in the range-topping Excel model.
Optional extras include Toyota Safety Sense (£450, all models except Active), Skyview panoramic roof (£550, Design and Excel), and Toyota Touch 2 with Go (£750, Icon and Design).
For further information on the 2015 Toyota Auris, please visit the designated section of the Toyota website, or leave a comment below and we'll contact you.
*Prices correct as of 01/03/16