Toyota's commitment to safe mobility takes a significant step forward with the introduction of Toyota Safety Sense, new set of active safety technologies designed to help prevent accidents, or mitigate their consequences.
Toyota Safety Sense brings together pre-collision and warning systems that make driving safer for the driver and other road users alike.
Toyota believes it is important to develop an approach to safety that involves people, vehicles and the traffic environment. It also focuses on "real-world" safety by analysing and learning from accidents that have happened and applying the knowledge gained to new vehicle development.
Seigo Kuzumaki is Toyota's Chief Safety Technology Officer Secretary. He explained: "Of all the things we do at Toyota, safety is our number one priority; preventing crashes from happening in the first place, and protecting everyone involved should the worst happen.
"We see traffic safety as being about a blend of vehicles, people and the traffic environment. Each is critical, and it's important to improve the safety of each element, but we are most effective when we manage to integrate all three. As vehicles become better able to recognise, judge and react to a situation, so must their drivers become smarter, ever-alert and in control."
Safety is our number one priority; preventing crashes from happening in the first place, and protecting everyone involved should the worst happen. – Seigo Kuzumaki
Toyota's Integrated Safety Management Concept strategy for vehicle safety R&D covers five areas: –
• Intelligent parking systems that assist and support the driver when entering or exiting a tight parking spot
• Active safety systems designed to help avoid a crash
• Pre-collision systems aimed at preparing for a crash
• Passive safety systems to help survive a crash
• Response and rescue once a crash has happened
Toyota Safety Sense has been developed according to these principles. All cars equipped with it will feature a Pre-Collision System (PCS) with an "urban" function and Lane Departure Alert (LDA).
Vehicles fitted with a millimetre-wave radar will benefit from an expanded range of features, including Adaptive Cruise Control (ACC) and PCS with Pedestrian Detection.
To further enhance safety, as well as driver convenience, some models will also be equipped with Automatic High Beam (AHB) and Road Sign Assist (RSA).
Pre-Collision System
The Pre-Collision System detects objects on the road ahead and can reduce the risk of hitting the car in front. When it detects the possibility of a collision, it triggers audible and visual warnings to prompt the driver to brake. It also primes the braking system to deliver extra stopping force when the driver presses on the brake pedal. If the driver fails to react in time, the system automatically applies the brakes, reducing the vehicle's speed by about 30km/h2 or even bringing it to a halt, to prevent a collision or mitigate the force of any impact.
PCS operates at between about 10 and 80km/h, speeds within which at least 80 per cent of rear-end collisions happen.
Vehicles fitted with a millimetre-wave radar benefit additionally from Adaptive Cruise Control (see below) and an enhanced PCS. Here, PCS operates over an extended relative speed range, from 10km/h to the vehicle's top speed, and can achieve a greater reduction in speed with its automatic braking – about 40km/h. The system is able to detect potential collisions with pedestrians (in such cases the automated braking operates at relatives speeds of between 10 and 80km/h and can reduce speed by about 30km/h).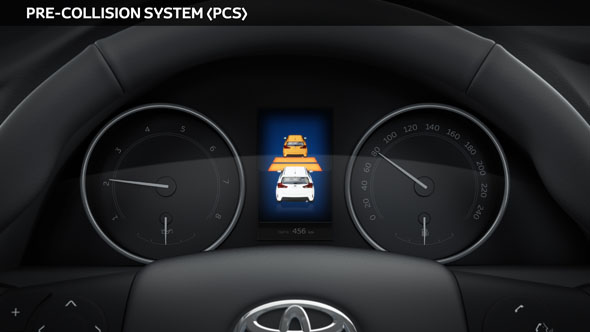 Adaptive Cruise Control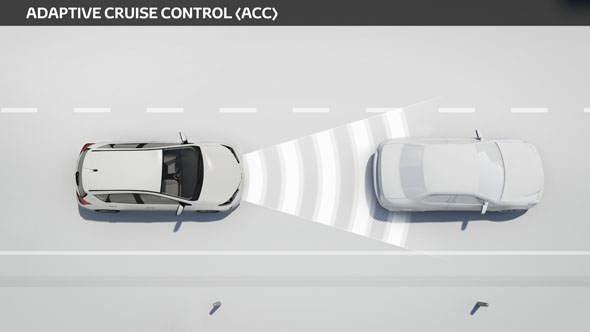 Adaptive Cruise Control helps the driver keep a safe distance from the car in front. It detects the vehicle ahead, determines its speed and then adjusts the Toyota's vehicle speed (within a set range) to ensure a safe distance is maintained.
It uses a forward-facing camera and the millimetre-wave radar together to monitor vehicles merging in or out of the lane ahead, helping maintain smooth acceleration and deceleration.
Lane Departure Alert
The Lane Departure Alert system monitors lane markings on the road and helps prevent accidents and head-on collisions caused by a vehicle leaving its lane. If the vehicle starts to deviate from its lane without the turn indicators having been used, LDA alerts the driver with visual and audible warnings. Depending on the model, it can also provide steering assist to help the driver return the car to its intended course.
Automatic High Beam
The Automatic High Beam helps ensure excellent forward visibility when driving at night. It detects both the headlights of oncoming vehicles, and the tail lights of vehicles ahead, automatically switching between high and low beams to avoid dazzling other drivers. As high beam is used more frequently, pedestrians and obstacles are easier and quicker to spot.
Road Sign Assist
Road Sign Assist helps ensure drivers are kept informed, even if they have driven past a road sign without noticing. RSA identifies signage such as speed limits, no overtaking warnings and road conditions and the signs used on motorways, and displays the information on a colour TFT multi-information screen. If the driver exceeds the speed limit, the system will activate a warning light and buzzer.
Because vehicles fitted with Toyota Safety Sense reduce the risk of being involved a traffic accident, they can attract lower insurance costs, or a more advantageous insurance reclassification.
Availability
Toyota Safety Sense is fitted as standard across a number of Toyota models, including Avensis, new Prius and Verso, and is optionally available at a competitive price on Aygo, Yaris, Auris and RAV4.
Didier Leroy, President and CEO of Toyota Motor Europe, said: "It is only when such safety systems are in widespread use that they can have a real impact on eliminating traffic accidents and fatalities. That's why Toyota has decided to launch the democratisation of advanced safety technologies in its cars."
"Our goal is to be the world's first manufacturer to offer such a package across an entire model line-up; from superminis and saloons to SUVs, helping drive down the costs for customers," said Kuzumaki-san.
"High-level driver-assist technologies such as these make driving easier and simpler. They improve the driver's perception of the traffic environment, their decision-making process and their overall safety skills. We believe that a more skilful driver is a safer driver, and that the added bonus of this dependable, reliable safety technology is that it can make the driver more confident and driving more enjoyable."
Toyota Safety Sense retro-fit
Toyota Safety Sense technology cannot at present be retro-fitted to Toyota vehicles.