The all-new Toyota bZ4X is the first model in our beyond Zero family of zero-emission battery electric vehicles. Displayed here in production-ready form, this spacious and comfortable SUV will launch across Europe in 2022.
Its arrival will also introduce a new leasing programme designed to cover the principal aspects of ownership – a one-stop concept that is designed to provide peace of mind for people acquiring their first BEV.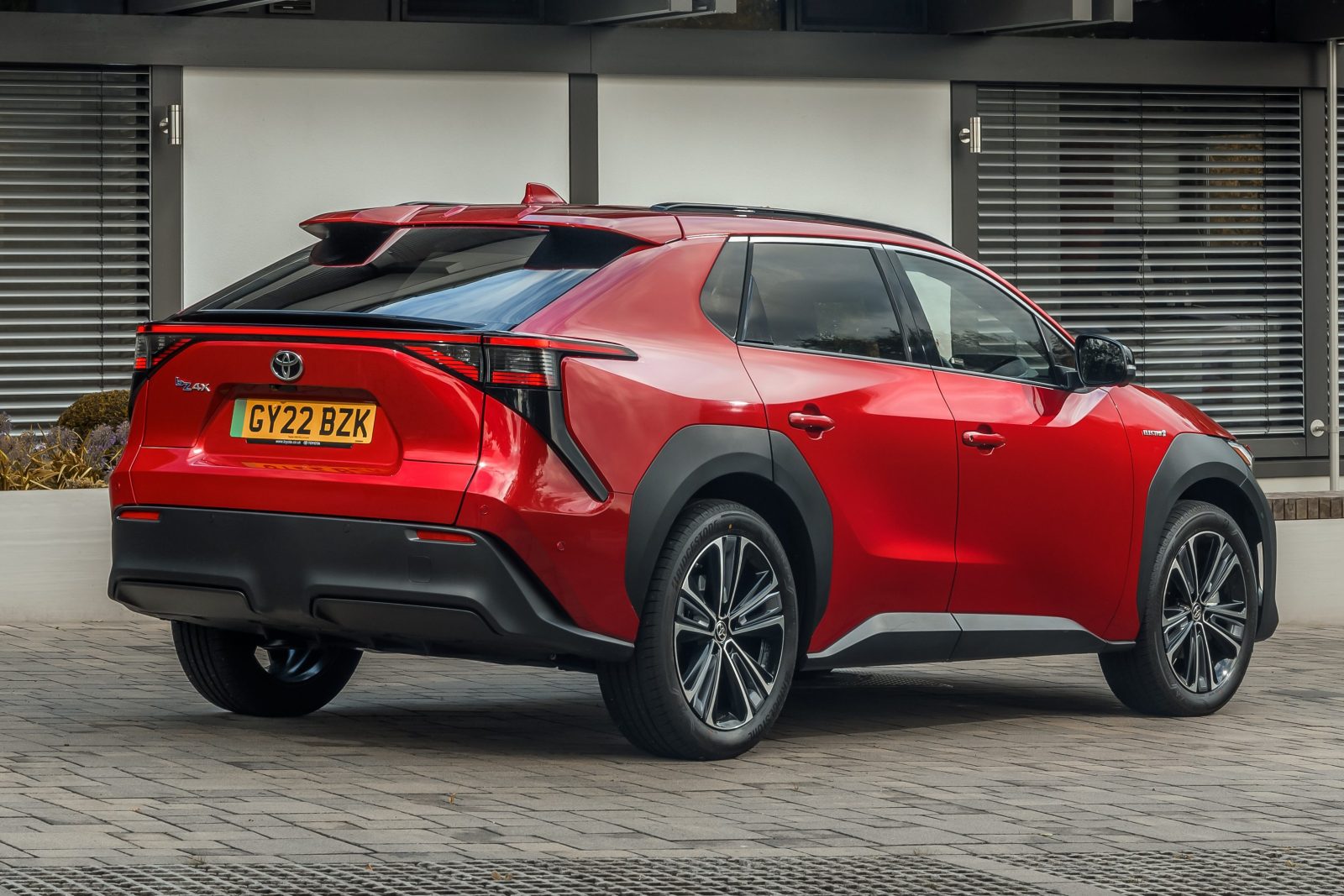 Toyota bZ4X: What are its exterior design features?
The exterior design is sleek, powerful and uncluttered, led by a distinctive hammerhead frontal shape. When viewed in profile, the bZ4X has a low roof and slender A-pillars, while the combination of thick sills and large wheels (up to 20-inch in diameter) express the car's authentic SUV character. At the rear, the design similarly emphasises the corners, with a distinctive tail light that spans the width of the vehicle.
The design also incorporates aerodynamic elements that manage airflow and contribute to the driving range. These include apertures in the front bumper corners that create smooth air curtains; a full underbody cover; a split roof spoiler and rear ducktail lip spoiler; rear diffuser; and a precisely angled rear screen. The slim lower grille has a shutter that adjusts to channel cooling airflow to the battery and helps reduce wind resistance.
Beneath the surface, the bZ4X is the first Toyota to be built on our new, dedicated BEV platform. Known as e-TNGA, it incorporates the battery as a structural member of the chassis – a feature that creates high body rigidity, a low centre of gravity, and excellent front/rear weight distribution.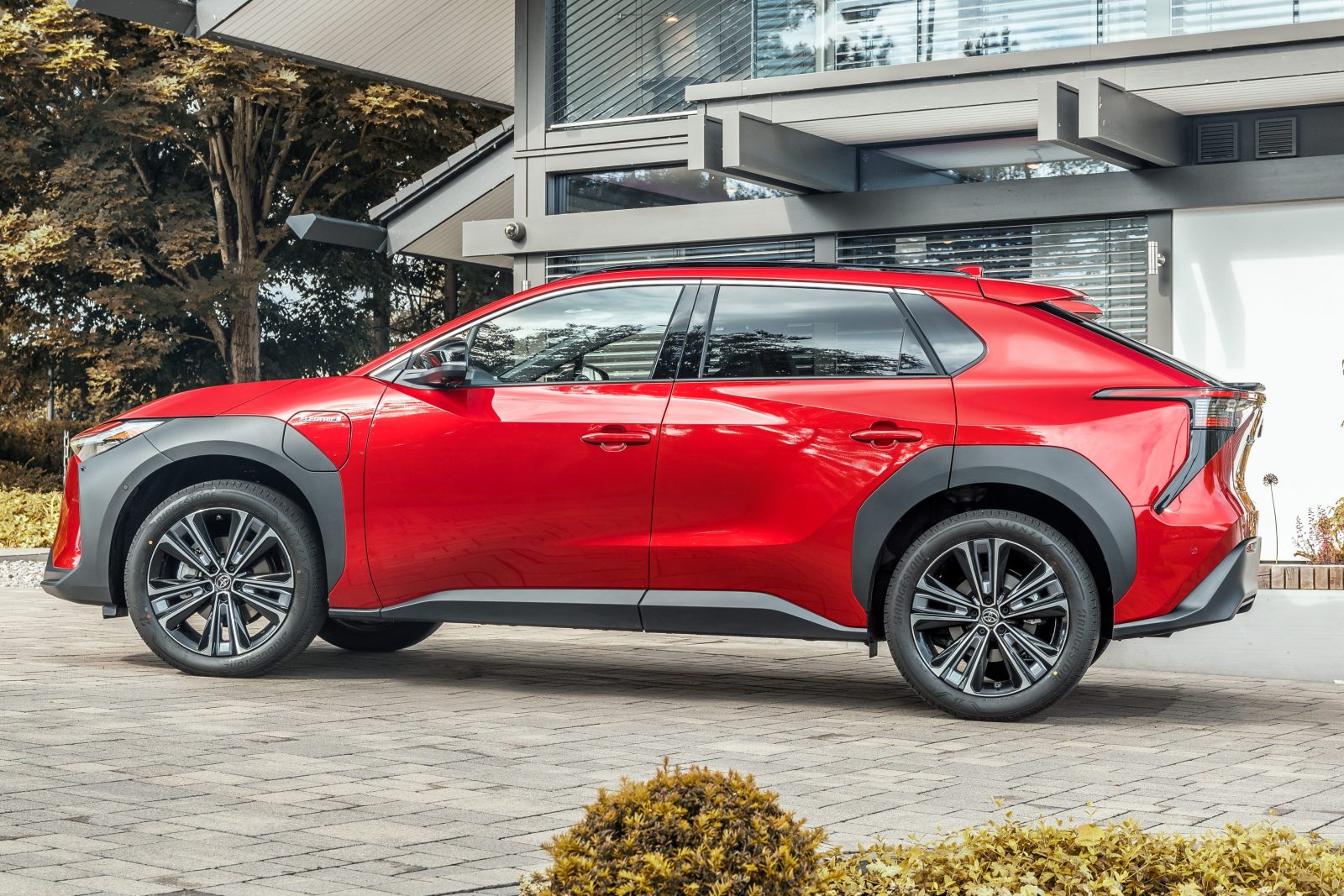 What's it like inside bZ4X?
The long wheelbase has helped us create a spacious, open and comfortable five-seat cabin that has the welcoming ambience of a living room. There is class-leading leg room for all, with a one-metre distance between the front and rear hip points, while the load area offers 452 litres of storage with the rear seats in place.
Adding to the sense of openness and outward visibility is the slim and low-set instrument panel, which allows the seven-inch instrument and information display to sit above the line of the steering wheel, directly in the driver's forward eye line.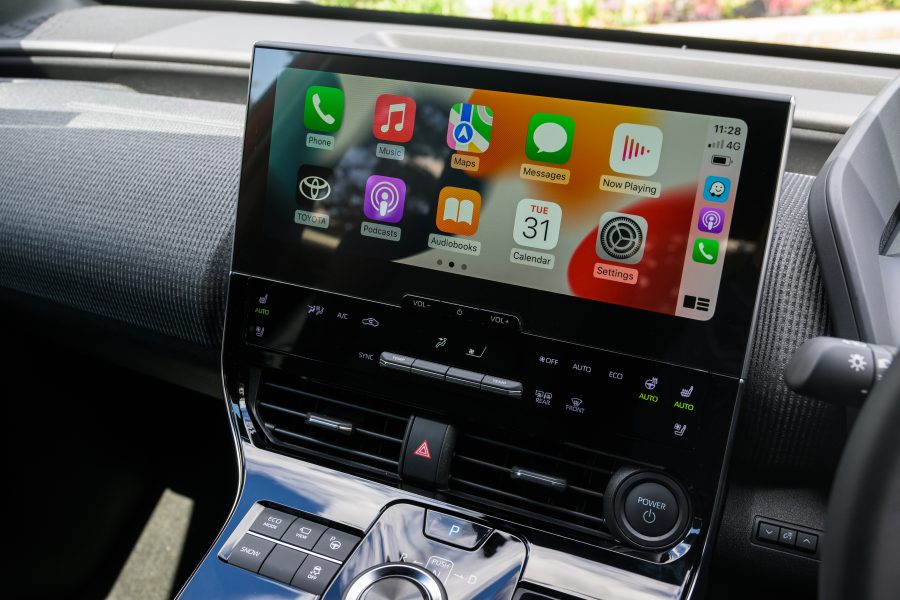 Passenger comfort is assured by an energy efficient heating system that maximises driving range. Rather than a standard air conditioning system, the bZ4X uses a heat pump to warm the car by drawing heat from the external air.
What will the multimedia system be like?
The centrally mounted multimedia platform is our latest and most powerful system, offering a 12-inch touchscreen that gives access to cloud-based navigation. It also provides BEV-specific features such as driving range, driving support and charging station details. The driver can interact with the vehicle by sight, touch and voice, while over-the-air updates provide seamless software upgrades and new services.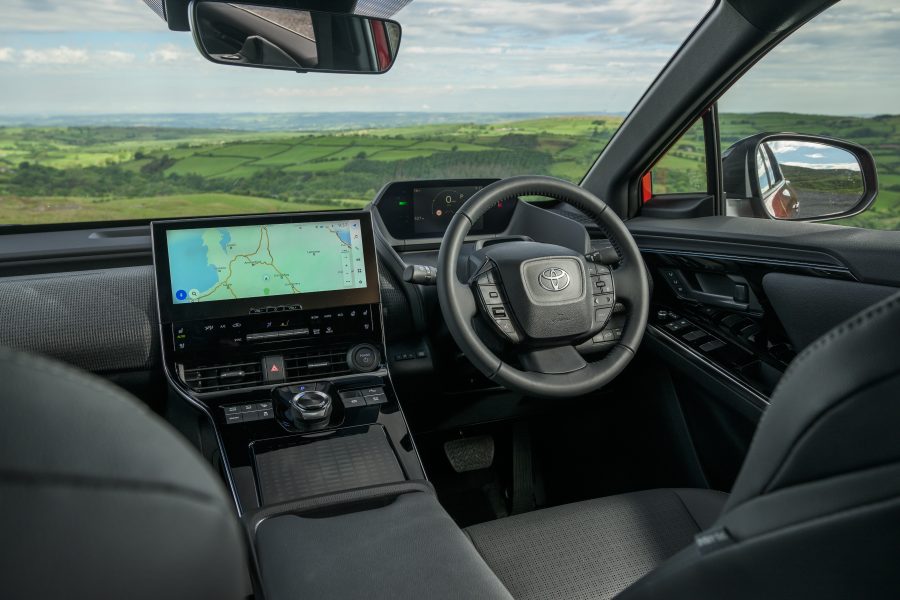 Toyota bZ4X: What are its performance credentials?
There are both front- and all-wheel drive versions of the bZ4X. The front-wheel drive model is powered by a 150kW electric motor which produces 201bhp and 265Nm of torque; it offers 0-62mph acceleration in 7.5 seconds and a top speed of 100mph. The all-wheel drive model is powered by two 80kW electric motors – one for each axle – that produce a total of 214.5bhp and 336Nm of torque. Top speed is unchanged but the dash to 62mph is reduced to 6.9 seconds.
We have drawn on almost 25 years of experience in battery technology to ensure the new lithium-ion unit has world-leading quality, durability and reliability. Our confidence in the technology is reflected in an extended care programme that guarantees the battery will still operate to 70% of its original capacity after up to ten years of ownership or one million kilometres (620,000 miles) driven, subject to the customer taking their vehicle to an authorised Toyota service centre for an annual health check.
This is made possible because multiple systems have been put in place to monitor the voltage, current and temperature of each individual battery cell. In a Toyota first, the battery is water cooled, while there are safeguards in the manufacturing process to prevent foreign matter from entering the battery, and further countermeasures to mitigate any material degradation when in use.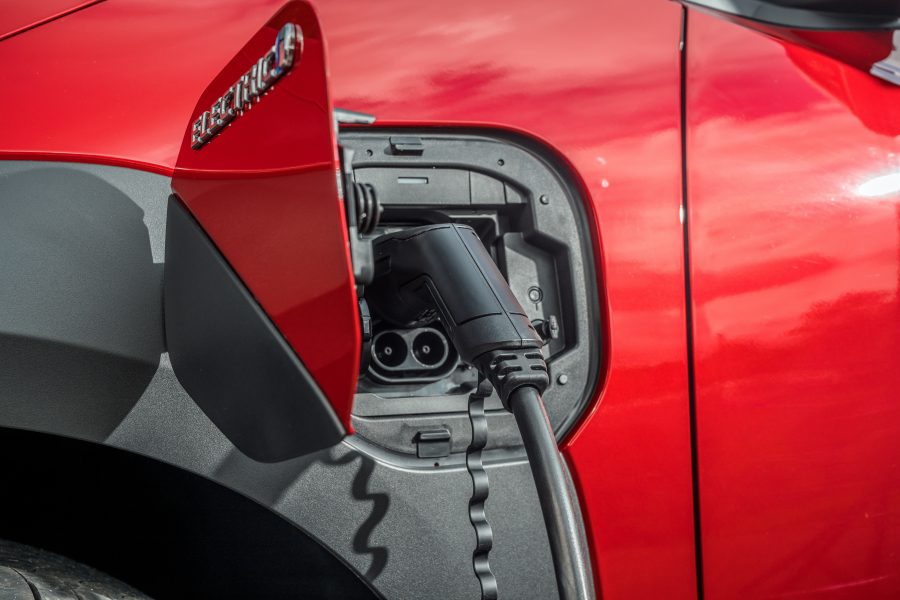 What is the the driving range and how quickly will bZ4X charge?
Thanks to efficient motors and energy management, official WLTP data shows that the front-wheel drive Pure model can achieve a driving range of 317 miles (4.3 miles per kWh) from its 71.4kWh battery. For the all-wheel drive bZ4X Motion, the official range is 285 miles (3.9 miles per kWh).
An 80% charge can be achieved in around 30 minutes using a 150kW fast-charging system (CCS2), while an 11kW three-phase on-board charger will be available from the fourth quarter of 2022 to further improve charging performance.
Toyota will operate a programme of rebuilding, reusing and recycling for the battery, ensuring the lifecycle of its components and materials is maximised.
What will the all-electric Toyota bZ4X be like to drive?
The bZ4X is the first production Toyota to offer a steer-by-wire system, though this will be introduced in Europe at a later date. Known as One Motion Grip, it dispenses with the mechanical linkage between the steering wheel and front wheels, instead using electronic means to adjust the front wheel angle according to the driver's intention.
With no physical connection in the system, not only is legroom improved but unwanted vibration from the tyres is not transmitted through the steering. However, the driver still experiences valuable feedback through independent control of the steering torque, with different drive modes programmed with unique steering characteristics to suit prevailing conditions.
Similarly, the throttle is controlled through a wired rather than mechanical connection. It offers the option of single pedal driving using boosted braking energy recuperation to let the driver accelerate and slow the vehicle using only the throttle pedal.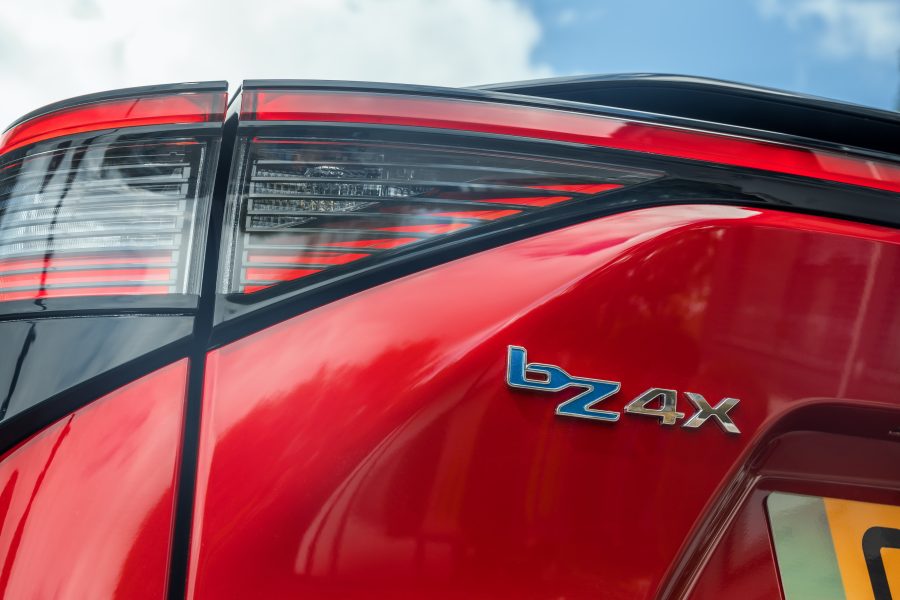 How capable will the Toyota bZ4X be off-road?
Toyota worked with its development partner Subaru in engineering a new, class-leading BEV all-wheel drive system that draws on the great AWD heritage of both companies. The system uses separate 80kW motors to drive the front and rear axles. X MODE allows the driver to select a drive mode to suit the conditions, with settings for snow/mud; deep snow and mud (below 13mph); and Grip Control for tougher off-road driving (below 6mph). These segment-leading capabilities will help the bZ4X tackle the route ahead with confidence, irrespective of where it leads.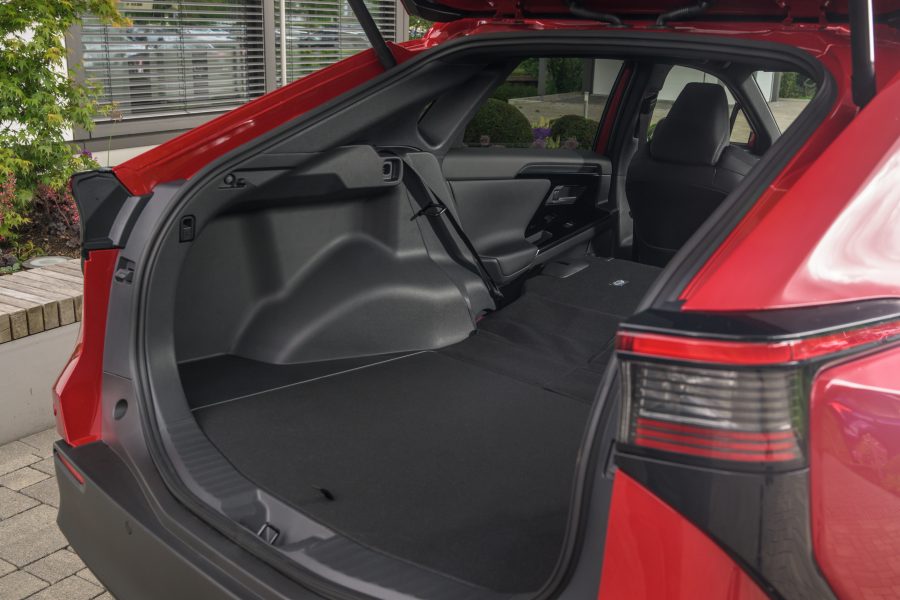 How safe is the new Toyota bZ4X?
The bZ4X is equipped with advanced Toyota T-Mate systems for active safety and driver assistance.
The third generation of Toyota Safety Sense brings new and improved functions to help guard against an even wider range of accident risks. The latest developments strengthen its capabilities as a partner to the driver, progressing closer to the ultimate mobility society goal of zero fatalities and injuries in traffic accidents.
Thanks to upgraded front camera and radar, as well front side radars, the detection range has been expanded and the car's ability to recognise hazards and obstacles in even more driving scenarios is further improved.
The Pre-Collision System can detect oncoming vehicles and motorcycles.
The Intersection Turn Assistance can now identify approaching traffic across two neighbouring lanes instead of just one, as well as detect traffic approaching from the side at an intersection.
The Emergency Steering Assist system provides additional mild braking to help keep the car within its traffic lane when the driver moves to avoid a hazard such as a pedestrian, cyclist or parked car.
The Front Cross Traffic Alert system warns of vehicles approaching from either side at a junction.
The new Safe Exit Assist can help to avoid a collision between an opened door or exiting occupants with vehicles or cyclists approaching from the rear.
Toyota Safety Sense also checks the driver's well-being with an internal monitor that records their usual driving position and triggers a warning if it detects any deviation that might signal dangerous distraction or the driver being unwell or falling asleep.
What is this new vehicle leasing programme?
Our all-new BEV will be introduced with a completely new approach to vehicle purchasing and the customer's ownership experience. It is our hope the majority of European sales will be via a new, all-inclusive leasing contract that covers the vehicle, maintenance, wall box charger and access to connected services, including one of Europe's largest vehicle charging networks.
If customers wish, Toyota insurance can also be included, along with roadside assistance and vehicle accessories.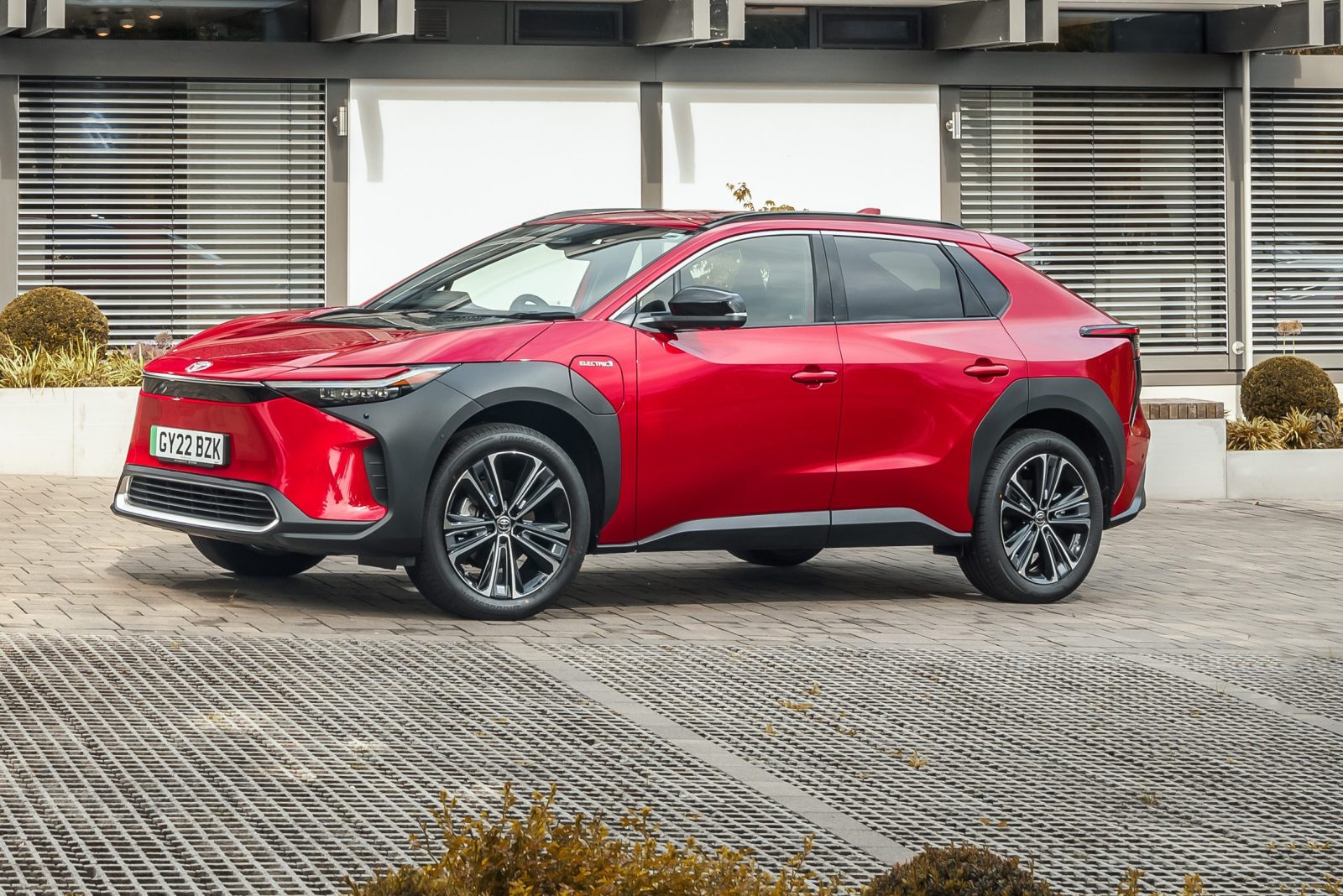 Charging and roadside assistance
In order to ensure that bZ4X ownership is as stress-free as possible, Toyota is providing all new customers with a complimentary package of benefits.
The first round of benefits cover charging needs. These include a British Gas Centrica EV home charger with standard installation and six months of access to the Toyota Public Charging Network. This network consists of more than 12,000 charging points, all of which are accessible through the MyToyota app.
The second primary benefit is three years of AA Roadside Assistance. This is provided 24 hours a day, 365 days a year, throughout the UK and across 44 European countries.
Information correct at time of publishing
Toyota bZ4X: technical specifications
POWERTRAIN
FWD
AWD
Type
AC synchronous electric motor-generator
Total output (bhp/DIN hp/kW)
201/204/150
214.5/217.5/160
Front motor output (bhp/DIN hp/kW)
201/204/150
108/109/80
Rear motor output (bhp/DIN hp/Kw)
–
108/109/80
Torque (Nm)
265
336
EV SYSTEM
FWD
AWD
Hybrid battery
Lithium-ion
Number of cells
96
Rated voltage
355
Battery capacity (kWh)
71.4
PERFORMANCE
FWD
AWD
Max. speed (mph
100
100
0-62mph acceleration (sec)
7.5
6.9
ENERGY CONSUMPTION
FWD
AWD
WTLP combined cycle (miles/kWh)
4.3 miles/kWh
3.9 miles/kWh
Driving range (miles)
317 (Pure)
285 (Motion)
EXTERIOR DIMENSIONS
Overall length (mm)
4,690
Overall width (mm)
1,860
Overall height (mm, inc. antenna)
1,650
Wheelbase (mm)
2,850
INTERIOR DIMENSIONS
Interior length (mm)
1,940
Interior width (mm)
1,515
Interior height (mm)
1,160 (1,145 with panoramic roof)
Load space volume, including beneath deckboard (l, VDA)
452
WEIGHTS
Towing capacity- unbraked (kg)
750
NB: Details were correct at the time and date of publication