The Toyota Prius is the World's favourite hybrid-engined car, and the all-new fourth generation Prius redefines the model again. With great advances in CO2 emissions, and improvements in fuel economy, the new Toyota Prius retains its environmentally-conscious reputation, while its distinctive styling and improved driveability deliver on the road. And with the inclusion of Toyota Safety Sense on all models, it's even safer than before.
Powered by a new generation of Toyota's full hybrid powertrain, Prius attains new levels of environmental performance – carbon dioxide emissions fall to an historic low of 70g/km and fuel economy rises to 94.1mpg on the combined cycle – meaning that the new Prius costs even less to own and run. Its combination of a 1.8 litre petrol engine and powerful electric motor deliver a more rewarding driving experience with smooth, responsive acceleration.
Prius has always been at the forefront of technology and continues this with the inclusion of Toyota Safety Sense, a suite of active safety technologies to help keep you, your passengers, and other road users and pedestrians safer.
Available in four different trim levels – Active, Business Edition, Business Edition Plus, and Excel – Prius is comparable to any five-seater family car in terms of quality, refinement and safety. It's hybrid technology brought to the mainstream – kinder to the environment and kinder to the wallet, and suitable for everyone.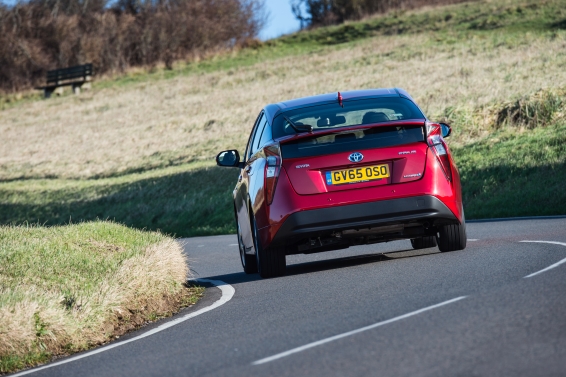 Driving
The latest generation of Toyota's award-winning full hybrid powertrain delivers an excellent driving experience that moves smoothly and quietly between petrol and electric modes. The 1.8-litre VVT-i petrol and lightweight electric motor are more compact than in previous Toyota Prius models, while still providing easily accessible on-road performance. The full hybrid system cleverly balances petrol and electric power depending on driving conditions and speeds – it can even drive in electric-only EV mode at low speeds using no fuel at all!
Its fully automatic CVT transmission means that you don't have to worry about gear changes – you can relax and enjoy the smooth drive. And as you are driving, the hybrid system recovers wasted energy to keep the onboard battery pack charged and will also turn off the engine when the car is stopped to save fuel and keep the noise down.
Prius operates in Normal driving mode by default but you can also select one of the other driving modes yourself – EV mode uses electric power for short distances, such as parking or entering a garage; Power mode makes the engine more sporty and responsive and benefits from an adaptive system that learns the driver's habits, and suits motorway driving; Eco mode is best for most everyday driving and keeps fuel consumption low.
Comfort
Stylish and aerodynamic outside, Prius is spacious, comfortable and quiet on the inside. Excellent soundproofing keeps engine, wind and road noise to a minimum, especially noticeable when running in near-silent EV mode. The modern interior design looks great and feels good to the touch, particularly from the driving seat as all controls are placed within easy reach. Redesigned front seats adopt a better driving position and are more comfortable, especially after a long journey.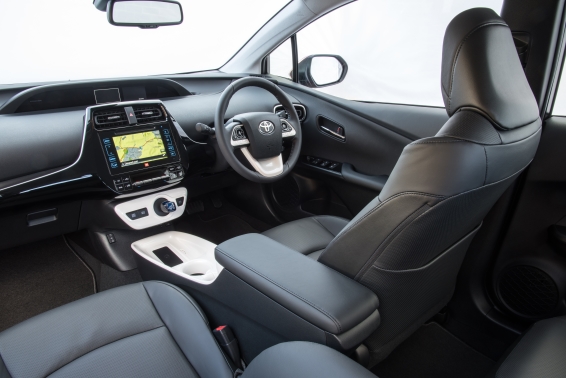 Equipment levels are high across all four model grades – Active, Business Edition, Business Edition Plus,and Excel – including dual-zone Intelligent S-FLOW air-conditioning, Adaptive Cruise Control that operates at all speeds (even to a standstill), and Toyota Touch 2 entertainment system with 7″ touchscreen control (Touch 2 with Go satellite navigation on Business Edition Plus and Excel models, optionally on others). From Business Edition upwards, the new Prius also includes a wireless phone charging system, colour head-up display, heated front seats, and an auto-dimming rear view mirror.
Practicality
You discover the practicality of the Prius before you've even opened the door, for every model is equipped with a keyless entry system that means you don't even have to fish the keys out your pocket to unlock the car. From there, you'll find that the lower boot floor has contributed to an increase in load space to as much as 502 litres with the 60/40 split rear seats in place, or a massive 1633 litres of space with the seats folded flat. Storage cubbies are spread throughout the cabin, have been redesigned to make them easier to use.
Safety
Prius is fitted with Toyota Safety Sense active and preventative safety technologies across the entire range as standard. Supplementing multiple airbags throughout the cabin, technologies such as Toyota's Pre-Collision System, Lane Departure Alert, Automatic High Beam and Road Sign Assist help to keep occupants safe at all time by monitoring the road ahead.
Some of these technologies have been further extended on the new Prius. The Pre-Collision System can now detect pedestrians, and the same radar system enables speed-changing Adaptive Cruise Control that functions at all speeds, even slowing the car to a complete stop if necessary and then pulling away from standstill when the road is clear.
From Business Edition upwards, Prius also includes Rear Cross Traffic Alert that monitors behind the car to detect traffic that may be crossing your path when reversing, and Blind Spot Monitor to warn you of unseen vehicles when you are driving.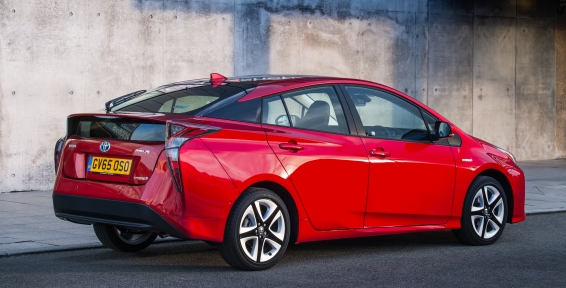 Running Costs*
Prius has unrivalled running costs for a car of its size. Carbon emissions as low as 70g/km mean that every Prius is exempt from annual road tax charges, and with fuel economy up to 94.1mpg, visits to the petrol station will be infrequent. Maintenance costs are kept to a minimum with the Prius requiring a service every 10,000 miles or once per year.
Quality
Built at Toyota's eco-factory in Tsutsumi, Japan, Prius combines ecologically-friendly building methods and materials with Toyota's usual high standards of quality. That's why every Prius receives the same five-year/100,000 mile warranty as other Toyota cars, with the hybrid battery covered by a separate eight-year/100,000 mile warranty. The exterior of the new Prius is guaranteed against paint defects for three years and corrosion for 12 years, regardless of mileage.
Prices*
On-the-road (OTR) prices for the Toyota Prius start at £23,295 for the entry-level Active model. Business Edition and Business Edition Plus models are priced at £24,195 and £25,595 respectively. The top-of-the range Prius Excel costs £27,050 OTR, and includes Toyota Touch 2 with Go Plus navigation as standard. Business Edition plus and Excel models can be specified with 17″ wheels for an extra £400.
For further information about Prius, and to arrange a test drive, visit the designated Prius section of the Toyota website.
*Prices correct as of 24/03/16