The Toyota GT86 has received a stunning response from the UK's motoring press.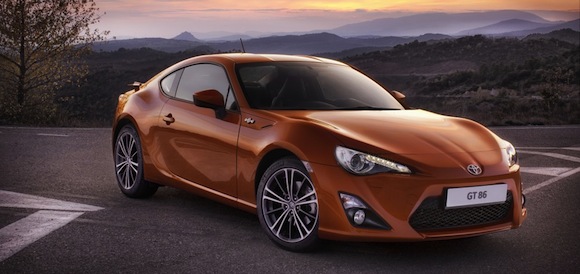 In just a few months, the car has received several major awards. It's been named Car of the Year 2012 by Top Gear Magazine after taking first place in it's Speed Week shootout, taken the title of Britain's Best Driver's Car from Autocar, won Auto Express magazine's Performance Car of the Year test, won the title of Pistonheads Car of the Year and been named Best Coupe at the Scottish Car of the Year Awards and by CarBuyer.
Jeremy Clarkson, the UK's biggest motormouth, gave GT86 the ultimate acclaim in his Sunday Times review (subscription required):
"I'm giving it five stars only because it's not possible to hand out more.
"The GT86 will unlock a talent you didn't know you had. It will unleash your hero gene and you will never want to drive any other sort of car ever again."
Equally positive was Autocar Magazine's five-star road test report:
"We've been waiting years for this car. By that we don't just mean enduring the interminable period…before finally getting a UK-spec GT86. We mean 'we' in a broader sense, as in the wait that every car enthusiast with modest resources has had to tolerate before a manufacturer summoned up the necessary gumption to build an authentic, low-weight, low-cost, compact sports car."
And it doesn't end there. GT86 won Autocar's B-Road Heroes test in July, and Steve Sutcliffe, the magazine's editor-at-large, offered up this review recorded at the Jarama racetrack in Spain. You can watch the video, below:
Pistonheads' Chris Harris also produced a great video from the same event. With a mission to get as much coverage as possible from his short time in the car, he was pushed to the limit. Watch his video here to find out how he got on.
Not to be outdone, the Evo team was also quick to grab the keys to our rear-wheel drive sports coupé. After all, a magazine founded on 'The thrill of driving" should know a good sports car when it tries one for size. We let Henry Catchpole loose on track with a GT86. Watch the video to find out what happened next…
And as if that weren't enough, Nino Karotta's 'Barcelona to Budapest' video report is a must-watch for any GT86 fan:
More mini-movie than road test, this feature-length video shows exactly why the Toyota GT86 is the car of the moment. Featuring sunsets, waterfalls, Autobahns, race tracks, and even a guest appearance from an AE86, this video has the lot. Watch the full review by clicking on the video above.
And it's not just reviewers who have given the GT86 their backing. Read our interviews with professional Toyota race drivers past and present to see what they think of the car's driving credentials.
Auto Trader have also had a go in the GT86 and made a film explaining why they are such fans of our new sports coupe.
Last but not least, it's over to you! We gave 86 lucky competition winners the chance to test drive the GT86 at Goodwood at the Moving Motor Show, the opening day of the Festival of Speed.
"Excellent", "impressed", "fantastic", were just a few of the ways our 'Real Deal' drivers described the car – visit this blog post to read more.
The guys from XCAR have got involved and posted their review of the GT86, find out what they thought.
The Toyota GT86 is available to order now in the UK – contact your local Toyota Centre or visit Toyota.co.uk/gt86 to get another step closer.
Read our latest GT86 posts here.