Toyotas have won many plaudits from motoring journalists and road testers recently – the GT86 has been honoured by Top Gear, Autocar and won a Scottish Car of the Year award, while the Prius+ was named Best Green MPV by What Car? But the latest acclaim for a Toyota Hilux comes from a somewhat surprising source: comedian and off-road fan Ross Noble.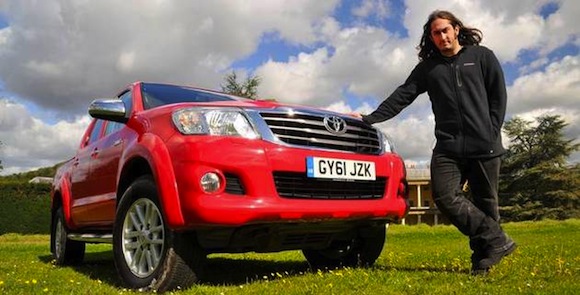 Noble, whose surrealist stand-up has led to huge success around the world, is a Hilux owner and Driving.co.uk recently took him to the West Wycombe estate to try out the latest model.
Asked why he's such a fan of the Hilux, he said: "Not many people know this but it's the ultimate multipurpose vehicle. You can go down the shops and you can literally buy anything. I quite like the idea of popping to Ikea and thinking "I quite like that wardrobe" and being able to drive away with it in my car."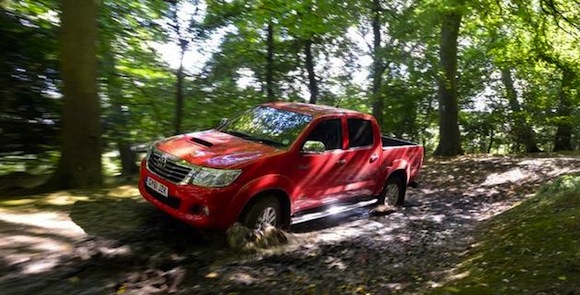 After driving the Hilux Invincible, he added: "I think they should make a Ross Noble spec Hilux or let me design one like Victoria Beckham did with the Evoque. It would be exactly the same as the standard Hilux except it would have more cup-holders and the passenger footwell would be a sort of flip-top bin that I could throw my food wrappers into.
"Also, it could do with a warning light that comes on when you've overloaded the back of it with too much unnecessary crap … like the mannequin with a beard that's in my car."
We'll see if we can put in a good word, Ross. If enough people comment on this post, we will do our best to make it happen…
Watch the video below to find out how he got on.
You can read more about Ross Noble's off-road Hilux experience at Driving.co.uk.