Mission accomplished! A Toyota Tundra pick-up has successfully towed the US space shuttle Endeavour for part of its epic 12-mile journey through the streets of Los Angeles.
As part of the arrangements to bring Endeavour to its final resting place at the California Science Center, an unmodified, showroom-standard Tundra pulled the 68-tonne spaceship across a bridge spanning one of America's busiest freeways on Saturday 13 October 2012.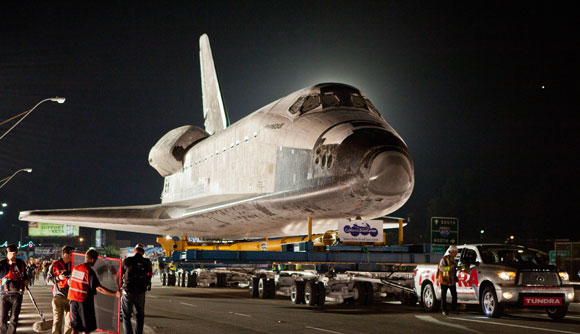 The tow is the latest activity in a 20-year partnership between Toyota and the California Science Center to raise awareness of the space programme.
The shuttle's 12-mile route from LA airport through Inglewood and Los Angeles to its new home  included a crossing above the 405 Freeway, which required a lighter tow vehicle than the dolly that carried the shuttle the rest of the way.
The model selected was a standard 2012 Tundra CrewMax 4×4 with Toyota's 381bhp 5.7-litre iForce V8 engine. Tundra trucks are produced at Toyota Motor Manufacturing Texas in San Antonio and the truck used to tow the Endeavour was purchased from a Southern California Toyota dealer.
The Tundra was driven by Toyota professional driver Matt McBride, while Garrett Reisman, one of the astronauts aboard the orbiter when it travelled to the International Space Station in 2008, sat in the passenger seat.
From start to finish, it took five minutes to cross the bridge.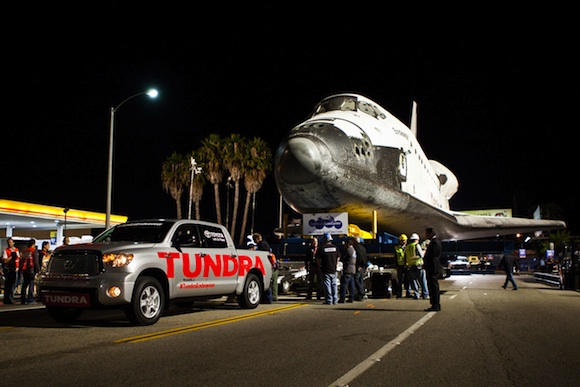 "I'm honoured to be part of the space shuttle Endeavour's final mission to the California Science Center" said Reisman, an engineer and former NASA astronaut. "I appreciate Toyota's support in helping bring this space icon home to the Southern California community."
The Science Center has a popular working exhibit that uses a Tundra to demonstrates the physics of leverage. The Tundra used to tow the shuttle will replace this  truck when the Endeavour exhibit opens on October 30th.
Mark Behn, a member of the museum's ground support team, said of Endeavour's arrival: "We've waited so long and been told so many things about when it would get here. But here it is, and it's a dream come true. It's like Christmas!"
The Toyota Tundra is not sold in the UK, but you can find out more about its sister model, the Toyota Hilux, here.
Contents of this article were correct at the time of publication.